The Realities of Race in Assisted Reproduction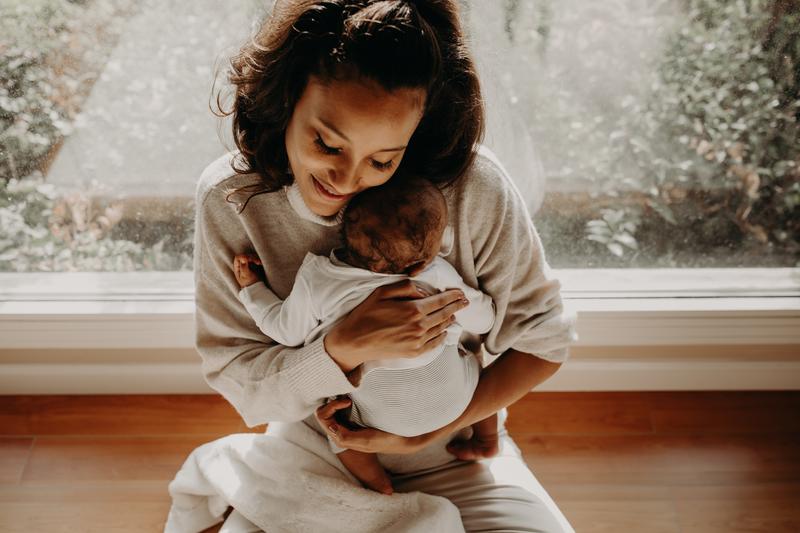 Transcript
[music]
Melissa Harris-Perry: Welcome to The Takeaway. I'm Melissa Harris-Perry, and we're talking about the birds, bees, and biology today. Well, kind of.
[music]
Sandalow: It definitely wasn't in my plans to be a sperm donor. A close friend of mine asked and was very important for them to have a child who would also be read in the world and in particular by other Black people as Black. My name is Sandalow. I'm excited to have supported three queer families in conceiving and having kids.
Melissa Harris-Perry: Sandalow was a Black man who donated sperm to families looking to conceive. It turns out that makes him pretty unique. According to a recent analysis by The Washington Post, fewer than 2% of the donors of the country's four largest sperm banks are Black.
Reese Brooks: When initially I started looking, and I typed, and I had any race, so many options. There was pages and pages of donors, and majority of them were Caucasian. Then when I limited my search to African American, there was just one page of just a few on the page.
Melissa Harris-Perry: That's a woman named Reese Brooks speaking in a recent report by The Washington Post. Reese is Black, and her partner at the time was also a woman, so they needed a sperm donor. In fact, assisted reproduction clinics are reporting that the number of Black folks seeking their services has been steadily increasing, with a sharp rise during the pandemic.
Now, we've talked before on this show about the disparities in prenatal and maternal health care for Black women, that were three times more likely to die from a pregnancy-related cause than white women, that were more likely to have uterine fibroids and chronic stress that make pregnancy riskier.
The hospitals that serve majority of Black populations tend to be under-resourced. The courage and love that it takes to even work to bring a Black child into this world cannot be overstated. Many Black folk face a barrier they weren't even aware of, this shortage of Black sperm donors. Some prospective parents go with donors of another race. Others turn to friends, as in Sandalow's story.
Sandalow: I think the way I described it was I was like, I feel like I'm just bringing a somewhat intimate gift. That other people are going to bring, I don't know, diapers or baby clothing, and I'm like, "I'm bringing sperm. Congratulations, have fun."
Melissa Harris-Perry: It was just as important to Sandalow that the children resulting from his donation would have Black families as it was for the families to have Black children. Here's where it gets tricky because the categories that we call racial groups, they have no biological foundation. The best scientific evidence we currently have indicates there's no genetic basis for the idea of race.
It's socially, politically, and culturally constructed, but that doesn't mean it's not real, or that it doesn't matter to people when they're building their families, especially when they're using assisted reproductive technologies.
Sandalow: What will this child's experience be navigating the world in terms of whether they're read as Black by other Black people? To me, I wasn't passing on Blackness through my genetics. I do think that what I was able to support was a little more ease for their family because whether or not you are read as Black can have really big impacts on you as an individual, on how people treat and read your family. To me, it was about offering ease to a Black mom and her multiracial family, not offering Black authenticity or Black biology.
Melissa Harris-Perry: I spoke with a couple of people to help me untangle some of these big ideas.
Camisha Russell: Hi, I'm Camisha Russell, Associate Professor of Philosophy at the University of Oregon and author of The Assisted Reproduction of Race.
Regina Townsend: My name is Regina Townsend, and I am founder of the Broken Brown Egg.
Melissa Harris-Perry: The Broken Brown Egg is a foundation and online community focused on reproductive justice and supporting Black folks and families on their assistive reproduction journeys. Regina was inspired by her own experience. She and her husband spent nearly a decade dealing with infertility.
As Regina navigated the clinics and the doctor visits, she couldn't help but notice that the waiting rooms were full of images of happy white women and white babies, and she often felt like she was the only Black woman facing infertility.
Regina Townsend: I thought it was this anomaly, and then it was happening to me. The more I started to research it, I realized, okay, so the imagery of infertility says wealthy white women, but the truth of it is that we are all dealing with this. In fact, Black people are dealing with it at higher rates.
In contrast, when you looked at things that were about excessive numbers of children and the welfare stereotypes, all of these other things, you realize that what the imagery that was out there was saying was that Black people don't get married, but we do have tons of children. I just started my blog to just start talking about that, and I just haven't been able to shut up.
Melissa Harris-Perry: Camisha, I want to bring you in here because, undoubtedly, a lot of what Regina is saying will resonate with the work that you do, but also with some of your personal experience.
Camisha Russell: In my work, definitely, I wanted to look at how the image of the infertile and in need of assistance white woman is co-created with exactly what you're just talking about, the idea of the two fertile, uncontrolled Black women or other women of color.
I also have experience with seeking reproductive technologies. We were really conscious of race and how that was going to play into our decision-making. My partner is white, and she was interested in carrying, initially, and we really were looking for a Black donor. That got really tricky. The sperm bank that we eventually visited, there were six Black donors out of hundreds. It's really tricky to think about how to make a family when race matters to you.
Melissa Harris-Perry: I shared with both of you all as we were getting started that-- and I've shared on this show, prior, that I have personal experience with assisted reproductive technology as well, that my second daughter was born with a gestational surrogate. My husband and I are both Black. Our gestational surrogate is a white woman married to a Black man.
On the one hand, we know that race is not biological. In the case of my own journey, the biology, the egg and sperm donor were coming from my husband and from me. This was going to be our bio kid, and yet we knew that race was going to matter along the way. Can you help folks to understand where it is along the way, or how it is that race is part of our reproduction?
Camisha Russell: You have these assisted reproductive technologies, and we think of them, I think, sometimes as the medical things. That you're going to speak with a doctor, that you're going to engage with this donor, potentially with donor eggs or sperm, and that's going to be kept in some medical facility. You have this idea that it's this scientific and medicalized thing which it is. Then you think, well, if scientists know that race doesn't exist, why should it matter?
I think, really, what assisted reproductive technologies are is they are technologies of kinship. They're about making families and creating families. That, in the US, has always been so highly racialized. There's the fact that so many enslaved women bore the children of white men, and those children became slaves.
There were laws passed, very early laws, about the status of the child that would be born. Then the continuing policing of the making of family along racial lines with anti-miscegenation laws. Then when you start to think about that, and you think about reproductive technologies as these kinship-making technologies, it suddenly becomes, I think, more clear why it's so important for people to reproduce in ways that they see as matching themselves racially.
It's a huge part of our identity as people who make families in this country and in this society.
Melissa Harris-Perry: Regina, one of the things that is affecting and impacting the ways that race is operating in fertility and assisted reproductive technologies is a shortage of sperm donated by Black men. Talk to me a bit about what this shortage is and why it may exist.
Regina Townsend: When it comes to us pursuing assisted reproductive technology, when it has been marketed for all intents and purposes as something that only wealthy white people need or can access, you already have this feeling of, "Do I belong here? Am I welcome here?"
When you go to the clinic, and you don't see anyone that looks like you, when you don't see any brown babies on the wall of success-- and I've even had a friend who was interested in becoming an egg donor and reached out to a clinic and was told, "Well, we don't have as much demand for Black egg donors."
Then when it comes to our sperm donor shortage, many men of color don't even know that that's a thing. They don't know that there's a need because we don't talk about this in our community. It is shrouded in shame and secrecy. We've also got to deal with the impact of the stereotypes that we've been seeing for years.
When you tell Black men that they're not good fathers, that they are absent, and then you tell them, "Oh, can you please give us your biology so that we can make children that you may never see?" There's a disconnect in that. There's also a very valid mistrust of the medical community. What are you going to do with my biology? What are you going to do with me when I come into this clinic? Am I safe here?
Melissa Harris-Perry: There is a painful and fraught, both history and present, in terms of medical bioethics and how it is treated. Everything from Henrietta Lacks' reproducing cancerous cells to the bodies of deceased Black folk. Can you walk us through some of that bioethics and how it can't even potentially be resolved?
Camisha Russell: There have been a lot of things in this history that are related to reproduction. The so-called father of gynecology, Jay Marion Sims, experimented on enslaved women. Then there's been a really long history of sterilizations after the value of Black life to white supremacy shifted once it wasn't helpful for Black women to produce children that could be enslaved.
It's not only a long history of distrust for the medical system but also really a specific devaluing of Black women's reproductive capacities, Black men's reproductive capacities, and just the idea of Black children, which I think is another reason and another lens to think about why it is so important for Black people today when they're using reproductive technologies to be able to assert and value Black life.
Yes, I think that distrust is really deep. Probably one way to look at changing that would be community health advocates, but maybe for reproduction in particular. What Regina has been saying about the blog and her organization, I think having more peers to guide people through the process, to point them to doctors that they do think that they can trust, and things like that.
Melissa Harris-Perry: You actually write about race as a technology. Help us understand what you mean by that in the context of reproductive technologies.
Camisha Russell: There is, in philosophy, and I think also in the world in general, a lot of debate about what race is and with some underlying idea that if we could just pinpoint what race actually is and what it is not, whether it's biological or genetic or not. If we could do this, we could just clarify the concept, then we would really be able to eliminate racism.
It's just not at all clear that that's the path. What I try to do with the idea of race as a technology is to change the focus from what race is to what race does. How do people use race? I've mentioned some of the stuff in the history of family formation law in the US where race was used.
We could see race in those situations as having been used to determine the status of children who counts as a parent or not who has responsibilities for children or not. It's used as this marker that dictates how the law is going to treat you. I think one of the interesting outcomes of this history is that we see race as something that is part of who we are and, therefore, a way that we can build families and build connection.
I think you saying that your surrogate was a white woman married to a Black man. I think we see these elements, these interactions with race, these sympathies, these racial identities as these ways to connect to people when we're reproducing. When we're able to do those things, we're actually taking this technology of race, and we're using it in ways that affirms our right to exist, our history, what we want for our future.
[music]
Melissa Harris-Perry: Let's take a quick break here. We're going to have more on these technologies of kinship and family-making when we come back.
[music]
Melissa Harris-Perry: We're back now with more of our conversation with Camisha Russell from the University of Oregon and reproductive justice advocate Regina Townsend. We've been talking about the role that race has played in family-making in this country, particularly in assisted reproductive technologies. Now, I picked up a few things from my own family's experience.
Now, I've shared here on The Takeaway before that my second daughter with my husband was born with a gestational surrogate. Our gestational surrogate was a white woman, while my husband and I are Black, and even though our daughter is our bio kid, created from our egg and sperm, her birth certificate was marked white. It's because of how race works in America.
The race of the child was determined by the race of the person who gave birth to her. Now, we did ultimately have the birth certificate changed, but it was a really stark example for me of how meaningless and meaningful race can be. Regina Townsend picked up on that thread.
Regina Townsend: It's crazy because, as you said and as I think we've exemplified in this conversation, that race is in many ways a construct, and yet it is also a very real thing. There are a few people that I follow who are Black families who have either fostered or adopted white children.
One of the things that is so jarring to me is that while we see tremendous numbers, especially of celebrities who are white who adopt Black children, and the attitude towards them is, "Oh my God, what a great thing you're doing. Thank you so much for opening your home."
Then for Black families who adopt white children, it's "There weren't any Black kids? Why did you do that? What are you going to teach them? How are they going to feel connected?" Those thoughts are not imposed as drastically on white families.
You think about this concept of race in people's mind and how it is inherent to some people that we must need rescuing. We must need policing. We must need regulating in some way. White children need to be exposed to more, given more, supported more, placed where they can thrive more. You think, man, for race to not be real, it has some very real feelings in people's hearts and their behaviors, which most of us, especially as people of color, know.
I am from Chicago, which is historically a very racially separated city, and so everyone lives in their own area. When you look at things like reproductive health, the adoption agencies are further north where more white people live. The fertility clinics are further north or in affluent communities. There's not that much access for us to understand our sexual health, let alone our reproductive health.
It is jarring once you see it, and then you can't unsee it. Then it becomes-- as for me, it's my preferred soapbox now to teach us that we have the right to want. You have the right to feel-- On just a basic level, you have the right to not need to define why your existence matters every moment of every day.
Melissa Harris-Perry: How has your experience shaped your understanding of family?
Camisha Russell: For me, I think it's really being aware that race is a part of our society and that all families ought to-- and I think Black families have to do this, but I think all families really ought to teach their children about these ideas and help them to understand how they've been situated by the chances of their birth in this hierarchy.
I think we really need at the level of our families, especially people actually who don't have to do this simply to make sure that their children are protected and prepared for the racism that they're going to face, but other families also need to tell their children how they're situated and what this means.
I think that's what everyone owes to their family and to the society, is to really make clear the way that so many people have to do when they're involved with reproductive technology. Suddenly they have to account for things and talk about things that they didn't have to before. I think that we actually need to account for and talk about those things no matter how we reproduce and whether it's monoracial or multiracial or ART or so-called natural.
Regina Townsend: I think it has expanded my idea of family. I've come from a very strong family that migrated from the south to Chicago, and I've always been taught our legacy, and how important it is, and part of the heartbreak of infertility was feeling as though I wasn't going to be able to contribute to that legacy and to keep that lineage going.
That was something that I couldn't even understand or put into words at first. Once I started to hear from more people of color, I realized that the bigger issue that I had was that there was something being said about who was enough and what constituted a family. That my marriage wasn't a family until we had children. I did not receive or accept that at all after I'd been in this space.
Even though we were able to do IVF, and we are tremendously grateful for our son Judah, I did also learn, and I try to tell others now that the baby was not the family or the success story. To me, the success in my family is me realizing my worth, and who I was, and why that was important just as it was. It has been such a joy to help others realize and redefine what family is for them and how sometimes I'm a family in and of myself because I'm taking care of myself, I'm loving myself, I'm bettering the community, I'm choosing who my family is. I think that that is beautiful.
[music]
Melissa Harris-Perry: Regina Townsend is the founder of The Broken Brown Egg, and infertility support community for Black individuals and families. Camisha Russell is an associate professor of philosophy at the University of Oregon and author of the book, The Assisted Reproduction of Race. Camisha, Regina, thank you both for being here.
Regina Townsend: Thank you.
Camisha Russell: Thank you so much for having us.
[music]
Copyright © 2022 New York Public Radio. All rights reserved. Visit our website terms of use at www.wnyc.org for further information.
New York Public Radio transcripts are created on a rush deadline, often by contractors. This text may not be in its final form and may be updated or revised in the future. Accuracy and availability may vary. The authoritative record of New York Public Radio's programming is the audio record.