The Push for Accountability Following 2020's Racial Justice Uprisings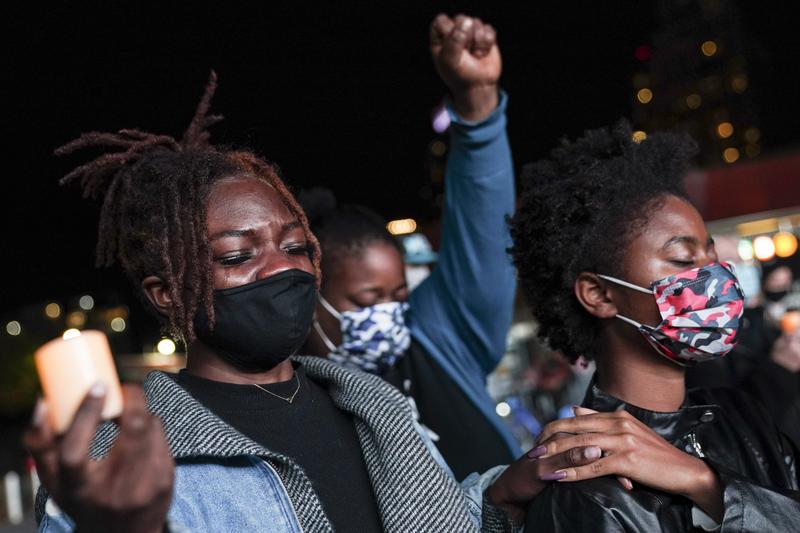 Transcript
Rebeca: I'm Rebeca Ibarra, Host and Producer of NPR and WNYC's Consider This, filling in for Tanzina Vega. You're listening to The Takeaway.
[protest calls]
Rebeca: Last summer, the brutal killing of George Floyd by police in Minneapolis set into motion a national reckoning about systemic racism and police brutality. Floyd's death, which was captured on camera and viewed by millions, illustrated the unequal justice system that Black Americans have experienced for far too long. A 2020 study from Harvard found that Black Americans are three times more likely to be killed by police than white Americans. The names of those who've died at the hands of police have become a rallying cry for change.
Breonna Taylor, Rayshard Brooks, Daniel Prude, Atatiana Jefferson, the list keeps growing. While the trial of Derek Chauvin, the officer accused of killing George Floyd is scheduled to begin shortly, history has shown how difficult it is to secure an indictment against a police officer, let alone a conviction. For more, we're here with Josie Duffy Rice, president of The Appeal, and Aaron Morrison, National Race & Ethnicity Writer for the Associated Press. Josie and Aaron, thank you so much for being with us.
Josie: Thank you for having us.
Aaron: Yes, good to be with you.
Rebeca: Aaron, the killing of Ahmaud Arbery was caught on video. He was shot three times in broad daylight while he was on a run because three right vigilantes thought he was involved in nearby robberies. Remind us how local prosecutors initially handled this case.
Aaron: They initially handled it by, let's just be blunt, by not handling it. They did not afford Mr. Arbery the civil rights protections that others would get in what is clearly a criminal case and a very heinous act that was carried out by the McMichaels. That's the reason why his mother Wanda Cooper has filed a civil rights lawsuit just recently on the one-year anniversary of his death.
Rebeca: Where do things currently stand with the trial of the men charged with his murder?
Aaron: They essentially await trial. A trial date has not actually been set yet. We're a few days past the one year since Ahmaud's death and the family is still awaiting basically a roadmap for how things are going to proceed.
Rebeca: Josie, what sort of defense are the three men charged in Arbery murder planning on using?
Josie: We're basically expecting to see them use two different defenses for their actions that day. The first is employing the citizen's arrest law, which has existed in Georgia law since the year that the emancipation proclamation was signed. That's relevant because this law really has racist origins and has been employed in explicitly racist ways. It essentially gives citizens, especially white citizens, the right to use the force of law, to arrest people using the force of law, though they don't have law enforcement credentials. What we see is that it plays out in similar situations like the one with Ahmaud Arbery.
They also plan to use what is essentially a stand your ground law, basically arguing that Ahmaud Arbery came at them after they tried to arrest him, and in his aggression made it reasonable for them to shoot and kill him. You can see how together these two laws, if employed liberally. It really allow anyone to get away with shooting and killing whoever they want for the suspicion of even the slightest infraction. The argument that they were attempting to arrest him, but they were also acting in self-defense really doesn't align unless you were in a place like Glenn County.
Rebeca: Last June, Georgia governor Brian Kemp signed a hate-crime measure into law in response to the reaction to Arbery's death. Before that, Georgia was one of only four states that did not have a hate-crimes statute. Kemp has also proposed overhauling that Civil War-era citizen's arrest law that you mentioned Josie. How significant are these changes?
Josie: I think it's important to acknowledge some of the ways in which Ahmaud Arbery's death was systemically endorsed. I think that the fact that Georgia is one of four states without a hate-crime law is a relevant data point. That being said, I find that very often, and especially very often in Southern States, I'm in Georgia, these laws end up being used against the very people that they're meant to protect. You see in places like Louisiana where now police are a protected class under a hate-crime law. You see under ECE and other states where actually any additional in criminalization tends to primarily hurt Black and Brown people, poor people, not actually the people that this is maybe directed towards.
I love to see an overhaul of the citizen's arrest law. It's great that that's a bipartisan effort. I understand the move towards signing a hate-crime law, but I am skeptical at how actually effective it will be at preventing deaths like Ahmaud Arbery's. This is trying to fight, as I say pretty often, trying to fight a culture war with policy. What we see in South Georgia is, yet again, another example of a history of racism and a history of law enforcement-supported racism ending yet again in the death of an innocent Black person.
Rebeca: Aaron, another notable incident of police brutality in Georgia last year was the police killing of 27-year-old Rayshard Brooks in Atlanta. Remind us about the details in his killing.
Aaron: Rayshard Brooks, it's pretty well known now that he was essentially stopped on suspicion of a DUI, but it was actually a worker at the Wendy's that called because Mr. Brooks was asleep in his car. After an exchange with officers who essentially wanted to take him in even though he had parked his car and didn't appear to be posing any threat on anyone, it escalated into a confrontation where they tried to use force to detain him. Then at one point, he basically got control of an officer's taser, he runs away and he's shot in the back.
The officers involved were pretty swiftly charged and brought in on the case, but the case is actually pretty complicated where it stands right now because it was the under the former DA Paul Howard, who essentially charged the officers without really impaneling a grand jury in the traditional sense. There are a lot of reasons for why that happened, but now the case is languishing a bit because there's a new DA who's now trying to decide how to proceed.
Rebeca: Josie, how common is it for district attorneys to be able to bring charges against police officers without involving a grand jury like Aaron just mentioned?
Josie: It's fairly uncommon in most States to be able to charge serious violent felonies without involving a grand jury, but it's complicated. I think it depends, state by state. What we know, in general, is that the law in every state includes provisions that make it very difficult to convict a law enforcement officer of something like murder in cases like the death of Rayshard Brooks or the death of George Floyd.
What is faced by grand juries, by trial juries, by prosecutors, by defense attorneys, and by judges, is the general limitations of the law in terms of what the law is willing to do to hold the state accountable. The reality is they're just not willing to do much. The law protects the state. It does not actually protect the people killed or harmed by the state. In every jurisdiction, it makes actually getting a conviction against police a very uphill battle.
Rebeca: Let's talk about Daniel Prude. Last March, Prude's family called the police while he was suffering from a mental health crisis in Rochester, New York. Officers placed a mesh hood over his head to use as a spit guard and pressed him into the street until he passed out. Prude died a week later. He was 41. Last week, a grand jury decided not to indict the seven officers involved. Josie, how common is excessive force when police officers are responding to someone suffering from a mental health issue?
Josie: Oh, it's extremely common. It's yet another sign that the fact that police who are neither trained nor equipped to address mental health crisis, it is a travesty that they're actually the people in charge of addressing an emergency like that. If Daniel Prude's family had an option, certainly they would not have wanted to call the cops in a situation where someone is struggling from a mental health crisis. If you can imagine being in the throes of a mental health crisis, even the best cops are not a reassuring presence, they're not calming. What is actually necessary in a situation like that is a trained professional who deals with mental health crises. Because that is not who is afforded the right to show up in emergency situations in almost every jurisdiction in the country, say for just a few, we end up in situations like this where people end up dead. It is not unusual to see stories like this, where a desperate family loses a family member, who's struggling from a mental health problem, and it's going to continue to happen until we actually remove mental health crises from the jurisdiction of police in any way, shape or form
Rebeca: Recent reporting from The New York Times found that while the New York state attorney general has conducted 43 investigations into the killing of unarmed people by police, none have resulted in conviction. Aaron, we have 30 seconds before the break. Could you tell us why that is?
Aaron: Let's just be clear here and Josie touched on this already, but we're nine months since George Floyd's killing and the nationwide demonstrations over systemic racism. Let's be clear, we still have the very same criminal justice system that we had a year ago, and quite honestly, years. We've had it for years, for decades. There have been calls for communities to defund police and move resources around and do what Josie just mentioned, which is to make sure that there are trained people out there dealing with incidences as needed, but quite honestly, until the legal framework for prosecuting police officers changes, we're going to be dealing with the same system
Rebeca: Last year, the House passed the George Floyd Justice in Policing Act, but the Senate didn't bring it up for a vote. What are some of the most notable parts of that legislation?
Aaron: A lot of people have described it as the most sweeping legislation on police reform that's really ever been introduced in Congress. It's really an attempt to undo some of the provisions of the 1994 Crime Bill that vastly expanded policing in America and also mass incarceration. It brought us mass incarceration as we know it today. Some of the George Floyd Justice in Policing Act provisions calls for the justice department, the federal justice department, being able to subpoena police officers directly for pattern or practice investigations. If you're not familiar with that term, that's an investigation that was done on Ferguson after the death of Michael Brown, same in Chicago and some other cities around the country.
Another provision they want to ban, no-knock raids, which is that procedure or that act became very popular or very well known as far as a popular call for reform after the death of Brianna Taylor in Louisville. There's the chokehold ban that's also being a part of the George Floyd Justice in Policing Act. Of course, we know the case of Eric Garner here in New York City, but we also now know the name of George Floyd because of the restraint hold that was placed on him for more than eight minutes in Minneapolis. Those are just some of the provisions. When I say sweeping, I mean, there are a lot. I don't want to go through all of them, but those are some of the things that the federal lawmakers are really considering. There are some concerns among civil rights advocates and activists that even still, this doesn't go far enough.
Rebeca: I want to talk a little bit more about the Biden administration in a second, but first jury selection is set to begin next week in the trial of Derek Chauvin, the officer charged with the second-degree murder of George Floyd. Aaron, what will you be watching for?
Aaron: I think, generally speaking, if you've ever covered a criminal trial, jury selection can either be very dry or it can be pretty revealing about the either side's strategy going into the trial. I'll be watching-- I won't be in Minneapolis, but I'll certainly be watching from afar and we've got my AP colleagues there'll be covering gavel to gavel all day long. I'll just be looking for any signs that the prosecution or the defense it's tipping their hand about what sort of defense they're going to use or what jury they hope to assemble. Then we're talking about, two weeks from now, opening statements, and then from there, we're looking at probably three to four weeks of a trial. That will take us towards the end of April. We could have a verdict in Derek Chauvin's trial before the one-year anniversary of George Floyd's death.
Rebeca: Josie, do we have a sense yet of how the Biden administration and the justice department are thinking about police reform?
Josie: Like Aaron said, we know that they have supported some legislation that is a step up from legislation we've seen in the past. We know that they plan on reinvigorating pattern and practice investigations from the DOJ, that they plan on trying to impart some sense of accountability and in an office that hasn't actually believed in holding the police accountable for the past four years. As far as how far they're willing to go, they're not willing to go as far as many advocates would hope, or even as close to as many advocates as we hope. Not only, for example, do they pose moving funds away from police into other social services, but Biden's actually called for investing $300 million more into "community policing efforts."
We've seen in the past that community policing as an idea has not been very successful, has resulted in over-policing of already overpoliced communities, instead of ensuring that those communities have the resources they need schools, jobs the ability to put food on their kids' tables and other resources rather than more police. It's an important thing to remember too, that while the executive office sets the tone for the entire nation of how we think about police and police violence, the control that the executive has over police is actually quite minimal. Federal dollars, federal grant money, definitely some oversight from DOJ absolutely. Overall, this is a local issue, it's a state issue. I hesitate to give even too much attention to the executive's power over-policing, because I want people to ensure that they are holding the right officials accountable, talking to their city council, talking to their mayor, talking to their state legislature about policing, and policing violence.
Rebeca: In the 30 seconds we have left, Josie, are there specific policies that advocates are pushing for on the local level that they want their local authorities to take up?
Josie: I think across the nation there is a move towards trying to move police resources elsewhere. There's been a lot of conversation about defunding the police, but the case of Daniel Prude's death really emphasizes the reason that, for example, we should not be having police answer mental health crisis calls, we should not put police in charge of addressing poverty, we should not have police out there punishing people for not having a home. We recognize that policing, as it looks today, is drastically broader than any of us would design, if we were designing a system. How do we imagine what policing could look like and how do we think about that?
Rebeca: Josie Duffy Rice is president of The Appeal, Aaron Morrison is the national race and ethnicity.
writer for The Associated Press. Thank you both so much.
Josie: Thank you.
Aaron: Thanks.
Speaker 1: The word justice is non-existent and that's a fact.
Rebeca: As we just heard, the killings of George Floyd, Ahmaud Arbery, and so many others have made us reflect on what justice looks like in the US today. For many Black people and other people of color, the justice system has long been unequal, leaving some to wonder if and how we can make our justice system just. You told us about it.
Speaker 2: In this country, justice, Richard Pryor once said, justice means just us.
Richard: You go down there looking for justice, that's what you find. Just us.
Speaker 3: As long as we don't have some form of control, we meaning people of color in the judicial system, there will never be justice for us. It will always be unbalanced. It has always been, and I believe it will always be. That's why it's so important for, particularly Black people in this country, to consider, as I am, getting out of here, leaving this country and not moving to another country that looks like America, where we're still the minority, because otherwise, we will never see, we will not see justice as long as we're living here. We will never be treated as properly as we should have been. Four hundred years plus of this nonsense. The word justice is non-existent.
Mary: My name is Mary Mallory, I live in suburban Philadelphia, Pennsylvania. Sadly, justice no longer seems to be finding right from wrong. It now appears to be right and getting away with it.
Rebeca: What would real justice look like and is it even achievable? For many of you, it comes down to one word, accountability.
Rev. Baker: This is Reverend Nan Baker. I live in Dallas, Texas. I believe, when it comes to the killings, George Floyd, Ahmaud Arbery, Daniel Prude, and so many, many others, justice requires two things that are both essential. Accountability and systemic changes in policing.
Speaker 4: I feel very strongly about the fact that in each of those three situations and others, that the police involved should have been charged with murder.
Rebeca: In addition to holding individual officers accountable for these killings, a lot of you also emphasize the need for deep systemic change moving forward.
Andrew: Hi, this is Andrew in Kalamazoo, Michigan. Justice for me means holding the officers accountable and deescalating the violence in the future.
Chabre: Hi, this is Chabre Vickers from Portland, Oregon. Justice is the judgment, conviction, and sentencing of their killers immediately, and beyond those individuals, simply being held accountable. Justice looks like policies and practice in law enforcement agencies that make what occurred illegal. In instances like that of Ahmaud Aubrey, removing antiquated laws that allow for their ridiculous defense tactics used by lawyers to get them acquitted.
Jesse: Jury trial, changed the laws for self-policing your neighborhood and accountability. Jesse from Mobile, Alabama.
Rebeca: What does justice look like for you? Let us know your thoughts by recording and sending a voice memo to takeawaycallers@gmail.com or you can go to thetakeaway.org and click contact us to record your answers straight into your computer or your phone. We always love hearing from you, so be a part of our show.
Copyright © 2020 New York Public Radio. All rights reserved. Visit our website terms of use at www.wnyc.org for further information.
New York Public Radio transcripts are created on a rush deadline, often by contractors. This text may not be in its final form and may be updated or revised in the future. Accuracy and availability may vary. The authoritative record of New York Public Radio's programming is the audio record.