Workers Call for Better Conditions As Public Becomes More Reliant on Food Delivery Apps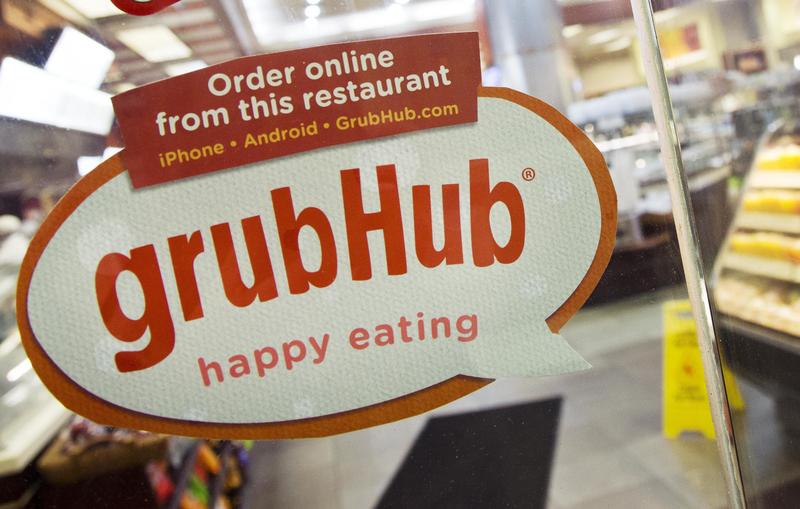 Transcript
[music]
Tanzina Vega: I'm Tanzina Vega, and this is The Takeaway, and it's great to have you with us. Some good news this weekend, as the FDA approved distribution of the COVID vaccine and trucks started shipping out doses. Doses should be arriving today in many states, and it's been a long and hard road, but it's not nearly over. The big question now becomes who gets it first, and we're going to be talking a lot about that over the coming weeks. Today, though, we take a look at some essential workers and an industry that's hanging on by a thread.
Since the beginning of the pandemic, especially as it raged across New York City in the spring, many New Yorkers relied heavily on food delivery apps as a lifeline, apps like Grubhub, DoorDash and Seamless. Many of the workers for those apps say they've been treated poorly and paid just as bad. When some of the delivery workers being berated for entering restaurants to get food, not being allowed to use the restrooms and worrying about getting what they're owed in tips. Now, some of them say they're organizing. Gustavo Ache works for DoorDash and Grubhub here in New York City. We spoke to him on Friday afternoon. He'd already been out for six hours and had only earned $50.
Gustavo Ache: [foreign language]
Translator: I left my house at like six in the morning, and I got to Manhattan at seven. I went to the parking lot to pick up my bike, and then I began to see if there were orders. In that time I began working at eight in the morning, and by two in the afternoon I had only made $50. It's been a slow day.
Tanzina: He said he faces many challenges as a delivery worker.
Gustavo: [foreign language]
Translator: The most frustrating part is that sometimes there aren't many deliveries. When you're out, there is discrimination and challenges that you face on the street. People deny you the use of bathrooms, people discriminate against you, and you have to travel long distances to make only a few dollars. Also, there are safety risks you take when you're on the street, you have to be very careful.
Tanzina: Gustavo said he got into an accident while delivering food once. He said he reported the accident to the company he was working for and they were not sympathetic. For that reason, he says, most drivers don't report accidents and just keep on going.
Gustavo: [foreign language]
Translator: These apps have brought a lot of changes to the migrant workers who dedicate our lives to this. Previously, I was in an accident, and what the person from the app asked me first was if the food was okay, and then he asked me how I was. He gave me a bad review as if I had done something wrong, but what happened was, I was in an accident.
Tanzina: Just last week, DoorDash announced it would go public . By the end of last Wednesday, its stock price was $190. In a statement to The Takeaway, DoorDash said on average its workers make $22 an hour plus tips, and that the company is working with community groups to further support its workers. Meanwhile, workers like Gustavo say they continue to struggle.
Gustavo: [foreign language]
Translator: There is demand, but there are a lot of people, and the apps are only looking for their own well-being, only to see if they make money. They have a lot of people working too, which signifies there's a lot of unemployment. A lot of restaurants are closed. Many workers from restaurants are forced to seek other jobs to make a living, and one of them is to begin making deliveries to see if they can make a little money.
Tanzina: Gustavo says he's fighting for changes to these issues as a member of the Worker's Justice Project, which aims to secure better working conditions for low-wage immigrant New Yorkers.
Gustavo: [foreign language]
Translator: These are our demands, for the government to regulate the apps, for us to be given access to bathrooms, and access to places where we can stay warm during the winter, public enclosed spaces to be able to warm ourselves up or pass some time so we can continue our shift. Also, we're asking for security, because our bikes continue to be stolen.
Tanzina: Gustavo Ache is a delivery worker and a member of the Worker's Justice Project. Gustavo is just one of the tens of thousands of food delivery workers in New York City alone. As the number of delivery workers continues to grow nationwide, many of them are attempting to increase pressure on food delivery apps to provide higher wages and better working conditions for themselves. Joining me now to discuss this tense relationship between food delivery apps, workers and restaurants is Claire Brown, a senior staff writer at The Counter, a non-profit newsroom covering how and what we eat. Claire, thanks for being with us.
Claire Brown: Thanks for having me.
Tanzina: As a New Yorker myself, I want to get a sense here, are other places around the country as dependent on food delivery apps as we are here in New York?
Claire: New York is its own special microcosm, but across the board, deliveries are way up this year. The big delivery companies are reporting double, triple, quadruple the number of deliveries this year as compared to the same time last year.
Tanzina: Now, I imagine a lot of that is pandemic-driven. Isn't it?
Claire: It is, of course. People are avoiding the grocery store and relying on Instacart for that. They're ordering a lot of items on Amazon, which is a slightly different ecosystem, and then there's takeout food. People are still awaiting restaurants. Indoor dining is closing back up in many parts of the country. I think in New York today is the day that indoor dining is closed and people are still, yes, just like at the beginning of the pandemic, relying on delivery and takeout for restaurant food.
Tanzina: We're also heading into the winter cold months here, so I imagine people are going to be even less reluctant to leave the house if the weather conditions don't permit, Claire. We just heard from Gustavo about his experiences working for food delivery apps during the pandemic here in New York City. Are the conditions that Gustavo talked about similar to what you're hearing other workers describing?
Claire: They are. What has happened in New York City and elsewhere is that delivery demand is up, but the number of people who are trying to support themselves by making deliveries is up much higher. Some advocates are estimating the workforce has grown exponentially, and so there are just more drivers than there are orders. That's what's driving these really low wages that he has reported, and many others have reported these longer drive times for smaller tips and these more dangerous working conditions. Reports of assaults on drivers are up, reports of bike theft are up. It's just a really difficult time to be out there right now.
Tanzina: You said that there are more drivers than there are orders, and every time I've placed an order on one of these apps, not only do I want to tip generously because of the working conditions, but I also notice a lot of fees associated with some of these deliveries. Sometimes the fees can range from $3 to up to $8, in some instances, or more. How does that translate? If there are more drivers than there are orders, why do we still need to have so many fees attached to all this?
Claire: Some of those fees are driven by policies among many cities that have limited the commission that the apps can charge restaurants. In the past, the apps, particularly Grubhub was a big one for high fees, would charge restaurants up to 30% of the total order as a commission fee. What's happened since the pandemic began is that many municipalities have limited the fees that the apps can charge to restaurants to 10% or 15%. The apps have responded by adding fees for customers.
The good thing is, that means that the restaurants are making a little bit more of the total, and presumably more of the tips are going to the drivers, but the fees are higher for the consumers who are trying to order delivery.
Tanzina: If fees are higher, I'm wondering if tips are taking a hit.
Claire: Yes, we've seen this with Instacart. Instacart has long been criticized by its workers for tweaking its algorithm in ways that really dramatically impact its shopper's pay. One of the big battles that was playing out earlier this year was that Instagram- Instacart, sorry, had changed its default tip to lower it, to accommodate a fee that went to Instacart.
Shoppers were saying, all of a sudden where we used to get 10% by default, we now get 5%, and please change it back. More of the money was being funneled to the app. Many of the apps will still allow you to set your own tip, but I think those default tips really hint to the customer, how much is expected for them to tip.
Tanzina: I also want to talk a little bit about how much money a lot of these drivers for DoorDash and Grubhub and Seamless and all these folks continue to make. We did hear us get a statement from a DoorDash spokeswoman. She said that, and I'm quoting here, "Dashers, on average, earn $22 per hour if they're on a job, and that includes tips and they can earn even more than that in New York City." Is that about what you're hearing, Clare? Is that about accurate? That seems not too bad.
Claire: That is pretty far from what I'm hearing. What I've heard is much closer to what Gustavo reported. I think the city had a really telling number. The city is a newsroom in New York City. They calculated that a DoorDash driver that they spoke to would have to work for two days to buy one share of DoorDash when it went public last week. Again, the $22 average is something that I've seen too, but it has not been backed up by what I've heard in my reporting.
Tanzina: Of course, the workers here were not given a piece of that initial public offering from DoorDash, were they?
Claire: They were not. DoorDash announced that it would roll out a $12 million driver incentive program, but CBS calculated that would average to about $12 per driver. Many were not included in the stock program.
Tanzina: I'm wondering whether or not customers have-- If you're noticing that there have been folks who are saying, "This is a lot to spend on a pizza," for example. That's before we even get to the tip. Are people thinking about maybe rethinking their relationships with apps, Claire?
Claire: As far as I can tell, demand is still up. What I've heard anecdotally is that people are waking up to the notion that a lot of the money, when you order it through the big apps, does get eaten up by the apps. Restaurants, which have been fighting for years to get customers, to pick up the phone and call in an order and avoid a lot of fees, are starting to break through with that.
Restaurants are getting more sophisticated about encouraging customers to order directly and in many cases offering discounts to do that. I think more and more people are waking up to the idea that they can subvert these apps and often spend a little bit less money on delivery and the restaurant, and the drivers still get their tips and their wages.
Tanzina: Now, of course, if they subvert the apps, that means that the delivery person has to come from the restaurant. It has to be somebody that works for that restaurant.
Claire: Right. It's a little bit of a different system. Yes.
Tanzina: I'm wondering whether or not we're seeing the same groups of workers here. Are we largely talking about undocumented immigrants, Claire?
Claire: There are no official numbers, but The New York Times did report the other week that the majority of New York drivers are undocumented.
Tanzina: Claire, all the way at the top of the show, we heard from Gustavo, who is a delivery app driver here in New York City. He talked about some pretty difficult conditions, conditions that seem pretty basic to try and help these folks do their jobs. I'm wondering, are you hearing that from other drivers across the country that they're putting themselves at risk by driving around, or that they don't have places to use the restroom?
Claire: Yes. As the weather gets colder, it's just getting harder. What's happened is that restaurants, at the beginning of the pandemic and continually, are hesitant to invite people in to use the restroom because they are working to create as much of a sealed environment as they can indoors. What's happened is that a lot of workers are left without access to bathrooms, without a warm place to hang out.
I know that the New York City Hospitality Alliance has issued directives to its restaurants, asking them to please open up their bathrooms after the reporting started to come out, that this was becoming a bigger and bigger problem. Yes. We're hearing reports that it can be unsafe. I know there have been, I think, two fatalities of delivery drivers in New York this year. It's just really difficult work, and it can be very dangerous.
Tanzina: Let's talk a little bit about how this is playing out at a legislative level. In California, Proposition 22 was passed in November, it was a ballot measure there, that many are considering a win for Uber and DoorDash. What is Prop 22? What was it, and how did it affect delivery workers in California?
Claire: Proposition 22 was the most expensive valid measure in California history. The app company has spent more than $200 million on it. What it did was exempt their drivers from a new worker classification law in California. The classification laws start to classify drivers as employees, meaning they would have minimum wage, they would have healthcare, they would have sick pay.
What Prop 22 did was offer a few watered down protections for workers. One example was that Uber offered a boosted minimum wage, but it did not count against that wage, the time that drivers spent waiting for rides. Essentially what they did was, run a campaign that convinced a lot of people that passing Prop 22 would be a good thing for drivers, and they won.
Tanzina: I'm wondering whether or not you think that the incoming Biden administration might have a different approach to dealing with this. Is this even on their radar right now?
Claire: I think that it is certainly on the radar. As far as we've seen, it's still playing out at a local level. There's a lot of speculation that Uber is eyeing New York to try and get a similar exemption passed. So far, the battle has been playing out in state legislatures, but I will be very interested to see if the federal government does take up worker classification.
Tanzina: I'm wondering whether or not these jobs were initially seen as part of the "gig economy," jobs that you do on your own time, in your free time, with your own vehicle. They're often sold as this liberator to get you out of the office. A lot of these folks have since become essential workers, is a phrase that we use often in this pandemic. I wonder if a lot of them are also relying on this work as a full-time source of income, which is why many of them need not just better conditions, but better terms and conditions.
Claire: Yes, I think, especially during the pandemic, when job loss is rampant, there are a lot more folks than there used to be looking to do this full-time. I think, though, even before the pandemic, it was becoming clear that a lot of people were relying on gig work for their full-time jobs. That doesn't mean they were only working for Grubhub or only working for Uber, but there was certainly a rising number of people who were doing only one thing. It's difficult because they have to shoulder the burden of their car breaking down, their bike getting stolen. There's no backup support for people who are now relying on this for their only source of income.
Tanzina: It feels like these companies are really-- DoorDash- and its IPO last week was valued at about $72 billion. That feels like a boon to the companies, but not a boon to the workers. Is this fight far from over, you think?
Claire: I think it is far from over, but I do think that advocates see the California loss as a big blow. Many people, I think, assumed that Californians would vote against Prop 22 because it was so heavily industry funded. I think many were surprised at the way that it did go. I know the unions were really invested in defeating it, but they were simply outspent at a rate of 10 or 20 to 1. I think what Prop 22 has done is, make people set up and take note and realize this battle is no longer in the future. Worker classification is here to stay.
Tanzina: Claire, Gustavo is also part of, I guess, a burgeoning union here in New York City, that is trying to organize workers. Are you seeing some of that across the country? Are there other workers like Gustavo who are trying to show their strength in numbers?
Claire: I think there are. In New York, we're seeing lots of turnout, protests at City Hall. Elsewhere, I think there is increased organizing. I think, again, Prop 22 in California was a wake-up call, and folks are starting to communicate and starting to get out there.
Tanzina: Claire Brown is a senior staff writer at The Counter. Claire, thanks so much.
Claire: Thanks so much for having me.
Tanzina: We did get a statement from DoorDash. You can read that on our website at thetakeaway.org. If we hear back from Uber Eats or GrubHub, we'll post those there as well. Now, talking to how restaurants are fairing. I'm joined now by Marcos Carbajal, co-owner of Carnitas Uruapan, which has two locations in Chicago. Marcos joined us a few months ago to talk about how the pandemic had affected his business, and he's back. Marcos, welcome back to The Takeaway.
Marcos Carbajal: Glad to be here.
Tanzina: How are things holding up for you?
Marcos: I think we're doing relatively well, given that our restaurant is very well equipped to do takeout. I'd say over 50% of our business before the pandemic was already takeout. We're uniquely prepared to, at least, have a fighting chance against something like this, unlike a lot of our peers.
Tanzina: Many, many, many restaurants across the country have closed. Those that are surviving seem to be surviving largely on delivery and some mix of outdoor-indoor dining. When it comes to using delivery apps, Marcos, do you use them for your restaurant?
Marcos: We do. We were pretty hesitant to use them years ago when they first started becoming popular, but we quickly realized that if anything, being on delivery apps was a good marketing exercise, since the market seemed to be shifting that way. Nowadays, they've become a valid lifeline for our business. Pre-pandemic, they were about 3% of our sales any given month, and now they've jumped 5 times to 15% of our sales in any given month. It's a an important lifeline for our business right now.
Tanzina: The workers who work for companies like DoorDash, GrubHub, Seamless, et cetera, Uber Eats, they do not work for you or other restaurant owners, they're independent workers. We just heard at the top of our show today from one of those workers, who's fighting for better conditions here in New York. What are your thoughts on worker safety and making their experience better?
Marcos: I think it's important. I think some of these workers, and I've seen it myself, are pushed to actually delivering for two to three companies at a time to make the numbers work for them. It becomes an issue for us when someone's clearly tired, not in the best mood and potentially dropping deliveries for three different companies on the same ride for our food. I think them having a better opportunity to get better pay, to get better benefits, it's only going to be a positive.
Tanzina: DoorDash, for example, just had an IPO where the stock price, as of last week, was $190. A lot of these workers-- One of the workers we spoke to earlier said he'd worked for 6 hours and only made $50. What are your thoughts on that? Is there a more equitable way restaurants can use these delivery services?
Marcos: I think all services are not created equal, and we're really starting to see that now. I feel like consumers are starting to generally come around to that fact. These delivery apps are very profit-driven, and it's a very opportunistic time for them. On average, they take 25% to 30% of a sale from the restaurant. To tell you the truth, restaurants ourselves, if we're a rockstar, really good operator, on the high end we'll make 15% to 20% net income at the end of the month.
These companies are actually making more off the food delivery in general than the restaurants are, which I think is a problem, and it's a perverse structure. I think increased competition in the space is changing things, there's upstarts like ChowNow and Talk, where there's a flat monthly fee. For example, we try to educate our customers that every time they pick up an order from Grubhub and DoorDash, we actually see the person, not the driver. We say, "Hey, thank you for supporting us. There's less fees and commissions for both of us, if you order through the link on our website."
I think people are starting to realize that, and they're starting to realize that the best way to support restaurants is in fact to just pick up the phone call and order direct or at the least order from their own website.
Tanzina: Marcos Carbajal is the co-owner of Carnitas Uruapan, which has two locations in Chicago. Marcos, thanks so much for being with us.
Marcos: Thank you for having me.
Copyright © 2020 New York Public Radio. All rights reserved. Visit our website terms of use at www.wnyc.org for further information.
New York Public Radio transcripts are created on a rush deadline, often by contractors. This text may not be in its final form and may be updated or revised in the future. Accuracy and availability may vary. The authoritative record of New York Public Radio's programming is the audio record.