Protests Erupt Around the Country After Grand Jury Announcement on Breonna Taylor Case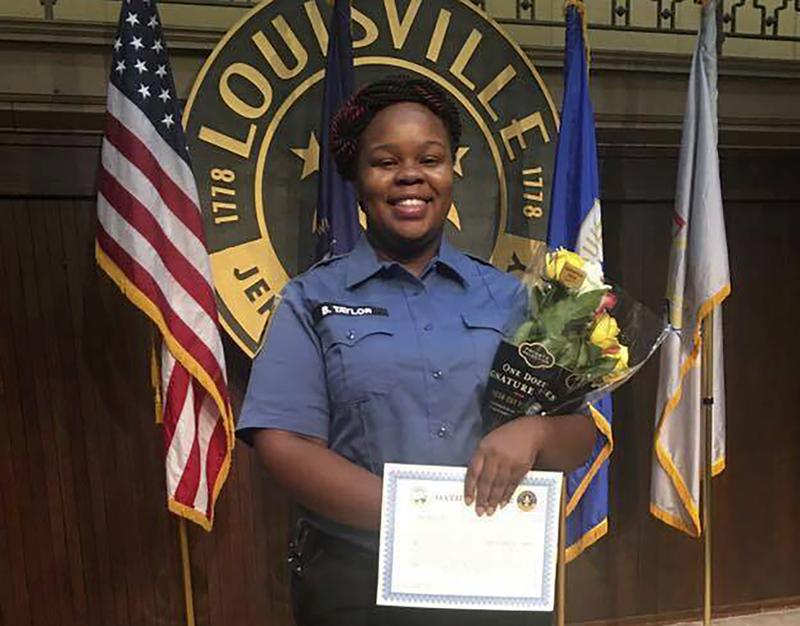 Transcript
[crowd protesting]
Daniel Cameron: I know that not everyone will be satisfied with the charges we've reported today. My team set out to investigate the circumstances surrounding Ms. Taylor's death. We did it with a singular goal in mind: pursuing the truth.
Tanzina Vega: Protests erupted around the country last night in reaction to the long-awaited decision in the case of the killing of Breonna Taylor. That was Kentucky Attorney General, Daniel Cameron, who announced the grand jury results yesterday afternoon. During a botched raid of her apartment in March, Louisville police shot and killed Taylor, a 26-year-old emergency room technician. Former detective Brett Hankinson, one of the officers on the scene that night, was indicted with three counts of wanton endangerment for bullets fired into a neighboring apartment.
The remaining officers involved in the raid however were not charged and none of the officers were indicted for actions related to Taylor's death. The announcement provoked protests throughout the city of Louisville where two police officers were also shot. We asked you for your reaction.
Kevin Garren: Hi, my name is Kevin Garren. I live in Louisville, Kentucky and I am mortified. I'm outraged. It seems like our city and our state and the country values property more than they do about people, particularly Black people.
John: My name's John, I'm calling from [unintelligible 00:02:15], Kentucky. I think the decision made in the Breonna Taylor case was, with the information currently available to the public and the media, the best decision that could be made.
Bronwyn Remi: This is Bronwyn Remi in Louisville, Kentucky. I am sad and angry and even worse, I'm not surprised. Backlash is so strong I have a hard time hoping for anything to get better. My heart's breaking for our cities right now.
Tanzina: You can keep calling us to share your thoughts at 877-8-MY-TAKE, that's 877-869-8253. Representative Sheila Jackson Lee from Texas weighed in on CNN yesterday and she serves on the judiciary committee in the house.
Sheila Jackson Lee: It is shameful what came out of the attorney general's office and the grand jury, not because of grand jurors, but because we know that prosecutors craft their own narrative. They can expand the number of witnesses that go into a grand jury or it can be very narrow. It is very obvious to us that there was a grave injustice because did he call the other witnesses who said they did not hear the officers announce themselves?
Tanzina: Today on The Takeaway, we hear the public reaction to the Breonna Taylor grand jury. I'm Tanzina Vega.
[music]
I'm joined by Graham Ambrose, Kentucky Center for Investigative Reporting. Graham, welcome to The Takeaway.
Graham Ambrose: Thank you for having me.
Tanzina: Back with me is Tim Findley Jr., Senior Pastor at Kingdom Fellowship in Louisville and founder of the Justice and Freedom Coalition. Tim, welcome back to the show.
Tim Findley: Thank you. Glad to be here.
Tanzina: Tim, your reaction to the news last night.
Tim: Incredibly confused, disappointed, and shocked, honestly. We going into this situation understood that there was a chance that there would be lesser charges but I don't know if any of us really saw charges that were not even related to Breonna Taylor's murder. Still shocked even hours later.
Tanzina: There were many emotional reactions to this. In addition to protest, people were visibly emotionally shaken by this news, Tim. How were the people that you work with in this space yesterday?
Tim: I was at the square where many of the protests have happened. It's really been the central hub. I was there actually when the announcement was given live and I've never really seen anything like what I saw yesterday. It seemed as though it was trauma embodied. I would say it was a few minutes until it actually sunk in that not only were these indictments not connected to Breonna Taylor, but the fact that then a curfew was put in. It was disappointing and people were literally just stunned.
Tanzina: Graham, part of the reaction that Tim is talking about here is largely because of the charges that were broader or should we say, not broad. Can you explain the charges that were brought against former detective Brett Hankinson? What is wanton endangerment?
Graham: Wanton endangerment is not homicide. It involves basically a reckless disregard for human life. It's a felony here in Kentucky, punishable by up to five years. In the indictment itself, it specifically says that the charges are related to Brett Hankinson firing his weapon into a nearby apartment that was not Breonna Taylor's and endangering the lives of three other people. They list the initials of the three other and none of them are BT, none of them are Breonna Taylor.
Tanzina: Graham, I want to play a little bit more of Attorney General Cameron's press conference because part of what was at issue here are something called no-knock warrants, which are warrants that allowed these officers to enter Taylor's home without her being aware that that was going to happen. Let's take a listen.
Daniel Cameron: The officer's statements about their announcement are corroborated by an independent witness, who was near in proximity to apartment 4. In other words, the warrant was not served as a no-knock warrant.
Tanzina: Graham, what is Attorney General Cameron trying-- the point that he's trying to make there?
Graham: The attorney general is saying, "Yes, they did announce themselves." It's what lead to the use of force being more justified. If they announce themselves and still no one answered the door and someone ultimately fired from within the apartment then, of course, they could return fire. However, this has been disputed by several neighbors at the apartment complex who said that "No, the officers did not announce themselves." It's a pretty tight-knit community. The apartments are physically right next to each other. It's in the middle of the night and these witnesses are saying, "Hey, we live there, we were there and we heard nothing until shots were fired."
Tanzina: Tim, we know Attorney General Cameron was a featured person at the Republican National Convention. This is somebody who has the support, I would imagine, of President Trump and beyond, Tim. He's also an African American. How has the African American community, the Black community more broadly, and even those who support the case for Breonna Taylor, how have they taken Cameron's approach?
Tim: To be completely blunt about it, anger. Daniel Cameron, I've had the opportunity several times to sit down and talk with him about this case. Again, I've always had an uneasy feeling just based off of where this country is, the climate. The inconsistencies in this case. I would say from the Black community, it feels as though Daniel Cameron never wanted to indict these officers. Listening to [unintelligible 00:08:24] Becker and having an opportunity to talk with her. Listening to Councilwoman Jessica Green. Sadiqa Reynolds who was the Urban League president.
All of these women are former prosecutors and I've heard them all allude to, in the last 24 hours, this understanding in Louisville that a prosecutor here can indict a ham sandwich. It just seems to me from hearing them that this is something that he never wanted to do. I think now this community will have a hard time trusting this attorney general and that may not even be something that he's concerned about.
Tanzina: Tim, when we spoke to you after the settlement Breonna Taylor's family received from the civil case, I'm wondering how the tone has changed now in light of this announcement by Cameron yesterday.
Tim: It just causes us to number one, look at this criminal justice system. Once again, see that this system is not for Black people, but it has also brought us closer together. There are challenges these days [unintelligible 00:09:30] are going to be difficult but I really believe that this is going to produce a motivation for voting.
Tanzina: Graham, let's talk a little bit about the other officers that were involved here. Why were they not charged at all?
Graham: There were two other officers who have been really at the center of public attention. Brett Hankinson, the officer who was charged, was known by protesters as the worst offender, he was fired over the summer for his actions that night which the chief of police at the time said were a shock to the conscience, but still, there were other officers involved in this raid. The attorney general yesterday was saying that the grand jury was given all of the information. They were walked through all charges and they ultimately decided not to make these charges.
Tanzina: This was a decision made by a grand jury. What options did the jury have in terms of the charges they could have levied against the officer's, Graham?
Graham: They have a lot of freedom to make a charge based on whatever the evidence provides. Although in a lot of cases, I've spoken to a bunch of prosecutors here in Louisville, and they say that it's typical for a prosecutor to make a recommendation to the grand jury, and typically grand juries will just follow these recommendations.
Tanzina: Tim, there were billboards. Oprah Winfrey bought a number of billboards to bring attention to this case, magazine covers including Vanity Fair. Protests around the country, uprisings for racial justice in Breonna Taylor's name, and none of that yielded the indictments that people were hoping to see or, at the very least, the criminal charges that they were hoping to see. Tim, what are the implications for this for the future, essentially of Black Kentuckians, at least, when it comes to relations with police?
Tim: Obviously this does not help. It's interesting being a Black American. It's interesting being someone in this country. When you talk to someone who isn't Black, it's almost hard for them to understand that even as a law-abiding citizen, when you are driving down the street and you see those blue lights, the trepidation, the anxiety that comes even when it comes to the way that you are policed or questioned.
I've had moments where I was in my neighborhood growing up as a teenager and talked to in a way that I don't think that people talk to animals like that. That was the culture in which many of us have grown up in. I believe that Breonna Taylor's name is going to be an absolute flashpoint from this point forward. When I think about my 19-year-old daughter, she doesn't have a necessary connection with, say, an Emmett Till she knows from the history books.
When you talk about Breonna Taylor, that's going to be her generations in the Till. It's going to be a flashpoint and my prayer is that it would be motivation for all of us to put pressure on this system to not just reform policing, but we have to reimagine policing because as it is right now, as it stands right now, this is a major issue all the way from the way that we're policed to the criminal justice system and incarceration and the numbers who are incarcerated; Black men, Black women.
This moment, I think it is extremely important that either we're going to take this moment and there's going to be change or we're going to continue down a road that is going to further divide this country. I think this puts so much pressure on us for November because of who's in that Oval Office, will also have an indelible mark in this moment.
Tanzina: Graham, where does the criminal case go from here? Is this the end of it, is the Department of Justice investigating any other charges in this case, including the civil rights charges?
Graham: This is likely the close to one arm of the investigative process. This basically closes the state investigation into that raid, but there's a federal investigation ongoing. It's from the FBI and it will be reviewed by the US Department of Justice and they're looking at whether or not civil rights were violated, at least according to the Kentucky attorney general as press conference yesterday. It's likely that there will be no more state charges brought in his case, but it is possible that there will be federal charges if the investigation turns something up.
Tanzina: Tim, what about for racial justice advocates?
Tim: The only thing that we really can do is continue fighting, obviously in this fight for justice, but we turn our attention to and I shouldn't say turn our attention to because it's been there the whole time, but we really begin to focus on elected officials. That to me is the next step, everyone from our mayor, from our Metro Council here and even to the individuals that they appoint. We have to have people in positions that have the community, that I'm a part of, our best interests at heart.
It's disheartening because many of us want justice now, but we have to understand that this is the long game and that is our next step. That's our next strategy and as advocates, as activists, as organizers, it is our goal to rally to get people registered to vote and to really take an interest in those individuals that have influence and yet do not use that influence for our community.
That's why I'm focusing in on our mayor, who I believe needs to step down. Our Metro Council members who voted to increase the LMPD budget in the middle of protesting police brutality and everyone else who had a hand in, even the judges. The judge who signed this search warrant. All of these individuals who have been appointed, who have been elected into these positions, the Black community has to show that we're together and that we will no longer sit by and allow people who come to our churches, come into our community, put their signs up and then disappear when we need them most. We have to show that that is no longer acceptable.
Tanzina: Tim Findley Jr. is a Senior Pastor at Kingdom Fellowship in Louisville and the founder of the Justice and Freedom Coalition. Graham Ambrose is a reporter for the Kentucky Center for Investigative Reporting. Graham, Tim, thanks to you both.
Tim: Thank you.
Copyright © 2020 New York Public Radio. All rights reserved. Visit our website terms of use at www.wnyc.org for further information.

New York Public Radio transcripts are created on a rush deadline, often by contractors. This text may not be in its final form and may be updated or revised in the future. Accuracy and availability may vary. The authoritative record of New York Public Radio's programming is the audio record.