Producer Appreciation Weeks: Morgan Givens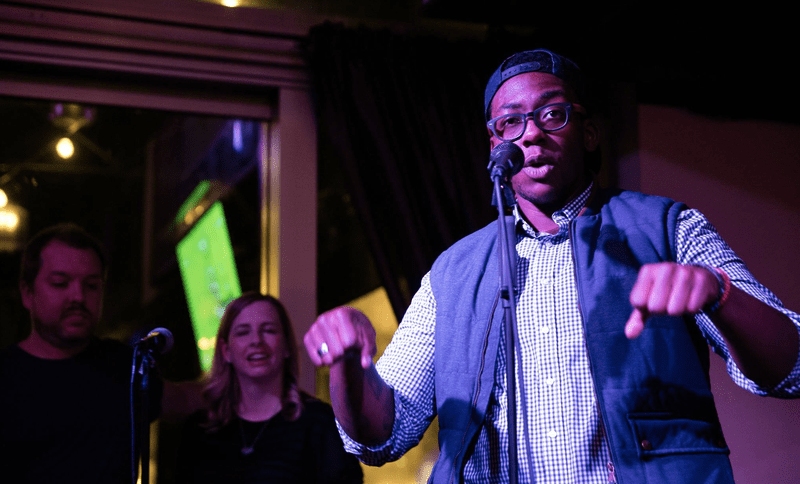 Transcript
[music]
Melissa Harris-Perry: This is The Takeaway. I'm Melissa Harris-Perry.
Thanks for joining us. As I'm sure you know by now, we're counting down to the final episode of The Takeaway, which will air on June 2nd. And before we go, we're using this time to introduce you to the dedicated team of The Takeaway, who are responsible for all the stories you've come to appreciate and love.
Yes, y'all, these are producer appreciation weeks, and today we're showing some serious appreciation for a truly capital producer, Morgan Givens. When I say capital, I'm not just referring to Morgan's first-rate radio making, I also mean that Morgan works out of Washington, DC and yes y'all, he's a big part of what makes The Takeaway go, go.
[music]
Hey Morgan, welcome to this side of the mic.
Morgan Givens: [laughs] Thanks, Melissa. Feels like I'm a tourist or something. Welcome to the mic's other side, tripping.
[laughter]
Melissa Harris-Perry: Listen, I am going to so miss your sense of humor, bro.
Morgan Givens: Oh, I appreciate that, especially because the conversation that we're going to revisit is a pretty serious one, and it's one that as a Black trans masculine person is pretty close to my heart. I'm constantly fascinated by the way society teaches us to separate parts of ourselves into limiting expressions of the gender binary. For a moment, Jonathan Majors seems somewhat interested in existing outside of, or at least peering outside of those confines. Remember the Ebony cover?
Melissa Harris-Perry: How could I forget? Majors was decked out in fluffy pinks and reds, and Morgan, he talked about his feelings.
Morgan Givens: He was repping vulnerable masculinity in the cool way, and some folks still took issue with his wearing of pink in 2023.
Melissa Harris-Perry: Wild, right? There were some folks accusing him of pushing an agenda of Black male emasculation. Now Majors spoke with one of my favorite humans, NPR's Ayesha Rascoe. And this was following the backlash he received for the Ebony cover.
[Interview of Jonathan Major with Ayesha Rascoe]
Jonathan Majors: I'd just be curious.
Ayesha Rascoe: What they have to say.
Jonathan Majors: Tell me what masculinity is. You know what I mean? I wouldn't wanna walk up on me in the street. It's bigger than it's love. It's like there's awareness and then there's acknowledgment of ignorance, a big part of his kindness, use of power, gentleness. These are masculine characteristics. It's quite unmasculine to try to emasculate another man.
[End of interview]
Melissa Harris-Perry: Shortly after that interview, in late March, Jonathan Majors was arrested on charges of assault and harassment against a woman. He was arraigned and subsequently released, and he continues to deny and dispute the charges.
Morgan Givens: Here's the curious thing though. After his arrest, we saw some of the same people who were up in arms about Majors embracing a more vulnerable side of himself, racing to defend him, now that an allegation of violence was attached to who he might be. I couldn't make heads or tails of it, and I wasn't the only one.
Melissa Harris-Perry: Which is why it's a good thing that Mark Anthony Neal, the James B. Duke distinguished professor of African and African-American studies at Duke University and also host of Left of Black podcast, he was around to try and help us make some sense of it through the historical lens of Black masculinity.
Mark Anthony Neal: I think historically we've understood Black manhood to be strength, to be integrity, to be honesty, to be bravery, to be that figure in Black communities that's always solid, that has everyone's back, and of course that's meant very different things and very different things generationally over the years. Black masculinity, I think Black manhood has always been seen as the last line of defense, particularly in the context of white supremacy, that if white supremacy is ultimately going to overthrow Blackness, if you will, it will happen in the context of undermining the Black man, undermining our ideals historically of what Black manhood is supposed to be.
I think it's a challenge particularly for young Black men, because they're given a set of ideals of what that last line of defense should look like. It's supposed to be historically heterosexual, it's supposed to be masculine, if not hyper-masculine. It was supposed to be a performance of Black manhood that would strike fear in white supremacy, so they would never come for us. I think for young Black men trying to live up to that ideal, which might not be something that is unique and part of your interior sense of who you are, but is a box that you're expected to fit in, I think that's often been a challenge for young Black men, and quite honestly, it's a challenge for older black men also.
Melissa Harris-Perry: Now, Morgan, I wonder what you think when you hear Professor Neal's thoughts and insights about what sounds like a core foundational tenant of Black masculinity,
Morgan Givens: The Master's Tools.
[laughter]
Morgan Givens: I laugh a little out of frustration or maybe a little sadness like that old El Paso taco shells commercial, why not both? I can't help but think of how emotionally limiting it must be to be raised with the understanding, even if unspoken that your role one day could be instilling fear in order to be safe and to keep loved ones safe. I've had moments myself where I've been in potentially dangerous situations and leaned into the fear I knew others surrounding me had, based on nothing more than the assumed belief that I'm a Black cisgender man. It's maddening, and I think of the way society punishes Black men and boys for societal beliefs that spring from that fear, it's one of the worst kinds of Catch-22.
Melissa Harris-Perry: Look, to be sure, and to be clear, Black masculinity as it's expected to be performed, isn't the only type of masculinity predicated in part on an idea of violence.
Morgan Givens: No doubt. The more I interrogate masculinity as a whole, the more absurd some gender performances seem to become. It's like we really just started labeling normal human behaviors as masculine or feminine. Crying.
Melissa Harris-Perry: Feminine.
Morgan Givens: Not crying
Melissa Harris-Perry: Masculine.
Morgan Givens: If who you are doesn't fit into those prescribed categories of acceptable behavior--
Melissa Harris-Perry: Then you're up gender creek without a paddle. Now, fortunately though there are some Black men we're able to see embracing the full range of themselves today. The first who comes to mind is of course, Billy Porter, who's been stunning photographers and fans on red carpets while shredding and evening gowns that defy the gender binary and openly embracing the parts of himself that he'd shunned in the past. Though it doesn't mean it's always an easy thing to do, and even with his confidence, it's not always certain it'll be accepted.
Mark Anthony Neal: Historically, obviously, there have been figures like a Billy Porter in Black communities. They didn't necessarily have a public form to fully express their ideas of themselves, even as they're continuously expressing their ideas of what it is to be a Black man in their moment. I think we've done damage to the idea of Black humanity by limiting the ways in which Black men are allowed to show up, how they dress, how they're styled, how they use language, how they move. We are complex human individuals.
I'm thinking also now the vocals of someone like Luther Vandross, because it's a performance of Black manhood that shares a range of emotions. It's not that Black men don't have emotions, but the acceptable emotions for Black men have often been anger and rage. When we say anger and rage, we have no problem understanding that as a performance of Black masculinity, but when we start to talk about things like tenderness, when we start to talk about things like vulnerability, for many folks, they still see that as a mark of weakness amongst Black men as opposed to a strength.
Melissa Harris-Perry: This is the social arena that Majors stepped into, clad in a shaggy pink jacket on the cover of Ebony. Some comments were positive, others bristled with homophobia at the softness depicted by Majors' image in the photos.
Mark Anthony Neal: On the one hand, you give John to the Majors kudos for being comfortable enough in his masculinity that he can wear anything that he wants. I'd like to think we're in a historical moment where many Black men feel comfortable in that way. Some of the critiques that you heard, that success in Hollywood, if you're Jonathan Majors or so many other Black men, means that you have to be a feminized in that context, that the price that you pay for being a top line Black male actor in Hollywood is to lose your masculinity? I'm sure for many Black men who cover a range of personalities and styles within Black masculinity, it was absolutely hurtful to hear those comments and those comments themselves are derived from this fear that Black masculinity is being eroded in this moment.
Melissa Harris-Perry: Of course, then almost immediately, the next thing that we hear in public space around Jonathan Majors is his arrest on a domestic dispute. He was charged with harassment and assault. He denied the allegations and then following his arrest, some of those same spirit of, oh, he's emasculating Black men took up the position behind him as supporter suggesting that, oh, no this is indicative that he actually is manly. He actually is sufficiently masculine.
Mark Anthony Neal: This is the thing and I'll draw from my own work in this context. Jonathan Majors on the cover for many Black men, for some Black men was illegible. What then made him legible is an accusation of domestic violence. That's the thing that made him a real man. Because again in some sectors of the Black community amongst Black men and women that what a real man does is keep his quote-unquote "woman in control," and if all other means don't work then he resort to violence.
We know this is a long historical narrative, but not just in Black communities. I think that's troubling to me, particularly how quickly it shifted. Part of that is the world of social media where everything shifts. One day news story is gone five hours later. Just the way that the sentiment shifted for folks who were so critical and ambivalent about Jonathan Majors prior to that moment, because of the cover on the magazine suddenly the ambivalence disappears.
Melissa Harris-Perry: What does that help us to understand about what the narrow definitions of Black masculinity mean for Black girls and women?
Mark Anthony Neal: I think it's troubling still in the sense that we still have no real measure of the amount of domestic violence, abuse that occurs within Black communities. If there is still such a long-held belief that part of the role of a Black man is to instill discipline amongst women in Black communities and children in Black communities and that the most effective means of that discipline is violence. That's not even considering the role of emotional violence in the context of this.
On the one hand, I think 20 years ago we were not having the full conversation about what Jonathan Majors looked like on the cover of magazine or the accusations of domestic violence 20 years ago to the fullness that we're having these conversations now. I think in that regard it bodes well for future generations of young Black folks. Who in considering everything that's going on can have a much more deeper understanding of what's at risk. When we hold onto these very, very old stereotypes and archetypes of what Black masculinity is supposed to be.
Melissa Harris-Perry: Listening back on that conversation Morgan, I'm wondering what does Black masculinity mean to you?
Morgan Givens: Oh, goodness. I feel like I'm still exploring that, but for me it's about reclaiming my humanity, like all parts of it. Masculine, feminine and the parts that exist outside of easy categorization. Maybe one day I hope we move beyond it enough for people to simply be who they are and hopefully create a world where we don't cage the imagination's, expressions and humanity of others. Oh, and I'd also like to thank fellow producer Katerina Barton for her help preparing this interview too.
[music]
Morgan Givens: This interview with Denne Michele Norris, who's the first Black openly trans woman to helm a major literary publication Electric Literature, was part of our Black Queer Rising series during Black History month. Part of what I love about the series itself is the way it creates space to uplift amazing Black queer people while also making sure it's not only about some of the trauma inflicted by society on us. Can I ask how y'all came up with the idea for the series? Because I know it's not the first time y'all have done it.
Melissa Harris-Perry: All right. This one is all on our guy Zack Bynum. Zach, of course is team Takeaways digital producer and as I like to say, "The keeper of the Gen Z vibes." During my very first February hosting The Takeaway, I'd asked the team for Black History month pitches, but I'd warned I didn't just want like McDonald's Black History month facts. Zach answered the call with this fully intersectional series that links our histories and our current moment. Of course, we all loved it so much that we just kept the Black Queer Rising going even beyond that first February.
Morgan Givens: That is dope. Appreciate you Zach. Now let's listen in to this interview with Denne. She speaks with Janae Pierre, who is our ace backup and host of the podcast. Consider this.
[Interview of Denne Michele Norris with Janae Pierre]
Janae Pierre: You describe yourself as someone with an artist's heart, but there was one point where you thought you were going to be a lawyer. What changed for you?
Denne Michele Norris: I graduated from college in 2008 and that was when the economy really fell apart. I felt like I had been raised to believe that if I worked hard, I went to college, I would just be handed some kind of stable job. I'd be able to build independent adult life. I had worked toward this and been very excited towards it, even though I really had wanted at that time to play classical music professionally. I grew up playing the viola.
When it just seemed there were no jobs to be had and there was nothing to be done, I had fallen in love with writing in college and I just thought to myself, why not do what I want to do if the economy's bad and I'm probably never going to make any money anyway? Of course, we know how millennials are behind other generations economically speaking even now, but we didn't know that then. I just thought to myself, just do what you want to do. If you want to be a writer, try being a writer. I really did. I sat down and I just started working hard at trying to write good short stories.
Janae Pierre: There's a note of religiosity that comes across in some of your work. Talk to me about that.
Denne Michele Norris: That is the conflict or attention with religion. Queerness is, I would say a central theme in pretty much all of my work and that comes from a very personal place. I grew up in a religious home and my father for many years he was a Baptist pastor in the American Baptist churches. Actually the whole way that my family made our way to Cleveland when I was a toddler, is that my father got a job as what's called the Executive Minister of the Cleveland Baptist Association. In that role, he was over some 40 Baptist churches and he was equivalent to what Catholics would call a bishop.
Religion was the central question and theme in my childhood and in my family life. It vaulted my family into this somewhat public sphere, which meant that there was an element of it not just being a personal, internal family conversation, but a thing that was a lens through which other folks looked at us and looked at our family. It was this huge, huge presence in my life, and a lot of my work, I think, for that reason deals with questions of faith and its intersections with other aspects of our lives.
Janae Pierre: I know every artist has their own reasoning. I'm curious about yours. Why do you create? What is it inside of you that you want to make sure comes out and is seen, heard, and read?
Denne Michele Norris: It's interesting because this is a question that I think for many artists and at least for me as a writer, the answer is not always the same. I think a lot about having a whole career, having a body of work that I can look upon at the end of my life. At different times, there are sometimes different things, different forces, different parts of me that I want to foreground and show to the world. But I think ultimately, what's behind what I do as a writer is that desire to take the innermost parts of myself, the things that are in the world that are the most perplexing to me. The questions that keep me up at night that I'm always pondering the big existential things. I want to take those things and share them with the world because my feeling is that there are other folks who have many of those same questions who might be in the same position as me or the same identities as me.
I think we go through so much of life thinking and feeling that we're alone in these things, in these questions, in these obsessions that might perplex us. We're not alone. I think we come to art to find that companionship. I think of it a lot as, like I'm taking something from inside myself. I'm taking my hand, and I'm extending it to the reader and the reader is extending their hand and we're going on this journey together. Once we do that, we have a friend, we have a teammate, we have a compatriot by our side.
[End of interview]
Melissa Harris-Perry: All right, everybody, keep an eye out for Denne Michele Norris's forthcoming book When the Harvest Comes. We can share more of Morgan's favorite interviews and stories in just a bit. Now, Morgan, take us out of here.
Morgan Givens: Stick around. This is The Takeaway.
[music]
Melissa Harris-Perry: This is The Takeaway. I'm Melissa Harris-Perry, and we're digging into some of Morgan Givens's favorite guests and interviews that he's produced. It's all part of our Producer Appreciation Weeks.
Morgan Givens: This next one is an interview from our friend Janae Pierre, who slid into the host chair for a little bit. I don't want to take too much time from this one because Danez Smith is someone I want to leave space for. Their work is tender, vulnerable, and at times, righteously angry
Melissa Harris-Perry: Danez, is a Lambda award-winning and National Book award finalist poet and author. Let's make sure we leave that space you were just talking about. Here is Slam Poet Danez Smith from our series, Black Queer Rising.
Danez: When I was 14, I was lucky enough to stumble into the local spoken word community here in Minneapolis. Before then, I had only been exposed to dead and majority white writers. All of a sudden, poetry was alive and vibrant and it looked like me. It helped save my life and make sense of the world that I think I was awakening up to at the time. I still write because it has continued to save my life and continue to be a compass and a star that I can follow when I'm in despair, when I am in confusion when I'm in grief. It's also become a place to hold my ecstasy and my joy and my change.
[Interview of Danez with Janae Pierre]
Janae Pierre: If you don't mind, I'd like for you to read one of your poems. It's called The Slap.
Danez:
There's no love there.
So the words won't come.
Or it's not my love, so I can't speak on it.
And my hands knew before my brain,
which sent me here to capture the faulty papers flung into electric space about the hand meeting the face,
and how somehow this sets black folks back into the fields and up the trees.
I want Black people free from my decisions.
I want my actions to be mine and useful.
I wish my cruelty to wither, and hopefully, my karma has come.
Ugh, the things I've said about Black women in public, things that were overheard or deleted,
things I meant to harm and things I said because I was taught to say them.
I am a faulty ally. I've thrown hands to defend.
Yes, but I've also fired the bullet of words.
I knew which insults would hit and said them.
Someone has the receipts, the scar.
I called Tanya,
so beautiful and kind Tanya,
who was good to me and who I loved, dark in a way meant to hurt.
And it did. Her disappointment haunted me for years.
I was so small when I said it so grown, by the time it left my dreams,
there was my proof.
I too could hurt the people I love.
What good was me wailing out of my grandfather's face to allow her off the floor,
if I had already begun to turn his evils into traditions.
At the end of my action was a Black girl crying.
Someone should have knocked me out.
I wish I was better earlier.
I wish a world where Black women are safe, sweet-wish.
I am starward now.
This is my goodbye.
My apology will be distance,
or eat me here and let me fumble into a steward of your peace.
My prayer, may the world be a Black girl's cake.
My promise, or burn it down.
[End of interview]
Morgan Givens: Their poetry and the musicality and their voice really help bring that poem to life. I can hear them grappling in part with the ways we cause harm to those we love, but they do so in a way that shows how those harms are learned.
Melissa Harris-Perry: While also, of course, demanding a better world for Black women and girls and recognizing their role in creating that world. We wanted to know what comes first for Danez when crafting their poetry. Do they recognize moments they could have been a better person and then the poetry comes, or does the poetry come before this recognition? Here's what they had to say.
[Interview of Danez with Janae Pierre]
Danez: I think it happens both ways. I won't speak for all poets, but as a poet myself, I am both moved by what poetry becomes a vehicle for in to communicate, but also I delight in the communication itself. I think what I'm saying is I love what poetry holds, but then I just love the language of the poem. Sometimes with the poem, it's just sounds and words or maybe an image. I often say I'm a poet of people-watching. Sometimes I see somebody do something weird on the street and just their movement, the delight on their face, the something else leads me to bring some words to my mind. I try to run and write the poem.
For myself, I am always interested-- I used to think I did a lot of poems that were pointing at other people. I'm more interested at this point of pointing at myself and thinking about how this thing relates to me in the world. Looking at Chris Rock and Will Smith and Will Smith's defense of his wife and Chris Rock's--
Janae Pierre: Lack of defense. [chuckles].
Danez: Lack of lack of defense. Right. Chris Rock's not even that funny joke, his offense of her. Then lays me to think about myself. I think it would be easy to talk about how the world treats Black women. I've written poems about that before. But I am worldly, I am in the world, and how have I been part of that? I think it would've been easy to be the Will Smith in the poem, but to think about being the Chris Rock, how have I harmed these women who have so protected and enlivened and inspired me?
Janae Pierre: You've long been on the rise and you have indeed arrived, but I'm curious, what does Black Queer Rising as an idea and belief, what does Black Queer Rising mean to you?
Danez: Ooh, when I hear that, I hear a call to make a world where Black queer folks, Black trans folks, are able to move past surviving and into thriving. When I hear rising, I hear soaring, I hear flying. It makes me think of shows like Pose. Where, oftentimes, we were seeing those characters survive and by any means necessary doing what they needed to do that. We also see how Survival Kills characters in that show.
Then there's moments, I don't know, spoiler alert if you haven't watched all the way through Pose. There's that moment where Angels getting married and she invites all her Black trans and Latina trans sisters to wear the wedding gowns. [laughs] That's the moment where I'm like, "Oh, that's the rising." In world where we are loved, where our joy is not in despite of something else, where our survival is not magnificent or a tale against what is common. Let people marvel in the magnitude and the wonder that are our gifts that are being.
[End of interview]
Melissa Harris-Perry: That was Lambda Literary award-winning and National Book Award Finalist Denez Smith. I got to say, Morgan, you really do love an artist interview.
Morgan Givens: [chuckles] I can't help it. They do such phenomenal work.
[music]
Morgan Givens: This one is with Titus Kaphar, who creates stunning visual art. I mean the type of art that really just forces you to stop and look. It's almost like you've got no choice but to pay attention to his work and what he's got to say. I got to say, I'm super interested in the story he tells through his art and the way he forces us to face uncomfortable societal and internal truths in such a beautiful way.
Melissa Harris-Perry: I've gotten to see some of his work, and in person, it is really something. Titus shared how creating art is an act that is liberating for him.
Titus: I work in a lot of different mediums. I started as a painter, specifically, and in many ways, I will always see the world through a painter's eyes but art feels like freedom. It feels like the opportunity to let other folks know, "I'm going to do it a little bit differently."
Morgan Givens: Titus is highly acclaimed as an artist. He's got stacks of coveted awards and recognitions. He's even got a MacArthur Genius Grant and a Time magazine cover and through it all, the honors, the awards, he maintains his sense of self and voice, even when dealing with folks who might not agree with his vision.
Melissa Harris-Perry: To hear him tell it, the awards aren't even the point for him, it's the work and the freedom he finds in creation that really define him as an artist so why don't we pick up his interview right now?
[Interview of Titus with Melissa Harris-Perry]
Melissa Harris-Perry: The first time I engaged with your art was the Unseen exhibit at the Smithsonian. I feel like maybe people have at least seen some reproductions of some of these works. Since it's radio and I can't show a picture, can you describe some of these pieces where you're literally it feels like peeling down the canvas and revealing what is behind? Can you just describe maybe one?
Titus: I think the most well-known, if that's the right way to describe it, piece in that exhibition is a painting called Behind the Myth of Benevolence. That painting is actually based on a conversation that I had with an American history teacher. She is a 80-year-old woman who I care for deeply, but we share no political beliefs. I enjoy having conversations with people that believe differently than me, generally.
At some point, we got into a conversation about Thomas Jefferson. As I said, she's an American history teacher. She taught high school for 40 years. At some point in the conversation, she said, "Well, Thomas Jefferson is a benevolent slave owner." That phrase confused me so much that I asked her to explain herself and long story short, she wasn't able to do that.
I left her kitchen table perplexed, confused, upset, and went to the studio where I tend to deal with those kinds of emotions. I started a painting where on the surface layer, you have a black woman who is clearly sitting in a private space. It's dark, the background is blue, there's a bronze dish with water in it, maybe she's bathing. In front of that is a portrait of Thomas Jefferson that is pushed to the side, almost like a curtain being drawn back. Behind this portrait of Thomas Jefferson is this portrait of this black woman, and the conversation in that painting speaks to the horrific, I say horrific, circumstance of Sally Mae Hemings and Thomas Jefferson.
Melissa Harris-Perry: You, as the artist, as the creator, in that moment, are you hoping for a particular reaction from those of us who will view it?
Titus: Early on in my practice, it became very clear that I have to find strategies to push out outside voices. I'm not thinking about, forgive me, you, or anyone else in the process of making the paintings. When I'm making these decisions, they have to come from an interior place. If they are rooted in trying to be didactic and teach a lesson or something like that, I find that the work that I make from that particular place is not good.
I recognize that the things that I struggle with, the world sees as political I recognize that when they see my painting where there are two Black men in the center and their hands are up, and it's whitewashed, and there's a frantic energy to every brush stroke, I know that people see that and think, "Oh, this is about Black Lives Matter." The reality is that painting is about me and my brother walking down the street of Chelsea and being stopped by police officers with their hands on their guns, and while my white collectors walk by, I am now made to look like a criminal when I've done nothing. All of this stuff that can be received as these political acts is personal.
Melissa Harris-Perry: Titus is also the mind behind the Oscar-shortlisted documentary Shut Up and Paint.
Titus: The film you're talking about is a short film that was shortlisted for an Oscar but did not get nominated, which is totally fine. There are some really great documentaries out there right now that are talking about some really important stuff, and so I'm excited for them. That film was about this conversation that I was having with a particular dealer who was trying to convince me that if I would just stop talking so much about the difficult things for me in terms of the politics of my conversation in interviews he was specifically talking about that he could sell more of my work and spoiler alert, my response is, "Why would I do that?" If I make that change, there's really no reason for me to make work anymore because then, that's about you. That's really not about me and I'm selfish. In my practice, I am selfish, I do this for me.
Morgan Givens: Titus Kaphar does this work for himself, but I'm glad we all get to benefit from what he creates and what he shares. He's not selfish with his time, and he's co-founded the Next Haven Artist Fellowships and Apprenticeships program that supports and offers mentorship to young artists.
Melissa Harris-Perry: That's certainly not selfish in the least.
[music]
Morgan Givens: It's time to discuss one of my favorite hobbies, gaming.
[music]
Melissa Harris-Perry: Sometimes the producers just really teach me things, and you are definitely my Sherpa through gaming. I am not a gamer, but I recognize how video games are everywhere. Ask me about anything other than maybe Super Mario Brothers or these days Splatoon, and I'm going to get lost.
Morgan Givens: Yo, that cannot be true.
Melissa Harris-Perry: Okay, so I also know about Pac-Man.
Morgan Givens: Miss Pac-Man is better, but I mean--
Melissa Harris-Perry: [laughs] I said I recognize, not that it was better.
Morgan Givens: All right. Okay, fair. Most of us are somewhat familiar with that Italian plumber racing through castles in search of Princess Peach, and some of us even grew up with a blue speedrunner Hedgehog, Sonic.
Melissa Harris-Perry: Even I, non-gamer that I am can recognize the explosive growth of the gaming industry in the decades since the release of Atari's Pong. US consumers spent $56.6 billion last year on the hobby, and when we look worldwide, that number explodes to $170 billion, raking in more than the global movie industry.
Morgan Givens: Ain't nobody going to the movies right now anyway. All right, I'm kidding, but gaming is massive. As it continues its cultural expansion and dominance, questions of who video games are made for, what types of gamers should have access, and what that access even looks like have emerged.
Melissa Harris-Perry: Happy to say that Grant Stoner's got some ideas on that. He's an accessibility journalist who documents and examines the video game industry from a disabled perspective. Now, Grant's work has appeared in the Washington Post, Wired, and IGN. Let's start with how you got into gaming. When did that love for video games show up for you?
Grant Stoner: When I was a young child, roughly three or four years old, I was playing video games with my brother. At the time, my occupational therapist encouraged my parents to let me play games because it was helping exercise my fingers and my hands, because of that, I grew up playing games across a variety of systems, which not only fueled my love for it but helped keep my hands nimble.
Melissa Harris-Perry: You talk about the therapeutic benefits for your hands, but maybe you can just give us the broadest definition for you of what accessibility means. What does it mean to say that a game is accessible?
Grant Stoner: Accessibility is different depending on what your disability is. For me, it's being able to play with as little barriers as possible. Every game has certain goals and accomplishments that you need to complete but when you're disabled, you encounter barriers that others don't experience whether through lack of controls, difficulty with certain encounters, and accessibility helps alleviate those barriers so that we can have the same experiences as everyone else.
Melissa Harris-Perry: You talk about having the same experiences, but isn't that part of gaming that different players really do experience games differently?
Grant Stoner: It is, but if you spend time on social media and such, you see people actively fight against that notion but in truth, like you said, everyone experiences games differently. There isn't a single right way to play games and that's the message that a lot of my stories deal with, is that disabled people want the same experiences as everyone else. We need to continue pushing and advocating so developers to make their games as barrier-free as possible.
Melissa Harris-Perry: I love this language of barrier-free. Talk to me about what is both simple and complicated about making games accessible.
Grant Stoner: As a player and as someone who is regularly interviewed by developers and other disabled players, it's something as simple as maybe adding customizable controls so people can change their buttons or perhaps something a bit more complicated like difficulty modes so that people can seamlessly switch between easy mode, maybe normal difficulty. Perhaps there's even varying subtitle options that you can use for deaf or hard-of-hearing players. It all depends on what the game is, how developers want their players to experience it. Whenever they understand that, then they can begin layering accessibility throughout all processes of the game development.
Melissa Harris-Perry: It may seem obvious, but I want to ask anyway, why does it matter? This isn't about accessibility to a restroom or to a workplace or to a classroom. Why should we care if games are accessible?
Grant Stoner: Video games are the most profitable medium in the entire world. They beat music, they beat movies and then you consider that the vast majority of people on this earth play video games, whether it's on your phone, a simple computer game like Solitaire or Wordle for The New York Times, or more complex games like Call of Duty or say, Elden Ring. If you're preventing disabled people from interacting with the biggest medium, you're effectively pushing them out of society. You're not allowing them to engage in conversations about pop culture phenomenon. You're not allowing them to connect with other individuals. You're not allowing them to decompress after a hard day. If we don't open these games to disabled players, what we're doing is we're effectively shedding them out from the biggest medium.
Melissa Harris-Perry: I so appreciate that answer, although I am also absolutely tripping that it is the most profitable medium.
Grant Stoner: The newest Avatar movie make over $1 billion within a few weeks, but Call of Duty with its newest release this year made over $1 billion in three days, and that game comes out at least once every two years, sometimes once every year.
Melissa Harris-Perry: I know that Call of Duty: World at War was particularly difficult for you to play. Can you talk about the accessibility hack that you used?
Grant Stoner: That was my own accessibility awakening, where it was the first time that I was playing an online game with friends, and I wasn't able to fully compete alongside them. My brother taped a popsicle stick to the back of my controller. With that modification, I was then able to compete much better. It was the first moment where I was like, "Oh, maybe I do need accessibility."
Melissa Harris-Perry: Where'd you get the popsicle sticks?
Grant Stoner: My freezer. Many popsicle sticks. Every time one of them would break, my dad or my brother would start just eating a popsicle really fast so we can wash it off and tape it to the controller. We've gone through many popsicles
Melissa Harris-Perry: Grant Stoner, thank you so much for taking the time out to spend a little time with us here on The Takeaway.
Grant Stoner: Thank you, again, for having me.
Melissa Harris-Perry: All right, y'all, we're going to go ahead and head out now, but before we go, just a few words about producer Morgan Givens. Morgan, I just have to say my main thought at this moment, brah, is clearly you should have been sitting in the co-host chair for months. I have loved revisiting these segments with you. While we did this one for broadcast, I feel like it's just a glimpse into precisely what you've brought to The Takeaway from the moment you arrived. Your whole full, fabulous, brilliant, hilarious self. Let me just speak for all of us when I say that we have really fallen head over heels for the self that you are.
I am so grateful that you trust me to deliver the gorgeous language you write, and that you've given me an opportunity to talk with people and about issues that mean so much to you, and that by producing these stories as you do, you've made all these people and ideas and art and games matter to all of us as well, but Morgan, really, most of all, I just want you to know that I am rooting for you for freaking ever. I can't wait to see what you imagine, what you create, and what you launch into the world. I can't wait to live in the world that is changed by what you do. Morgan, if you ever need someone to ride sidecar on the mic in a future project, just call me up. I ain't going to be nowhere but outside with my chickens.
Morgan Givens: [laughs] Melissa, not you out here trying to make me cry thug tears, but no. I had told some friends shortly before I began working here and working with you all that it would be so cool to work with and learn from Melissa Harris-Perry and then it happened. I'll just say that it has been a privilege, indeed an honor, to truly learn and work with you every day, because I do learn something from you every day and I deeply, deeply appreciate that, so thank you.
Melissa Harris-Perry: All right, everybody. Thanks so much to all of y'all for listening. I'm Melissa Harris-Perry. This is The takeaway.
[music]
[00:49:05] [END OF AUDIO]
Copyright © 2023 New York Public Radio. All rights reserved. Visit our website terms of use at www.wnyc.org for further information.
New York Public Radio transcripts are created on a rush deadline, often by contractors. This text may not be in its final form and may be updated or revised in the future. Accuracy and availability may vary. The authoritative record of New York Public Radio's programming is the audio record.