Prison Populations Increase Despite Success of Early Release Programs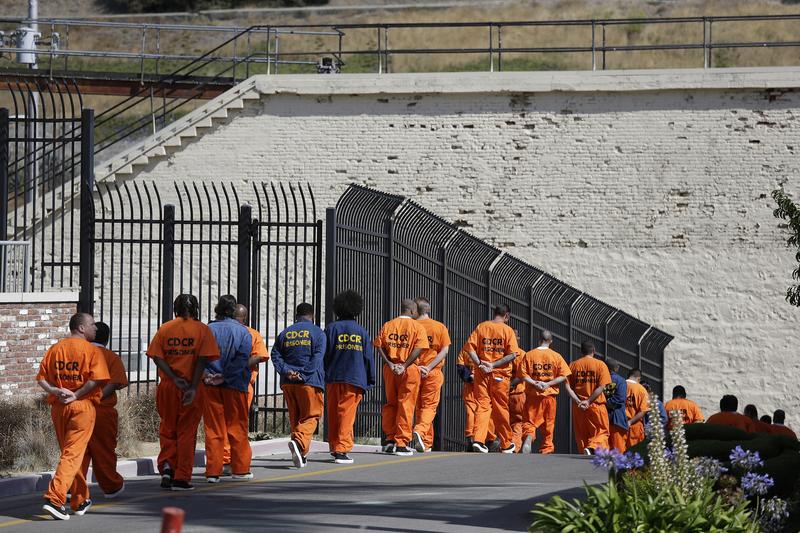 Transcript
Melissa Harris-Perry: You're listening to The Takeaway. I'm Melissa Harris-Perry. The United States has the highest incarceration rate and the largest number of prisoners in the world. Nearly half are locked away on drug charges or property crimes, often with sentences longer than those convicted of violent offenses. It's a problem advocates have been working to address for decades and one which became even more urgent when the deadly coronavirus began sweeping through overcrowded prisons and claiming lives.
Some states took action to address over-incarceration in prisons during the pandemic. In the fall of 2020, New Jersey Governor Phil Murphy signed legislation that allowed prisoners to reduce their sentences by up to eight months. Now at that time, New Jersey had the highest COVID-19 prison death rate in the country.
Here's Karen Yi, a reporter for WNYC Radio, who's been following it.
Karen Yi: During that first wave of the program in 2020, and through last year, more than 5,300 people were freed early, and that dramatically reduce the prison population by 40% to levels not seen since the 1980s. People got to go home early to their communities, to their families, and the prison system, theoretically, was better able to operate with fewer inmates during a pandemic.
Melissa Harris-Perry: New Jersey's early release program stopped last October when Governor Murphy ended the state's public health emergency, but the governor reinstated the emergency order last month, and this week, more than 250 people were scheduled to be released early from the state's prisons.
Now at the federal level, there was some hope back in 2018 when President Trump signed the First Step Act. It's bipartisan criminal justice legislation designed to create incentives to participate in recidivism reduction programs in exchange for early release, but it wasn't until January of this year 2022 that the Federal Bureau of Prisons finally began to implement the program.
This is the kind of push-pull progress regress that has come to characterize decarceration efforts in the United States. In fact, the number of people released overall from state and federal prisons in 2020 was smaller than the total released in 2019. For more on this, I spoke with Lauren-Brooke Eisen, Director of the Justice Program at the Brennan Center for Justice. I asked Lauren-Brooke to start by explaining what the First Step Act has meant for people incarcerated in federal prisons.
Lauren-Brooke Eisen: The First Step Act was passed in 2018. This was bipartisan legislation that focuses on cutting unnecessarily long federal sentences and improving conditions in federal prisons. Among other things, it improves access to classes, counseling, and programming for those who are incarcerated in the federal system. In fact, the Brennan Center report found that almost 40% of people in our state and federal prisons don't need to be there, highlights the need to divert people from the criminal legal system, and make use of alternatives to incarceration, drug treatment counseling.
We, as a country, are wasting enormous resources on the criminal legal system and on mass incarceration. Moving forward, it's really important that we reduce the number of people who are in our prisons and our jails. The dangers posed by COVID-19 could have accelerated our efforts to unwind mass incarceration, but we haven't really seen that play out, and the threat of the virus to people in jail, to people in prison, staff who work there, and to the communities who all of these people return to endures. When it comes to the criminal legal system, we've really got to significantly shrink the number of jails and prisons we have in our country. We assume they are a public health disaster, and we know that we don't need to have so many people locked up to have safe communities.
Melissa Harris-Perry: Is there an example of a stage or of a locality where maybe even taking the New Jersey example, I know that's been back and forth and that kind of thing, but I'm wondering, is there a case study, I guess, is what I'm looking for here, where we did see some commitment to decarceration, whether prompted by COVID, or as a policy decision that was made either prior to or some period after the immediate initial COVID crisis, someplace where we can say, "Look, there in City A, here's what happened, and here were the outcomes." I just think sometimes it's like putting that clear example for the listeners as a useful way to try to think through this.
Lauren-Brooke Eisen: There is no jurisdiction that I would highlight as a model. There are policies that certain jurisdictions implemented that should be modeled across the country, but again, these are patchwork policies. Part of that is because the criminal legal system in the US includes so many counties and states and a federal system. There is really no one model. We've seen some policy that should be replicated. Certainly, New Jersey and California have led the way in terms of reducing the number of people in their state prisons, but both of those states also had a huge number of incarcerated individuals get sick and die from COVID.
We've seen some counties waive fees for medical co-pays, for hygiene products, for video, and telephone calls with families, but again, there's just not a lot of consistency. Unfortunately, what we've seen over the last couple of years as well is that a lot of states have been using solitary confinement, for example, to increase their ability to social distance, but we know that there are so many negative mental health consequences for using solitary confinement. What happened is that a lot of these counties and states were just reacting to an emergency situation. These are facilities that again were understaffed from the beginning before the pandemic, but hopefully, we can start to emerge from this pandemic with some significant lessons learned that include a real need to decarceration.
That is one of the most important things that we can be doing as a country is diverting people, specifically diverting people to these programs that allow them to avoid conviction or even criminal charges if they complete certain programs. We know a lot about how long prison sentences don't deter crime and how they're actually counterproductive for public safety.
We know a lot about what we need to do in terms of reentry. We've got to remove barriers to housing. We've got to better fund reentry programs, and we've got to invest in communities that we've never invested in. We've got to invest in education. We've got to invest in after-school programs, summer programs. All of this needs to be done as part of a concerted effort to produce public safety and thriving communities without the negative consequences of mass incarceration.
Melissa Harris-Perry: Okay. Let's just talk about early release programs during COVID. Remind us of the conditions that initiated some of these circumstances and which inmates were affected by it?
Lauren-Brooke Eisen: The US is the world's number one incarcerator with less than 5% of the global population yet, nearly 25% of the world's prisoners. When we talk about these correctional facilities where these prisoners are held, there's a federal system and then there are thousands of county jails. There are 50 states that have dozens of prisons within their states. We're talking about thousands of prisons and jails.
We know that our correctional facilities are often overcrowded, unsanitary. Right now, a handful of states and many prisons in the federal system have far more prisoners than they were even designed to hold. Within those correctional facilities, many of our prisoners are elderly, with a history of poor health care. This translates to people being kept in dangerously close quarters and filthy conditions where communicable diseases spread very rapidly.
These are the conditions that existed before COVID-19 emerged. What happened with COVID-19 is that it really brought into sharp focus the deplorable and abhorrent conditions in our overcrowded jails and prisons. These facilities were ripe for a devastating outbreak.
Melissa Harris-Perry: When you talk about these conditions that incarcerated people were living under as the pandemic descended, and yet it's not as though, and help me out if I'm wrong here, it's not as though prison officials and state jail, local officials looked at these conditions and said, "Oh, my goodness, we need a circumstance to ensure that people aren't in these conditions." The activists and people who are themselves incarcerated had to call for some kind of humane relief.
Lauren-Brooke Eisen: You're absolutely right. When the pandemic emerged in the US in March 2020, the advocates, incarcerated individuals or families really hoped that this would be a moment of change when it comes to how we create incarcerated people, and frankly, how many people we, as a country, keep behind bars. What happened is that states, counties, and the federal government, they all responded with these inconsistent ad hoc policies.
All of them were attempting to curb the devastation of COVID-19, but they were doing so while also dealing with significant staff shortages at correctional facilities that pre-existed before the pandemic, and that became much more significant during the pandemic. We did start to see early on some declines that were driven primarily by a reduction in admissions at some local jails. These were some of the policies that we saw emerge early on to reduce the number of people in mostly local jails.
This was a positive moment where advocates, incarcerated individuals and their families thought, maybe the US is at a tipping point, maybe we can reimagine the criminal legal system in this country. What we saw was that the country really quickly started to backslide. Between July 2020 and January 2021, we really started to see a lot of the jail populations reverse course, and they started to regain the number of people that they had before the pandemic.
Melissa Harris-Perry: Given that we are living in a time where we also are seeing lots of new stories about rising crime rates, is there a reason we should believe that the increase, you talked about the initial decline of the population and then the bounce back or reversion to climbing populations, is that a result of more crime occurring and people being rightfully incarcerated?
Lauren-Brooke Eisen: The Brennan Center has conducted a lot of research on this issue over the past many years, and in fact, we released a report finding that in the US, about 39% of people who are currently incarcerated in state and federal prisons simply do not need to be there when it comes to public safety. That those people could be safely released today with no impact on public safety. I think what's really important, even though we're still in the midst of this pandemic, we don't have reams of data yet. There certainly is some data that we should be looking to as we seek to make this change. For example, in New Jersey, the governor in New Jersey signed legislation to reduce the sentences of thousands of people incarcerated across the state and state prisons.
The law specifically allowed for people with less than a year left on their sentences to be released early. There have been some initial studies looking at the recidivism rates of those people who were released per that legislation and their recidivism rates are very low. We've seen other releases in California and Oregon. That indicates that those people were just being released early. They were vetted very carefully, and we haven't seen higher recidivism rates of that population.
Another example that's really important for people to understand is that at the federal level, in passing the CARES Act, which was the federal government's response to the onset of the COVID pandemic, Congress allowed the release of some federal prisoners based on specific circumstances, age, health, length of remaining sentence. Since the start of the pandemic, thousands of prisoners in the federal system have been released to home confinement, many of them through this CARES Act legislation. Less than 300 of the thousands transferred have even broken a rule of their supervision. These people have proven that they're not a public safety risk. I think there are important lessons learned from the federal government's experiment with releasing so many people on home confinement.
Melissa Harris-Perry: Lauren-Brooke Eisen, Director of the Justice Program at the Brennan Center for Justice. Thanks for joining us today.
Lauren-Brooke Eisen: Thank you so much.
Copyright © 2022 New York Public Radio. All rights reserved. Visit our website terms of use at www.wnyc.org for further information.
New York Public Radio transcripts are created on a rush deadline, often by contractors. This text may not be in its final form and may be updated or revised in the future. Accuracy and availability may vary. The authoritative record of New York Public Radio's programming is the audio record.