Previewing the 2023 Oscars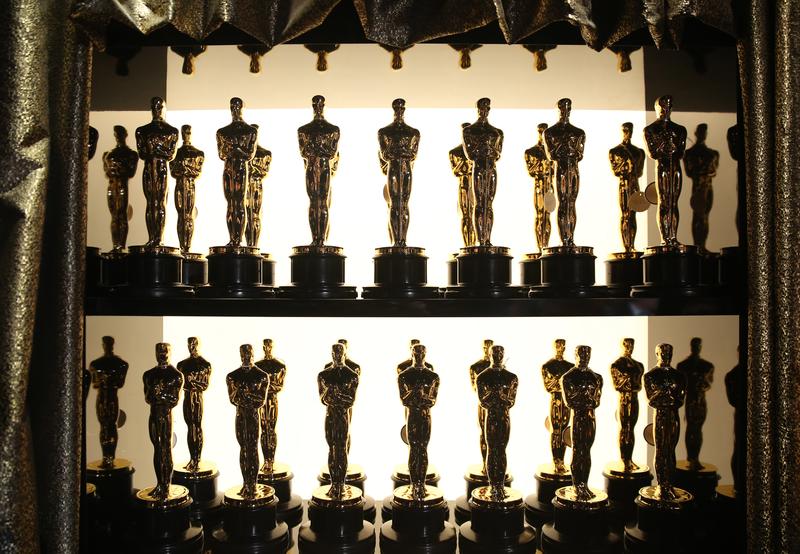 Transcript
Melissa: It's The Takeaway. I'm Melissa Harris-Perry, and we're coming to the end of the 2022 movie award season.
That means the 95th Academy Awards will be held this Sunday. Ahead of the ceremony, I checked in with our favorite movie critic duo for a little Oscar's preview.
Rafer Guzman: I'm Rafer Guzman, film critic for Newsday.
Kristen Meinzer: I'm Kristen Meinzer, co-host of How to Be Fine, and also a co-host of Movie Therapy with Rafer and Kristen.
Melissa: Rafer, Everything Everywhere All at Once has already taken home so many awards. Do you think it's going to win everything everywhere on Sunday?
Rafer: Yes, one by one, not all at once, but yes. I think it's going to win, director, supporting actor, lead actress. Really, right on down the line to make-up, hair, costume, editing. Of course, I think it's going to win Best Picture. I think the more Oscars this thing wins, the fewer Oscars, The Banshees of Inisherin, which is the year's other big winner at the Golden Globes, too. The more Oscars this one wins, the fewer Oscars there will be for The Banshees of Inisherin, which I think could actually end up going home empty-handed.
Melissa: Now, let's put aside the other worthy film that might go home empty-handed. Do you think Everything Everywhere All at Once is deserving of winning all these awards?
Rafer: Well, I have a funny relationship with this movie because I didn't really care for it personally. I just found it a little contrived little force. That's for my taste. The thing is, I really love everything about this movie. It's an independent feature comes out of nowhere. It's an original story. No big stars, no marquee names in this, diverse cast. It's no superheroes. It's not a big blockbuster, and it was a hit. It was $100 million hit. It did so well that they re-released it in IMAX for a week.
What I love about that is that it's proof that you don't have to be a Marvel movie or a giant James Cameron movie to draw an audience. If you give people something original and interesting and it's the right movie, they will come out for it. In that sense, I'm rooting for it to be the Best Picture because I think it's a good sign for the movies.
Melissa: All right. Kristen, let me ask you to weigh in on this as well, both on how you're feeling about Everything Everywhere All at Once, but also maybe some of the other movies that are in that Best Picture category.
Kristen: Well, I do think that of the Best Picture nominees, I do think Everything Everywhere All at Once is the best of the lot. I also, like Rafer, enjoy everything that the movie is about, but I did also feel like it was 20 minutes too long. At times, it was self-indulgent. At times, it was saying, "Look at another special effect I can do." I'm also not just going to poo-poo the movie for that because I think most movies this year were overly long. Most movies were a little bit self-indulgent and that includes The Fabelmans, that includes All Quiet on the Western Front, that includes Elvis.
I think a lot of them were overly long and self-indulgent. I can't fault Everything Everywhere as if it's the only movie that did that. I also love the other aspects of it, the creative storytelling, what is at the heart of the story about what's important in life, the acting, and all the genres switching is so fun in the movie. I think of what is nominated, I think it deserves to win. However, I think a lot of things should have been nominated this year that weren't, and a lot of those nominees don't deserve to even be on the list. If I had my way, Top Gun wouldn't even be on the list. If I had my way, Avatar would not be on the list.
Melissa: It's so funny you said Top Gun because I was going to say, and surely, when we think about films that are self-indulgent and overly long, you wouldn't include Top Gun in that list.
Kristen: [laughs]
Rafer: I like Top Gun. Am I the only person here who liked Top Gun?
Kristen: Oh, come on, Rafer.
Melissa: Look, I loved Top Gun, but did it go 15 minutes too long? It did. Was it self-indulgent? Come on, of course, but that's what I love about it.
Rafer: I agree.
Kristen: As far as action movies, this last year though, The Woman King was far superior and was completely shunned.
Rafer: Well, that is true that there have been a lot of a snubs, particularly in that Best Actress category. Kristen, you're mentioning Viola Davis who did not get nominated for The Woman King. The other one I think you and I probably both agree with is Danielle Deadwyler for Till. That's the movie about the murder of Emmett Till and following his mother, this brave decision she makes to pursue justice for him. I had no idea really who Danielle Deadwyler was when I saw the movie. When it was done, I thought, "Oh, well, she just won the Oscar."
That was it, end of story, and yet, no nomination at all. That really stunned me. It has stunned most people I know who have seen that film, it's a little inexplicable.
Kristen: Yes, I don't understand that. I have to say the acting that she does frequently without ever opening her mouth is stunning. She can relay a million different emotions just by tilting her head a certain way. She is so good in that movie.
Rafer: Yes. Of course, we could, as some people have, blame Andrea Riseborough who snuck in there for To Leslie, a film that nobody has seen. I don't know if that's really how things shook out or not, but I really do think that Danielle Deadwyler should have been in that list.
Kristen: Agreed.
Melissa: Rafer and Kristen, you have already started to build towards the question that I had here around when you're a simple folk audience member, all I do is just go see movies. I often don't understand whatever the system of meritocracy or of something that has nothing to do with meritocracy that leads a film from being a thing that I see to being a nominated film. What is that process of how a film gets nominated?
Rafer: Oh, I think that's always a bit of a mystery and you can never really figure out why some things are nominated, why some things aren't. I think the opening up of the Best Picture category from 5 to 10 to try to bring in movies like, say, Top Gun which was a huge hit, Elvis, which was a big hit, at least with audiences, if not with critics myself included. I think that's a way to try to get you, Melissa, the "average moviegoer" to tune in and watch this broadcast because you'll see movies that you recognize. I don't really know why it is that some movies get in and some movies don't.
I know Kristen, for instance, was a big fan of Nope. I think when we were all emailing back and forth here, she was talking about how she really felt that Nope, the Jordan Peele film should have gotten an Oscar. You look at that movie, it's not that topical, it's not that heavy. It doesn't have a big central standout performance. It's a horror film which often doesn't make the top 10 Best Picture category. I don't know. There's a little something about an Oscar nominee. It's got to have a little gravitas or it's got to be a major, major freaking hit. One of those two, I guess.
Melissa: Okay. Hold tight for us. We're taking a break, but we'll be back with more of The Takeaway Oscar's preview in just a moment. Hey, y'all, thanks for sticking with us on The Takeaway. I'm Melissa Harris-Perry, and we're still having a bit of an Oscar's preview with Kristen Meinzer and Rafer Guzman. Kristen, do you want to weigh in on how you see what constitutes, what makes it, and why some end up snubbed in this way?
Kristen: Yes, I would also add to what Rafer said that sometimes the Academy just feels it's long overdue for somebody to get a nomination. Bill Nye for Living, is this the best performance of his life? No, but he's been acting a long time. There's a lot of goodwill. Maybe it's time to nominate him for something. He's one of five first-time nominees in the Best Actor category this year. All of them are first-time nominees. For him, it really just feels like a legacy nomination. That tends to happen every year with the Oscars. Sometimes, you'll get people just completely out of left field. It can be a delight.
This year, for Causeway, Brian Tyree Henry, who actually is, in my opinion, worthy of that nomination. I'm sure a lot of people will think, "What is this movie Causeway? Who is he?" I do like it when the Academy Awards occasionally nominate somebody who not everybody sees coming. I think they like to keep us guessing, but something else they like to do also is nominate movies that pay tribute to Hollywood and to the film industry, which is one reason I think why The Fabelmans got so many nominations because Steven Spielberg's movie is essentially not just a giant home movie.
It is a valentine to filmmaking. The Academy really loves it when filmmakers celebrate film.
Melissa: Okay. I want to talk about controversy because this is part of why some of us watch the Oscars. It's been eight years since #OscarsSoWhite as a hashtag was trending. Again, some of the subs that we've already talked about also exist at that intersection of serious film made by and about the experiences of Black women. Do you think that the Academy has really addressed these fundamental questions that are at the heart of the #OscarsSoWhite critique?
Kristen: I think that there are a lot of problems there. This year, I would say, it's not so white. There are a lot of Asian and Asian-American nominees this year, which I am thrilled about. Asian people are not white. I would say that that's worth mentioning. A lot of Black people who should have been nominated were not nominated this year, and frankly, a lot of women. The fact that so many women were directing great films this year, and all of the Best Director nominees are men, to me is just, it's outrageous.
I can't believe this year of all years when there were so many great directors who were women. For example, for Causeway, for The Woman King, for Women Talking. We had women everywhere directing great films, and not any of them were nominated.
Melissa: Rafer?
Rafer: Yes, that was a real oversight in that particular category. Again, this idea of, as you were saying, Melissa, what gets nominated? What doesn't? What kind of feels like an Oscar movie? I don't know, but there were some movies out that were directed by women that I thought for sure would land in that category, particularly She Said, directed by Maria Schrader. I thought that movie was a little on the static side. I thought it was a little less gripping than it could have been. Maybe that sunk its chances, but it also was exactly the kind of movie that we see nominated for an Oscar.
It's about recent headlines, an important subject. It's about women. It's very topical. It was very serious. It's the kind of movie that had to be made. It was a story that needed to be told. Yet, she didn't get a nomination for directing. There were a few things like that that surprised me.
Melissa: The other controversy that will undoubtedly be on the minds of viewers and probably of folks who were there that night. It's been a year since the slap.
Rafer: Yes.
Melissa: Rafer, what has the Academy done relative to this? What do you think that will do potentially to the Oscars this year?
Rafer: They have obviously banned Will Smith, as we all know, a 10-year ban from the Oscars. He is out of the Academy. Then, of course, recently, they introduced the crisis team, which is going to be present at this year's Academy Awards ceremony. I don't know any details about that. Not much has been said about that. I don't know if this means big guys in suits and sunglasses with little earpieces in their ear. I don't know if this means publicists who can write press releases really fast. I don't know what this means exactly, but they're trying.
I have to say, no one could have foreseen that. It's a little tough to blame the Oscars for that one. I don't know what they can do. I do think that this is going to be a post-traumatic Oscars. I think they're going to try to keep things safe. I think Jimmy Kimmel is probably a good choice for this as the host. He's not Ricky Gervais. He's not going to touch any real open wounds. He'll probably keep the mood light. I think what we're probably going to see is a fairly calm and hopefully somewhat smooth-running Oscars this year.
Kristen: Rafer, I disagree with you. I think there's something the Oscars could have done, and that was last year at this time. While it was actually happening, they could have interceded. They could have chosen not to have Will Smith give a long, weird defensive speech as he was accepting his award. They could have done a lot of things in the moment when all of this was going down, but they didn't, so you're right. Now, we're a year later and they're trying to do all this stuff now with their crisis management and so on.
I really think it's too little too late at this point. I do just want to mention, though, that Chris Rock did put out his Netflix standup comedy special. As of now, he has had the last word in the special. Not to spoil it for anyone, but in the final 15 minutes of his special, he does swipe back at Will Smith. As of now, he has the last word.
Rafer: Chris Rock really handled himself better than almost anybody through that entire thing.
Melissa: I want to ask one last question for both of you, just so we leave on a big positive note. What are you most excited about potentially on Sunday? Is it the possibility that in the animated category, we might get Marcel the Shell with Shoes On winning an Oscar? What are you excited about as a possibility?
Rafer: I don't think we're going to see Marcel the Shell, a movie that I really did love. I thought that was a really adorable movie. It moved me, got me a little misty, but I think that's going to go to Pinocchio, the Guillermo del Toro animated film. I think that's a lock. I really am, in some ways, even though I didn't care for that movie, I really am excited to see Everything Everywhere All at Once. I really just think a movie like that is so deserving. I felt a little bit like that with CODA, when CODA won.
This little small indie film, grassroots fan base that built around it. It became a hit and it steamrolled its way all the way up to the top. That's a great story. I really am, like I say, I'm really rooting for that film.
Kristen: I'm also rooting for Everything Everywhere. Part of it is also just because of my own identity. When I was growing up, I didn't really get to see a lot in the way of Asian-Americans on the big screen. I didn't get to see us winning awards. There's something wonderful about seeing a movie that's getting so much love, that has so much talent in it, that's doing so many inventive things, and that has people who look like me in it. I'm very excited for that. Even though like Rafer, I didn't 100% love the movie, I'm still cheering for it.
Melissa: Love it. As always, I so appreciate having both of you to come and talk movies with us. Rafer Guzman is film critic at Newsday, and Kristen Meinzer is a culture critic and host of the podcast By the Book and How to Be Fine. They're both also the hosts of the podcast Movie Therapy. Thanks, as always, for being here.
Rafer: Thanks, Melissa.
Kristen: Thanks so much, Melissa.
Copyright © 2023 New York Public Radio. All rights reserved. Visit our website terms of use at www.wnyc.org for further information.
New York Public Radio transcripts are created on a rush deadline, often by contractors. This text may not be in its final form and may be updated or revised in the future. Accuracy and availability may vary. The authoritative record of New York Public Radio's programming is the audio record.