President Trump Picks Amy Coney Barrett as Nominee for Supreme Court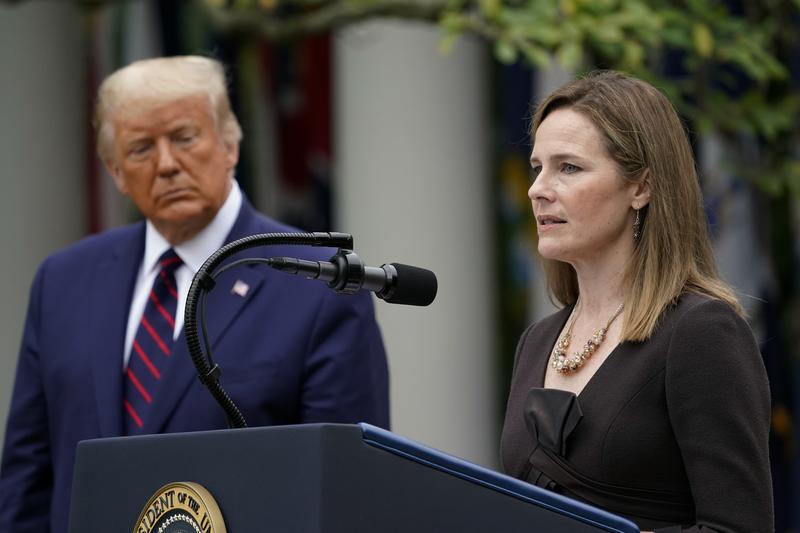 Transcript
[music]
Tanzina Vega: This is The Takeaway. I'm Tanzina Vega, and it's great to be with you on a very busy Monday. We're going to be talking about the explosive revelations from The New York Times about the President's tax returns in just a moment, but first, we head to the Supreme Court, where Judge Amy Coney Barrett has been nominated by President Trump as a successor to the open seat left by the late Ruth Bader Ginsburg.
Popular with conservatives, Judge Barrett, who is 48 years old, would be the youngest justice on the Supreme Court bench. She would also be the fifth woman in history to sit on the nation's highest court.
Since 2017, Barrett has been serving on the Seventh Circuit Court of Appeals. She came under intense scrutiny during the confirmation process for that role, in part stemming from her affiliation with a small but vocal Christian community called People of Praise.
Here's Democratic Senator Dianne Feinstein during those hearings back in 2017.
Senator Dianne Feinstein: The dogma lives loudly within you, and that's of concern when you come to big issues that large numbers of people have fought for, for years in this country.
Tanzina: Joining me now is Cristian Farias, a journalist and writer-in-residence at the Knight First Amendment Institute. Cristian, welcome to the show.
Cristian Farias: Excited to be here.
Tanzina: Imani Gandy is a Senior Editor of Law and Policy for Rewire News Group, and the co-host of the podcast Boom! Lawyered. Imani, thanks for being with me.
Imani Gandy: Thanks for having me.
Tanzina: Cristian, we mentioned at the top that Barrett is a protege of the late Justice Antonin Scalia. How would she fit in ideologically in the current bench?
Cristian: She would very likely be the most conservative justice on the Supreme Court. I know that people are used to hearing that with Clarence Thomas, with Neil Gorsuch, and even Brett Kavanaugh, but she indeed is extremely conservative, where you see even her own record on the Seventh Circuit. She's willing to go farther than prior Republican appointees on issues such as gender equality, abortion rights, and gun rights. To see already her staking out very conservative positions, it won't be a surprise if she tax even to the right of Clarence Thomas, which currently, he is the most conservative on the bench.
Tanzina: Imani, we heard an exchange, or at least comments from Senator Dianne Feinstein in Barrett's early confirmation hearing in 2017, mostly because of her affiliation with a group called People of Praise. What are the concerns about her involvement in this group?
Imani: The current concerns are primarily that she is a member of a sect of Catholicism, that even mainstream Catholics don't adhere to and find a bit of an outlier. I think the concern is that she's so religious, deeply religious, in a way that would affect people and the rights of people. For example, in the upcoming term, there is a case that will decide whether or not federally-funded foster agencies can rightfully discriminate against non-Christians and LGBTQ people, meaning that gay, lesbian, bisexual trans people wouldn't be able to foster children, and neither would Jewish people or Muslim people.
That's the thing that should concern everyone. That's the religious thinking that becomes not about religious freedom but more about religious imposition on everyone who doesn't hold those hard right-wing beliefs.
Tanzina: Imani, I want to pick up a little bit also on some of her comments that Barrett made during her acceptance of the nomination in the Rose Garden. Interestingly, she praised Ruth Bader Ginsburg for smashing the glass ceiling for women on the Supreme Court. She even credited her own husband for supporting her behind the scenes. What does that tell us about how conservative women may be? Those are generally considered feminist talking points, feminist ideals. Is Barrett playing, or toeing the line there?
Imani: I think that you're going to see a lot of conservatives try to tell Amy Coney Barrett as a conservative feminist, whatever that means. I don't think there's such a thing as a conservative feminist. I don't think that you can be a feminist and maintain religious beliefs that essentially require you to be subservient in some way to men, and that is what the People of Praise believe. I certainly don't think that you can call yourself a feminist while at the same time stripping other women, other pregnant people, of the right to choose what to do with their own body.
We're going to see a lot of talk about liberal hypocrisy when it comes to feminism. We're going to hear a lot of people who up until two days ago didn't even like calling themselves feminists, or thought feminism was something bad, but because they're very good at picking up on left-wing talking points and repurposing them in order to fit their own ideology, even though conservativism is just really anathema to what feminists stand for, which is equality between the sexes at a base level.
Tanzina: Cristian, turning to her judicial record here, Barrett has criticized Chief Justice John Roberts for his opinion that upheld the Affordable Care Act in 2012. As we all know, the court is poised to hear another challenge to the Affordable Care Act this term. Is there any sense on how she could vote? This is one of the biggest concerns for a lot of Americans right now.
Cristian: Absolutely. Her record already speaks for itself, or comments speak for themselves. The American public is going to have a very good idea of the way she thinks along the lines of health care, along the lines of gender equality. A lot of issues, as Imani just said, that are before the Supreme Court just now. The fact that she said these things, all of those will be fair game, both for senators and for the rest of us to parse into question. Also at a more deeper level, I think people should have a keen understanding of the circumstances under which she received this nomination.
This is a presidency that it's already almost toward its end. It came under a cloud. Just over this past weekend, we heard bombshell revelations about the President. The fact that everything happened so quickly, and that Justice Ginsburg hasn't even been buried, I don't think. It's a lot of things that make you think, "All right. What's in it for Amy Coney Barrett." I want to hear what her motivations are for just embracing this presidency, embracing this nomination, and in a sense, pay lip service to Ruth Bader Ginsburg. Does she really stand for and believe in the ideals that this justice stood for? All of that is absolutely appropriate to probe and to examine.
Tanzina: Speaking of the examination, I'm curious here. We've seen part of President Trump's strategy and the wider GOP strategy writ large has been to focus on the Supreme Court, but also to focus on lower courts, and appointing very conservative judges, very young conservative judges to those courts. This feels like it is the perfect manifestation, Cristian, of that strategy for President Trump. He appointed Amy three years ago. She is now his nominee for the Supreme Court.
Cristian: Absolutely. The very fact of her seat on the Seventh Circuit, it happened because Senate Republicans blocked President Obama from nominating a number of people to that very same court who was short handed for many years. She took Amy Coney Barrett to the seat of a Black woman whose seat never got filled due to that blockade. We see Amy just going with the flow of this project, larger project of packing the courts with very young, very ideological people who have made their views clear.
There's no question about where they stand a lot of the issues of the day. When people hear Amy Coney Barrett at the hearing, or in other settings, dancing around the question that she cannot talk about issues that might come before the court, that's something but she already has told us how she feels about many of these issues.
Tanzina: Let's talk about that, Imani, because she is going to have to speak to the issue particularly of Roe v. Wade, and more broadly, abortion rights. What do we know about Barrett's position on abortion rights?
Imani: We know that she opposes them. We know that she has said that she believes abortion is immoral. We know that she believes that her faith drives her work as a jurist. It is because of her faith that she is going to rule whether it's to overturn Roe v. Wade, which is not even something that needs to happen in order for access to be even further decimated than it already is. I think that that's really a key point that I think people should pay more attention to what she's going to do when it comes to certain laws like TRAP laws, for example.
This past term, we had the June Medical Services case, which involved whether or not abortion providers have to get these medically unnecessary admitting privileges. Had the court come out the other way, had John Roberts not sided with the liberals, we'd be looking at abortion landscape in Louisiana where there would be only one clinic.
Across the country, clinics are being decimated by unreasonable regulations by rules that require them, for example, to retrofit clinics so that they serve as inpatient surgical centers, even if the only type of abortion that particular clinic is providing is medication abortion, and you don't need a surgical center for that abortion care.
We don't need to overturn Roe to ensure that abortion access is available only for those who can afford it. I think that that is something that needs to be clear, and I think that folks need to be less concerned about an outright reversal of Roe, and more concerned about just the chipping away at access little by little until the legal right to abortion as set forth in Roe doesn't have any meaning.
Tanzina: We are expecting, at least, a confirmation process that should be starting relatively quickly before an election, Imani, the confirmation process for Brett Kavanaugh was extraordinarily heated. Would you expect a similar hearing for Barrett?
Imani: I don't think that it's going to be as heated. I wished that it would be. I wish that there was something that Senate Democrats were willing to do besides urge voters to appeal to their Republican senators, or urge senators to have some respect for institutional norms and honor, and we've seen that they don't have that respect. The hypocrisy of putting this woman on the bench while people are voting right now. Democracy is in action, and they held Scalia's seat open for 11 months. It's very hard to square that circle, but if you start thinking about the fact that Republicans, this is just a blatant power grab, then it begins to make sense.
The question becomes, how is that going to affect the election? Is there going to be enough of a democratic backlash so that people will turn out and droves to vote? Or is it going to make Democrats feel like there's nothing we can do. The court's already gone, and so to continue, I think along this path of apathy that a lot of Democrats are feeling. It's going to be an interesting thing to see.
Tanzina: I know it's hard to parse all this apart, but what is something that the Democrats could do if they lose the liberal majority for a generation here. We've got just about a minute.
Cristian: There's a few options on the table on the hearing just to push back and to drive the point home. They could appoint a very able female lawyer to question Amy Coney Barrett. Then after that, if she still makes it through, all cards are on the table. Chuck Schumer has said that they could add more seats. The Supreme Court engage in a expansive growth of the federal judiciary, and of course, that'll depend on Joe Biden and Senate Democrats winning actually the Senate.
To the extent that Ruth Bader Ginsburg status energizes voters, I think voters will render the final verdict. If they give Democrats the mandate to reshape the court, I think they should take that chance and do it.
Tanzina: Cristian Farias is a writer-in-residence at the Knight First Amendment Institute, and Imani Gandy is Senior Editor of Law and Policy for Rewire News Group. Cristian, Imani, thank you so much.
Imani: Thank you.
Copyright © 2020 New York Public Radio. All rights reserved. Visit our website terms of use at www.wnyc.org for further information.
New York Public Radio transcripts are created on a rush deadline, often by contractors. This text may not be in its final form and may be updated or revised in the future. Accuracy and availability may vary. The authoritative record of New York Public Radio's programming is the audio record.