Looking Back at Trump's Border Wall at the End of His Presidency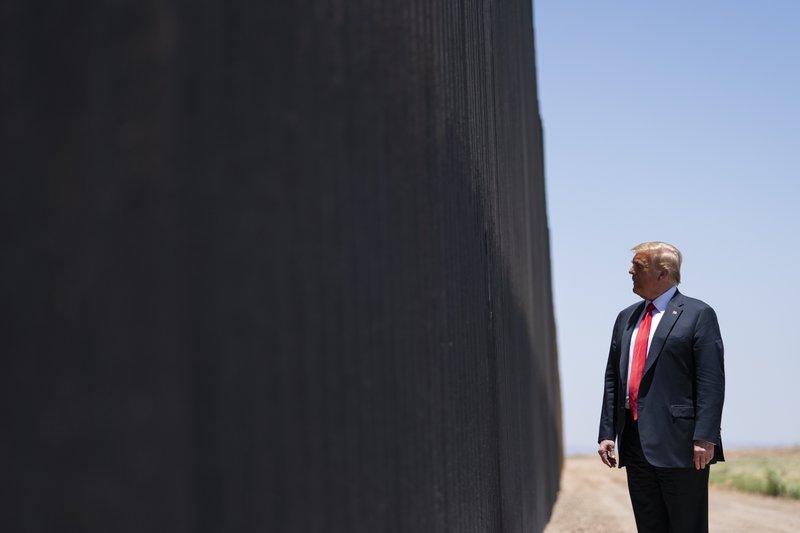 Transcript
[music]
Tanzina Vega: On June 16th, 2015, Donald Trump rode down the golden escalator at Trump Tower and announced he was running for president of the United States. He then made a campaign promise that would become a symbol of his presidency.
Trump: I will build a great, great wall on our Southern border and I will have Mexico pay for that wall. Mark my words.
Tanzina: Since then, President Trump has consistently pushed for the border wall and has continued to make false claims about the wall's efficacy over the past four years. Here's the President at a rally in Nashville in 2018.
Trump: But in the end, Mexico's paying for the wall. They make all of this money and they do absolutely nothing to stop people from going through Mexico, from Honduras and all these other countries that caravan all of this stuff. They do nothing to help us, nothing. They're going to pay for the wall and they're going to enjoy it. Okay. They're going to enjoy it.
Tanzina: Here he is at a rally in Arizona this past September.
Trump: It is just great. 30 feet high. It's very hard, very hard. We have anti-climb provision on the top. We have the whole deal and it's very powerful. By the way, where that wall is, nobody's getting through, nobody gets through.
Tanzina: But Mexico has not paid for any of the wall and people are still managing to cross the border in places where the wall has been erected. Now, as Trump's time in the White House comes to a close, his administration is rushing to finish 450 miles of the wall before Joe Biden takes office. Biden meanwhile has pledged to stop construction of the wall. President Trump's signature border wall, what it was meant to do, what it did and what its future could look like, I'm Tanzina Vega and that's where we start today on The Takeaway.
[music]
Zolan Kanno-Youngs is a homeland security correspondent for The New York Times and he joins me now. Zolan, thanks for being with us.
Zolan Kanno-Youngs: Thanks so much for having me. I appreciate being here.
Tanzina: Lots of talk about building a wall. Where does the wall stand now, Zolan? How much of it is actually been built?
Zolan: Yes. Right now, there are about 430 miles of border wall that the Trump administration has constructed. Now, nearly all of those miles with the exception of roughly 30 are in places where some previous form of infrastructure, border wall infrastructure existed. Now, what does that mean? What I mean is in all but roughly 30 miles of that 430, about roughly 400, the border wall was built in places where a dilapidated form of barrier or Normandy barriers that could stop vehicles that maybe cross through the border, that's where most of the border wall has been constructed.
On top of that, most of the border wall thus far has been constructed on land that was already owned by the federal government because of private property owners, landowners who have actually pushed back against this construction. What that means is that this construction has, for the most part, impacted federally owned land that came in the form of environmental areas, areas like archaeology sites, areas where there were endangered species that call that land home.
Now, with that being said, all the total of 430 miles-- And I should say the Trump administration is still going, they're still building, they are likely to meet that 450-mile mandate that the President earlier this year said that he would complete by the end of the year, but, of course, as you know and as you cited in that intro, the goalposts for this project have moved throughout the first term of the Trump administration. This is not a wall that will extend from sea to shining sea and it is one that has impacted the finances of the US federal government as opposed to accepting any cheque from Mexico.
Tanzina: Let's talk about that, Zolan, because who's paying for it ultimately? Mexico doesn't seem to have paid for it as much as the President told his supporters that they would.
Zolan: The Trump administration was able to secure about $15 billion for the border wall. That would go towards about 731 miles of that construction. That's US taxpayer dollars. It's not as simple as that. Customs and Border Protection and Army Corps of Engineers are the two entities that are really participating in this construction, but as you remember, this project resulted in--
Congress did not agree to provide the President with all the money that he wanted for this project in 2018. It resulted in a government shutdown and subsequently a national emergency declaration by the President. That allowed him to then transfer money from the Defense Department, billions of dollars from the Defense Department and this isn't--
Tanzina: $6 billion we're talking about, right, Zolan?
Zolan: That's correct. That's correct. This isn't just bureaucratic process. Let's talk about where that money was coming from. The President has said that this wall was meant to stop human smugglers, drug traffickers, criminals from coming into the country. That $6 billion dollars, in part, actually came from counter-narcotics programs that the Defense Department had.
It was also going to be money that was going to be used for construction projects for the Defense Department, construction projects that would improve the infrastructure for certain Defense Department initiatives. Also, it's important to put a human face on this too. That money was also going to go towards building a new school for military families as well, my colleague, Colleen Cooper, wrote about that. This has definitely sucked up the resources of multiple facets of the US government.
Tanzina: At the end of the day, you said that this was a promise that the President made to keep drug cartels out of the country and people who were engaging in human trafficking. Americans are living on the Southern border, of course, how did they feel about the wall? Do they feel safer because of it?
Zolan: It's varied, it's definitely varied. You will have some folks-- My colleague, Simone Romero, and I just did a story in Arizona, where this project has very much pitted rancher against rancher in a way because there are some who do support this border wall who'd say that illegal migration is an issue and it has been for years in the United States. I go to an individual that I talked to in South Texas, which if you go by the President's proclaimed measure of success here in stopping illegal migration, then there's no other place where you would think that they would hone this project in on than South Texas. It's been a hot zone for illegal crossings in recent years.
That's actually been where they've struggled to build new wall as opposed to places like Arizona. The reason for that is because private property owners have pushed back. They have actually gone to court and listed lawyers to say, "No, we are not going to allow you to build this wall that will cut through my farmland." I think of an individual I interviewed, Richard Radway, who is a staunch supporter of the President. He very much bought in to his message of restricting immigration to the United States.
When I went to go visit him, and he is right on the border, in South Texas in the Rio Grande Valley, when I asked him about the border wall, he went to his farm and pulled out a ladder, a rope ladder. He said, essentially, I'm paraphrasing here, but he was saying, "I don't realize why this is the response here. Migrants are still going to use ladders to get over this wall. We have seen through reporting that we have done as well as our competitors, that there are still many who are cutting through the border wall as well using tools--
Tanzina: Zolan, are a lot of these folks coming because they're fleeing persecution, because are they-- Do we know who is continuing to come? Because we know that the Trump administration has also put in pretty draconian rules and laws as far as who is allowed to plead asylum in this country, for example? Are people who are attempting to cross the border despite the wall right now and any other physical barriers, do we know who they are?
Zolan: Let's be clear. When you talk about migration to the US border in recent years, specifically, the years in the Trump administration, what we are talking about, for the most part, are Central American families who are fleeing poverty, persecution and violence. They are coming from predominantly the Northern Triangle countries making that journey North and stepping on US soil to ask for asylum.
We saw that demographic shift the way from what had traditionally been single adult individuals from Mexico who may be seeking economic opportunity to now families that were surrendering to border patrol agents when they stepped on US soil in order to ask for asylum. It's a great question. We should just note here that when the President says, "This is necessary to keep out hoards of criminals and what have you, even the top officials in Customs and Border Protection would say that a majority of the individuals trying to cross the border are families seeking a type of sanctuary in the United States.
Tanzina: We have a new administration, Zolan, as we all know, taking office next month in January. Joe Biden has pledged to stop construction on the wall. What does that actually mean? Is he going to just stop where the Trump administration leaves off? Is he going to attempt to dismantle what's already been built?
Zolan: Joe Biden statements thus far on what he's going to do with the border wall brings up more questions than answers. He has said that he will not construct one more mile of border wall. We know that. Reporting that I've done talking to those close to his transition, thus far, it does not seem there are any plans whatsoever to dismantle the wall that has already been built. That would be incredibly expensive and it just does not seem likely at this point.
There's also some more questions. Just the other day, Customs and Border Protection officials, including acting commissioner, Mark Morgan, held a press call and started to tell reporters that, just stop-- And mind you, these officials have also been advocating for President Trump's immigration policies in the past couple of weeks and openly criticizing the policies of the incoming Biden administration.
They basically told reporters, "Look, stopping border wall construction is not as easy as it sounds. We do have contracts with these companies." That's true. There are likely going to be termination fees if you just hold construction with those companies. That would also be US taxpayer dollars. Also, what do you do in the situation like in South Texas, where you actually have to dig dirt and construct into a river levy in order to start constructing the border wall.
Well, you now need to go back and basically make sure that that river levee is built enough, is steady enough so that it could withstand any flooding. There's a lot of questions and likely going to be some fees with just an immediate halt on border wall construction.
Tanzina: Not a clear solution right now. We'll pay attention as this evolves. Zolan Kanno-Youngs is a homeland security correspondent for The New York Times. Zolan, thanks for joining me.
Zolan: Thank you so much. I really appreciate it.
Copyright © 2020 New York Public Radio. All rights reserved. Visit our website terms of use at www.wnyc.org for further information.
New York Public Radio transcripts are created on a rush deadline, often by contractors. This text may not be in its final form and may be updated or revised in the future. Accuracy and availability may vary. The authoritative record of New York Public Radio's programming is the audio record.