President-elect Biden Faces Uphill Battle to Unify Deeply Polarized Nation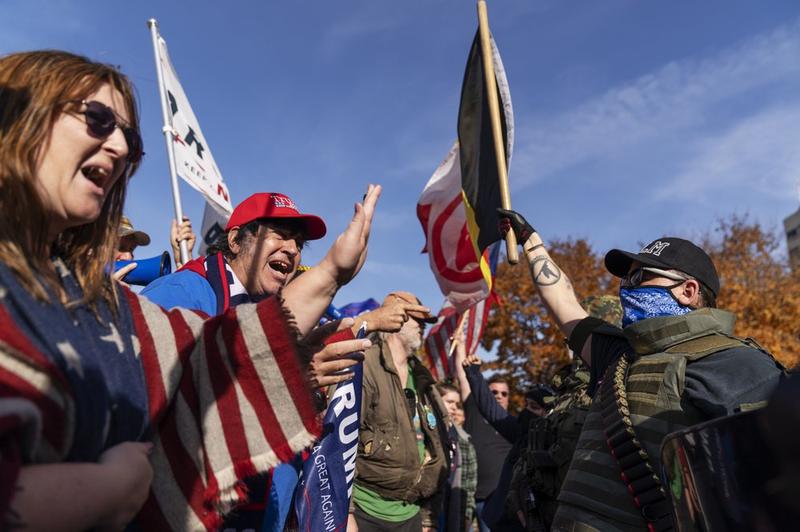 Transcript
Tanzina Vega: On Saturday night, President-elect Joe Biden delivered a message that he's put at the center of his entire campaign.
Joe Biden: To make progress, we have to stop treating our opponents as our enemies. They are not our enemies. They are Americans. They're Americans. The Bible tells us, to everything there's a season, a time to build, time to reap it, a time to sow, and a time to heal. This is the time to heal in America.
Tanzina: Once Biden is actually sworn in, achieving that unity will be no small task. 70 million people still voted for Donald Trump in an election that Democrats were hoping would be a referendum on Trumpism. While Joe Biden has routinely emphasized his plans for a strong COVID-19 response as one way to get the country back on track, the pandemic has already been deeply politicized by President Trump and his allies.
Polling by Pew Research from October found that while 82% of Biden's supporters said COVID-19 was very important to their vote, just 24% of Trump supporters said the same. For more on the ideological divide that Joe Biden is about to wade into, I'm joined by Camille Rivera, partner at New Deal Strategies, a progressive consulting firm. Camille, thanks for joining me.
Camille Rivera: Thank you for having me.
Tanzina: Also, with us is Doug Heye, who has held communications positions in the House, Senate, RNC and served in the George W. Bush administration. Welcome back to The Takeaway, Doug.
Doug Heye: It's great to be with you.
Tanzina: Camille, let's start with you. Joe Biden gave a big, lofty speech where he called for unity, emphasized that conservatives aren't the enemies of the left. Did that resonate with progressives?
Camille: I think that it was a wonderful speech. The reason I think is that he definitely understood that this was a collaborative effort to defeat Donald Trump. He was very clear, early on when he received the nomination, that he was going to create an opportunity for progressives to put the important issues out there, issues related to economic justice, health care, issues related to what's really happening around COVID and COVID relief.
I think it was quite clear that he created a mandate that will allow him to bring everybody together. The challenge is going to be moving those issues forward pretty quickly. I think you've seen that in the last 24 hours where he is already starting to move on a lot of these specific agendas.
Tanzina: Doug, what do you think of Biden's message? Did it resonate with conservatives and the 70 some odd million Trump supporters who voted for the president?
Doug: I thought it was one of the best speeches Joe Biden's ever given. It didn't resonate with conservatives, mostly because they probably weren't tuning in, and that's not Joe Biden's fault, but that's part of the difficulty that he's going to have moving forward. The good news, I think, for Biden and for the country, is that he is uniquely positioned as opposed to anyone else who is running on the Democratic side, or frankly, any other Republican, to be that person to heal the country, to help bridge divides.
My first job in politics was for Jesse Helms. What Democrat did he work with most closely? Joe Biden. My last job on Capitol Hill was for Eric Cantor, the Democrat he worked most closely with was Joe Biden. Biden instinctively knows how to bridge divides, and to work for bipartisan solutions. It's a challenge to get big things done in Washington these days, and it's a challenge to bridge those divides that we say we want to heal, but then actually, building that bridge is difficult. I think Biden's going to try and do the right thing, but also struggle.
Tanzina: Doug, one thing I do have to bring up is that you mentioned that you had started working with Senator Jesse Helms, Joe Biden got a lot of criticism early in his campaign for talking about how he was able to compromise with Jesse Helms who was an advocate for segregation. What do you say to those on the left who say the goal shouldn't be to return to a period of compromise with people like Helms who supported segregation?
Doug: Sure. Look, obviously they were not working together on issues like that, and nor was I. What they worked on was issues at the Foreign Relations Committee, and where you have opportunities to work with people of different parties and different beliefs, that's how you get things done. I saw earlier this year, Ted Cruz signed on with an AOC issue. Those are the strangest political bedfellows you could ever think. If they agree on something, then we can all agree on things. We're not going to agree on everything, but where we can, you can and should do that.
Tanzina: I want to press both of you on that because I think, Doug, what you're describing is a time before Trumpism. Trumpism has really changed the electorate in many ways. It's changed what the Republican Party looks like. I'm wondering, Doug, are there specific policies that the Biden administration is going to have to compromise with congressional Republicans on? Camille, I'm going to ask you the same question about progressives, where they may have to compromise.
Camille: It's pretty clear that across the country, there was a mandate where the country was pretty over the rhetoric and really wanted to be focused on the issues that matter. In Florida, despite Trump's win, there was a $15 minimum wage, a very important issue, that is as a state that was blue, and now has slipped back and forth, and now is pretty much in the red, but still are very important issues. I think you'll find that conservatives, Democrats, Republicans, and whoever independence, really want to just have a better life.
I don't necessarily believe that progressives are going to have to compromise on issues that Americans care about. It's quite clear that most of the country wants stability on health care, they want to make sure that they can get out of this COVID crisis. It's actually really something to be seen that places like Mississippi that voted for medical marijuana program, places and suburbs of Detroit that elected a new county prosecutor, paid family leave in Colorado, increased taxes on the rich to pay for public education in Arizona.
I think Democrats have to pretty much understand that progressives are not the boogeyman, that it's actually quite clear that these are about issues, and that the rhetoric has to change, but the ideas don't.
Tanzina: Doug, what are your thoughts on that? Because again, bringing up we got about a minute left in this part of the conversation. This Washington is not the Washington of yesteryear. We are in a moment where it's still 70 million Americans voted for President Trump.
Doug: Yes. Look, I think it depends on what you start with. If Joe Biden is to start with, say something like, a COVID relief package, obviously, that's something that could get bipartisan support, or infrastructure that can get bipartisan support, and that's where his ability to negotiate with Congress would benefit him and starts on a good foot. What happens after that? That's where we're going to have disagreements and fight in a normal sense, not the abnormal sense that we've done over the past few years.
Tanzina: Camille, the Squad was reelected, Alexandria Ocasio-Cortez, Ilhan Omar and her group of Uber progressive Democrats. They had a rocky relationship with House Speaker Nancy Pelosi and more centrist Democrats. Is Joe Biden going to have to learn how to navigate that?
Camille: I think he worked very hard. I think the AOC and the Squad worked very hard to elect Joe Biden. If you saw that there is a stark difference between what happened in 2016 when Hillary Clinton was nominated, versus when Joe Biden, I think everyone had a common goal here and it was to defeat Donald Trump. I think it's okay for there to be a back and forth between left Congress members who are very much in touch with what's happening in this country and poke the bear a little bit or poke them with a stick to make sure that people are listening to the issues that matter.
I think we can't forget, and we cannot marginalize the people of color, especially women who powered Biden into office. It was historic turnout, driven by grassroots organizing in places like Detroit, Minneapolis, Atlanta, Phoenix, and in places and the counties in Pennsylvania, where we're now seeing all the numbers come back for Biden.
Tanzina: We do know, Camille, that Joe Biden was not the choice for progressives, they were not thrilled that Joe Biden ended up getting the nomination.
Camille: It's called the Democratic primary. I think, obviously, there is always going to be concerns about the president-elect moving on these important issues. I think it's going to be very important that we all hold each other accountable. I think that is the role of these elected officials, and particularly in Congress.
Also, it's very important to understand that they represent a very important base of people that actually did propel him as well to office. I think people keep thinking about the fact that, oh, this one person is responsible for the election, this one person actually delivered. To be quite honest, this was a collaborative effort. All Joe Biden needs to do is actually listen to what's happening on the ground. These issues out there that people are saying are the most progressive to the left and are not going to be something that centrist Democrats want to hear about, it's not necessarily any different than what's happening in New York or within the rest of the country.
Everyone is facing a COVID crisis. Everyone is facing economic injustice. Racism is rampant in this country. We want stability. Now, that doesn't mean they can't be back-and-forth debate about the issues. Now, do I believe that we're going to have to do some real organizing and work? I think you'll see progressives not make the same mistakes they made when Obama was elected, which is making sure that we have these issues coming forward, and particularly on issues related to immigration and unifying families.
Tanzina: I want to bring Doug back in here. Doug, the speech that Joe Biden gave, essentially in many ways, asks people in the Democratic Party, people perhaps on the left to empathize with Trump's supporters, and empathy is something we talk a lot about on this show. It's one of the core tenants of the show or the lack thereof. Donald Trump was not an empathetic candidate. He did not run an empathetic campaign. Is there a double standard when it comes to asking people on the left to empathize with those on the right?
Doug: Maybe, but that also means standing up and being the bigger person, and that's ultimately in this country, I think, where we need to be. Let's differentiate between the Trump voter and the person who flies the Trump flag that also says "F your feelings," right? That's a very different mindset. Most of the Trump voters, the overwhelming majority of Trump voters might not have loved his tweets, might not have loved his rhetoric, but they were angry at government shutdowns that we saw in city after city and states, they thought that he might have the best economic policies to move forward as we get out of this, they were responding to something different.
A lot of Democrats will just think, Trump is awful and therefore all of his voters were awful. It's not all of his voters. There are some deplorable people to use Hillary Clinton's word, and we can be mindful of that, while also trying to figure out, how do we effectively solve the problems that face us? What are their concerns and how do we address them? That's where we should all be able to unite on.
One of the biggest issues that affects so many Trump voters is the issue of fentanyl and heroin. This is what Dave Chappelle talked about Saturday Night. That's not a red issue or a blue issue. It's an issue that we should solve. When we can do that, that's how we work together and not to be pollyannaish about this, but where we can solve the problems that we agree are problems, that's what we should do, and that to me is the mandate that Biden has.
Tanzina: You both agree that Biden has a mandate. I'm curious, there are other issues, Camille. Joe Biden has not aligned with racial justice activists, for example, on defunding the police. What fight does he face there?
Camille: I think is this going to be a very important conversation. We cannot deny the fact that there is a substantial imbalance and has been around policing in this country, and it is quite clear that we have to do something about that. I would say that whether or not people like the term "defund the police," whether it's reforming criminal justice and making sure that most of the funding that's going into police actually go into education and healthcare and issues that are very, very important. I think it's going to be a very important question, also understanding that you can have community safety without stepping on the necks of Black and brown communities.
I do believe that that will be a point of contention, but I do also believe that the president-elect understands this--
Tanzina: I hear the point. I also just want to make sure we get one more question and to Doug here. The Senate hangs in the balance, Doug, there are runoff races happening in Georgia, but until we have the answer there, the Senate leadership essentially could continue to be Republican. Will that afford Joe Biden the opportunity to do anything of this unifying, if it does not swing Democrat?
Doug: It means it's a hard task. Look, I think, we both have used the word or all three of us, the word "mandate." To me, the biggest mandate that Joe Biden has is to try and figure out how to help us heal. He has a mandate of competency. I don't think it's so much about this issue or that issue, but how we approach things. Biden, again, I would say, is uniquely positioned to do that. It doesn't mean that Mitch McConnell was going to say, "Oh my God, this is great. We're going to be able to work on so much together." There are real divides, there are real disagreements.
What I hope is that we can get to, I use the phrase earlier, "the normal fights" that we used to have, and this predates Trump. We saw this in the rise of the House Freedom Caucus and government shutdowns and things like that, where Republicans were fighting amongst themselves so we couldn't even get in a position to fight with Democrats.
Ultimately, I think one of the things we've learned in the past 10 years is that in Washington right now, you only get the big things done when you have one party rule. Obamacare only could have passed with a Democratic House and Senate, the Tax Bill only could have passed with a Republican House and Senate. We're not going to see these huge legislative deals from Biden, but we can see infrastructure. We can see a good COVID relief package.
Again, I would say, I think the mandate that Biden has is one of trying to bridge divides. One of competency was just something that's been lacking from Washington, but also we should be clear. There are divides within the Democratic Party. There was the phone call with House Democrats this week where Abigail Spanberger said, "Look, this is why I nearly lost." Defund the police is one of those things. I'm reminded of in hearing that that debate that they have, and where the House of Representatives was in 2012, '13, '14 with the rise of the Freedom Caucus.
The Squad is a real force. We can't deny that, but they could represent a House Democratic Freedom Caucus that stymies Democrats from getting to 218 votes in the House of Representatives is something I struggled with almost every day when I worked for Eric Cantor in the House of Representatives.
Tanzina: Camille, your thoughts on that. Because, again, if the Senate is led by Republicans, it's going to be, I think, a very difficult battle for Joe Biden to achieve some of the goals that he's set out, whether they're centrist or progressive or otherwise.
Camille: Yes. There is no doubt in my mind that there's going to be a lot of fighting. I think there's going to be a lot of back and forth within, in particular with McConnell, he is not going to change his ideas or rhetoric. I do believe somewhere in his-- I think he does believe probably deep, deep down that Trump administration was extremely volatile for the country. That being said, that's not going to change his positions. He stood by when families were being teared apart. He stood by during the COVID relief efforts and pushed back a lot of the proposals that came aboard, and he also approved Amy Coney Barrett for Supreme Court justice.
I also want to just also pivot back to the idea that the only thing I disagreed with Doug on is the ease of normalcy of fighting. I think there was always a lot of vitriol and back and forth. The issues are pretty much going to be the same. I think you're going to see, hopefully, is a temperature that will be a little bit lower. You're going to see the president really try to reach to all Democrats within the party to let them know that these issues are going to be important. I also believe that we're going to have more in common than what we think.
Maybe that's just me being a little bit optimistic, but the issue is around the COVID relief. There's so many things that we can do there. We can raise the minimum wage, we can raise taxes on the rich. We can do a lot of different things that I think, or at least have that debate and discussion, that I believe the Squad could actually bring forth. I want to be very clear. We have a real mandate for unity in this country, a real mandate. Does that mean that everybody's going to agree? No.
Tanzina: I actually want to push back. Both of you say that there's a mandate. I don't sense that there is a mandate. I think many Americans, at least the Democrats, are surprised that there weren't more folks voting for Joe Biden, given what many people experienced in the past four years.
We could definitely go back and forth on what constitutes a mandate, but I think that the turnout for President Trump was significant. I think it's hard to ignore what the past four years under this president have really done to the GOP, have done to the country, have done to the tone and tenor of what's happening in Washington, D.C. I just think it's going to be a harder fight than perhaps- maybe I'm not as optimistic as both of you, perhaps.
Doug: Yes. I'd agree. There was a line, I think it was a Karl Rove line after Bush won in 2000 where he said, "Okay, we don't have a mandate, but we have the presidency." That's, ultimately, what's important here, is Joe Biden's got the presidency. It's the biggest platform in the world and will allow him to do things or try and do things differently than the past four years.
You're right, we're not going to have this moment where Americans just hold hands and say, "Everything's great now," because everything's not great, and everybody doesn't agree on things, but where Biden can be the person that he's always been to try and work together on issues. Again, what you start with really determines things. If Donald Trump had started with an infrastructure deal, we might've had a different conversation over the past four years. Let's see what Biden does, but we can also be happy that we know that we're going to, because the phrase was used earlier, "lower the temperature," and if we break our fever, that's already a good thing.
Tanzina: Doug Heye, Communications Specialist for the House, Senate, RNC, and George W. Bush administration, and Camille Rivera, partner at New Deal Strategies. Thanks to you both.
Doug: Thank you.
Camille: Thank you.
Copyright © 2020 New York Public Radio. All rights reserved. Visit our website terms of use at www.wnyc.org for further information.
New York Public Radio transcripts are created on a rush deadline, often by contractors. This text may not be in its final form and may be updated or revised in the future. Accuracy and availability may vary. The authoritative record of New York Public Radio's programming is the audio record.