President Biden's Foreign Policy Agenda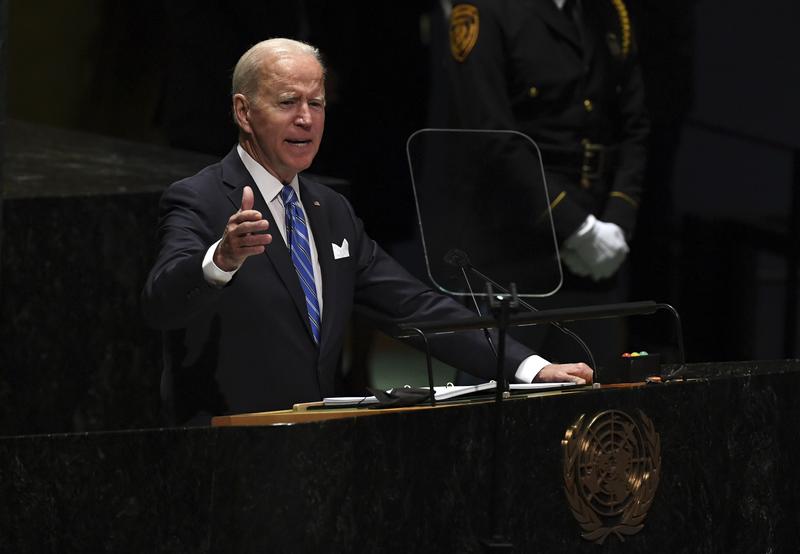 Transcript
[music]
Melissa Harris-Perry: I'm Melissa Harris-Perry. This is The Takeaway. It's good to be here, so let's talk.
Joe Biden: We stand, in my view, at an inflection point in history.
Melissa: On Tuesday, in his first speech to the United Nations General Assembly as US President, President Joe Biden declared a new era for US diplomacy.
Joe Biden: I'm here today to share with you how the United States intends to work with partners and allies to answer these questions, and the commitment of my new administration to help lead the world toward a more peaceful, prosperous future.
Melissa: President Biden repeatedly sought to reassure US allies that his presidency would not echo the chaos of Trump's four years in office.
Joe Biden: We've ended 20 years of conflict in Afghanistan. As we close this period of relentless war, we're opening a new era of relentless diplomacy.
Melissa: But even as the president was promising relentless diplomacy, his administration was scrambling to repair a breach in the centuries-long relationship with our oldest ally. Late last week, relations between the US and France soured over a submarine deal gone bad that led France to recall its diplomats from the US for the first time in American History. On Wednesday, White House press secretary, Jen Psaki, addressed the tension.
Jen Psaki: The president, during this call, acknowledged that there could have been more discussion in advance of the announcement and that was an important message for him to convey during that conversation.
Melissa: At the UN, President Biden promised a new era.
Joe Biden: I'm using the power of our development aid to invest in new ways of lifting people up around the world, of renewing and defending democracy.
Melissa: Powerful words, but delivered even as the healthcare system in Afghanistan collapses, buckling under the strain that the hasty American withdrawal has inflicted in recent weeks. The president's words paint a picture of compassion and strength, an image discordant with the brutal inhumanity visible at the US-Mexico border. Here's US border chief, Raul Ortiz, earlier this week.
Raul Ortiz: We're working around the clock to expeditiously move migrants out of the heat elements, and from underneath this bridge, to our processing facilities in order to quickly process and remove individuals from the United States, consistent with our laws and our policies.
Melissa: After four years of seemingly directionless foreign policy during the Trump years, just how much of a departure is the Biden era? We're joined now by--
Robin Wright: Robin Wright, The New Yorker, and distinguished fellow at the Woodrow Wilson Center in Washington DC.
Melissa: And--
Daniel Drezner: Daniel Drezner, professor of international politics at the Fletcher School of Law and Diplomacy at Tufts University.
Melissa: Dan, I'm going to start with you. Let's talk about President Biden's speech at the UN this week. What did you hear?
Daniel: What I heard was Biden trying to articulate the grand strategy that he's been articulating since he first became president, which is the united states needs to slough off the distracting threats to focus on the truly existential threats. This was at the basis of why the Biden administration pursued the withdrawal from Afghanistan, and why, among other things, they reached that submarine deal earlier this month with Australia and the United Kingdom, which is Biden was very clear in the address in saying that he thinks the biggest threats facing the United States, first of all, don't necessarily come from other countries out there.
They're what we would say non-agentic. We're talking here about the pandemic. We're talking about climate change. Those are the things that I think truly energize him. To the extent that the states are a threat out there, the ones that he is concerned about are primarily China and Russia, and therefore from Biden's perspective, getting embroiled in Afghanistan does not advance US interest anywhere else. He articulated the idea that we need to combat these threats. He talked a lot about multilateral cooperation along the way, which is certainly something we would have not heard from his predecessor.
Melissa: All right. Robin, on that topic, talk to me a little bit about this notion of international cooperation in the context of the speech that the president was giving, because that record of the international cooperation has come under fire a bit lately.
Robin: Biden came to the United Nations at the time of vulnerability for the United States. Biden made the difficult decision to pull the last US troops out of Afghanistan, which was a unilateral decision when it came to the timing. Many of our allies also involved in the NATO force in Afghanistan were given little or no notice, and they had to scramble as well to pull out their own forces, their own personnel, and their own Afghan people.
Then it was followed by this rather clumsy rift with France where Britain, the United States, and Australia tried to announce a big nuclear sale of submarines without notifying France which had, for five years, its own deal to sell more conventional submarines to Australia. This has led to a rift with the United States' longest ally. A very serious rift that the French recalled their ambassador in Washington and initially refused to meet with Biden.
While Macron and Biden have had a conversation, the French say this is still a crisis. We have a lot to iron out before we go back to where we were. This is something that has never happened before. Whether it's America's longest ally or America's longest war, the Biden administration has not done very well. The president focused on multilateralism in trying to tackle the challenges of the 21st century. The problem was he, as the most experienced president in American history on foreign policy, came in with a credibility problem on foreign policy.
Melissa: It's not as though the president is the sole actor in our nation's foreign policy. There is a state department. I'm wondering a bit about the state of the state department after four years of the Trump administration. It's my understanding that several critical aspects of our American bureaucracy are functioning at a level that is below what we would typically imagine that it is. I'm wondering if this is part of what's going on where somebody forgets to call France about the Australian sub deal.
Robin: The state department witnessed a mass exodus during the Trump administration. Many of its employees felt that they couldn't represent American interest, or that policies didn't represent American interest and opted to get out. I think the real problem, though, is closer to the White House, whether it's the National Security Council or the team of foreign policy advisors who regularly get the president ready for big summits like the United Nations in September.
In November, you have the big climate conference in Glasglow, you have the G20 in Rome in October. There are these big summits that Biden really had hoped to be in his honeymoon and to just carve out a new agenda to get beyond the Trump years to show that America didn't believe just in America first and the problem is, it looks like US policy still is America first. I think Biden faces a rough road ahead of him. It's one thing to talk a good game, and he talked a very good game at the United Nations.
The problem is how do you get beyond the long-standing diversity even among allies, but of the wider world. How do you bring together our competition in Russia or China? How do you bring together the smaller states who don't believe United States is doing enough for them? The problem is we too often rely on those who are the autocrats or those who have stabilized their [chuckles] countries by repression rather than by inclusion. So, I think Biden has a rough road ahead.
Melissa: If you both want to uphold a value of democracy but without state-building, that's going to be messy. I want to return to this point you made, Dan, about non-agentic actors like pandemics that are the great threat. Climate change as the great threat. It is much harder to build a wall, forgive me, against a pandemic, than to mobilize subs against a nation-state. What kind of foreign policy, what kind of diplomacy does it take to build a messy coalition around something as messy itself as a pandemic?
Daniel: Presumably, it takes a multilateral coalition, which is the message that Biden was trying to deliver in his UN general assembly address. You would presume that, particularly, combating a pandemic would be something where, regardless of whether the state is authoritarian or democratic, generally speaking, you don't want to have too many of your citizens die or get sick.
This should be an area where there would be greater cooperation, but the very fact that you had such a surge of vaccine nationalism, the fact that it's been difficult to get shots in arms outside of the advanced industrialized countries, demonstrates that even in this area, there is difficulty in getting all your ducks in a row. The problem is, and this was the cognitive dissonance in Biden's speech, is that on the one hand, he is fully aware that it is going to be impossible to combat things like pandemics or climate change without significant multilateral buy-in.
The problem is that in order to get the US to reorient itself towards those things, it has had to engage in some relatively messy disengagements, particularly with respect to Afghanistan. I'm not quite as pessimistic as Robin when it comes to how the Biden administration has handled foreign policy, but it is safe to say that what they've been very bad at is a term that George Schultz, who was secretary of state, used to describe as gardening, which is taking care of your allies and making sure that they are looped in to prevent frictions and problems from metastasizing before they become really a big problem and that's an area where this administration is not done terrifically well, and hopefully, they will learn their lessons from that and be better at this going forward.
Melissa: You have to weed your garden and cultivate your soil to get it to grow, kind of thing?
Daniel: Exactly. Basically taking care of allies, and this is the US's comparative advantage in the world. We have far more allies than everyone else. China has technically, I think one treaty ally, Russia doesn't have that much more. A lot of countries want to be allied to the United States, which is great. Part of the reason for that is that we do share common interests. There are a lot of countries concerned about the rise of China. There are a lot of countries concerned about the rise of Russia, but just because they're aligned, doesn't mean interests are perfectly in sync, and that's where diplomacy is supposed to manage these minor frictions and prevent them from becoming into something where the French get really upset.
Melissa: Is climate change or the pandemic, are they zombies, Dan?
Daniel: [laughs] Yes, they are, Melissa. I'm glad you asked me that question. I wrote a small book called Theories of International Politics and Zombies, which tried to explain what different theories of international politics would do if the dead started rising from the grave and feasting upon the living, and one of the things I wrote in that book is that zombies were the perfect 21st-century threat because they were protean and very hard to contain.
Again, this is something where we are old enough to remember the 20th-century threats in which it was basically the Soviet Union and/or the threats posed by other nation-states. We are now dealing in a world in which the biggest threats don't necessarily come from states, whether we are talking about climate change, or pandemics, or other Malthusian checks on human flourishing, or things like cyber-attacks and so forth. These are threats where states might be good at coping with the domestic implications of them, but trying to coordinate the international level is a new challenge, and so it requires more diplomacy and requires more foresight, and that's not something that a lot of governments have had a lot of in this century.
Melissa: Now, I'm going to play something for the two of you. This is Senator Tom Cotton of Arkansas on Fox News earlier this week, responding to the president's speech at the UN.
Senator Tom Cotton: A lot of the world sees Joe Biden and just laughs at the statements he made yesterday. You just mentioned or played a clip there. It said we don't seek a new cold war. Well, of course, we don't seek a new cold war. We would rather have peace with all nations, but when China is waging a cold war against the United States, we don't have a choice whether we're in it or not, we only have a choice to win or to lose.
Melissa: Robin, we've been talking about this new era of threats and new eras of policymaking and diplomacy, but what I hear there is a perhaps old fashioned, but also maybe accurate description of China as the competitor and a question of whether or not we can win or lose. Does Cotton at least have a point?
Robin: Cotton does have a point. I think the problem with China is that it doesn't have to cater to its population, unlike Joe Biden. China has been very uncooperative on some of the big existential questions of our times, most notably climate change. The United States has sent John Kerry to talk to the Chinese several times now, and the Chinese are basically saying, "Why should we go along with something that's just your agenda? If you want to talk about a broad range of issues that reflect our global agenda, then we can put climate in there as well."
So, without China's cooperation on climate, we have huge obstacles in actually moving forward. I think one of the bigger issues as we pivot to this new era where the attacks are not just by the military or a germ, but they're also by cyber, the nature of warfare or competition have changed in a digital age where information is a tool that we have to fight for now, that one of the problems is where is the leadership coming from?
During the pandemic, the global momentum has been sapped. The international muscle has atrophied as governments across the world have become consumed with mere survival, and so the challenge is for Joe Biden not just achieve his agenda, but to try to mobilize leaders that, first and foremost, need to ensure that their people survive. The divide at this moment is greater than it's ever been. When you look at the United States has 55% of its people fully vaccinated about to go into a third round.
In Africa, you have somewhere around 3% of an entire continent of 54 countries vaccinated. The divide is only going to get deeper with all the repercussions it brings with it, economically, in terms of political dissatisfaction and potential unrest that we're headed into a period that will have so many broader challenges I think some of us don't even see or recognize yet, and we're talking about some of these old issues, or thinking in terms of the reactive means of we have to deal with this issue like Afghanistan, but we're not being as creative in dealing with the existential crisis. Next of all, what do we create out of this?
Melissa: Dan, what does one do as a superpower if the other primary big player on the stage, this point about the vaccines and this enormous divide, that doesn't just mimic but actually grows the global divide around vaccines and wealth and GDP, but at the same time, China is well vaccinated, is moving forward, does it have to cater to the Tom Cottons or is the Tom Cotton, right? There are these sorts of arguments. How then does the US create this more nimble global action when it seems to sometimes have to be acting alone relative to these other nations?
Daniel: I think by leading by example, and here, I'm going to push back on a few of the premises in your question, the first is it's not clear to me that in fact China's terribly well vaccinated. The Chinese--
Melissa: That's what they're saying.
Daniel: Yes, they're saying that, but we know that in fact, the Chinese vaccines are not nearly as effective, particularly against the Delta variant as the mRNA vaccines that Pfizer and Moderna developed, and indeed the Chinese head of the Chinese CDC basically acknowledged that before that acknowledgment was then scrubbed from the internet, so this is something to bear in mind.
China talks a lot about things that are working, the fact that they actually don't work is something to bear in mind. Also, this was something that Biden was relatively artful for in his General Assembly address, where he talked about the idea that the US was going to give vaccines to other countries without conditions and that was a noted contrast to Russia and China, which have had strings attached in the cases of some vaccine deliveries, but also tried to reward allies as opposed to just the more general population.
I think the way that Biden can deal with this is just simply by making sure that the US is responsible for distributing as many vaccines as possible to the rest of the world and that's the way in which you eventually start getting life returning to a pre-pandemic normal. Finally, I cannot resist pointing this out. The idea that Senator Tom Cotton was going to argue that the world was laughing at Joe Biden at the UN General Assembly is truly ironic given that the world actually laughed at Donald Trump when he was giving his UN assembly address a few years ago. They weren't laughing at Biden. They might be somewhat skeptical about Biden. They might note the hypocrisies of Joe Biden at American foreign policy, but that's normal. Laughing at someone, that's unique to Trump.
Melissa: That's a useful insight. Robin, let's talk a little bit about the US drone strike that killed 10 civilians in Afghanistan. How does that moment, and then the Biden administration's sort of willingness, relatively swiftly, to acknowledge that that was an error, does that increase the administration's credibility because it admitted it, or does it reduce their credibility because the mistake happened?
Robin: I think it worries a lot of countries and I think it worries those in Washington as well, that the United States now has to rely on what it calls over the horizon offense when it comes to Jihadi threats, whether it's ISIS, Al Qaeda, or any of the Jihadi groups that now have proliferated around the world. That drone strike killed 10 civilians, including seven children and the United States still had troops there. It was not carried out by those troops, but it was by a drone and we were wrong.
Our intelligence was wrong and this is, I think one of the things that are going to complicate our military operations in the future. I think on the broader point that Dan made, one of the problems is, yes, we can give countries vaccines, but we're not being generous about allowing them to manufacture the vaccine at home, giving the intellectual property or the technology so that they can do it at home. Again, the number of vaccines the United States and the West has committed so far is a drop in the bucket.
Melissa: Okay. I want to take a listen to some news from our Northern neighbor.
Prime Minister Justin Trudeau: Thank you all. You are sending us back to work with a clear mandate to get Canada through this pandemic and to the brighter days ahead. My friends, that's exactly what we are ready to do.
[cheers]
Melissa: That, of course, is Canadian prime minister, Justin Trudeau, who managed to keep his job this week, but failed to secure a governing majority. Dan, do you agree with the prime minister's analysis that he has a clear mandate in the north?
Daniel: No. He has a better mandate than anyone else, which is why he's going to be leading the government. He's paying the wages of a gamble that he took. In some ways, this actually evokes what Theresa May did in the UK a couple of years ago, where they were riding high in the polls for a brief time, and of course, in a Parliamentary system, you can call for snap elections at that moment with the idea that presumably means you can govern without a coalition, which Trudeau then did. Then shockingly enough did not quite do as well as expected. Although again, he will be running the government. It's not the worst outcome for Trudeau, but it's not the best either.
Melissa: What does that mean for the US, this idea that Trudeau won, but is yet again the head of a minority government?
Daniel: I think the way that probably most Americans and even the Biden administration might view this, is whether or not this is a cautionary tale for elections in the United States. For example, the populous party in Canada did a great job of drawing votes away from conservatives. Therefore, it was viewed as potentially an indication that maybe US-style populism is spreading to Canada. If you're the Biden administration, you obviously have to be worried about how this will play in the midterms and in 2024.
In terms of practical relations with Canada, I don't think it really changes all that much. Again, you're going to see the same players running the government in Ottawa, Justin Trudeau and Joe Biden have, I believe, reasonably good relations, although it should be noted that the Australia sub deal didn't just annoy the French, it also left Canada out in the cold. I think there were a lot of raised eyebrows about that, Much like the US relations with other allies, the macro picture is one of relative stability, particularly after the Trump years, but nonetheless, plenty of irritations beneath the surface.
Melissa: Robin, I wonder if there is a US ally that the Biden administration is managing, maybe gardening, really well, like one where, in his time leading our nation, that we've seen a strengthening of that ally relationship.
Robin: Biden faces many challenges in finding stable allies because there are so many other places that are going through the Canada experience. You have elections in Germany, in October and while Angela Merkel is still popular, her party is not necessarily going to win again, and there's no clear indication of who might win. It may take weeks to form some kind of coalition government.
For 16 years, Angela Merkel was the anchor of Europe and a steady interlocutor with Washington, and Germany may not be able to play that position for a little while. France goes through presidential elections in April, and of course, Macron was deeply embarrassed by the crisis with the United States over the nuclear submarine deal. He was excluded from it and humiliated, so that may have an impact on him.
We're heading for a period of instability among many of our Western allies, even when people we know, Biden knows well, has good relationships with are reelected. This may be their last round. Of course, we don't know in our country, whether Biden will be one term or two. Will we go back to a Trumpian-style politician again? I think on the leadership question, there are lots of variables out there that are going to make finding solutions to the biggest existential problems of our time ever more difficult.
Melissa: Dan, in these final moments, give me a little bit of a look forward. Maybe offer me the most positive and most negative potential outcomes here. Maybe not most negative, but when I hear Robin talk about the very real challenges facing us and the complicated nature of addressing them, I'm wondering if we should be bracing for a period of global crisis, or even though things are looking rough, we're actually moving into a space where we should expect more global cooperation. What's your assessment?
Daniel: The positive story would be to say that the Biden administration's approach toward these threats is accurately assessed, and also that their patience with respect to China and Russia, which is to say that they recognize that those countries are not necessarily going to agree with the United States, but they do believe that there is value in a working relationship with both of those great powers, eventually pays off as China and Russia realize that they need to cooperate more on the pandemic and they need to cooperate more on climate change.
You could argue that there's a trajectory whereby the world having suffered through some serious years of pandemic, genuinely recognizes that the biggest threats to the world are no longer coming from states, but rather coming from environmental reactions to the growth of the human population. Therefore, you actually do see some concerted action. I don't know how likely that is, but that is one positive trajectory.
The negative trajectory, and bear in mind, Melissa, that I teach a course every year entitled The End Of The World, so I'm pretty imaginative on this, is that, in fact, we don't really ever escape the pandemic. That we operate in a world where COVID becomes endemic. You see much higher mortality rates, this causes countries to turn inward. Here's a really scary part of this, which is as much as dealing with climate change or trying to mitigate the effects of climate change is a global story, one in which you need to have global cooperation, adapting to climate change is really a story of countries.
You can exclude others when you adapt to climate change, you can harden your infrastructure, you can try to take steps to prevent the worst of extreme weather. This is an instance in which the developed world will be much better off than the developing world. This includes China, I would add. Simply because the developed world is richer and also has more infrastructure that it can use to combat. If you have an instance in which the United States and Europe decide to turn inward, global cooperation is going to break down. Life might be reasonably okay in these countries, but it will get worse and worse everywhere else. You will then start seeing a migrant crisis that makes previous migrant crises look like a pittance.
Melissa: Robin Wright is a columnist at the New Yorker and Wilson Center distinguished fellow, and Daniel Drezner is a professor of international politics at the Fletcher school of law and diplomacy at Tufts University. Thank you both for joining us today.
Robin: Thank you.
Daniel: Thank you.
Copyright © 2021 New York Public Radio. All rights reserved. Visit our website terms of use at www.wnyc.org for further information.
New York Public Radio transcripts are created on a rush deadline, often by contractors. This text may not be in its final form and may be updated or revised in the future. Accuracy and availability may vary. The authoritative record of New York Public Radio's programming is the audio record.