President Biden at the Halfway Mark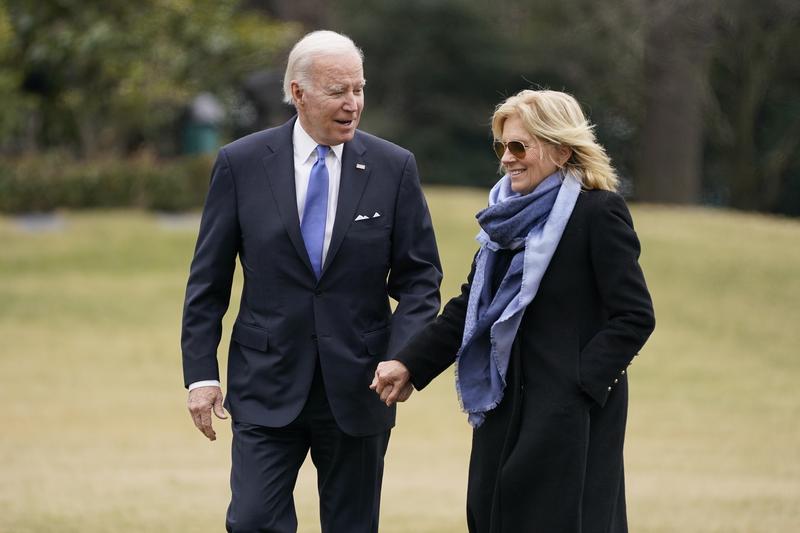 Transcript
[music]
Melissa Harris-Perry: Welcome to The Takeaway. I'm Melissa Harris-Perry, and it's good to have you with us. We've just passed the two-year anniversary of the inauguration of President Joe Biden.
President Joe Biden: This is America's Day. This is democracy's day, a day of history and hope, of renewal and resolve. Through a crucible for the ages, America has been tested anew.
Melissa Harris-Perry: It's been a busy two years. The president has seen the confirmation of 97 of his picks for the federal judiciary. In the last Congress passed a total of 365 laws, including protecting same-sex marriage, tightening gun loopholes, and shoring up mechanisms for the electoral count, and late last year, Biden signed a key piece of legislation.
President Joe Biden: I'm about to sign the Inflation Reduction Act into law, one of the most significant laws in our history. Let me say from the start with this law, the American people won and the special interest lost.
Melissa Harris-Perry: The act capped the cost of some prescription drugs, instituted a corporate tax increase, and contained the largest investment in US history to combat climate change. He passed along party lines, but Biden saw bipartisan successes too, with a $1 trillion infrastructure bill to fund roads, bridges, and ports across the country that he got passed in late 2021. Earlier in that same year, Biden had signed the American Rescue Plan, a $1.9 trillion economic stimulus package.
President Joe Biden: Thanks to the American Rescue Plan, we have come a long way. We got vaccine shots in arms. We helped people who needed them the most. We kept teachers in classroom, cops on the beat, firefighters on the job because the local communities didn't have the money to pay for them.
Melissa Harris-Perry: There have also been challenges, missteps, and even failures.
[music]
Biden was forced to dismantle and rebrand parts of his would-be signature plan, Build Back Better. The war in Ukraine helped inflation skyrocket to its highest rate in four decades. The hasty withdrawal of US troops from Afghanistan saw near immediate Taliban takeover but the most recent setback is more self-inflicted.
Reporter: We're back with breaking news, new details today in the classified documents investigation into President Biden.
Melissa Harris-Perry: In November, Biden's personal attorneys discovered Obama Administration records at the Penn Biden Center in Washington DC. As the FBI and Justice Department began investigating, they found more classified documents at Biden's home in Delaware. His lawyers and the White House say that they've been cooperating fully with the investigations, but Republicans have seized on the opportunity for scandal with the House Judiciary and House Oversight committees signaling they may launch their own investigations.
To understand how to assess this mixed bag of the past two years, I sat down with Julian Zelizer, professor of History and Public Affairs at Princeton University.
Julian Zelizer: There's going to be different perspectives on how he's doing depending on your politics, but if we're just measuring some of the basics for a presidency, he's doing pretty well. He has a very extensive and significant legislative record, three major bills that passed in a very narrow majority. He did very well in the midterms. His party did increase their majority in the Senate and really checked a lot of the losses in the House, and Democrats did very well throughout many states which was a big benefit for them and not expected in the midterms.
His approval ratings have obviously been going back and forth, but overall, they're not disastrous. Even though there's a lot of talk now about whether he'd run just by those measures, he's doing pretty well after two years.
Melissa Harris-Perry: All of that doesn't account for the current dust-up around classified documents. Does that really make a difference in how we should be assessing how this presidency's going?
Julian Zelizer: Well, sure. I think dust-ups can matter and it certainly can become a much bigger issue going into the election not necessarily the details of the documents and how they were handled, but if Republicans are able in the next year to especially through their control of the House, to raise questions about his character, to undermine some of the image that voters have of him as a very trustworthy, hardworking politician, that could matter. We saw that with Hillary Clinton in 2016.
Many people discounted the e-mail and server scandal and it ended up being part of the campaign, so it's certainly the scandal can end up turning into something bigger.
Melissa Harris-Perry: Are there other key measures that suggest to us both how history remembers presidents and I guess the big thing for a first-term president, whether or not they become second-term presidents?
Julian Zelizer: I should start by saying legislative success doesn't always mean political success. There's lots of presidents who have a lot of legislation get through including Lyndon Johnson between 1964 and 1966, and ultimately things go wrong in their presidency with Johnson Vietnam overwhelms everything he had done and he doesn't run for reelection in 1968. The economy ultimately becomes very important in how people measure legislative accomplishments. It's not a simple equation of a president gets this through Congress, the benefits provide this support and people are happy.
Sometimes the economy will really dictate where a president stands. Finally, issues of character and personality, whether we think that's the right way to handle politics or not do matter. There's lots that go into the mix beyond what a president can get through Capitol Hill.
Melissa Harris-Perry: If we're thinking about two years ago when President Biden takes office, just take a couple of areas of sort of how American life feels. Maybe the key one really is COVID-19 is the pandemic. How has the president, the White House done in terms of managing the pandemic?
Julian Zelizer: If you compare where we are in early 2023 to where we are when his presidency started, we're in much better shape. There's been missteps along the way for sure. There were early problems of communication with the CDC in terms of masking and when you don't need to have a mask. There's been problems with some of the vaccines, subsequent vaccines, and the rollouts but overall, the country's in much better shape. Businesses are open, we're open as a society schools are open.
I think the feeling of the public even though the pandemic is still alive and the virus is still very much present, we are not being defined by that anymore. I think overall his policies have been pretty successful. Inflation has been a problem, but from what we're seeing now, it looks like we are in a good place heading in the right direction of containing those prices.
Melissa Harris-Perry: There's more with Julian Zelizer right after this.
[music]
I'm back with Julian Zelizer, Princeton University with a checkup on Joe Biden's presidency so far. How are people feeling about the economy right now?
Julian Zelizer: It's an odd combination. In the 1970s, we had high inflation as well which in the end was much longer and worse than what we're experiencing now but it was also combined with high rates of unemployment. We're in this weird moment now where prices clearly have been an issue. Polling in the midterm suggested people do care about this, and they're worried about this, and they're worried about how it affects their family budget, groceries, rent, and more but at the same time, they have jobs.
The market is pretty good if you need employment, and people are still spending a lot of money. I think the problem of inflation from what we see in polls is on people's minds. It's causing concern and certainly, the turbulence in stock markets doesn't help even as it ripples through society but it's not a 1970 situation.
Melissa Harris-Perry: Let's talk about race. Given we know how critical these constituencies will be if he runs for reelection, or if any member of the Biden administration stands for election in 2024, which presumably someone will, what do we know about how Black and Latino voters are feeling about him?
Julian Zelizer: Well, clearly there's some disappointment. Some of the disappointment stems for sure from the disconnect between early promises from the administration in the heat of the 2020 campaign to be responsive to a lot of the concerns from Black Lives Matters to be more responsive to the concerns of immigration. Advocates after four years of really reactionary policies and Biden has not moved forward on some of these. Some for political reasons, he just feels he can't. Others, his priorities have been different on immigration.
There's a lot of criticism that he has continued with some of the policies that Trump put into place. On the border, sometimes he's not only continued but accelerated measures. There is clearly frustration and because of the issues we talked about with the economy, that also probably undercuts some of the enthusiasm from different communities. Whoever runs, whether it's Biden, the Vice President, another Democrat, they're going to be running against the Republican Party that has moved pretty far away, very far away from the concerns of both communities.
I think there's still room for Democrats to make a case in 2024, that they are the better alternative even with some of the disappointment out there in the electorate.
Melissa Harris-Perry: You've written about policymaking versus implementation in this second half of the first term. What does it mean to focus on implementation, especially with a Congress that is so closely but narrowly divided?
Julian Zelizer: It's very important. Implementation is the boring phase of politics, passing a bill is very exciting, it's high stakes, there's a lot of drama, and that draws people in. What we saw with the Affordable Care Act, for example, a lot of policies really are made or broken in the implementation phase, meaning are they put into place effectively, do people really feel and enjoy the benefits? Now, that's where Biden has to focus on a lot of the measures in his anti-inflation legislation, in his infrastructure program.
How are the monies distributed? Are they used well? Do people see quickly the connection between what's going on in their families and their communities in terms of a bridge being built, a road being fixed, or new kinds of green energy being put into place and what the administration did? He needs to make sure that goes well, that is where the Affordable Care Act really started to gain political strength. Because of the way Congress looks right now, a Republican House and still a narrow Senate Majority, legislation isn't going to be easy.
It's also his best bet politically if he wants to solidify how people see his administration.
Melissa Harris-Perry: What Republican is the Biden administration hoping if they're planning to run in 2024? Who do they want to run against?
Julian Zelizer: I think they want to run against Donald Trump again. Probably in their minds, this is something they've proven that they can defeat. Trump just overwhelms the national public square so much that some of the problems we've discussed or challenges with the Biden administration might not be as visible. The contrast between someone who is relatively conventional in terms of how they govern and someone who's the opposite of, meaning, the former president, I think the administration sees that as their best bet forward.
As opposed to a younger Republican who's more savvy, who shows more executive skills like a Ron DeSantis. I think that frightens the administration much more.
Melissa Harris-Perry: Start by thinking about the two most recent Democratic presidents who did serve a second term, President Barack Obama and President Bill Clinton. What both of them had was a fairly extraordinary capacity to communicate. That's a little different for President Biden for all kinds of reasons. How would you assess his both current execution of presidential communication, but also what you see as possible for him as a communicator?
Julian Zelizer: It's never been a strength of his even at his best. He had trouble with the communication part of presidential politics and this is why his campaigning often didn't go as well. He's much better in these one-on-one settings, he's very compelling, people say, just watching how he could interact with every American. Some of the communication's gotten more difficult with age. He's also trying to communicate in an incredibly fractured and contentious media environment. All of this makes it much harder for him and he's not as good as the Democrats who came before him.
It's going to be tough. House Republicans have a platform in the next two years to keep challenging him as he tries to communicate issues. He might want to talk about policy X, he might want to talk about the economy, they're going to be talking about Hunter Biden. It's going to require a lot of skill to get through that and to navigate through that. One of the questions a lot of Democrats have is, is he up to that? We just don't know. He was good in 2020 but again, some of that was the context and who he was up against.
We don't know what that will look like going into 2024 if he decides to run for re-election.
Melissa Harris-Perry: Julian Zelizer is professor of history and public affairs at Princeton University. His most recent book is Myth America: Historians Take On the Biggest Legends and Lies About Our Past. Julian, thanks so much for being here.
Julian Zelizer: Thanks for having me.
[music]
[00:14:51] [END OF AUDIO]
Copyright © 2023 New York Public Radio. All rights reserved. Visit our website terms of use at www.wnyc.org for further information.
New York Public Radio transcripts are created on a rush deadline, often by contractors. This text may not be in its final form and may be updated or revised in the future. Accuracy and availability may vary. The authoritative record of New York Public Radio's programming is the audio record.