For Many in the U.S., Prescription Drugs Still Unaffordable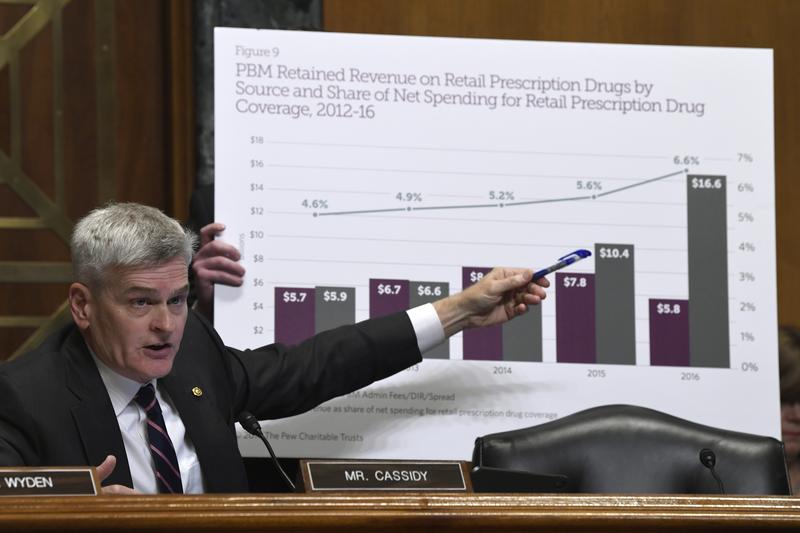 Transcript
Tanzina Vega: At last week's chaotic presidential debate, there was one moment that flew a bit under the radar. President Trump's repeated claims about lowering prescription drug prices. Here's the President talking about the price of insulin at the debate.
Trump: I'm getting it for so cheap. It's like water. You want to know the truth, so cheap.
Tanzina: That's not the truth. For many people with diabetes, insulin still costs hundreds of dollars a vial with some patients needing two or three vials a month. This isn't the first time Trump has claimed he's lowered prescription drug prices for Americans. In fact, it's become a major talking point on the campaign trail. Though it's unclear how much affect any of his policy changes has had on the high cost of prescription drugs. That's according to Rachel Sachs, and associate professor of law at Washington University in St. Louis.
Rachel Sachs: Today, too many Americans have difficulty affording their prescription drugs. A survey that was taken in 2019, so this is before the pandemic, found that a full 24% of Americans had difficulty affording their medications. That figure might have even gone up today, as many Americans lose their health insurance.
Tanzina: Why are these drugs so expensive compared to other places of the world?
Rachel: Different drugs have high prices for different reasons. We in America pay so much more than other countries, mostly because we don't use the tools that they use to bring down the prices of prescription drugs. We don't negotiate for the prices of our drugs at the federal level. We don't use tools like international reference pricing or health technology assessment to bring down those prices. We pay more than other countries for the same products.
Tanzina: When we're talking about drug prices are we talking about specialized drugs or just any drug generic drugs? What kind of drugs are we talking about?
Rachel: We're mostly talking about branded drugs. Actually, the prices that we pay for generic drugs are often lower than the prices that are paid in other countries. The problems that patients have affording their drugs here are mostly these high-cost drugs, whether they're specialty drugs, or whether they're non-specialty drugs, but are still protected by patents or other exclusivity.
Tanzina: Would that explain why there aren't more generic versions of some of these more expensive drugs?
Rachel: For some of the drugs, it's about their patent protection, but for others, it may be about FDA exclusivity periods or trade secrets that make it difficult to copy these products. Different drugs have high prices for different reasons, but they all have the potential to harm patient access.
Tanzina: You mentioned, and we've reported on the show, that the pandemic has forced many people out of work. As a result, many of those folks have lost their insurance. Have you seen an increase in people's inability to afford their medications since the pandemic began?
Rachel: I think it's too early to say for sure. We're hopeful that people who lose their employer-sponsored insurance might be able to qualify for Medicaid but unfortunately, too many states have declined to expand Medicaid under the Affordable Care Act. Patients or people in Texas or Florida or other very populous states, which may have lost their employer-sponsored insurance may be unlikely to qualify for Medicaid, which could help them afford those products, while patients in other states might be able to afford their products with Medicaid's help. It's hard to say.
Tanzina: What happens when someone cannot afford a drug? Do they stop taking it altogether? Are people dying?
Rachel: Patients use different strategies to cope when they have difficulty affording their prescription drugs. Sometimes they refuse to fill the prescription at all. Sometimes they spread out their doses or take half of a dose at one time and half of a dose at another time. In general, these really do have the potential to cause problems. We've seen reports, particularly of patients who are diabetic and need insulin, that patients can die from rationing their medications.
Tanzina: In the first debate with Democratic candidate Joe Biden, President Trump said that he lowered the prescription drug prices to the point where insulin is "like water." Is there any truth to those claims?
Rachel: No. Certainly not yet. The President has put out a series of executive orders or plans to lower prescription drug prices, but few if any of them have gone into effect yet. Many Americans still have real trouble affording their prescription drugs, including insulin.
Tanzina: The President also said that he had put in a number of recent executive orders regarding prescription drug prices this summer. This is something that he's tried to make an issue, at least a positive issue, for his administration. Have any of those executive orders had any actual effect on high drug prices?
Rachel: No, not yet. Executive orders in healthcare in general, and in prescription drugs more specifically, they don't do anything on their own. They require policymaking and rulemaking to actually go into effect. On several of the executive orders, the President and HHS have taken no public action at all. On some of them, although they have taken public action, those policies won't go into effect before the election, if not in the months afterwards.
Tanzina: Medicare is the biggest purchaser of prescription drugs in the United States. Why doesn't it negotiate drug prices?
Rachel: When Medicare Part D was created, Congress explicitly included in the law a provision that prevented the federal government itself from negotiating for the price of prescription drugs. Importantly, that doesn't mean that Medicare Part D plans, which are typically run by private contractors, can't negotiate. They do, but they're not negotiating on behalf of the federal government with its full purchasing power.
The federal government is also limited by the requirement that Medicare cover most or in some cases, all prescription drugs within a category. There are limitations on the federal government's ability to negotiate and to use the market-based sticks that other countries or other insurers use to lower the cost of prescription drugs.
Tanzina: What about in Congress, Rachel, is there any movement there in terms of legislation to lower drug prices given? As you just said that the President's executive orders have had little to no actual effect on the cost of prescription drug prices so far?
Rachel: In December of last year, the House passed a bill H.R. 3, which would have done three main things and completely restructured the way in which we pay for prescription drugs in this country. First, and perhaps most importantly, it would have allowed Medicare to negotiate for the prices of prescription drugs, and helped peg what Medicare pays to the prices that are paid abroad in a range of comparable countries.
Second, it would have discouraged companies from raising the prices of their drugs faster than inflation, as many companies do today by imposing penalties and rebate requirements on companies that do. Then third, it would have reformed the way the Medicare Part D benefit works so that seniors would pay a lot less out of pocket for their prescription drugs than many of them do today.
Tanzina: We heard a little bit about how President Trump is trying to continue this as an issue before his own diagnosis with COVID-19 at the presidential debate. How are each of the candidates talking about what they would do to lower drug prices?
Rachel: The rhetoric between President Trump and former Vice President Biden are actually quite similar. Both of the candidates profess to want to allow drug price negotiation or to limit drug launch prices through the use of international reference pricing to make it easier for people to afford their prescription medications. I think the problem is that the President has spent several years delaying on these plans, and we haven't yet seen their impact. In fact, the President threatened to veto the Democrat's bill as they passed it in December, which would have accomplished several of these allegedly shared goals. It's hard to see whether the President is truly committed to some of these policies.
Tanzina: There is a coronavirus vaccine or multiple coronavirus vaccines in the works right now. Do we have any sense, Rachel, if that is finally available to the American public? If there will be similar issues with accessing that vaccine or will it be treated more like the flu vaccine where people can get it at work? They can potentially afford it. Even if they don't have insurance they can go to a pharmacy for example and get it.
Rachel: The federal coronavirus legislation has attempted to make sure that the vaccine itself will be free at the point of care for all Americans. Right now there are questions about whether the administration of the vaccine will also be available for free. There are at least attempts on the federal level to make sure that people can afford this vaccine because we want to make sure that everyone can access it.
Tanzina: There are still many Americans grappling with how to afford their medication. I find interesting that occasionally you'll hear television ads that say, "If you're having trouble or you can't afford your medication, contact us and we may be able to help." I'm not sure how much help pharmaceutical companies will actually provide to people who are struggling to afford medications they need to survive. But Rachel, are there places that people can turn if they cannot afford life-saving medication?
Rachel: There are, but it depends on the patient and their situation. The patient may be able to obtain access through certain kinds of health centers or clinics that will enable them to receive these medications for free. They may be able to use pharmaceutical company's patient assistance programs for particular kinds of products. There are services like GoodRx, which enable patients to comparison shop. In general, there are still real barriers for a lot of patients, but there are ways that some patients can get around these affordability difficulties.
Tanzina: Rachel Sachs is an associate professor of law at Washington University in St. Louis, Rachel, thanks so much.
Rachel: Thank you.
Tanzina: According to some of you, the cost of medication hasn't improved since the pandemic started earlier this year.
Pat: My name is Pat and I'm calling from Philadelphia. My one prescription for Synthroid doubled last January, and my insulin for type 1 diabetes is prohibitively high. Healthcare costs are one of my top priorities and I don't qualify for the Affordable Care Act and I don't have any insurance through my employer. My family pays almost $24,000 for the four of us plus very high [unintelligible 00:11:45] and repayment for prescriptions.
Tanzina: Both presidential candidates have put forward plans to lower these costs, but that doesn't mean those plans will change how people will vote in November.
Chris: My name's Chris from Pittsburgh. My drug costs went up about 25% since the start of the pandemic and frankly, I don't care. Donald Trump has to go and there's nothing that's going to sway my vote at this point.
Pam: Hi, my name is Pam and I am from Ramona, Kansas. I don't take a lot of drugs, luckily, but one that I find that is really necessary is called Symbicort, it's a steroid inhaler and I take it for Asthma and that's gone up by about 50 bucks in the last few months. There's a lot more important things at stake than the price of my medication. What's important, as far as I'm concerned, is preserving our democracy and so that decides how I will vote.
Tanzina: Some of you have been lucky enough to avoid any major shifts in what you're spending on prescription drugs, at least right now.
Lorraine: This is Lorraine from Edwardsville, Illinois. I'd like to say, no, we don't have to pay any more for our prescription. We're very lucky and have excellent insurance, though the costs and deductibles skyrocketed since the ACA and the insurance company is taking advantage of the system. I want it to be crystal clear that there's absolutely nothing that Trump could do to cause me to vote for him.
Tom: Hi, this is Tom from Glendale. I've had no increase in drug cost. I'm on Medicare though, every year there's a reevaluation of the formulary and this doesn't affect my vote. I'm a Biden-Harris supporter, so nothing that anybody does is going to make me consider anything but voting for the most qualified man and a woman to be president amd vice president.
Tanzina: Throughout listener's responses a common theme emerged. The current system does not work for people and serious changes are needed in the nation's Capitol.
Wayne: My name is Wayne. I'm calling from the city of Fairfield. I work in healthcare and I see people's struggle every day to pay for their medications, to get treatments. We live in a society that equates healthcare being provided for people to socialism, which is insane.
In fact, what we are seeing is a society where there is socialism being practiced in the form of wealth care, where wealthy individuals and corporations get tax breaks in return for making massive donations to people for president. The problem with that is it undermines the fabric of our society and that includes the ability to get healthcare, which should be a basic human right.
Cheryl: I'm Cheryl, calling from Jacksonville. The idea of medications being reasonable and taking big pharma out of the picture or limiting their power is exciting to me. I think that we spend way too much on medications. I'm in the healthcare field and I think price gouging has been happening here for a long time. This will improve insurance costs and it will improve or decrease costs to the individual patient.
Tanzina: What about you? Are you seeing any changes in the cost of your prescription drugs? Are prescription drug costs affecting your vote? Tell us about it. Give us a call at (877) 869-8253.
Copyright © 2020 New York Public Radio. All rights reserved. Visit our website terms of use at www.wnyc.org for further information.
New York Public Radio transcripts are created on a rush deadline, often by contractors. This text may not be in its final form and may be updated or revised in the future. Accuracy and availability may vary. The authoritative record of New York Public Radio's programming is the audio record.