Showing Appreciation to Our Powerhouse Producer Shanta Covington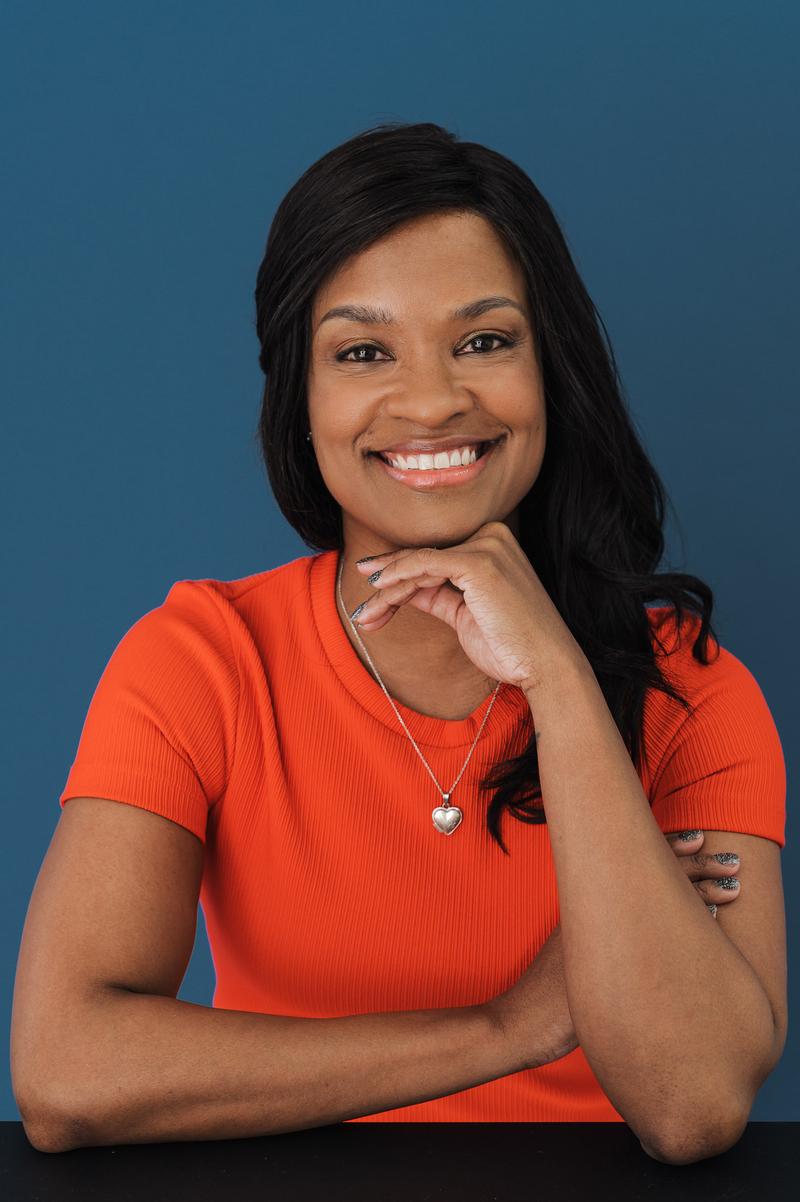 Transcript
[MUSIC - Boyz II Men: It's So Hard To Say Goodbye To Yesterday]
Melissa Harris-Perry: Welcome to The Takeaway. I'm Melissa Harris-Perry. We've been telling you for a few weeks that we're coming to the end of the road here at The Takeaway. On Friday, June 2nd, we will broadcast our final episode, and as we head into these last days, we're taking the time to pause and show a little gratitude for the extraordinary team of producers who make The Takeaway every day. Up first, our senior producer, Shanta Covington.
Monica: Hi. My name is Monica. I'd say, Shanta has charisma, uniqueness, nerve, and talent.
Ryan Wilde: This is Ryan Wilde. I'm a producer here. I would say, she's our rock--rock solid. She does the job of at least three people. She never complains about it. She's always putting others on the team first, has the most relentless work ethic I've ever encountered, and she's all of that, but not at all overbearing or micromanaging. She trusts us to do our thing.
Melissa Harris-Perry: As you just heard from some of the members of team Takeaway, Shanta Covington is no ordinary person or producer, a proud Afro-Latina of Panamanian descent and Long Island upbringing, Shanta is simply astonishing, brave and talented, kind and hilarious, relentless and brilliant. To keep it all the way real, Shanta exists in a class and a category all her own.
Mary Steffenhagen: Hi. This is Mary Steffenhagen. If I had to describe Shanta as a leader in five words or less, I'd say, she is magic. [chuckles] I don't know how she finds the time to do all of the work that she does for the show because she's basically three people at once, and if she's stressed about it, you'd never know.
Melissa Harris-Perry: I've known Shanta for more than a decade. We first met when she was a young professional, booking guest for a cable TV network, and I was a young professor with a lot to say but no real experience in media. As I was dipping my academic toe in the waters of national media, Shanta was usually the voice on the other end of the line, calling to get me prepared for my early forays into the national spotlight.
Now let's be real. Guest booking is a pretty thankless gig in TV land. Bookers, as these hardworking producers are sometimes called, are among the most versatile and talented members of any team, but they rarely get production credit for their work.
Bookers don't just call potential guests, they build lasting relationships. They know all the details, background, and nuance of the segments they're booking, so they can get guests prepared without actually sharing the questions that will be asked. They know how to tactfully communicate the quirks and challenges of their host, so guests can be prepared for that, too, and they have to be first-rate listeners who can pick up all the nuances and details of the guest, and then communicate that back to the host.
Shanta was and is a best in the business booker. She seamlessly manages divas, dullards, and those who disappear at the last minute. She can talk with heads of state in the morning, and sit with grieving parents in the afternoon. More than that, Shanta has a profound commitment to diversifying the media landscape and to ensuring that stories are told from the point of view of those with firsthand experiences. She's a master chef, bringing together multiple identities, viewpoints, and experiences to ensure every story has unique flavor.
That's why when I began hosting a weekend show for MSNBC back in 2012, Shanta Covington was the first person on the team. It's why, even after MHP Show ended in 2016, I continued to look for opportunities to work with her. For years, she's helped me plan major events and produced multiple media projects. In fact, she produced her first segment for The Takeaway in June 2021, weeks before she actually worked here.
[music]
I'd asked for her help to pull together a brief segment on Father's Day about women in elected office talking about their dads. Shanta, being Shanta, booked three mayors, four members of Congress, and a state lawmaker for an eight-minute segment.
Mayor Jenny Durkan: "Hi, I'm Mayor Jenny Durkan, the mayor of Seattle."
Bonnie Watson Coleman: "I'm Bonnie Watson Coleman and I represent the 12th congressional district in the state of New Jersey."
Melissa Harris-Perry: "Congresswoman Alma Adams who represents the 12th congressional district of North Carolina."
Vi Lyles: "I'm Vi Lyles and I'm the mayor of Charlotte, North Carolina."
Keisha Lance Bottoms: "Keisha Lance Bottoms, mayor of Atlanta, Georgia."
Pramila Jayapal: "Pramila Jayapal, and I am the Congresswoman representing Washington's 7th congressional district."
Lauren Underwood: "Lauren Underwood, I am the United States representative for the Illinois 14th congressional district."
Melissa Harris-Perry: When that segment aired, Lee Hill, who was The Takeaway's executive producer at the time called and asked me, "Wait, who produced that segment?" One week later, Shanta Covington was working on The Takeaway, and it didn't take long for Lee and the rest of team Takeaway to learn what I'd known for years. Although Shanta Covington is an almost legendary show booker, she's also much, much more.
Lee Hill: If I had to describe Shanta in one word, I think I'd use the word remarkable.
Melissa Harris-Perry: Remarkable indeed. In less than a year, and producing radio for the very first time, Shanta went from Takeaway temporary producer to our show's sole senior producer, and as senior producer, Shanta is in charge of all the daily operations at this place.
Jay Cowit: This is Jay Cowit, Director of The Takeaway. If I'm describing Shanta Covington in five words or less, I would use the word leader and then repeat it four more times. Nobody has their crew's back more than Shanta, and nobody has the back of the audience more than Shanta. She cares, because it matters, and it's an inspiration to all of us. Every single day, grinding, working, making it happen, helping all of us all at the same time, and being there for us every single moment of every day. She's a true leader, a true captain, and we love her a ton.
[music]
Melissa Harris-Perry: Don't go anywhere, much more on our remarkable senior producer when we return, including a listen back to The Takeaways only award-winning segment from the past two years, produced by Shanta Covington. More in a moment. It's The Takeaway.
[music]
Welcome back to The Takeaway. I'm Melissa Harris-Perry, and we're continuing our collective appreciation for Shanta Covington, the remarkable human who's been our senior producer and our leader in every sense of the word.
Katerina: We've had a difficult time the last few months, and Shanta has kept our radio magic. She's kept us in good spirits and she never hesitates to help us with anything we need. I can't pinpoint one thing that she's done for me specifically, because every single day I feel like I go to her and ask for something or need her advice on something, and there's never a day she's not there for me. For me, yes, she's our leader. She's our senior producer, but now she is also my friend. I know that after the show ends, I could always call her.
Melissa Harris-Perry: So, what does it mean to be the senior producer of The Takeaway? Well, here are just a few of the items on Shanta's exhausting to-do list.
[music]
She's up before dawn, because we begin recording each morning at 7:00 AM, and it's her job to ensure everything goes smoothly. To be clear, sometimes things don't.
Ryan: One morning a scheduled interview fell through, which meant we had a hole in that day's show and Shanta knew exactly what to do. She said, "Here's another interview that we taped, but we haven't aired yet. Use that." She quickly and calmly patched that hole in our show right away. That's just an example of how she gets everything done. This ship would sink without Captain Shanta.
[music]
Melissa Harris-Perry: Then Shanta runs our morning meeting, which she always manages with an authentic mix of planning, prepping, praise, and sometimes a little singing.
Shanta Covington: "First of all, shout out all of you for putting that together with all of the other meetings that you do, starting with our A Block, which is also our 11:00 AM pre-rec. After this meeting, have looked at the script. Melissa, if you want to just take a quick look at it as well, if you have any notes. I'm so glad [unintelligible 00:09:50]. Hold on. Call her. That makes me so happy. Okay."
Melissa Harris-Perry: Pause y'all. I had to secretly record that meeting so I can feel the burn of Shanta's side eye as she's hearing this for the first time. Okay. After wrapping the morning meeting, Shanta works one-on-one with each segment producer, helping them craft unique angles, ensuring producers have identified and confirmed guests, and assigning stories, all while making room for producers to work on long-term projects.
Mary: I remember when I was working on my report about human composting, and I had so many setbacks during the reporting process, and I was freaking out and Shanta just said, "No biggie, I'm giving you another week." She did that multiple times with no judgment, just calm, cool, collected, and I couldn't have made something I was proud of without her help on that and on so many other things.
Jacklyn: Shanta has really had my back when I was pitching a weird story idea or a complex story, and she has been so supportive and encouraging when I was trying to push back a deadline or struggling with a story. Our show is what it is because Shanta has been holding the fort down. I just want to say thank you.
Melissa Harris-Perry: Oh, and did I mention Shanta's a world-class field producer? It's a skillset she's been helping other team members build.
Zachary Bynum: I remember when I got to cover the Poor People's March and she met me in DC, cameras and audio equipment in hand, and we just drove straight into the crowd, grabbing all this amazing sound, talking to some incredible people, and she just helped to bring it all together in the most effortless way I've seen possible.
Melissa Harris-Perry: Shanta has a way of making sure people feel seen and heard.
Morgan: Then she always moves mountains and makes sure that we have what we need, and she's just relentlessly supportive.
Jay: Well, it is hard to pick just one time. Shanta was Shanta when it came to work or treating us like people who create this work. I don't have a one time, I just have the enjoyment and joy, and the privilege of having worked with Shanta and seeing the care she takes over the show, over our scripts, over the guest process, and over each of us as individuals.
David: I'm not on the content side of things, but occasionally I have a pitch idea, and I'm always shy about it. She is always encouraging about it, to put the pitch forward, and they've done a couple of them.
Melissa Harris-Perry: After all that, she puts in hours, cutting miles of tape and reviewing and fact-checking scripts. She serves as backup line producer and manages our digital producer. Every day there are dozens of messages and calls with me, and all along she's planning for episodes that are days, even weeks in our future. Now, all of that would be enough to qualify Shanta as a total badass, but there's even more. She's also lead producer for every episode of our Deep Dive series.
Dorian Warren: "This week, we are exploring the one experience, which is absolutely necessary and entirely irreplaceable to continue humanity, childbirth."
Melissa Harris-Perry: "We're actually going to start with something a little more abstract because we're going to get to the bottom of political cruelty."
Dorian Warren: "Because it's time for a deep dive into water."
Melissa Harris-Perry: We're taking a deep dive on sex work. It is the right time for a deep dive of American health insurance, all of which makes this the right moment for a deep dive into America's movement to end poverty.
"This seemed like the right time to take a deep dive into the life and legacy of the woman on whose shoulders Justice Jackson says she stands, Constance Baker Motley."
Now it feels like a good time to mention that in the past two years, only one story from The Takeaway has been recognized with the National Award. In 2022, the Alliance for Women and Media awarded The Takeaway a Gracie for the best feature interview. The recognition was for our conversation with Dream Hampton, writer, filmmaker, and showrunner of the series, Surviving R. Kelly. The segment was produced by Shanta Covington.
"Let's go back to your decision to pursue this story, to tell the story. Why? Why that story then especially given, as you just said, 50-year-old R&B singer who hasn't made a hit in a minute?"
dream hampton: "I really messed up. In October of 2000, so that means this is back when there were magazines. I must have gone out to Chicago in July or August if it had a street day of October, November. I did a cover story of R. Kelly. In fact, the photo of that cover story became evidence in the 2008 trial about him and it was a profile. It was a profile about his habits, about how he worked in the studio and I had missed the real story. There were young girls in the studio, but that wasn't something that I hadn't seen before.
"I was in the studio when Puff was working with Total. I was in the studio when Mary J. Blige was just out of high school singing background to Father. See, I've been in studios before and I missed it. I missed what was right in front of me.
"About a month after the cover story that I did about R. Kelly in 5 Magazine was released, Jim DeRogatis began his reporting about Tiffany Hawkins, a girl who went to the police, Chicago Police Department, as a post teenager and alleged that R. Kelly had abused her as a minor.
"That article became evidence that this Aaliyah marriage which had happened when I profiled R. Kelly, which I'd asked him about during the interview, got very defensive and seemed surprised that I would even ask him, but that became evident that this wasn't some weird spring, winter love or whatever euphemisms we have for predation. That there was a pattern to his predation. Shortly after that, of course, a video came out of him sexually abusing a 14-year-old who turned out to be Sparkle's niece.
"I felt like when I was invited onto this project, this wasn't my idea, I was hired to be showrunner and executive producer of this, I couldn't say no. I knew that it would be second-hand trauma, that it would be difficult. I knew that we were in a new landscape. I wasn't really thinking about MeToo, in fact, I was thinking about the way that one is so easily trolled and doxed in this moment.
"All of those things were nothing compared to this duty I felt to-- I don't know right or wrong. Also, I'm from this generation and I was around and I was in this business as a music journalist when he was getting away with all of this. I just owed it to these survivors to do the best job that I could do."
Melissa Harris-Perry: Yes. Shanta Covington is truly unparalleled, and we haven't even gotten to the fact that she's a professional photographer, filmmaker, and marathon runner, but those stories are for another day.
[music]
It's also worth noting that what you're listening to right now, these segments about her, are the only ones since becoming senior producer that Shanta did not participate in producing. She's a humble soul and specifically requested that we not give her any special recognition. Getting this to air took some serious subterfuge. Of course, because I, not Shanta, was in charge of booking, planning and producing it, well, let's just say we barely made the deadline.
Now, as we close today's show, just a note from me, to you Shanta, most of what I've got to say can't be broadcast, because you know, The Takeaway is a family show. We have been around this media block a few times, overworked and under-resourced, but having a ball because we were making something together. This journey on The Takeaway, it has been especially sweet because I've had the chance to watch you lead as never before.
Now, girl, I know you are not a Trekkie like me, but I just don't have any other metaphor to capture what you've done. You are my Michael Burnham, Black woman commander turned captain, traveling fearlessly, bending time, breaking rules in order to stand up for what is right, putting yourself last in the team first, and inspiring all of us, your diverse crew, to follow.
Captain Michael Burnham: "We're all living in uncertainty. Even for a crew as familiar with it as this one, the stress is taking its toll. But we are not in this alone. None of us are."
Melissa Harris-Perry: Know this, too. No matter what choices are made by the meisters of media, this right here is not the end of our story. Just the close of a really great chapter. There is no doubt that our paths will come together again and soon. That's a promise.
[music]
Copyright © 2023 New York Public Radio. All rights reserved. Visit our website terms of use at www.wnyc.org for further information.
New York Public Radio transcripts are created on a rush deadline, often by contractors. This text may not be in its final form and may be updated or revised in the future. Accuracy and availability may vary. The authoritative record of New York Public Radio's programming is the audio record.