The Power of Teachers Unions in the U.S.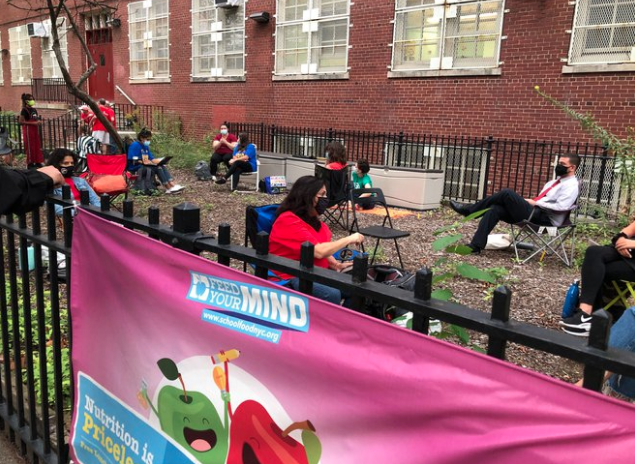 Transcript
[music]
Tanzina Vega: Back to school looks a lot different this fall, and that's in part due to teachers unions. With COVID-19 still widespread in many parts of the country, teachers and the unions that represent them are voicing their concerns about school reopening plans. Despite state and federal pushes to reopen schools, many teachers say they still need safe working conditions and adequate resources.
Late last week, for the second time, New York City, the nation's largest school district, announced it would delay in-person learning after mounting complaints from teachers about safety. In other states, teachers unions have gone on strike, and in states like Florida, they've even filed lawsuits. This isn't just happening here in the United States. From South Africa to Spain to Jordan, there are mounting tensions between teachers unions and governments over school re-openings.
I'm Tanzina Vega, and that's where we start today on The Takeaway. I'm joined by Brad Marianno, an assistant professor at the University of Nevada, Las Vegas, who studies the intersection of teachers unions and politics.
Brad, welcome to the show.
Brad Marianno: Good to be with you today.
Tanzina: Sophia Chang is a reporter following New York City Schools and unions for Gothamist and WNYC. Sophia, thank you for being with us.
Sophia Chang: Hi there.
Tanzina: Brad, let's start with you. Are teachers fighting for better personal protective equipment, more testing? What's really the issue here?
Brad: Well, these discussions started back in July. As we started to see an increase in COVID-19 cases in the summertime, teachers unions began to insert themselves in the conversation regarding school re-openings. Some of the demands have been testing regimes for our students and for teachers, as well as changes to air ventilation systems to help prevent the spread of the virus, and then personal protective equipment. Across the country, those tend to be the common demands among unions regarding school reopening.
Tanzina: Brad, how effective are some of the unions? How effective have they been really in this fight?
Brad: Quite effective. We know that teachers unions are the representation for teachers in conversations around working conditions, and have been for quite some time. In 45 states around the country, they negotiate collective bargaining agreements or contracts regarding teacher working conditions. As that representation, they're primed to really insert themselves into these conversations, and really dictate what demands teachers have and whether or not schools are able to reopen under those conditions.
Tanzina: Sophia, New York City is the nation's largest school district. You have been covering the reopening process here in New York, which has gone back and forth. It's hard to tell what's going to happen from one day to the next. Have teachers and their unions been asking for basically what we just outlined at the top?
Sophia: Yes. Actually, the reason for some of this back and forth is because the United Federation of Teachers, which is the local New York City teachers union, they have repeatedly pressed for more equipment, more testing, and better conditions in the school buildings. New York City has 1,300 school buildings that house about 1,600 schools and another 260 charter schools. That's a lot of buildings that people have complained about ventilation problems or windows that don't open, or the windows open, they only open a few inches, or they don't have windows at all. There are plenty of classrooms in basements. There was a lot of pressure to improved conditions before teachers started feeling like they might be able to go back.
Tanzina: Sophia, in addition to the personal protective equipment and other things, you've been reporting that teachers, at least in New York, are also expecting childcare promised by the city. Where does that stand?
Sophia: That is a big question. For teachers who have children of their own, there have been a lot of questions about how they're supposed to manage to go back to teaching in-person or being back in school buildings while they themselves don't know what childcare they have. The city was supposed to start a program called Learning Bridges, which would offer 100,000 seats to working families, with priority given to families that are in temporary housing or homeless shelters, as well as families who are essential workers, and especially Department of Education workers. Now, that was supposed to start rolling out with the first day of school, and yesterday being the first day, they are now looking at about 3,600 seats are available this week for the very youngest kids, the pre-K and 3-K students who went back to school this week. That's a far cry from the 30,000, they were supposed to start with, and then ramping up to 100,000 seats.
Tanzina: Brad, we know and we've heard, as we've covered teachers across the country, oftentimes teachers and their school districts are strapped for cash. Many times teachers are spending their own money for basic school supplies, like pencils and notebooks and things like that. Are teachers being forced to spend their own money to outfit their classrooms for safe learning? Are they being forced to spend their money on dividers or masks or other things?
Brad: It's entirely possible. One of the issues that we have with reopening, is the funding. With a stay-at-home orders and the stop on our economy in the springtime, we've created a situation where the funding is simply not there. Now, federal funding has come in to try and fill some gaps, but the budget holes are there, and it's making it really difficult for school districts to find the funding for testing regimes for PPE. That burden may be placed on teachers should school districts decide to reopen even without the proper protocols in place, and the proper equipment in place.
Tanzina: Sophia, you've mentioned that there are a small number of students, particularly young, the youngest students, some students with advanced disabilities who have been allowed to go back for in-person learning, of course, those would be with teachers. How are those teachers feeling, Sophia?
Sophia: Well, we heard from some teachers yesterday who seemed frustrated by the remote learning component, especially, lots of glitches here and there, with logging on and passwords and having enough devices for the school system, making sure everyone has internet access to even get online. At the same time, we also saw some very cute pictures of pre-K students happily marching into school buildings with masks on. I think there was a lot of kids who were eager to go see their schools and their teachers.
Tanzina: Brad, we talked a little bit about the threat of lawsuits. We know there are lawsuits have been filed in Florida, for example, and even the threat of striking, and teachers have really been using the power of their unions over the course of the past couple of years to speak up about teaching conditions that are unsatisfactory. Do we know whether or not any of those threats for strikes are really close to materializing at this point?
Brad: We haven't seen any large scale strikes yet over school reopening. We've seen some here and there, like a one day strike in Massachusetts for an in-person professional development day, but we've certainly seen the threats of strikes. Given what we saw in 2018 and 2019, materialize, the strike has become a renewed tool in the toolkit of our teachers unions. We're just beginning to start this reopening conversation, and you'll see schools likely reopen and close based on case counts. We should continue to see the kind of this roller coaster of labor relations over the fall. We may begin to see some strikes, some sickouts, and some other labor actions as a result of school reopening.
Tanzina: Now, Brad, what are the limits of those labor actions? Of course, I'm sure they vary depending on which state you're in, but are teachers, and unions more specifically, going to face pressure from government officials? We know the federal government has really tried to accelerate and push in-person learning or opening schools. There are some state officials in different states around the country that feel that schools should be reopened, and even some parents. Are unions going to face more pressure from the government if they refuse to teach?
Brad: You're right that the state laws and regarding the allowance of strikes vary by state. Most of the time, the penalties for striking are very, very small, or not enforced. It's likely that teachers unions will strike and will not face any penalties. What they will face is changing public opinion, particularly among parents. We're starting to see some parents around the country organize. For example, the National Parents Union launched back in January, and there's some local chapters. We even see parents trying to unionize as a way to counter the voice of teachers in these conversations. They can't function like a normal union does. They don't have collective bargaining rights, but they're mimicking the organization of unions to insert parental voice into these conversations around school reopening. While they may not face legal action from states, they will likely face changing parental pressure in terms of reopening, and parental opinion on the matter.
Tanzina: Sophia, let's zone in here on New York City and those tensions that Brad was just describing between parents and the teachers union, what does it look like right now?
Sophia: I think that what Brad mentioned is playing out here as well. Certainly we've heard sentiments from some parents who say that doctors and nurses and transit workers and delivery personnel didn't get to threaten to strike and not do their jobs. There are people who have said that "teachers here in New York need to also do their jobs". There is that sentiment.
Tanzina: There's a lot of tension.
Sophia: I think that it is-- I think what I hear more from parents is more confusion over the remote learning aspects, and how to juggle both their own jobs and to oversee how their kids are going to be doing remote school from home. I hear less anger directed at teachers in that regard, and more just frustration with the overall situation.
Tanzina: Sophia, why is it that we're hearing so much of a push here in New York for in-person learning specifically?
Sophia: Mayor Bill de Blasio has made it a moral imperative to reopen schools for at least part-time in-person education. He sees it as a real calling because New York City school system is very much a lifeline for so many kids. So many students get their food there, they get social services, obviously, structure or a safe haven if they have an unstable home. The system is largely low income. There's a lot of real good that in-person learning does beyond the instructional component, and de Blasio has said repeatedly that he is thinking of those families when he pushes for reopening schools.
Tanzina: Sophia Chang is a reporter for Gothamist WNYC, and Brad Marianno is an assistant professor at the University of Nevada, Las Vegas. Brad, Sophia, thank you.
Brad: Thank you.
Sophia: Thank you.
Tanzina: We want to hear from you, teachers, how are you feeling about the school year ahead? Give us a call and share your thoughts at 877-869-8253.
Copyright © 2020 New York Public Radio. All rights reserved. Visit our website terms of use at www.wnyc.org for further information.

New York Public Radio transcripts are created on a rush deadline, often by contractors. This text may not be in its final form and may be updated or revised in the future. Accuracy and availability may vary. The authoritative record of New York Public Radio's programming is the audio record.