Politics Host Amy Walter Reflects on Her Time at The Takeaway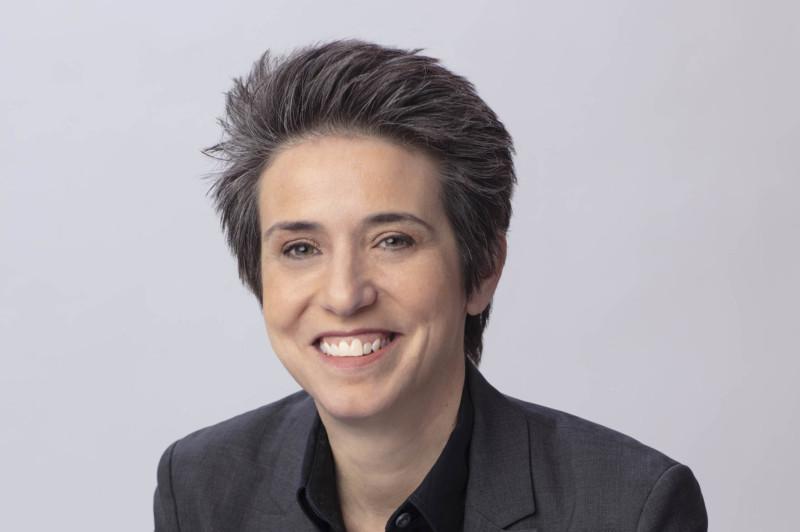 Transcript
Speaker 1: How did one group of immigrant workers become the hardest hit by the Coronavirus?
Speaker 2: Who is going to count our dead and who's going to name our dead.
Speaker 1: That's this week on The Experiment, a podcast from the Atlantic and WNYC studios.
[music]
Tanzina Vega: In June 2018, just a few weeks after I first got behind the mic for The Takeaway, Amy Walter joined us to host on Fridays, and ever since, our Friday show Politics with Amy Walter from The Takeaway, has provided deep political analysis and hosted critical and sometimes surprising conversations about how politics shape our world.
Tomorrow, Amy's fantastic run with us comes to an end, but before we say goodbye, I wanted to sit down with Amy to reflect on her remarkable show and to pick her brain about the next chapter of political coverage in America. Amy Walter is of course not just the host of Politics with Amy Walter from The Takeaway, but she's also the national editor for The Cook Political Report. Amy, hi.
Amy Walter: Hi. I can't believe this, right? I still remember having my first conversation with you on air. I think I was actually in Chicago for your first show and it was about bringing all these different voices together from across the political spectrum. Here we end it, at a time when we're still trying to figure out how to keep all these voices across the political spectrum in conversation rather than just in conflict.
Tanzina: Oh my goodness. That's exactly, that right there is the challenge. The conflict versus the conversation is so hard to maintain because we're so, people say this all the time, we're so deeply divided. But we really feel, I really feel like we are. You're more of the expert here in terms of beltway politics and American politics writ large. When people say stuff like that, "We're so divided now. We're more divided than we have been." Thinking back to like two years nine months ago, when you sat in the chair for Politics with Amy Walter, did you think we were going to end up here?
Amy: I guess after coming off of 2016, which for many people was this realization that things were now truly going to be different and that we couldn't pretend, that we could just go live in a world that we had been in for so much time before that. I think it shattered many of our perceptions and rightly so. Again, with every big, earth shattering event, you reveal truths that have been sitting there all along. You say, "I can't- is this really?" When people would say, "Is this really America? Are voters really thinking these things?" Of course they are. They've been thinking them for a long time, Donald Trump didn't invent them, but they'd been sitting there.
I think that was sort of the goal, was to try to figure out, not just are we so divided? How did this happen with Donald Trump? Instead, to look at it as where did this begin? How did we get here? More important to your point, are we really that divided? I think what we've come to recognize is we aren't necessarily more divided in terms of policies. We just dislike each other more than ever and we don't trust each other. I was talking to somebody on Capitol Hill the other day who was saying, it just feels so weird up there now. First of all, people are walking around with masks so you literally don't know who people are.
Tanzina: Which has been so unsettling.
Amy: Which is so unsettling, especially in Congress and for members who, at least, even if they disliked each other, they had relationships, right? Like I know this person, I know that, okay, you're a Republican, I'm a Democrat, but we kind of know each other and we can-- But now you really can't, you physically can't see each other, and there's still all this apprehension after what happened on January 6th, not just about the safety and security from the outside, but the people who were on the inside your colleagues that you feel like you can't trust anymore.
That division is even more pernicious, I would argue, because it's one thing to say we're united against whoever is out there trying to come in and attack us. Let's unite against that. Instead it's the people literally in the hall across from me could have been like helping these folks or cheering for some of them, if not actively engaging with them or promoting this, may want to see things happen in this place that I can't believe.
Tanzina: I think Americans, I don't want to say all Americans, but I think there are a healthy percentage of Americans who always had a skeptical view of DC and Congress and the presidency. I feel like there were certain norms and certain expectations that we had as a society that presidents and Congress and the Supreme Court would act a certain way or do certain things. I think that those expectations have been, at least during the time of your show, were really just upside down.
How many-- I'm thinking back to the Mueller, remember the Mueller hearings? Remember Brett Kavanaugh? Remember all these things that happened before the insurrection that just really, I think, told Americans that can they even trust in this system of government? We heard people saying like, "Our democracy is on the line." Amy, did you ever think that you would hear that in your political career?
Amy: Usually that was hyperbolic, right? "This is the most important election in our lifetimes." Every two years that's the phrase that you hear, but it felt much more significant this time around and it did feel as if we were really marking something significant in this election that we hadn't, certainly in my lifetime, I'll speak in for many of other folks who've covered politics, never seen anything like this.
I was thinking about this morning, Tanzina about what is missing. I think at it's core, it comes down to this, which is leadership and standing up and doing the right thing when it's not always the popular thing. As a parent, you can appreciate this and will appreciate it even more, but sometimes you have to be the adult. You have to be the parent and that means doing the unpopular thing.
I think, unfortunately, what so many of our leaders have decided to do is they want to be the popular ones too. "Let's buy the kids' beer." Instead of saying, "No, you can't come to my house and drink." I know that makes me uncool but I'm happy being the uncool parent because it's my job to be the uncool parent. It's my job to have my kids say, "I can't believe you're so terrible. All my friends are doing all these great things and you don't let me do anything." That's what it means to be an adult. That's what it means to be a parent.
I think we are mistaking in many cases-- You do want to hear, of course, this is a democracy, the voices of everybody should be included, but at the end of the day we have a representative democracy. We have leaders elected into these positions for a reason, because it is their job to make sense of the mess.
It is their job to try to take all of these voices and competing storylines, whatever, and put some structure around it. That has completely collapsed because instead, what leaders have been doing is they've been sucked into the same short-term thinking that the rest of us have. I want to be a star today. I want to get the adoration from cable TV and the internet and all of those other things.
Tanzina: The viral tweets.
Amy: I want to be a viral meme in a good viral meme way.
Tanzina: Exactly.
Amy: That's a challenge. On the other hand, it's also, and I think you do this really well on your show, but it's the appreciation that just because things are messy doesn't mean that it's bad. You and I wouldn't be allowed to host our own shows, not that long ago. By allowed meaning that the people in charge of- the gatekeepers, let only certain people into this process of telling the stories of America and politics.
It's great. We have more voices than ever. We have more perspectives than ever, which again makes it messy, but messy isn't always bad. It's bad when no one is there to help. Just give it some structure, not to say--
Tanzina: Right.
Amy: Again, a good parent just puts structure in place so that your kid knows where the boundaries are and everything else can grow from there. I think we've seen some people step up as leaders. We talked about it a lot on my show of the, especially last week. Those folks who are not famous people. They didn't get into politics to be this big name in sparkly lights. They were local elected officials, board of elections folks, people who are working at the polls. Those were some of the people who stood up and did as you pointed out, they served as those guard rails that we expected.
That the Republicans who stood up and said, "It's not okay, what's happening right now." You cannot have a president of the United States say these things and we just brush it away. We can't do that. Of course, they're all being punished by their own party. Those things do make you recognize that there still is enough of what is good and important about political leadership that is alive and well.
Tanzina: Let's turn the spotlight on ourselves a little bit and "the media", if you will. "The media" and I'm doing air quotes here, was the target of much political ire particularly under the Trump administration, but some of the criticisms of "the media's" political coverage were also warranted. I think a lot of folks didn't quite understand what was happening early in Donald Trump's administration and had to figure out and grapple with old ways of thinking to really address this really, in many ways you can say unique presidency.
I wonder if you see, here we are about to start or we've already started, under a new administration that is attempting to right the ship if you will, at all levels, in terms of decorum, presidential expectations, et cetera. What about the political media? Are you excited that there is a future that the political journalists have taken the knocks that they needed to take, understood the criticism and are prepared to move forward?
Amy: It's a hard question. This was the real impetus for the show in the first place, was I had just been so frustrated by what so much of political reporting had become. Generating outrage rather than seeking to explain. Covering the loudest, most controversial voices, instead of the people who are actually doing the work. Focusing on so much of politics instead of the policy. I don't know that we've gotten any better in terms of the tradition.
I don't know what we're going to call it. I'm doing air quotes too. "Traditional mainstream political reporting" is still so focused on the personalities and on the controversies. Now, in some ways that's inevitable because that's what sells. Writing a 30,000 word opus on the intricacies of our healthcare law is not going to get you very far in terms of the number of clicks you need to prove to your bosses that you're worth the money that they're paying you and so it becomes sort of a self fulfilling prophecy.
I guess what I would love to see instead is for all of the really smart creative folks who are here in DC or in New York, if they could be employed in Sacramento or Oklahoma city, or these state capitals where big things are happening, where important decisions are being made. We need more of that, and they are there but it is still difficult to break through. The more that Politics with Amy Walter, the more that you focus on these, I think it helps. We've got to accept the messiness.
This is the beauty of our system. It is messy. It was designed to be messy and to be okay with messy. It's just not okay when there's not somebody there to help at least assure you that the messiness is going to be contained in some way, shape or form. Right now, those folks whose job it is to help guide us have really abandoned their posts.
Tanzina: However, Amy, you have not abandoned your post as far as leading us through many of these very, as you say, messy, thorny, difficult, complicated stories. We thank you for that. We thank you for being a colleague and what we've learned from you and your work, we will never forget. Amy Walter is the host of Politics with Amy Walter from The Takeaway, which has it's last show tomorrow. She is also the national editor of The Cook Political Report. Amy, we want to have you back on as soon as we can as a guest.
Amy: Yes, and I want to thank you and the team and the show for all the support that you have given me. We'll chat. We've got a lot of things still going on.
Tanzina: We have so many things happening and you'll always be a part of our Takeaway family. Thank you so much, Amy, and best of luck.
Copyright © 2020 New York Public Radio. All rights reserved. Visit our website terms of use at www.wnyc.org for further information.
New York Public Radio transcripts are created on a rush deadline, often by contractors. This text may not be in its final form and may be updated or revised in the future. Accuracy and availability may vary. The authoritative record of New York Public Radio's programming is the audio record.