Political Tell-All Books Surge Under the Trump Administration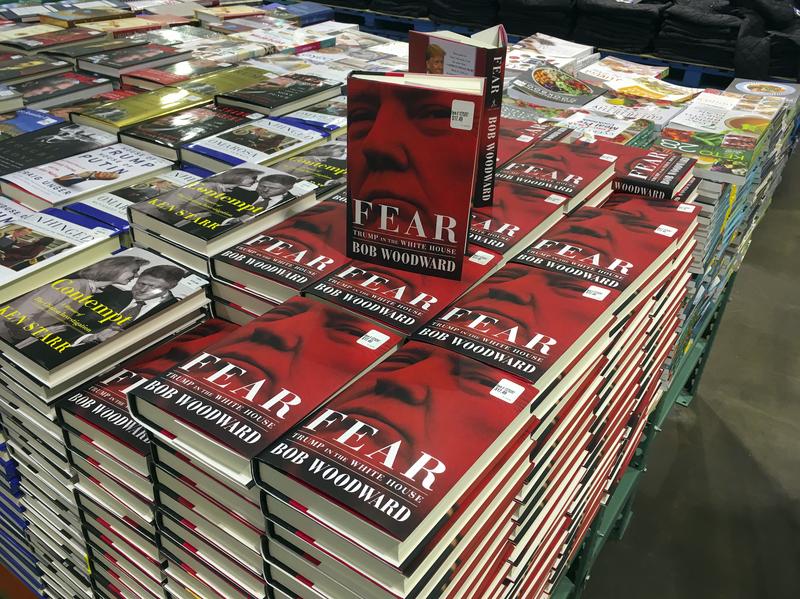 Transcript
Tanzina Vega: I'm Tanzina Vega and you're listening to The Takeaway. Veteran journalist Bob Woodward is no stranger to political controversy, best known for breaking the Watergate scandal of the 1970s. Woodward made headlines last week when it was revealed that his upcoming book Rage confirms suspicions that President Trump downplayed the threat of the deadly Coronavirus Pandemic. Woodward's decision to withhold that information for months in order to drum up interest in his new book has raised ethical questions among journalists. Woodward has since told the Associated Press that he needed extra time to verify some of the President's comments about the pandemic, the writing a book about Trump isn't exactly a novel concept. Rage is one of more than 1,200 books that have been published about the Trump presidency from exposes by veteran journalists like Woodward, to the flood of memoirs from political insiders, including National Security Adviser John Bolton and Trump's own niece Mary Trump. We know a lot about the salacious details of the inner workings of the Trump administration and even the President himself, but the big question is whether these books will have any effect at the polls in November. For more, I'm joined by Asawin Suebsaeng White House reporter at The Daily Beast and author of Sinking in the Swamp, and Carlos Lozada Washington Post book critic and author of the forthcoming book What Were We Thinking: A Brief Intellectual History of the Trump Era. Asawin and Carlos thanks for being with me.
Asawin Suebsaeng: Thank you.
Carlos Lozada: Thanks for having us.
Tanzina: Carlos, why are there so many tell-all books? I mean I know this is what some people are calling the reality show President, but really 1,200 seems like a lot and more to come.
Carlos: Well, if this is the reality show presidency then you can think of these books as each being a behind the scenes of the various episodes. I think that you're seeing a lot of these books and of course, everyone's wondering how they're going to affect the campaign and the politics of what's going on and I think it's important to remember that sometimes what a reader brings to these books can be significant as what the reader finds in these books. It's such a polarizing moment and Trump such a polarizing figure that often you see people's reactions to these revelations sorting themselves according to their own politics, for instance, we learned Woodward's book that Trump was downplaying the threat of COVID-19 early on. If you like the President you just see that as a sign of leadership to avoid panic. If you're President critic you are appalled by that revelation. You see that sorting just naturally happening according to where readers stand to begin with.
Tanzina: There's been lots of questions about Woodward unlike some of the other folks who've written books is also a journalist and as journalists, we have a responsibility to deliver information to the public, particularly if it's information that could save lives. Aswin, what's the response been from the Trump administration to the many, many books that are out there. I mean we've seen not just Woodward but John Bolton, his niece Mary trump wrote a pretty scathing tell-all for herself.
Asawin Suebsaeng: Well, when it comes to people like President Trump's niece or former National Security Adviser John Bolton or a host of former Trump "Loyalists" or administration officials or fixers or lawyers who have come out publicly against him oftentimes in book form. President Trump and his attorneys and sometimes it is administration officials have often employed very heavy-handed tactics to try to suppress these are former loyalists who have been coming out against him. A favorite tactic of President Trump is trying to stick a celebrity attorney Charles Harder on people who will be coming out with tell-all books. He is, of course, the famous on a west coast based attorney who helped take down the news and gossip site Gawker, he has that little shiny scary-sounding metallic object to him, but often what that amounts to is Charles Harder and Co sending maybe scary-sounding letters that would work in a country if prior restraint were actually a thing that were allowed with federal law, but of course, in this country that's not really a thing. A big to-do was made President Trump and his legal team and outside attorneys usually end up kicking up more publicity for the book than it would have otherwise gotten thus getting it to probably sell more. Then the book comes out anyway and then there's not much the President can do because so many of the NDAs that he has had people sign during his political rise and before his political rise turn out to be legally completely unenforceable. They might as well have been written on a McDonald's napkin, except it probably cost him a lot more money to make up that if it had been written in crayon. That's usually where we're at with this and otherwise, you see a lot of messages from the administration and the White House and a lot of rage tweeting from the President that he gets so little loyalty from people who he routinely demands the most loyalty from.
Tanzina: Rage tweeting, such a 2020 thing, Asawin. Carlos, I'm wondering you've written a book about the Trump books that we've seen since he took office, when you look at these 1,200 or so books and more that are to come how do you characterize the substance? I mean are we seeing specific subgenres emerging? Are some of them more journalistically credible than others?
Carlos: Yes. I've read somewhere between 150 and 200 of them which feels like a lot until you realize there is like you say around 1,200 of these books out.
Tanzina: Still a heroic effort I would say.
Carlos: [laugh] Thank you. I think you see a few core traits and a few core subgenres, those subgenres are sort of the very personal insider memoirs, people who are saying, "I was there, this is what I saw," then the journalistic accounts that are more character and narrative-driven. Finally the kind of analytical ones that try to tell you one big story or point about the President. One thing that runs through a lot of them is the focus on the erratic and impulsive nature of decision making by the President and just his ignorance of how government really functions. Then you see the people around him who are either shocked and bothered by it, who embrace it, or a lot just slowly learn to live with it. The final trait I would point to is that there's almost this contest for who can have the crazier anecdote in their Trump book and I blame that on Michael Wolff whose Fire and Fury had a lot of these moments, you learn that Trump had an enemies list and that the enemies were all people in his administration or that he wanted to build a moat with alligators on the border or that people steal documents off the resolute desk in The Oval Office hoping he'll just forget about them. You see this kind of competition for who can have the most Chiron ready crazy story to tell.
Tanzina: Asawin, sorry, let's talk about Woodward's Rage book for a second. What do you make about the sort of ethical decision or some would say unethical decision to withhold information about the pandemic for months?
Asawin: Well, as someone who has a little bit of experience with this because I've written a book about Trump and Trump world before they came out in February, there are various reasons why you might want to hold something for a book instead of your daily journalistic output that have nothing to do with personal financial profit. That could include certain agreements you've struck with sources or anonymous sources who will tell you, "Oh, I will tell you this juicy thing or this bit of information or this thing about a policy discussion," but I'm too close to it right now so it has to wait for a story either years or many months down the line or maybe I'll tell you for a book.
Tanzina: Asawin, to that point, I just want to interject because Woodward did tell Margaret Sullivan of The Washington Post that he did not have a formal agreement with the President to hold off on publishing interviews in real-time, given the fact that there are different types of on the record off the record when to publish things, given that information do you think differently about it?
Asawin: Woodward has said that he explicitly did not have any such agreements when it came to this. Look not to go too deep into it, but if we're talking about ethical discussions and journalistic ethics when it comes to Bob Woodward books, we're not going to stop at the current one. His last book Fear which was also about the Trump White House had lengthy sections and chapters on the inner workings of former White House aide Rob Porter, but when it came time to discuss his spousal abuse allegations, rather brutal allegations that got him ousted from Trump world, Woodward reduces that to less than a footnote and you can argue actually painted in kind of semi flattering way to Rob Porter. Now, that might suggest that Rob Porter was a top anonymous source for Bob Woodward and thus he was giving him some sort of special treatment. When it comes to ethical discussions of Bob Woodward, I'm sorry the well is far deeper than just this one book.
Tanzina: Carlos, thinking about again we were talking about the sort of hundreds and hundreds of books that have been written about this Trump administration, Rage Woodward's latest, and as Aswin mentioned the others are just a drop-in that bucket. What's the purpose of these tell-alls? Because I think part of the reaction I'm seeing, Carlos, is that people are saying, "So what? We knew this already, tell us something we didn't know." What's the purpose of this to provide information, to try to turn folks away from the president? Doesn't seem to be working at least.
Carlos: I don't think that the purpose, especially of the journalistic accounts are necessarily to turn people in favor of the president or against the president. The purpose is to attempt to inform. What we do with that information is up to individuals as voters and as citizens. To imagine that a book fails or succeeds if it necessarily turns some portion of the population in favor of the president or against him is the wrong yardstick I think. You do see these books influencing the presidential race in some moment. For instance, Vice president Biden has already incorporated some of the Woodward reporting into his criticisms of the president, but I would think that bar is a little unfair for these books. These books are there to give us information, in some cases, information that dovetails with what we've been hearing from reporters all along.
Tanzina: Carlos, do these books have appeal to readers? Are some of the risks here that there will be just too many Trump books and readers might just lose interest or muddle a message if there are just so many books coming out about the same topic?
Carlos: Well, that's what publishers and people who follow the book industry have been saying for the last few years, that clearly there will come a point where people will just be sick of these books, where they'll turn away and want to read something else or read nothing about this at all. We keep failing to get to that moment. Right now, books like Disloyal by Michael Cohen, Rage by Woodward, and Compromised by the former FBI agent, Peter Strzok are selling exceedingly well. There still seems to be tremendous appetite for these books among the reading public. Part of that may be that a lot of folks are stuck at home during the pandemic and may as well-read books. I think that, especially as we're getting closer to the election, the appetite is only going to increase rather than diminish
Tanzina: Asawin, have you found that there are certain books that are more useful? Again, we can apply that word liberally here, but do you find that there are some that have been more informative, more successful, more useful than others?
Asawin: That is a good question. Typically, when there are these Trump insider accounts, or former-- I should say fallen Trump insider accountants. When it's people who are clearly bitter or disillusioned or believe or conveniently now publicly believe that Donald Trump is now an existential racist, authoritarian threat to the republic, but yet five and a half minutes ago were more than happy to serve at his feet, people like, I don't know, Omarosa Manigault Newman or John Bolton or Michael Cohen, it does strain credulity quite a bit if not a lot to believe that everything in the book should be taken as the word of God. Yes, there the allegations, some of them rather explosive even these tell-alls. Again, Bob Woodward is, of course, different because as you said, he's a veteran Washington Post reporter. He's not a former senior administration official, but useful might not be the right word for it, but it's a bit trickier when it's a former loyalist and you have to aggressively vet the information because oftentimes you get into a situation where there's a public relations standoff where Trump and his administration and his lawyers or current lawyers, I should say, will say that this author who used to be a buddy of mine is a rapacious liar and nothing in the book should be believed and just dropped in the Barnes & Noble fiction section immediately. Then the author will say, "Donald Trump and his cronies are serial liars, and you can't believe anything that they're saying about me or anything else." The problem is ultimately both sides of those debates end up being true.
Tanzina: Asawin, I want to pick up a little bit on what we were just talking about in terms of who was writing these books, I mean, when we talk about the books that are written by former staffers, other than money, is there any incentive to do this? Is it somehow a way to correct their own personal record and say, "Look, I did this, but I didn't know what I was doing." What's the benefit in it for folks who were insiders?
Asawin: Well, besides money, if you want to take their explanations or a lot of their explanations at face value, wink, wink. It's that, "Oh, they've had a coming to Jesus moment. I went in there thinking I could do some good, or I believed in this man, but I was wrong to do so. Now I see him as a racist in personality and policy, or I see him as someone who's dismantling our republics liberal democracy, piece by piece, or I now believe all the women who are coming out against him saying he's a sexually assaulting fiend." We could go on all day. For some of them, they are at least publicly saying that they've found a moment moral clarity and this is what they're doing, not just against Trump, but the people or the family around him to expose who they really are. Now, I find that generally, not always, but a generally less convincing argument than the ones about personal financial gain or personal media visibility or maybe shots at a different career path, or just plain good old public relations, because you've gotten to a point where the administration, the world, social, and political orbit around Donald J. Trump has just gotten so toxic or so shambolic that you need a moment to publicly state, "Look, not all of us were bad. I'm trying to be the John Dean or something like it, of the Trump era." Sometimes it works, more often it doesn't because sometimes the play is just so transparent, but maybe I'm being too cynical.
Tanzina: Well, I think that if anything, 2020 has turned many of us into cynics to a certain extent given what's happening around us. When you think about cynical in particular, the president is somebody who we talked about a little earlier for decades he has gone out of his way to suppress negative stories about him. There was a lot of reporting done with his relationship with the National Enquirer and how he essentially used that as a cudgel against people who were going to unfairly or have portrayals or stories about him that were unfavorable to him. This 1,200 plus books has obviously affected the president's ability to control his own narrative. Carlos, what do you think about that? Knowing what we know about the president, he can't be too excited about that.
Carlos: Yes and no. I think what we know about the president also is that what he likes more than anything else is to be at the center of the story. Him criticizing these books that come out about him with nasty tweets and the like only amplifies their message. A negative tweet is probably a marketing objective for publishers at this point because they prove that the books are getting under the president's skin. Therefore, "Oh my, there must be something juicy in them." If you even go back to The Art of the Deal, he says there that he'd rather be criticized by the press than ignored by the press. He claims to really hate these books, but he loves that they keep the attention relentlessly on him. He gave Woodward, what? 17, 18 interviews for Rage, even after Woodward had published a highly critical book about him two years earlier. That in part is because Trump felt that he could maybe steer this book in a more favorable direction, but also he just likes being the relentless focus. If you even look at the book titles of a lot of these books, they tend to focus on the president's own words. American Carnage, A Very Stable Genius, Fire and Fury, they all tell us that the story of this era is wrapped up in the story of one man. Part of that seems correct, but really a lot of the best books about the Trump era are really not about Trump at all. They're about the people around him, the conditions that gave rise to his presidency. To make it all about one guy misses a larger story.
Tanzina: I'm wondering, Asawin, I'd love to end on this because I'm thinking, does this change what the tell-all is going forward, the political tell-all, or is this really a Trump phenomenon? Because I don't recall this many Obama tell-alls or I'm sure there was the Clinton tell-alls, but potentially, again, I'm not sure if they reach the amount that we're seeing here, but going forward, whoever wins in November, is this the tell-all now part of the roadmap, if you will, for people who work in Washington?
Asawin: I think it will be heavily correlated to how much scandal and how much tumult there is within an administration whether that's a future Biden administration or Holly administration or Harris administration. The reason there was so much money to be made in writing a "Insider account" of the Trump White House or the chaos in the Trump campaign or what have yous, is because of how grotesquely politically seedy and just blisteringly chaotic a lot of this seems and also how a lot of the scandal and the impeachment and the gigantic policy missteps and blunders, especially in the context of something like the coronavirus pandemic is generally and genuinely historic. It's not people trying to goose their TV ratings because Donald Trump is such a darkly entertaining figure. It's because these things actually do matter and are huge crisis points in modern American history. Look, you made the point that the Obama era had far fewer if any of these books, I think that also goes towards the personality of the president. I think he matched-- Piss off significantly fewer people who he employed and who worked with him in the administration. If you look at back at the George W. Bush-era, I'm sure there were more, but I can think of at least one major book that really angered Bush world that was written by, I think a former senior spokesperson in the White House and really went hard after the Bush administration for WMD and other lies that that Republican administration was constantly trying to sell to the American people. I think it's also circumstantial. I think if Mr. Rogers was suddenly president of the United States tomorrow I think we'll have [crosstalk]
Tanzina: One can dream, Aswin. We can dream though, right?
Aswin: That is true. Exactly, but yes, I think you've had fewer negative tell-alls about that president if that were to occur in 24 hours.
Tanzina: Carlos, any parting thoughts from you on that? On where book publishing goes post this current cycle of Trump tell-alls.
Carlos: Even if Trump loses the election in November, and you have Mr. Rogers or Mr. Biden in the White House, there are still plenty of books in the pipeline that will come out about Donald Trump, especially as new documents are available and as additional people leave the administration. I'm looking forward to a-- My dream would be a Tony Fauci memoir, a Don McGahn memoir, Kiersten Nielsen memoir. Of course, as we all know Trump will write one too.
Tanzina: We'll continue to follow this story. Carlos Lozada is a Washington Post book critic and author of the forthcoming book What Were We Thinking: A Brief Intellectual History of the Trump Era. Aswin Suebsaeng is White House reporter at the Daily Beast and the author of Sinking in the Swamp. Aswin and Carlos, thanks to you both.
Aswin & Carlos: Thank you.
Copyright © 2020 New York Public Radio. All rights reserved. Visit our website terms of use at www.wnyc.org for further information.
New York Public Radio transcripts are created on a rush deadline, often by contractors. This text may not be in its final form and may be updated or revised in the future. Accuracy and availability may vary. The authoritative record of New York Public Radio's programming is the audio record.