People of Color Have Been Systemically Excluded from National Parks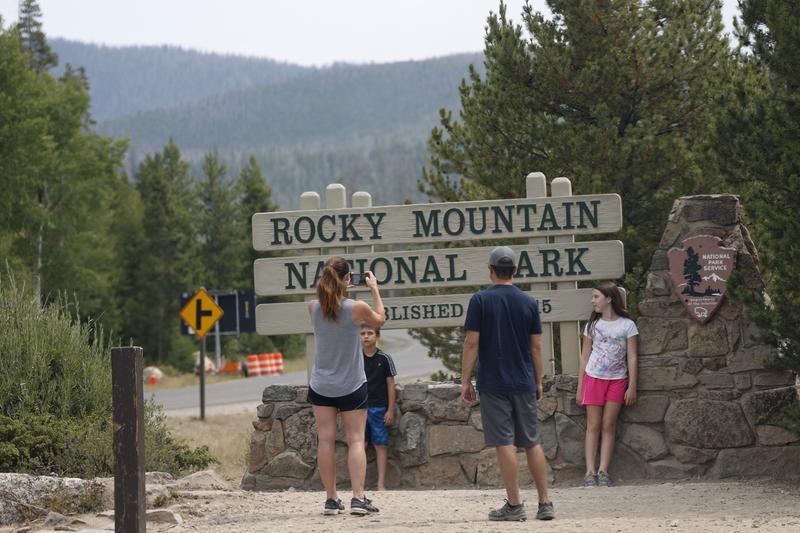 Transcript
Brigid Bergin: This is The Takeaway. I'm Brigid Bergin in for Tanzina Vega. American leaders have long held up the national parks, this physical representations of our country's highest aspirations and ideals. Teddy Roosevelt called the parks one of the best bits of national achievement, which our people have to their credit, and writer and historian Wallace Stegner famously called them the best idea we ever had, absolutely American, absolutely democratic. They reflect us at our best, rather than our worst. These places have not necessarily lived up to these lofty descriptions.
Today, we continue our week-long conversation about national parks with a look at how Americans of color were excluded from them, starting decades before Woodrow Wilson established the National Park Service in August 1916.
James Edward Mills: The same areas of segregation that existed during the Woodrow Wilson administration carried through our national parks and other wild and scenic places all the way up through the 1940s and the 1950s. Many of these public spaces weren't fully desegregated until the Civil Rights Act in 1964.
Brigid: That's James Edward Mills, a freelance journalist and the author of the Adventure Gap, Changing the Face of the Outdoors. Segregation and other forms of systemic racism have had a lasting effect on who visits these parks today. According to a 2018 study, less than 2% of national park visitors were Black, but James, along with environmental educator Nicole Jackson, a next-generation advisory council member of the National Parks Conservation Association, told Tanzina Vega that this disparity is beginning to change.
James: Many of these public spaces weren't fully desegregated until the Civil Rights Act of 1964, so much of what we imagine as our national parks being an open and egalitarian space for public access really wasn't for everyone until very late in the 20th century. What we're seeing right now is a relatively new phenomenon of seeing more people of color being welcomed and engaged as part of the national park experience.
Brigid: What affected that type of segregation have on the relationship that people of color in the United States have with the National Parks? Because we know attendance is quite low.
James: I think a big part of it has to do with segregation in all aspects of American life. I mean, we have divisions in terms of how people spend much of their time, whether we're talking about education or science, or access to public health care, or right of other things. The National Parks and other outdoor recreation opportunities were part of that. One of the things that is also added to the mix is the very real possibility of racially motivated violence that could occur in wooded areas, which are a long, storied history of lynching, basically takes place in wooded areas.
With that, you have the de facto segregation of housing discrimination of the 1930s, that again carried on through the 1960s that prevented people of color from living, working, playing, going to places outside of areas that were primarily urban. That ultimately gets reinforced and codified into African American culture, so much so that you have entire generations of people who tell themselves and tell each other that camping isn't for us, spending time in the outdoors isn't for us. Unfortunately, that becomes part of the African American identity, so much so that we say things like, "Black people don't camp."
When we take a look at how we go about correcting that, really the only way we can do that is to, hopefully, do a better job of telling history of Black people in the outdoors, which goes all the way back to the beginning of the National Park System, but, unfortunately, was made unaware to a lot of people because we don't have very much in the way of stories that are being told. Fortunately, the Park Service is doing a much better job of doing that today than they have in years past.
Brigid: It's interesting that you should say that because there is this duality, I think, for myself being a Puerto Rican woman who grew up in low-income housing and in "urban areas" in New York City, just access to urban parks wasn't a thing. We just didn't do that, but at the same time, we would spend a lot of time in nature in Puerto Rico when we visited there, so there was a sort of disconnect.
Nicole, I'm curious, did you have a similar experience with nature growing up where you just were not as- it just wasn't as accessible? Did you feel subject to the stereotype that made you feel like you didn't belong in the outdoors or that that just wasn't something that you were going to do?
Nicole Jackson: Yes. I am originally from Cleveland Ohio. I grew up in a big family, 10 siblings. I have seven sisters and three brothers. I grew up in Inner City Cleveland. I actually do have a lot of memories being an Inner City Cleveland visiting a lot of our neighborhood pocket parks, but not anything nature-related. It was a lot of gatherings to have barbecues and picnics with family members for reunions or just to catch up, and then basketball, or recess when we were in school. That was pretty much the gist of my exposure to the outdoors growing up.
Brigid: I'm wondering if there's a stereotype that camping and outdoor activities is a masculine thing versus a woman thing?
Nicole: Yes, definitely. I think that comes a lot with just knowledge of how to do things when you're going out, whether you're by yourself or with family or with friends, that there's this amount of knowledge that you need in order to be outdoors, camping, or doing any type of recreation successfully from a gender's perspective.
Brigid: James, some of the best known, I should say, conservationists in this country are all white guys. Despite people of color having played an important role in the creation of national parks. Give me some examples of what you were talking about in terms of the roles that people of color have played.
James: Frankly, we really need go back no further than the beginning of the National Park System and the creation of national parks like Yosemite in 1903 to 1906, over 400 members of the US cavalry, a unit known as the Buffalo soldiers. All African American contingent of US army regulars were charged with protecting it and patrolling Yosemite and Sequoia National Park, and many of the campsites and trails that they established then are still in use today.
We can also take a look at Stephen Bishop who, before the Civil War, was leading trips as a guide through mammoth cave in Kentucky. There's also a gentleman by the name of Lancelot Jones, who was a fishing guide in Biscayne Bay, who donated the land and created the advocacy for the creation of Biscayne National Park in Florida.
The history of people of color's participation in the outdoors, especially when it comes to national parks, goes literally all the way back to the beginning. It's the telling of that history that, I think, is really important that we need to do more of today, so that we inspire and encourage more people of color to be part of the national park experience. What Wallace Stagner described as America's best idea.
Brigid: We talked a little bit about this earlier, but I'm just curious about how, to me, geography has a lot to do with it too, just the ability to get to some of these parks. My family didn't own a car when I was growing up. Anywhere we went had to be accessible by public transportation. That often didn't include a lot of the national parks that we had access to. There are many reasons for that historically in New York, the way New York was designed.
I'm wondering, Nicole, what effect that's had on children of color, in particular families of color who live in cities.
Nicole: Yes, that was definitely an issue for me. I actually don't own a vehicle. I actually don't have a driver's license. To this day, I still use public transportation. Growing up, My first visit to Cuyahoga Valley National Park was in sixth grade through a field trip.
I didn't know at the time that we were actually going to a national park in Ohio. I thought it was just another far away place that had a lot of trees and trails. I didn't necessarily feel connected to the space, but then, as I got older, I realized it was connected to our Metro Park system, which is more accessible through public transportation. The more information I found out in terms of what parks I can go to that were closer to where I lived, the more I understood that there is some connection to being able to go on my own by car with other family members. That's still connecting to that space and not necessarily having to-- For example, I felt like I had to go with white friends to those types of places to enjoy them. If that didn't happen, it would be years before we had another family reunion or went to a park similar to that, and felt like, "Okay, this is something we can do as a family on our own."
Brigid: James, in 2017, President Obama issued a memorandum called Promoting Diversity and Inclusion in Our National parks, National forest, and Other Public Lands and Waters. Did it actually do what it was intended to do?
James: As most presidential memorandums go, they basically are provisions or suggestions on how government agencies should perform. If you go to many of the park managers and park supervisors, they will tell you that they're diligently working to create diversity, equity, inclusion programs of some kind.
Without the reinforcing narratives that comes from the Department of the Interior right down from the President to say, "These are the things that I would like to see as part of my administration to have better representation, both in terms of employment, in terms of management, in terms of visitation, the agencies are really only as capable of honoring this presidential memorandum as they have the power to enforce it.
Now, it's safe to say that things indeed are happening, but, frankly, there just hasn't been enough happening in the last four years. There have been many great opportunities to try to expand the participation of more types of people in public land management. It's not happening to the degree that I personally would like to see it, but I definitely think that it's an ongoing process.
There just needs to be more activation and activists that will go on to make sure that we create opportunities for more people of color, in particular, to experience the outdoors in a positive way.
Brigid: Nicole, are there specific initiatives that the National Park Services is doing to increase inclusivity and diversity at its parks?
Nicole: Yes. I definitely remember specifically the, Every Kid in a Park initiative. That was something that really stood out to me because it was a lot of to every fourth grader to get a free pass visit to a national park with their family, which, I thought, was great, but I think there's still some gaps that need to be filled in terms of how that's continuing to be promoted.
Do people feel like they have easy access to those initiatives, and if not, what can still be improved? In terms of the Great American Outdoors Act or Bill being passed, I think there's definitely more opportunities to step it up and really show communities of color that they can be a part of the stories and the narratives, as we continue forward in preserving our national parks and also continuing to be advocates and help people really see the beauty, but also the community involved in bringing those pieces together is definitely needed.
Brigid: James, what about you? What do you think could be done to further this idea of more diverse park attendance?
James: A lot of what can be done is being done by the general public. I mean, one of the great revelations of the last decade has been the increased appearance of people of color in social media. We're seeing fabulous pictures of African Americans, Native Americans, Hispanics, Asian people taking their pictures in parts, and literally creating agency to encourage their family members, their peers, to go out and have these positive experiences.
One of the things, I think, that many people are realizing is, once they get there, that there are things that they can do to help improve those areas, whether it is exercising principles of leave no trace, to pick up trash, do a better job of educating young people, in particular, to recognize the importance and value of public land, but also, perhaps more than anything else, making sure that these lands are protected for future generations, so that 20, 30, 50, 60 years from now, there will indeed be a generation of stewards who will carry on the legacy of public land management.
Brigid: James Edward Mills is a freelance journalist and the author of The Adventure Gap, Changing the Face of the Outdoors. Nicole Jackson is an environmental educator and next-generation advisory council member at the National Parks Conservation Association. Thanks to you both for joining me.
Copyright © 2020 New York Public Radio. All rights reserved. Visit our website terms of use at www.wnyc.org for further information.

New York Public Radio transcripts are created on a rush deadline, often by contractors. This text may not be in its final form and may be updated or revised in the future. Accuracy and availability may vary. The authoritative record of New York Public Radio's programming is the audio record.