The Past, Present and Future Of The Biden Administration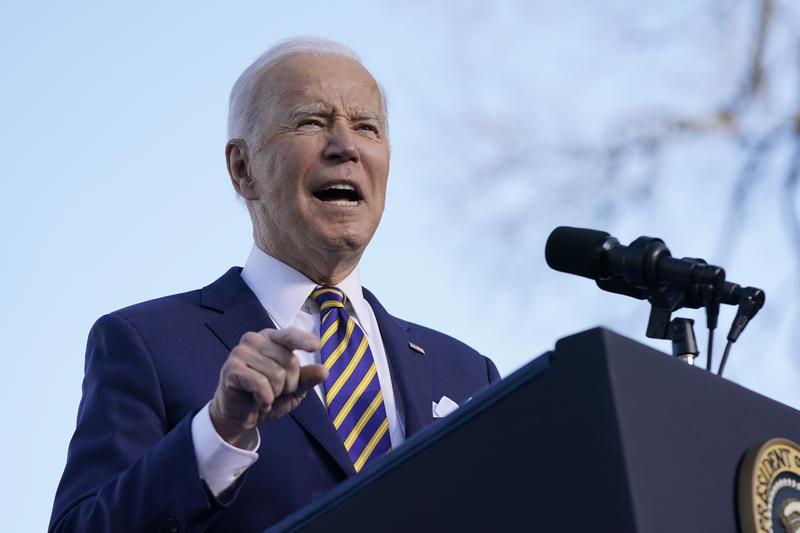 Transcript
[music]
Arun Venugopal: I'm Arun Venugopal, senior reporter on WNYC's Race and Justice Unit. I'm in for Melissa Harris-Perry today. You're listening to The Takeaway.
Speaker 2: Oh, strikes and gutters, ups and downs.
Arun: This week marked one year since President Joe Biden was sworn in as our country's 46th president, but you're not alone if you feel like it happened way more than a year ago and if you've aged a lot since then, so much has happened. Let's review. We saw more people getting vaccinated in the last year, as Joe Biden pointed out in a press conference. This week.
President Joe Biden: We went from two million people being vaccinated at the moment I was sworn in to 210 million Americans being fully vaccinated today.
Arun: COVID continues to mutate and spread and affect our daily lives. We also saw traditional US allies relieved about a relative return to the status quo in diplomacy. However, we also witnessed a chaotic end to a 20-year war in Afghanistan. While the US joined the Paris climate agreement and Biden halted the Keystone XL pipeline, US greenhouse gas emissions surged in 2021, the opposite of what the administration said they wanted to happen.
What about criminal justice? The family of George Floyd spoke at the Democratic National Convention when President Biden was nominated back in 2020, but a year later, the George Floyd Justice in Policing Act has stalled with no other police reform agreement reached. This week, the filibuster and Voting Rights Act fell through in the Senate, and let's not forget how student debt still looms as well.
These failures have had an impact on voters across the country. Recent polling shows that voters have not exactly been pleased with Biden administration's accomplishments, but when a reporter asked President Biden about what his administration has gotten done despite a political stalemate at a press conference this week, this is what he had to say.
President Joe Biden: Can you think of any other president's who done as much in one year? [unintelligible 00:01:58] for me?
?Speaker 4: I'm asking you.
President Joe Biden: I'm serious. You guys talk about how nothing's happened. I don't think there's been much on any incoming president's plate that's been a bigger menu than the plate I had given to me. I'm not complaining, I knew that running in. The fact of the matter is we got an awful lot done, an awful lot done, and there's more to get done
Arun: For more, we're speaking with Joel Payne, Democratic strategist, host of the podcast Here Comes the Payne, and CBS News political contributor. Welcome, Joel.
Joel Payne: Thanks for having me, Arun.
Arun: "We got an awful lot done," so says Joe Biden. Is he wrong?
Joel Payne: He's not wrong. I tend to back away from some of the flexing historically-- Barack Obama walked into a global recession in 2009 and FDR had a lot of things on his plate back in 1933. Be that as it may, that's what presidents do during those types of media opportunities. I do think if you look at 2021 for President Biden, to me, it's the tale of two years. The first part of the year, that team, the president, his administration, were very prepared for all of the challenges that they stepped into; COVID, the economic, calamities associated with COVID, the social calamities, also restoring faith and favor in the presidency and confidence in the office after four years of Donald Trump.
There's a lot of good that they did over the first part of the year and that was all on schedule. Then when the year got unpredictable, when you had Afghanistan, you had the Delta variant, you had the consumer prices rising economically, the president and his team got knocked off their feet and have been on their heels ever since. I think when you look at 2021, to me, it's the tale of two years.
Arun: Are voters growing apathetic to the President or is it just too soon to tell?
Joel Payne: It's a bit too soon to tell. We have to all steady ourselves. It's 25% into this presidency, there's a lot more time to go. I do somewhat think that the modern presidency is designed for presidents to be less popular. You're never going to be more popular than the day you step into office. That's true for any president. I think particularly with this president, he also walked into a tough legislative environment.
For much of his transition period, I think he thought he was going to be working with the Majority Leader Mitch McConnell. Then on January 5th, one day before the January 6th insurrection, Georgia voters spoke and they actually handed the Senate to Democrats and the Leader Schumer and President Biden. In some ways, that upped the pressure and upped the expectations on what this President and what his allies in Congress could do.
I think actually, you could argue that Joe Biden probably was more designed for a split government, working with Republicans, forced shotgun marriage with Republican type of arrangement than actually having the power with the slim majority. I actually think that was a pretty consequential moment.
Arun: Let's talk about the polling for a couple of minutes. We're seeing some polling on BlackTrack that found Black voters of all ages are becoming less satisfied with the direction the country's headed since September. This is really at the core of his base. Why do you think we're seeing these numbers?
Joel Payne: Well, I think that Black voters-- and I somewhat jokingly say this, we work in-- I used to work in making ads for Hillary Clinton's campaign in 2016. A joke internally sometimes will be, "Black voters care about the economy, they care about national security as well, and they care about the things that are anxieties for other voters," but there are also obviously niche issues that are important to the African American community, whether it's police reform, whether it's voting rights.
You've got this combination of the natural anxiety of being an American in 2021, which does not miss the Black community, combine that with these niche issues in the community that are important and that you thought you were electing a president who was going to have a plan to get it over the hump. When that president is unsuccessful, I think it's natural that you're going to have a depressed enthusiasm related to President Biden. I think that's what we're experiencing.
Arun: Are you worried about these numbers from a very important part of the Democratic-- the big 10?
Joel Payne: Arun, I'm worried about everything. I'm a Democratic strategist. I wake up every morning with a lot of anxieties. I guess what would give me some confidence is the understanding that Joe Biden and Democrats are eventually going to be able to create a contrast message here, because at the end of the day, elections are about choices.
When Black voters are faced with the choice of the Biden presidency and Democrats, who while not perfectly executing an agenda that maybe Black voters were led to believe, there are certainly great strides that have been made under the Biden presidency and things that you can count as a real success compared to the Republican agenda, which really has not spoken to the niche issues of the Black community. I think you still feel like you have a good shot to make your case to those voters, but look, Democrats would take the Black vote for granted at their peril.
Arun: When we hear this narrative that seems to have taken hold, about the inevitability of the House, and maybe even the Senate flipping back to Republicans, we hear that narrative. A Biden loyalist might say, "Don't blame him, blame Joe Manchin. He's the guy who changed our agenda." Is Biden getting the blame because that's just what happens, the American presidents just tend to get the credit and they also get the blame?
Joel Payne: I think that's exactly right, Arun. When you're the president, it's all your credit and it's all your fault. Again, when you look at that consequential moment that happened in Georgia on January 5th, 2021, I think that upped the expectations and that upped the ante on President Biden. Look, I do think that all of the breathiness around Joe Manchin aside, there are a lot of accomplishments that count. While I think President Biden was maybe being a bit exaggerated with some of his claims in the press conferences, that's what presidents do, but there's a lot to count on.
You can look at that COVID Relief Package, which was an immediate stimulus into the American economy. You look at the childcare tax credit, that was a part of that. Then also that bipartisan infrastructure bill, you look at how the President is revamped the justice system with a record number of job judges, for a first-year president. There's actually a lot to look towards. It's just it's never going to be enough.
I actually think the modern presidency is set up to let people down with their expectations. It happened in 2009 with President Obama. I was there in Leader Harry Reid's office when despite the fact that we had historic gains, we really could not convince people that that was the type of progress that they should be happy with. I think the same thing is happening here.
Arun: Let's talk about some of these initiatives which have not been passed, voting rights in particular. The President said people of color, they are going to vote in the upcoming midterm elections even if Democrats can't pass voting rights, which they couldn't. Do you think that misses the mark on the point of passing voting rights?
Joel Payne: I think the President and his team have been about a half step off on their messaging on voting rights for a while. I think recently, the President and his administration and his allies have tried to step into that fight and step into the breach a little bit more, but you can't outorganize voter suppression. I think that is a thing you hear from the activist community in the democratic base.
Also, when you hear the President and his allies talk about, "Well, we just have to show up and we have to vote them out of office and take back the power." A lot of Black voters, and really just a lot of voters in general who believes in these rights feel like, "Hey, in the middle of a pandemic, we show up in record numbers, we gave you the presidency by eight million votes, we gave you the Senate, we gave you the House. We did the hard work, we did our part."
I think that's what President Biden has to worry about, is enthusiasm in 2022 and potentially in 2024, if he runs for re-election. You have asked voters, and in some cases, we're talking about Black voters here, to go out and do the hard work and then there's no pay-off on the back end. I think any voter is going to be left a little cynical in that type of situation.
Arun: What's the message?
Joel Payne: The message is 2021 was maybe better than you think, try to elevate some of the things that maybe did not get headlines or maybe gets lost in the sauce, talk about what you're going to do with Built Back Better and being maybe broken up into a couple of smaller pieces, focus on getting that agenda over the hump in the next couple of months, and then get to sales mode.
President Biden was Vice President Biden 12 years ago, and I think he remembers, maybe, some of the missteps of the Obama presidency and his allies not selling the Affordable Care Act the way that they could. It actually turned into a political albatross as opposed to a political benefit. I think this President does not want his agenda to be co-opted negatively. I think you're going to turn the page pretty quickly from legislative mode and go into sales mode, and hope that you can at least save off record historic losses.
The last thing I'll say, Arun, is I think sometimes we forget, presidents, even in the best of times, they are going to lose seats in the first two years of their presidency during their midterm. That is historically what we have happen. Even under the best of times, I think President Biden was going to have a hard time holding on to legislative power with Democrats.
Arun: COVID, if we ever actually get out of this latest variant, this latest wave, is that a winnable issue or is it just a thing people take for granted that, "Yes, you're supposed to fix something like a huge health crisis"?
Joel Payne: Yes. Arun, and it's funny, we haven't spent so much time on COVID. I guess quickly what I would say is, COVID is a thing that has taken down one presidency and it could very well take down a second. It's the reason why Joe Biden is president and I think it's the one thing that can't be defeated at the ballot box. I think the President and his team have to wrap their arms around this.
Arun: Yes or no, is he going to run again?
Joel Payne: I think right now, President Biden has set the expectation that he is going to run again, but there are a lot of things that could happen between now and the next 18 months, which is about the window when he would have to decide to do that.
Arun: Joel Payne, Democratic strategist, host to the podcast Here Comes the Payne, and CBS News political contributor. Thanks so much for joining us, Joel.
Joel Payne: Thank you, Arun.
Copyright © 2022 New York Public Radio. All rights reserved. Visit our website terms of use at www.wnyc.org for further information.
New York Public Radio transcripts are created on a rush deadline, often by contractors. This text may not be in its final form and may be updated or revised in the future. Accuracy and availability may vary. The authoritative record of New York Public Radio's programming is the audio record.