The Pandemic's Toll on Our Bodies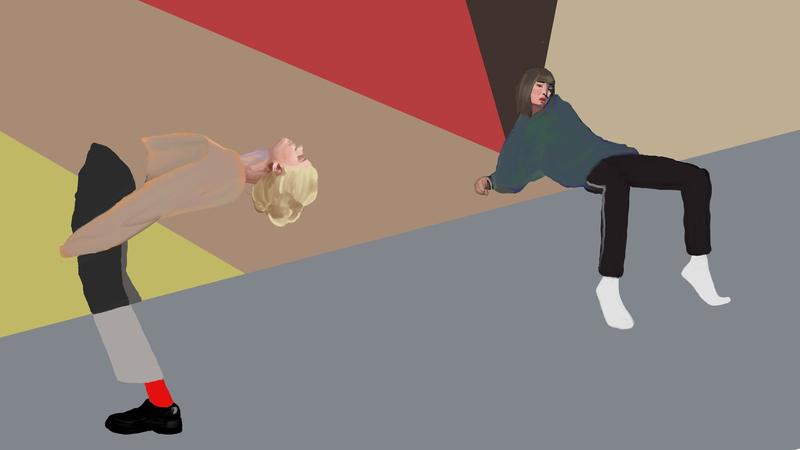 Transcript
Tanzina Vega: If you're listening to this show while working from home scrunched over your computer or you just haven't been outside much because of pandemic restrictions, you might be feeling a little stiff. After a year locked down in our homes, many people are reporting an increase in aches, pains, headaches, and a whole host of other physical ailments from the stress of living through a pandemic.
Nancy: This is Nancy from Silverdale, Pennsylvania. My fibromyalgia has increased and flared up since the pandemic. I've had to increase my medication with CBD.
Michelle: Aloha, this is Michelle [unintelligible 00:00:34] calling from Kaneohe, Hawaii. I'm recovering from a pinched nerve in my neck. I think I was holding all my tension in my shoulders and neck for too long and watching too much of the impeachment trial.
Tanzina: Amanda Mull is a staff writer for The Atlantic who recently wrote a piece called, Yes, the Pandemic is Ruining Your Body. Amanda, welcome back to the show.
Amanda Mull: Thank you for having me.
Tanzina: The pandemic is ruining my body, lots of people's bodies. I've gotten carpal tunnel syndrome recently. I've got all types of aches and pains. How common are these types of injuries right now?
Amanda: They seem really common. I talked to a number of different types of doctors who have been seeing patients during the pandemic. All of them reported different kinds of increases in injuries or problems or complaints that they hadn't really been seeing at any particularly high volume before all of this happened. It's affected how pretty much all doctors do their work and what they see in their practices and it's affected pretty much every part of the human body.
Tanzina: Are there specific things that are coming up more often than others? Is it stiffness? Is it joint pain? Is it just headaches? What is it that people are reporting or people just reporting a myriad of different things?
Amanda: It's a myriad of different things, but I think that the most common stuff is probably not surprising to most people. I talked to some orthopedists who said that their practice used to be mostly lower back stuff, the types of things that people commonly complain about with their backs. Now, a lot of those complaints have migrated up the back. You get shoulder problems, upper back, neck. You get people with headaches, things like that because of their posture. They said that they think that that's because people are just sitting differently.
A lot of people don't have good office setups. They don't have an office chair. They might be working from their couch or from a kitchen chair or something like that. You end up curving over, jutting your chin out, hunching your shoulders. If you hold that position for a really long time as a lot of us have been doing day in and day out for the past year, you create a variety of aches and pains for yourself up to things like headaches that might not have as obvious of a source, but it's all in your posture.
Tanzina: Now, we're talking in that instance a lot of folks like me and others who are working from home, who are sitting. We've cobbled together or hacked together these working-from-home environments, but there are folks that are also working on the front lines still, essential workers. Are they also reporting an increase in physical aches and pains?
Amanda: I would say probably, but none of the doctors that I talked to could tell me specifically what they've been seeing from frontline workers. I think that that's a function of a lot of frontline jobs, don't have health care, don't have paid time off. If you're working in the service industry, if you're a delivery guy, if you're a checkout person at a grocery store, if you're moving things around a warehouse, a lot of those positions just aren't going to have the same access to health care that work-from-home jobs that are usually office jobs, computer-based jobs, knowledge jobs, white-collar jobs.
Those kinds of positions are more likely to have health care and time off to seek care. We are, I think, just starting to peel back the layers of all the ways that this pandemic has hurt our health. What we're seeing now is mostly evidence from people who work from home. I think it's going to take a little bit longer for us to find out how this has affected essential workers.
Tanzina: Amanda, what about the elderly? We know that they are among some of the first to be vaccinated. Some of them have already received their second dose. As they begin to become more active, are there specific issues that have cropped up for our older population during the pandemic?
Amanda: Yes, I think that a big one is that for the elderly, maintaining a level of physical activity and flexibility and dexterity is really, really important. When you are confined to your apartment, confined to your room at assisted living in a nursing home unable to go to common areas and socially interact with people around you, see your grandkids, et cetera, you lose that dexterity and flexibility and muscle tone really, really fast.
The risk of doing that when you're elderly is far greater and it sets them far more quickly than for most of us. Once people who were once used to a baseline of physical capability try to get back to that after a year of inactivity, you're going to see, I think, more injuries. You're going to see people who are trying to over-perform their physical capability just because they don't know how much they've lost. You end up in a situation where you might see more falls, you might see more strains, things like that.
I think that getting back to things slowly but surely as you can restart physical therapy and start going to the dining room and assisted living and things like that is going to be really important to make sure that the elderly have already sacrificed so much during the pandemic more than most of us. In order to keep them from losing more, I think that a slow but sure return to activity is really important instead of just diving back in.
Tanzina: Amanda, of course, as people are beginning to feel these physical side effects from being isolated and being endorsed for a year essentially, some people, including myself, will say, "Well, I think I have to go get this checked out." That also requires a calculation of risk leaving home to go to an office to get physical therapy or get acupuncture, for example, or any of the things that you might be thinking of because you have to come in contact with people. Is the fact that people are maybe weary about going to seek medical help right now for physical ailments making this even worse?
Amanda: Yes. All of the doctors I spoke with expressed a lot of anxiety about people skipping care that might be essential or that might show up down the line as something they should have done. I spoke to one cardiologist in particular who said that, especially towards the beginning of the pandemic, they were seeing people come in who have had heart attacks who were waiting till the very, very last minute to seek care. Some of those people were, at that point, too sick to help. There are a lot of serious things that are going on with people's health that have nothing to do with the coronavirus specifically.
If you put off seeking care for something else because you're afraid of COVID, it could have extraordinarily serious implications for your health. It could kill you. Trying to make that calculation is so, so difficult because for a lot of people who already have existing health problems, the risk of getting COVID is very acute. What it could do to their bodies is also very, very serious. I don't envy anybody in that position of being in some sort of serious pain and trying to hedge about whether or not this is something that's serious enough to risk another deadly problem. Yes, it's very, very difficult to parse what people are supposed to do in that situation.
Tanzina: The social isolation has really also limited what we're able to do. I, for example, enjoy swimming. Being able to do that in a pandemic is really difficult. How else has social isolation affected our bodies? There is a mind-body connection, isn't there, Amanda?
Amanda: Yes. Social isolation. Even before the pandemic, there was a lot of research about how social isolation degrades people's physical health, makes premature mortality much more likely, and just generally degrades people's wellbeing. That functions in a lot of ways like the routines that we go through to keep ourselves together. Basically, our physical activities, our hygiene activities, taking our medication, and things like that. Those habits are all socially rewarded.
If we can keep on top of all of that, we get all of the psychological benefit of seeing people and having social interactions and things like that, positive things. We don't have a lot of that reinforcement right now, so you get people who just spiral. They fall into despair. They have a hard time keeping up with their medication, keeping up with their hygiene, things like that, but then you also have the sort of second-order effects of-- social isolation helps people understand when they are not doing as well as they could.
When you're just inside your head all the time, when you're alone all the time, you might not notice changes in your posture. You might not notice changes in your breathing, changes in your physical fitness because those things degrade over time. Whereas if you see someone a couple of times a week, a neighbor or something like that, it doesn't have to be somebody close, that person has the opportunity to go, "You're breathing seems a little bit labored. Are you okay? Have you been feeling okay?"
It just provides like this external check on you and your wellbeing that is very hard for some people to do for themselves, especially as you get older. More things start to go wrong. Keeping track of all those things and where they are can be a little bit difficult, so that external social interaction provides a lot of help to people in keeping track of their own health and deciding when they need to seek care. If you don't have that, then you're just flying solo trying to make those decisions yourself, which is really difficult.
Tanzina: You mentioned insurance. I'm sure there are people we know that tens of thousands of Americans have lost their jobs during this pandemic. I imagine that also has a physical distress from that, also has a physical effect, but not having insurance to be able to go to the doctor is probably also keeping a lot of folks away. Not just frontline workers, but just anyone who's lost their job right now.
Amanda: Right, our healthcare system does not encourage people to seek care for anything basically. Even if you have good insurance, it can be extraordinarily stressful to figure out how much a procedure is going to cost you if you can go to a particular specialist to seek help on a particular problem. If you take away even the baseline of insurance from that and if somebody loses a job, they don't just lose their insurance, but they lose their income. Basically, you lose both of the components that you need in order to seek medical care in the United States and so people delay and that can be very, very dangerous.
Tanzina: Amanda Mull is a staff writer at The Atlantic. Amanda, thank you so much for joining us on the show today.
Amanda: Thank you for having me.
Copyright © 2020 New York Public Radio. All rights reserved. Visit our website terms of use at www.wnyc.org for further information.
New York Public Radio transcripts are created on a rush deadline, often by contractors. This text may not be in its final form and may be updated or revised in the future. Accuracy and availability may vary. The authoritative record of New York Public Radio's programming is the audio record.