The Pandemic Has Pushed Women Out of the Workforce at Higher Rates Than Men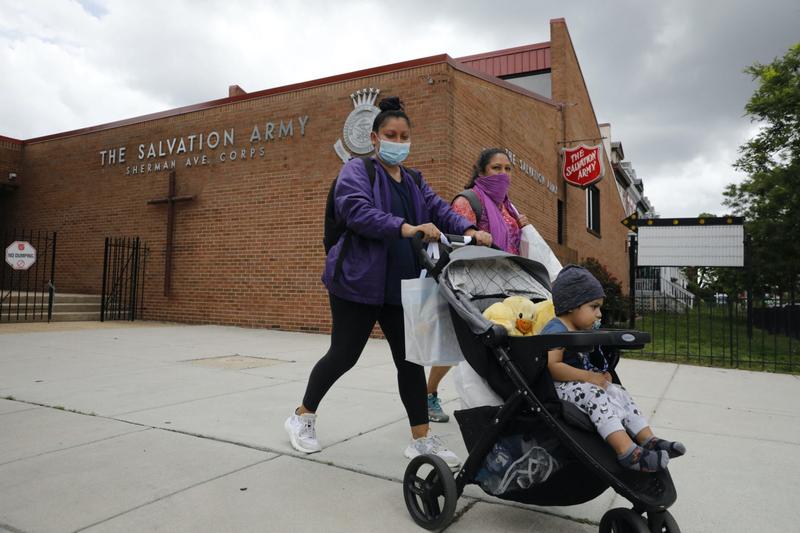 Transcript
Tanzina Vega: I'm Tanzina Vega and you're listening to The Takeaway. COVID-19 has had a devastating effect on the US workforce with unemployment in the double digits. But it's women, in particular women of color, who've been hit the hardest by the crushing wave of job losses. So much so that some experts have begun calling this recession a shecession. According to research by the National Women's Law Center, from February 2020 through October 2020, 2.2 million women left the workforce, and that accounts for more than half of all net job losses since the pandemic began. Compounding those losses is the lack of affordable quality childcare and a wage gap where women make significantly less than men.
Today on The Takeaway, the economic future of women in the US workforce. Chabeli Carrazana is with me, an economy reporter for The 19th. Chabeli, thanks for joining us.
Chabeli Carrazana: Thanks so much for having me.
Tanzina: Also with us as C. Nicole Mason, the President and CEO of the Institute for Women's Policy Research. Nicole, welcome.
C. Nicole Mason: Thank you. Thanks for having me.
Tanzina: Chabeli, why are we seeing so many more women than men losing their jobs? What are some of the biggest factors behind that disparity?
Chabeli: What we saw this year was, I think, a little bit unusual when it comes to recessions in this country. You had the jobs that really lost work this year, were jobs that were heavily concentrated with women workers. Hospitality, the public sector, education jobs. Those are jobs that women dominate and that's fairly unusual because typically in a recession, it's jobs that are dominated by men that are lost, like we saw in 2008-2009, construction, manufacturing, male-dominated fields. This year was different in that it was fields dominated by women that really took a really big hit and are still struggling to come back.
Tanzina: Of course there, we're talking about women, women of all backgrounds and different family structures have taken a hit, but there is something very specific happening with working mothers, Nicole. We are getting a lot of stories from working mothers on this topic. I want to play a call for you from Shana, who called us to talk about some issues around childcare.
Shana: My name is Shana. I'm a military spouse. I'm an older working mom now but one of the reasons why I was a stay at home mom for so long when my kids were little is because there was no affordable, reliable and safe childcare options. If I did get my kids into daycare, my entire paycheck went to pay for daycare. Then what's the point of working? I'm missing time with my family and I'm not making any money.
Tanzina: Nicole, how often have we heard stories like that in this pandemic?
Nicole: Well, it's been really often and it's actually reached a fever pitch since the start of the pandemic. The truth of the matter is that families can spend up to 30% of their income on care, and women are responsible for up to more than 30% of caretaking responsibilities and families. With the pandemic, women working, continue to work 40 hours a week and with schools and day cares closed, it's created a double burden for working women and for families, for dual-income families.
If women are earning less because of pay inequity, they make an economic calculation for their families, and it's women who leave the workforce. It's really important to know that women are not just working to earn a living, but they're working because their careers bring them satisfaction, and so having to leave a career because they are struggling with care or caretaking responsibilities, is a real blow to women's career advancement and mobility.
Tanzina: Right, it's not just a question of doing it because you have to. I mean, there are women who work because they have to, they don't have a choice. We should be clear that there is an array of different reasons, given the socio-economic issues that this country often has presented, and the inequities in wealth, but definitely the personal satisfaction and the fact that those things have to take a backseat for some women and the fact that some women have even had to leave their jobs entirely, is playing out right now. Chabeli, what about the fact that some of these job losses and from what we're understanding, the majority of them are focused for women of color?
Chabeli: Yes, this pandemic has been unequal from the start and that's no different in the story with women in the labor force, Latinos, Black women, those are the groups that continue to have really, really high unemployment rates. You have in December, when most women were around 6%, 6.3%, you had Latinas at 9.1%, you had Black women at 8.4% unemployment. Even though a lot of jobs are coming back, these groups are still struggling more.
Again, it's concentration in terms of where, what kinds of jobs they are in. Its occupational segregation historically that has put women of color in these jobs that are just a lot more sensitive to social distancing, closures. Again, a lot of those are hospitality jobs in particular. Those jobs still haven't really come back in full force yet and it's women of color that are suffering the most.
Tanzina: Do we know in terms of our percentage of working women in the workforce, has it been historically this low?
Chabeli: No, it hasn't been historically this low for several decades. That's what's really disheartening about this entire story, because in December 2019, right before the pandemic, women had surpassed men as the largest part of the labor force for only the second time in history. Had only ever happened before in the previous recession, because again, so many men had lost their jobs.
Women had reached this point right before the start of this year where they were really getting to a point of a lot of upward mobility in the labor force. We have lost at least a decade of that progress in the first few months of the pandemic, which is starting to claw back a little bit now, but it still is going to have a really disastrous effect long-term.
Tanzina: Nicole, one of the things that's happening is that our work lives and our home lives are colliding, and in many instances there just isn't a line between the two. I host this show, not from a studio, but I host it from a closet in my apartment, and my child is often right on the other side of the door. For those of us who are doing this, whose work lives and child lives, and mother lives are all colliding, does it hurt us? I guess what I mean, Nicole, I should be more clear, does it hurt us to be seen as mothers on the other side of the Zoom call?
Nicole: I'm not sure it hurts us being mothers on the other side of any Zoom call. I think that as a single mom to 11-year-old twins, I think the burden of having to juggle my full-time career and work. I'm feeling very fortunate to be able to work from home and also managing virtual school and also making sure that my kids are thriving, is a burden that disproportionately women have to bear. I do feel that this is a burden that women have carried for a very long time, working women, and the pandemic has made it nearly impossible for us to sustain.
What I like in this moment is that it's not only-- Everyone, all women are struggling, working women are struggling with this, from corporate moms to moms who are on the frontlines, and grocery store clerks are all juggling care, which lets us know that this is a systemic and structural problem and not an individual problem, even though historically, it's been framed that way.
Tanzina: Nicole, you mentioned, you're a single parent. I am also a solo parent juggling a full-time job and childcare responsibilities, and it just feels like there really aren't any options, or many options for women who are in that position, who are the sole heads of the household right now?
Nicole: Absolutely. Many of the stories that have come out have been about women leaving the workforce, and I get asked questions a lot about whether or not it's because they have two incomes. I said that's absolutely not the case, I hear stories about women who are the primary breadwinner on their families, mainly are many Black and Latino women who are making the choice to leave the workforce out of necessity rather than some economic comfort or they have savings socked away.
When we look at who the numbers in terms of who the pandemic has disproportionately impacted. These are women of color and low-wage jobs, with few benefits, little flexibility, so when they have to leave the workforce it's economically devastating.
Tanzina: Let's take a listen, Nicole, to a caller who described a situation particularly when it comes to childcare, as a Catch-22.
Beth: Hi, my name is Beth. I'm a working mom. I'm in a catch-22. I would like to go and work more, but I can't because I have to stay home and watch my daughter. I would like to put her in daycare so I could work more, but right now I can't afford daycare because I can't go work because I have to watch her at home.
Tanzina: That is just a circular crazy feeling, isn't it? It just feels like there is no way out, Nicole.
Nicole: It does feel like there is no way out. Again, I think this moment is a moment for us to reimagine systems and structures. I think it's time for a national care infrastructure where we think about no woman, no family spending more than 7% of their income on care. I think it's time for us to really reimagine the social safety net. These are all things that advocates have been talking about for many decades and women, again, have been juggling this catch-22 for some time now. I think the pandemic has provided this opportunity for us to really think about what we might do differently and how we might better support working moms and families.
Tanzina: Chabeli, to that point, I wrote about this in The Washington Post recently, calling on the Biden-Harris administration to at least build something of a national childcare system, which seems like a fantasy right now but, Chabeli, you're on the ground. What are people saying about that? Is there any policy initiative to do this? Is there any interest?
Chabeli: There is a lot of interest. I think to Nicole's point, this has been something that advocates have been fighting for for a long time and now almost every family in America is dealing with it in some way and so it's been really elevated in the public conversation on this topic. We know the Biden administration has set out a caregiving plan over 10 years but in the shorter term, he has in his economic recovery plan, he has called for $25 billion to stabilize the industry just as a quick money for rent, utilities, payroll, so that daycare centers can open again. That's in addition to $10 billion that Congress already allocated in December.
Beyond that, there is discussion of changing the child tax credit to make it refundable, to make it monthly, so that families can access those dollars faster. There is a lot of discussions of solutions that I expect to hear quite a bit about that in the coming weeks, because it really is an economic problem. If we cannot allow women to go back to work because they are stuck in these cycles with childcare, that's going to affect our economy really long-term. We're already seeing it. Assembly lines are slowed down because manufacturers are citing childcare specifically as the reason they can't retain workers, the reason they can't employ more workers.
Tanzina: Chabeli, how do childcare disparities affect women financially? We've talked a little bit about this catch-22 where it's too expensive to pay for childcare, but you need childcare if you're going to work, but you want to work, but you can't. What is the outcome ultimately, with childcare disparities?
Chabeli: Well, I think it's a little bit of what you just said. It's extremely expensive. It's an industry on its own that is already struggling with really razor-thin margins to even stay open, which is why we're seeing what we're seeing now, where such mass closures of daycares all around the country.
It is a really large financial burden and so that's why there has been some talk of federal subsidized model or partially subsidized models, similar to what other countries in Europe have, because it is just so, so expensive for families to get in there to begin with, to find quality care, especially if you're a low wage worker. [unintelligible 00:13:24] speaking to low wage workers who are essential workers, who are just in this impossible decision where I can't find it, if I find it, I can't afford it, and I can't lose my job. I'm in an essential field. It's been really impossible for a lot of mothers with the childcare piece.
Tanzina: Finding it is hard. Finding it and being accepted into a program is hard, and then finding it, being accepted into a program that works for the working hours that many women have is even harder, and then affording it is even harder. I think many people, Nicole, are surprised at how much childcare can actually cost but it's often more than what many people pay for a mortgage. Isn't that right?
Nicole: Yes. Like I said, women and families can spend up to 30% or more for care. We're not even talking about high-quality care, the quality can be inconsistent. When we think about low-wage moms or families or single-parent moms, not being able to afford care really impacts whether or not they can re-enter the workforce, and what we're seeing in the pandemic is the uncertainty caused by precarious childcare, and schools closing is making it impossible for women to plan for the future, to plan when they can reenter the workforce. As a result of that, the economic impact of the pandemic on women, their labor force participation will continue.
Having and creating a fix, not 10 years from now. I do not think we have 10 years to come up with the childcare infrastructure or care infrastructure. I have to say, we've been thinking about state-level solutions and putting it on ballot similar to other ballot referendums, because we believe, for example, if childcare was on the ballot in 2020, it would have passed unanimously, because--
Tanzina: It almost made it to the ballot, Nicole, because Senator Elizabeth Warren at the time in her run for president mentioned this a couple of times, as far as childcare being part of the infrastructure of the American workforce and yet, here we are.
Nicole: Yes, here we are. I think that at the federal level, it's going to take some time for us to wind through, thinking through a really robust care infrastructure but at the state level, we've seen issues like same-sex marriage, marijuana legalization, paid sick leave, that have started off as ballot measures in states and have passed. That is a path forward for thinking about building a care infrastructure and some fixes. I also think businesses and companies and corporations and private sector also have a role to play.
Tanzina: Chabeli, let's talk a little bit about the economic impact if women do not return to the workforce. I've argued that we need women to participate in the economy. That's the only way our economy works. Chabeli, how essential is it to getting women back into the workforce to rebuild our economy?
Chabeli: It's absolutely essential. You're talking about half of the workforce. Just look at this year, the majority of essential workers were women. What would we have done had those women not had a pathway? I guess we're seeing it right now of what it looks like when they don't have a pathway to work, when it's disrupted. When you're thinking long-term, we talked a little bit about the gender pay gap at the start of the show. The gender pay gap is expected to widen as a result of what we're seeing right now and that's because women are out of work. It might take them months, maybe years to return to the workforce.
What that does is skills depreciate, you tend to come back at it in a lesser position, not at the same pay perhaps. What that does for the gender pay gap is it's likely going to widen it. We're expecting to take maybe three, five years before we get back to where we were even before the pandemic with this pay gap that is still 82 cents, women making 82 cents on the dollar.
Tanzina: That's white women making 82 cents on the dollar. Women of color make significantly less, Latinos almost make 50 something cents, Black women 60 some odd cents, so when we incorporate race into the equation, it changes. Nicole, to that point, just one thing I want to get in before we wrap here, we've got about a little bit over a minute left, is there is also an emotional labor element here. Women are being asked to do so many things and on top of that now, we're being tasked with finding vaccine appointments for our parents, for example. It seems like there is an emotional burden here that's going to take a long time to heal.
Nicole: I agree. I think women in this moment have really taken on a tremendous emotional, psychological, financial burden, and trying to hold all these things together. Again, ending on an optimistic note is that for many of us, we've suffered in silence and internalized all the things that we weren't able to juggle. What we know now is that it's not just us, it's not just me. Women are struggling and so what that means to me is that it's not an individual problem, it's a structural systemic problem that we can work together collectively to solve.
Tanzina: C. Nicole Mason is the President and CEO of the Institute for Women's Policy Research, and Chabeli Carrazana is an economy reporter for The 19th. Thanks to you both so much.
Chabeli: Thank you.
Nicole: Thanks.
[music]
Tanzina: As we just heard, the pandemic has had a disproportionately hard financial impact on women nationwide, particularly women of color and we wanted to hear from you on this. If you're a working mom, what help do you need in the short and long term and what government support do you want to see?
Laura: This is Laura in St. Paul, Minnesota. I think that there's been this notion that flexibility is going to solve working mother's problems. As somebody who is now experiencing comparatively a lot of flexibility with my time, I'll just say, I'm working all the time. There's no such thing as balance. There's no such thing as stopping and stepping away. Sad, because we'd like to have lives that are fuller and richer and the idea, I think, that flexibility was going to be the answer for working mothers, is proving false. What I'd like to see is better structures around ensuring that flexibility doesn't come back to disadvantage working mothers.
Speaker 1: I am a working mom. I work four days a week and my husband does work three days a week so we are incredibly lucky that we are making ends meet while our children are able to go to school and have childcare most of the time, period. I think that having the ability to use the stimulus money for childcare will be great. I think it should be not all in one chunk, but perhaps $500 a month would be a nice way to spread it out over time so that we can make it work better for our families.
Jana: Hi, this is Jana from Athens, Ohio. I'm an associate professor at a university and the mother of three girls who are ages eight, five and 18 months. What I need now more than anything financially, is time and sleep. My kids have been doing school remotely since last March. My husband has depression and is out of work and is often unavailable.
I'm often left to take care of the kids, help them with their schoolwork, prepare meals, clean the house, do the laundry and try to do my job. I need schools to be open and to be safe full-time. I also need childcare for my youngest. I'd also like to see an increase in financial support to mental health resources, particularly for individuals and areas who are in rural United States.
Speaker 2: As a working mom in the short term, I need a nap. Long-term I would love to have more equity in my house, in the division of labor between childcare and household duties. Honestly, they're both about equally as likely to happen, which is not at all. If I were to receive a stimulus check, I would have the luxury of being able to put it into long-term savings or doing some major project around the house. It would not be something that I would rely on to pay my mortgage or put food on the table or keep the utilities on. I know that's not the case for every working mother out there.
Christina: My name is Christina and I live in Fortworth, Texas. I'm a working professional. I have a master's degree and I have a child. I'm one of what has apparently become a large group of people whose spouse has left them during the pandemic because apparently they don't like us anymore. Unfortunately he also left me with a massive debt problem. Honestly, the thing that is standing between my [unintelligible 00:22:20] good income and the life I should be able to give my child is that debt, and stimulus payments will go directly towards that debt.
Katrina: Hi, this is Katrina from Maplewood, New Jersey. A year later, I am finding that the savings are getting lower and the income is still there but I think it's just the stress. What could I use? I could just use a break. Even if it were a little bit of stimulus money to pay for something not required, but just fine is starting to feel a little bit not fine.
Tanzina: As a working mom myself, I hear many of you, and I really thank you for sharing your stories with us. We want to keep hearing from working mothers on the support you need right now. Please get in touch by recording a voice memo and sending it to takeawaycallers@gmail.com or go to thetakeaway.org and click on Contact Us to record your answers straight into your computer or phone.
Copyright © 2020 New York Public Radio. All rights reserved. Visit our website terms of use at www.wnyc.org for further information.
New York Public Radio transcripts are created on a rush deadline, often by contractors. This text may not be in its final form and may be updated or revised in the future. Accuracy and availability may vary. The authoritative record of New York Public Radio's programming is the audio record.