Pandemic Delays Vote on United Methodist Church Split Over LGBTQ Issues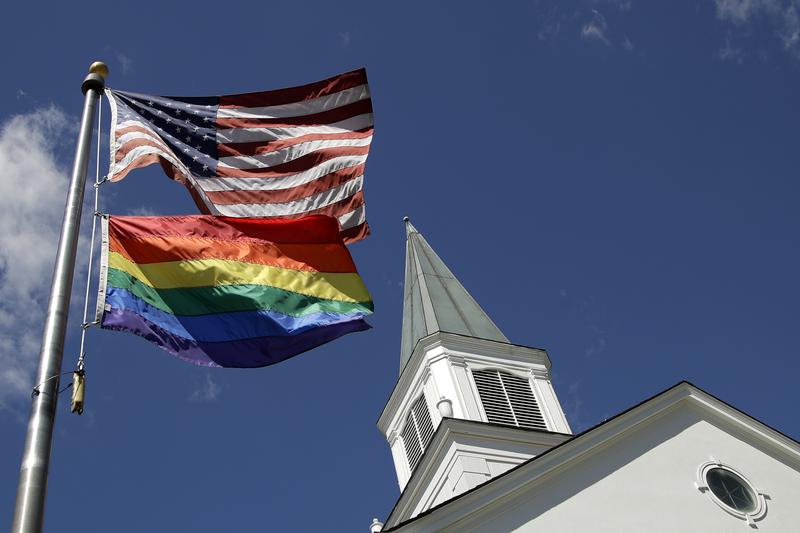 Transcript
Tanzina Vega: Back with you now on The Takeaway. Prior to the pandemic, the United Methodist Church was on the verge of splintering over a disagreement on LGBTQ inclusivity. The more conservative branch of the church opposes same-sex marriage and ordaining LGBTQ clergy members, while a coalition of centrists and progressives wants to welcome LGBTQ people in.
This week, the conservative branch of the church publicly announced more plans for their new denomination, the Global Methodist Church, and expressed a desire for the split to be voted on this May at an online conference, but church leaders say their plan is to hold the vote at the church's next in-person general conference, in August of 2022.
With us now to discuss is Reverend Tom Berlin, pastor at Floris UMC. Reverend Berlin, welcome back to the show.
Reverend Tom Berlin: Thank you, good to be here.
Tanzina Vega: Before we get into some of the most recent developments, remind us why was 2019 a breaking point for these tensions in the United Methodist Church.
Reverend Tom Berlin: In 2019, we held a general conference, that's our global meeting with representatives from around the world who are United Methodist. By a very slim margin, a plan that I and others worked on, called The One Church Plan was defeated. That would have allowed United Methodist churches to do different things in different places related to LGBTQ inclusion, including weddings and ordination, as you suggested earlier. Instead, we received a traditional plan, which is rather punitive to clergy who performed such marriages and would never allow an LGBTQ person to be ordained. It actually made our governing bodies more strict.
As you can imagine, there was a rather large backlash from that, and those that were centrist and more progressive around these issues, made it known that they weren't going to leave, that they were going to stay in the church and continue to work for what they felt was a justice issue. Traditional people, by contrast, many felt that they really didn't have a victory, they understood the pain that was around them. At that time, people began to say, is it time for us to formally part ways?
Tanzina Vega: You were part of a group of bishops that put together a proposal formalizing this split, what did you layout in that proposal?
Reverend Tom Berlin: The group included bishops, clergy, which is what I am and laity, and we work together to find ways to allow churches who wanted to leave and even annual conferences, which is a regional body of churches, allow them to leave and join either a more traditional denomination or on the other side, a more progressive denomination than the United Methodist Church.
United Methodist churches have an unusual feature, it's called a trust clause. That trust clause means that the congregations hold their properties in trust by the domination, so that means the church that I'm physically sitting in right now, our congregation doesn't actually own. What this protocol would allow us to do is allow churches to take their property with them as they depart the denomination, that's what's really new here.
As you can imagine, that really matters. Having the facility that you're in makes a big difference in the life of a congregation. It allows them to do that without lawsuits, it allows them to do that peacefully. There's also a financial settlement that the new traditional church and a more progressive denomination on the other side, would also be given funds to start their new life together.
Tanzina Vega: There was originally going to be a vote on the split back at the church's general conference in May of 2020, but that conference was delayed until August 2022 because of the pandemic, how was that date decided on?
Reverend Tom Berlin: We are a global body. When our delegates gather, they come from the continents of Africa, Europe, the Philippines, the United States. It's very difficult to hold such a gathering during this pandemic because we include countries that don't have access to vaccinations at this time and probably won't anytime soon, so we're hoping that August 2022 will work. We don't want to disenfranchise those delegates by holding it at a time when they can't attend because of the coronavirus.
The May general conference is being held virtually, but it'll use a paper ballot and only 12 rather simple items compared to this legislation will be considered, and those items are really just helping the wheels of the denomination continue to turn during this time. Most of us have experienced great change due to the pandemic and so the church is not exempted from that.
Tanzina Vega: Reverend, we mentioned earlier that the conservative faction of the Methodist Church announced plans this week for their new denomination, the Global Methodist Church. What did you make of that announcement?
Reverend Tom Berlin: I wasn't surprised by it. The issue of LGBTQ inclusion is a presenting issue in the United Methodist Church and it's a really important issue. Many of us simply believe that the church is designed to be an open and inclusive place. It's designed to love our neighbor as ourselves, and that includes our LGBTQ family members, friends, community members, people we know, and even those we don't know.
Others believe that if the church performs a same-sex marriage, or ordains a gay person, that is incompatible with their Christian beliefs. That is as I say, a presenting issue. It says that there's a difference in the way that we're looking at scripture in that regard. It doesn't mean I'm not suggesting that people that differ with me on this issue are not Christians or anything severe, but it is a difference, and it's an important difference because, for many of us, the inclusion of LGBTQ people is a issue of both justice and compassion.
These are people that are vulnerable. These are people that have a long history of discrimination in our country and abuse and worse. We simply want a church where those people can be married, be ordained, be treated as full members.
When the new denomination arose this week, when it was announced that it's not yet a legal entity, but they've stood up a website, I wasn't surprised by that. They have been saying for a long time that that's what they were going to do, so I think that it's been very predictable that would happen. It is a sign though, that even with the pandemic, this group has decided it wants to continue forward momentum. The issue is important enough to them, that they want to break away and they're actively making plans to do so.
Many of us during this pandemic in churches have just been trying to get food to people in our community who have food scarcity, we've been trying to figure out how to hold a worship in small groups and other things virtually. We've been trying to figure out how to care for our members and members of our community at a distance, and that's been quite a struggle. I was also quite impressed that in the midst of all that, people were able to put up a new denomination because they felt so strongly about the issues that are at hand.
Tanzina Vega: The Global Methodist Church says they're going to emphasize ethnic and racial diversity as part of their mission. Was that diversity not already a part of the United Methodist Church's mission, Reverend?
Reverend Tom Berlin: It absolutely is. I don't think that they are stating a new thing, I think they're attempting to say that that value will come with them, but that's been the value of the United Methodist Church. We ordained women for ministry in the 1950s ahead of most denominations and churches. We have welcomed people of all races earlier than many churches. We're not a perfect denomination.
If you look deeply into our history, it has the same dark spots and long shadow that most mainline churches and other congregations do. I'm not trying to make us better than we are, but we are a global church, we are in different continents around the world, we do believe that everyone should have the same rights within our general conference. We have what are called cross-cultural appointments where churches tend to be predominantly one grouping or another.
We've been working to try to see the church become a blended rich and diverse space. That statement on their website is not a reflection of a new value, it is trying to assure people, I believe, that the value that was there in the past will be there in the future. I can only assume, it's not my space. I don't want to interpret too broadly, but I think that's what they're doing.
Tanzina Vega: We've been talking about the divisions between larger factions of the Methodist Church, but how have these tensions been playing out within your own congregation?
Reverend Tom Berlin: We've been working at this for some time now to have this conversation. In any church, I serve a large congregation and I serve a congregation that is in a suburb of Washington, DC. Within the life of our church, we have LGBTQ persons, we have members whose children are gay or transgendered, we're surrounded in our community. LGBTQ people are here. [chuckles] They're just simply here. It's not as though we can act as though they are not. We either have to decide openly to include and welcome and be hospitable. People don't want simply a nod of the head, they want to know that they're fully included. They want to have voice and vote, they want to be a part of the body.
In our church, we've been having this conversation for a few years now, we recently developed a logo, I guess it's been two years ago now that we call One Church for All. That logo has a section that says, "All abilities" because we want people of varying abilities, disabilities to be here. It includes people of all races, and ethnic backgrounds, and all identities, and orientations. The logo has three different colors that signify these things.
We've been trying to do that very openly, have the conversation. In the course of that, we've lost a few members. We've probably lost a dozen households because of that, but we have over 1,000 people who attend and so I feel like that's a pretty good number. I've received appreciation, our church has received appreciation by dozens and dozens of people who are simply so grateful that we're having the conversation and people that are really grateful that their grandchildren who are gay are welcome.
The couple that came with their two children, two women who are legally married, in the state of Virginia, they've got two children, they're just looking for a church. To my experience, people aren't looking for anything other than that. They want to know if they're going to be loved. They want to know if people will be kind to them. It's not like people are asking for the moon here. I'm just amazed that that is an issue of incompatibilities to those who would go form a new denomination. I've been working in this for a long time, I still find that startling.
Tanzina Vega: In the few seconds we have left, what are you hoping the future of the church will look like once this split is formalized?
Reverend Tom Berlin: Well, I think what we're doing is some self-definition work here. The United Methodist Church has said for years, it's open hearts, open minds, and open doors and we're putting that to the test. I think if you have open doors, you open them to everyone and you treat everyone the same. These are, in my opinion, issues of identity and orientation. I don't think people wake up one day and say I want to be straight. I want to be gay. I think that that's something that's built into the nature of people in different ways on a broad spectrum.
I think that the same way, we're welcome to people of all races where we want to be welcomed to all people and all abilities. I think that this is an opportunity for us to reaffirm values. It's a time for us to build vital community. When the pandemic is over, I am really looking forward to getting to see our people in-person because I miss that the most during this pandemic. I miss the richness. It's hard to do that at a distance. I'm sure you're feeling that the same way I am. I think self-definition is the work of mature humans. I think that's what we're doing right now in the United Methodist Church.
Tanzina Vega: Reverend Tom Berlin is a pastor at Floris UMC. Thanks so much for talking with us.
Reverend Tom Berlin: Thank you so much for having me.
Tanzina Vega: All right, your turn. You had thoughts on this.
Speaker 1: Hello, this is [unintelligible 00:12:20] from Salt Lake City, Utah. As a gay man, I left the Mormon Church. I lost many friends when I left but if they really didn't like me after leaving, they probably weren't friends anyway. Being honest with myself and finding a wonderful man, I am so much happier.
Danny: Hi, my name is Danny. I'm from Rockaway, New Jersey. I don't have a faith community. I left my faith community in part because they did not embrace LGBTQ rights.
Copyright © 2021 New York Public Radio. All rights reserved. Visit our website terms of use at www.wnyc.org for further information.
New York Public Radio transcripts are created on a rush deadline, often by contractors. This text may not be in its final form and may be updated or revised in the future. Accuracy and availability may vary. The authoritative record of New York Public Radio's programming is the audio record.