SHElection!: The Oregon Governor's Race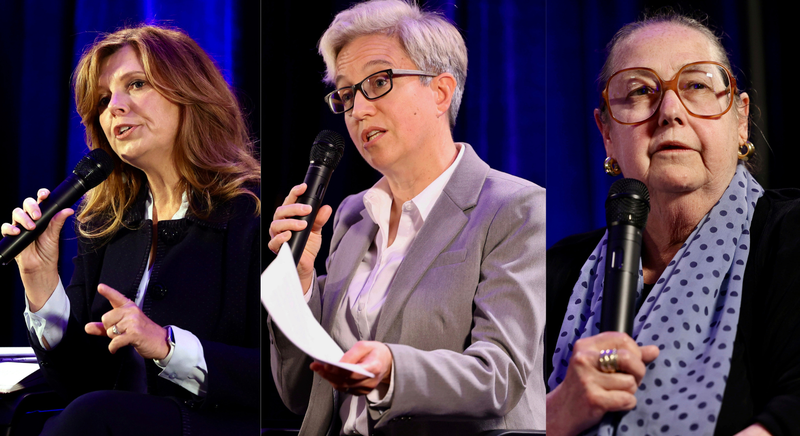 Transcript
[music]
Melissa Harris-Perry: Welcome to The Takeaway, it's Melissa Harris-Perry and I'm back after some time off. While I was taking a little road trip, I did what any good public radio host would do, I tuned in to one of my favorite NPR shows, Wait Wait... Don't Tell Me!.
[music]
Bill Kurtis: From NPR and WBEZ Chicago. This is Wait Wait... Don't Tell Me!, the NPR News quiz.
Melissa Harris-Perry: Yes, it started with the familiar theme and, of course, Bill Kurtis introduced our host, Peter Sagal, who promised us a great show, and then said this.
Peter Sagal: A few weeks ago, the good people of Oregon got upset because I mispronounced the name of their state on this show. I am sorry, Oregonians. From now on, I will refer to your state properly as South Washington.
[laughter]
Melissa Harris-Perry: Poor Oregon.
[music]
Hillary Borrud: We often feel like we're not the focus of national attention, whether in the media or otherwise for our elections, and political insiders here will joke about, "Everyone's forgotten about Oregon, or we don't matter."
Melissa Harris-Perry: This is Hillary Borrud, the state government and politics reporter for The Oregonian. While I'm sure that she, like me, is a huge fan of Peter Sagal, she most definitely wants us to know that when it comes to politics, Oregon is no South Washington. In fact, the Beaver State is home to one of the most interesting gubernatorial contests in the 2022 midterm cycle.
In a little more than a month, voters will determine the next governor of Oregon. The incumbent, Democrat Kate Brown, is term-limited, and Oregon voters made history in 2016 when they elected Brown, who's openly bisexual. Brown was the first openly LGBT person ever elected governor in any state. Now, Oregon is the site of another historic gubernatorial contest, a very special She election.
Hillary Borrud: It's incredible. It sounds like as far as I've been able to learn that we might be historic in having three credible competitive women in this case.
Melissa Harris-Perry: That's right, three women are vying for the state's top office. Come on with me to the beautiful Pacific Northwest for the latest installment of our Takeaway special midterm series, She election. This series is a partnership with the Center for American Women and Politics at Rutgers University with support, in part, from the Ms. Foundation for Women.
We're bringing you the stories of campaigns where both, or in this case, three of the candidates in the general election are women, and who are the candidates in this special She election? There's the independent Betsy Johnson.
Betsy Johnson: I've never been afraid of a challenge. That's why I'm running as an independent leader, loyal only to the people of Oregon.
Hillary Borrud: A long-time former Democratic state lawmaker, Betsy Johnson, running this year. She started out with a really well-funded campaign. She's raised over $11 million. On a couple of issues, she has sided with Republicans over the years, so that's why she doesn't agree completely with either party on abortion. She supports abortion rights, a little bit liberal in that respect.
Melissa Harris-Perry: The Republican Christine Drazan.
Christine Drazan: I was born in Klamath Falls where family and community were everything to me. Growing up, I saw firsthand politicians put their personal agendas ahead of hardworking families.
Hillary Borrud: Christine Drazan, she is also a Republican former lawmaker because all three women served in the legislature together in recent years. She is actually anti-abortion rights but has said that she would follow current Oregon state law, which does protect the right to have an abortion throughout pregnancy. She's known for leading Republicans in a walkout to boycott climate change legislation in 2020.
Melissa Harris-Perry: One more makes three.
Tina Kotek: My name is Tina Kotek. It's one thing to talk about our problems, it's another thing to make the tough calls to actually get things done, and that's why I'm running for governor.
Hillary Borrud: Tina Kotek is very interesting. She was the speaker of the House until recently when she stepped down to run for governor, and she is the first openly lesbian speaker of a state house in the country. She's known for passing some very progressive bills when she was leading Democratic majorities here, including raising the minimum wage and passing statewide red control.
Melissa Harris-Perry: Now, it's worth noting that in this woman versus woman versus woman gubernatorial race, all three candidates are viable. The Oregonian's Hillary Borrud walked us through some recent polling data.
Hillary Borrud: The Republican Christine Drazan and the Democrat Tina Kotek are really neck and neck in this race. Betsy Johnson, the unaffiliated candidate is running in third and she'd have quite a distance to make up, but she was at 18%. That's far more than you typically see an unaffiliated candidate drawing or an independent or anything.
The interesting dynamic this year is who is that third candidate taking votes from? We saw in her polling, of course, she's taking some votes, potentially, from the Republican and the Democrat. That is a big question that we'll have in terms of how that affects how close the Republican and Democrat end up.
Alison Gash: Johnson's candidacy is viable, though she's trailing, there's still a lot of miles left to be covered in this election, and there's still quite a few people who are undecided.
Melissa Harris-Perry: That was Alison Gash. She's an Associate Professor of Political Science at the University of Oregon. Go, Ducks.
[music]
Melissa Harris-Perry: With three viable women candidates, it's interesting to note the ways that gender has and hasn't emerged as part of this campaign. Democrat Tina Kotek had a little fun with identity in a recent campaign spot.
Tina Kotek: My name is Tina Kotek, but I've been called a few things over the years.
Unknown Male: Tina Kotek, she's real tough.
Tina Kotek: Then there were some other words for tough that women get called.
Melissa Harris-Perry: Hillary Borrud, reporter for The Oregonian again.
Hillary Borrud: Tina Kotek, the Democrat, the first openly lesbian speaker in the country, she hasn't been bringing it on, campaigning on it, but she hasn't shied away from it either. She's very open on social media and in her ads that she's married to a woman. She went to the Pride parade as Betsy Johnson, the unaffiliated candidate, went to a Pride parade, too. She's married to a man.
I think Christine Drazan has brought up in ads, at least a little bit, that she's a mother. I would say that they are embracing it, but also they're not saying that that explains how they would govern.
Alison Gash: In a way, they don't have to be explicit because the national politics of the day is doing a lot of the work for them.
Melissa Harris-Perry: Now, Professor Gash has been following the Oregon gubernatorial She election closely as well.
Alison Gash: Christine Drazan doesn't need to say much more than "I'm a mother", and then talk about her position on wanting to bar transgender student athletes from student teams to be able to speak to exactly the demographic that she's trying to speak to. Those white women voters that are a pretty stronghold in the Republican Party.
I would also say, though, that I do think that Kotek has been called out a little bit in the same way that Hillary Clinton was called out, in the same way that lots of other female politicians have been called out. When people describe her, they describe her as a policy wonk. They describe her as somebody who really wants to get down to the facts and isn't warm in these particular spaces.
Those are things that we know are deeply coded in these problematic stereotypes because we know, of course, when those things are applied to men, they don't strike the same chord as they do when they're applied to women.
Melissa Harris-Perry: Professor Gash encourage us to think a bit differently about this She election.
Alison Gash: There's certainly every opportunity for Johnson to become the next governor, but it's also really interesting, even if she doesn't prevail, what sort of effect this unaffiliated candidate is having on the politics of the election, on the kinds of discourse that it's forcing both parties to have. It really is bringing Republicans and even moderate unaffiliated or moderate Democrats into the fold in ways that I think haven't necessarily been happening in terms of Oregon politics for a bit.
I think folks across the state are frustrated by that, are frustrated by a push towards the more progressive, more left-leaning elements of the Democratic Party in Oregon. It also, I think, picks up on another element in our state, which is really important, which is a very, very, very strong urban-rural divide.
Melissa Harris-Perry: All right, pause for a moment because I don't want us to miss what Professor Gash just said.
Alison Gash: The very, very, very strong urban-rural divide.
Melissa Harris-Perry: In this time of hyper-partisanship, when part of the identification seems to over-determine every aspect of our political lives, it can be easy to overlook the ways American voters identify themselves and their interests. Recent scholarship led by Cornell University's Suzanne Mettler, shows how the urban-rural divide has grown in recent decades.
Mettler and her colleagues traced the current geographic chasm to the 2008 presidential election between the late Senator John McCain and former President Obama. In that campaign, Republicans presented Obama as elitist, out of touch, and urban, while identifying themselves as safe-keepers of small-town values.
By 2020, roughly two-thirds of people who lived in rural areas voted to reelect President Trump, while just a third of urban voters agreed. Of course, this urban-rural divide also tracks with race because y'all know, Black folks living in the country still overwhelmingly chose Biden over Trump, but in Oregon where more than 86% of the population identifies as white, urban-rural is not just a proxy for race. Professor Alison Gash explained.
Alison Gash: The reason why Oregon runs Democrat is mostly because of Portland, because there's just so many people in Portland and not nearly as many people in the outskirts. Because of that, our national politics and our state politics center on Portland. It centers on Portland's interests. It centers on Portland voters, and right now, Portland voters are frustrated. Right now, Oregon is frustrated with Portland.
Melissa Harris-Perry: Oregon has gone to the Democratic candidate in every presidential election since 1988, but for Professor Gash, those reliably blue statewide outcomes, they mask important differences that exist within internal Oregon politics.
Alison Gash: All three of these candidates have an opportunity, but particularly Drazan and Johnson have an opportunity to really, really peel apart that urban-rural divide and also to peel away from the Democratic stronghold those voters in Portland who are upset, who are angry, who want something different, who feel as though they've given their votes to these Democratic policymakers and haven't gotten a lot in return.
I think Johnson, in particular, is really taking an opportunity to exploit that dissatisfaction with the options that are available right now. I think that will in the long term have an effect on how folks operate in Oregon. That we can't take for granted the fact that we're just going to vote blue all the way down and all the way up because there is always this option now for somebody to come in and disrupt the status quo.
Melissa Harris-Perry: Just why is it that?
Alison Gash: Portland voters are frustrated and right now, Oregon is frustrated with Portland.
[music]
Melissa Harris-Perry: Now on Tuesday, the three women running to be governor, well, they met in a debate hosted by K2 News.
Tina Kotek: It's almost three years ago now that I called for a state of emergency when it came to our homelessness crisis, to fund more shelters, to do the things we need to keep people safe, and there is more money out there and it's not being managed well.
Christine Drazan: I will declare a homelessness state of emergency on day one of my administration. We can respond to this issue with both compassion and accountability.
Betsy Johnson: Tina Kotek has styled herself as the architect of Oregon's housing policy. I would pose the question, then why is it getting worse? We're better at pitching tents than we are at pulling permits.
Melissa Harris-Perry: That was independent Betsy Johnson at the end there with that zinger about pitching tents and pulling permits. Now, Johnson, who again formally served in elective office as a Democrat, has consistently criticized Democrat Tina Kotek's handling of the homelessness crisis.
On Fox News last week, Johnson disparaged Kotek, calling her "Tent City Tina". Now, while the number of people experiencing homelessness in Portland is lower than in some other major metropolitans, the high cost of housing and the shortage of emergency shelters has made the problem highly visible in Oregon's largest city.
The city has embarked on a number of large-scale plans to address homelessness, but for a state fraying at the places where urban meets rural, the tent cities of Portland are valuable political symbol for an independent candidate.
It's not just the question of homelessness. This Oregon She election for governor is also a campaign about law enforcement. An issue that emerged during the Black Lives Matter Protests in Portland, Oregon during the summer of 2020, after Breonna Taylor and George Floyd were killed by police. We talked about how those 2020 protests might be influencing this gubernatorial race.
Hillary Borrud: It's there in consciousness of the voters, especially probably on the right. We did see that a lot of Republican voters or people who are saying right now anyway that they would support Republican Christine Drazan are just concerned about Liberals and Democrats. We've seen a lot of concern in especially some rural areas of Oregon about Antifa showing up. That was misinformation and stuff over the last couple years.
We were really a focus I know nationally for Republicans and President Trump because we had these clashes that at one point were racial justice demonstrations and turned into, over time, these nightly clashes, oftentimes between right-wing and left-wing demonstrators. I think that's played into the concerns about crime and public safety that some voters have.
Melissa Harris-Perry: The September debate took place in Bend, Oregon and just the month before in late August, there was a mass shooting there. I'm wondering about the ways that that context is affecting this gubernatorial election as well.
Alison Gash: If the election were today, and this is always the way these things go, obviously, I think the gun rights issue, particularly for folks in Bend and around that surrounding area, I think would be high on their priorities. It would be really salient in their minds. Whether that's going to be salient come election day is a whole other issue. It's hard to say just how much gun regulation is actually going to play a role.
There's not a lot of distance necessarily between, at least, Drazan and Johnson on these gun issues. If Kotek is campaigning on this, I don't think it's an issue that that would be the thing that would help her win. I don't think it's going to end up being a pivotal policy issue that will make or break the election for any of the three.
Melissa Harris-Perry: Indeed. These issues did emerge during Tuesday's debate. See, if the urban-rural divide is a meaningful way to understand this race, then the crisis of drug use and overdose death must be understood as a defining issue. Throughout the US and in Oregon, the overdose epidemic has hit rural communities particularly hard. In Oregon, overdose deaths have tripled in the past two decades. Here's Democrat Tina Kotek during the debate.
Tina Kotek: As governor, going specifically after the drug cartels, making sure that whether it's southern Oregon or up in the urban areas in the metro area, that we can get dangerous drugs off the street. Give local law enforcement the ability to get those drugs off the streets. Go after illegal firearms that are causing a lot of violent crimes and deaths in communities across our state. I think it's really important to make sure we fund the Oregon State Police across the state so our rural communities in particular have that immediate police response.
Melissa Harris-Perry: During the debate, Republican Christine Drazan zeroed in on how the current Democratic governors responded to the racial justice protests in 2020 that were happening in Portland, Oregon. Remember that as part of the shifting discourse surrounding public safety, those protestors were demanding divestment from policing and reinvestment in community-based public safety efforts.
Christine Drazan: We need more law enforcement, we need to hire more police, we need more troopers, we need more police on our streets. That is a dramatic difference between Governor Kate Brown's approach and, frankly, Speaker of the House Tina Kotek's approach when it came to public safety. More often than not, we're talking about women who made the decision to allow riots to continue. Who made the decision to make all of us less safe.
Melissa Harris-Perry: For the unaffiliated Betsy Johnson, well, her position on law enforcement was pretty simply stated on Tuesday.
Betsy Johnson: Thank you very much. I have always been pro-cop and will continue to be pro-cop.
[music]
Melissa Harris-Perry: That's a bumper sticker, y'all. When we return, we're going to continue with our coverage of the She election in Oregon, where three women are running to be governor. We're also going to talk a bit about how abortion figures in to this race.
Back with The Takeaway, I'm Melissa Harris-Perry, and we've been talking about the three-way She election going on in the state of Oregon for the seat of governor. Alison Gash, Associate Professor of Political Science from the University of Oregon talked with me about the ways that during this midterm season, the issue of abortion and abortion access has proven to be important in Oregon.
Alison Gash: Oregon has positioned itself, especially since the Dobbs ruling as one of several states that's really standing strong in supporting reproductive choice, in supporting a woman's right to choose. They're part of this west coast initiative that really is about providing a space for women across the country. The issue of reproductive choice in Oregon is really, in a way, national importance. There's a consequence to this gubernatorial race that affects not just women in Oregon, but women everywhere.
This question about how Johnson, in particular, positions herself on reproductive choice is important because there's a lot at stake. Kotek would argue that Johnson's promise-- Kotek has concerns about what this might mean because it's not certain that Johnson will invest in reproductive choice in the same way that a Democratic governor would. Then similarly, Drazan's promises that although she is firmly anti-choice, that she would in fact follow state law.
Of course, the reality is that governors can do a lot to limit reproductive choice even if they follow the letter of the law. This backdrop of reproductive choice and the role that Oregon's playing in the nation as a provider, as a place, is really important.
The other issue that's not getting as much play, but is still really important, is the issue of LGBTQ rights. On gay rights, Oregon has a really interesting story, which is as a place where the very, very early anti-gay movement got its start. Measure 9, for instance, is a measure that would have essentially created a series of 'Don't Say Gay' bills, but this was in the early 1990s, and this was through the initiative process.
Oregonians firmly decided we don't want that kind of stuff here. Folks tried to get that initiative passed again and again up through 2000, it never passed. Those groups moved on to other places, other states, where they've been a lot more successful. Now we've got two candidates, Drazan and Johnson, both who have seemed to, either directly or indirectly, imply that they're going to have their eyes on what's happening in the school systems with respect to LGBTQ issues.
That's something that I think is really important, especially when you're talking about Tina Kotek being Oregon's first lesbian governor. I think that brings that back into people's minds as well.
Hillary Borrud: I think when you've got a candidate like Drazan, and Drazan is-- there's a lot of Drazans in the Republican Party. The Republican Party has done a really great job strategically of deploying candidates like Drazan, and they're really trying to solidify their stronghold on one of their really important bases, which is white women.
A lot of the times we forget, and especially when we're talking about races where we have all women. We like to think that women being in a race will have a liberalizing effect. Especially, obviously, liberals would like to think that it would have a liberalizing effect on public policy. The reality is that white women, in particular, vote conservative, they vote Republican.
I think that this year, in particular, conservatives are really trying to bank on that by offering up a whole slate of candidates that are, again, these emissaries of family values. They're these folks that can speak to moms. They're these folks, in particular, who can speak to white conservative moms and make an argument that their children in schools are being subjected to things that they don't want their children to be learning.
Melissa Harris-Perry: Alison Gash is an Associate Professor of Political Science at the University of Oregon, and Hillary Borrud is state politics reporter for The Oregonian. Thank you both for joining us today.
Alison Gash: Thank you very much.
Hillary Borrud: Thank you.
[music]
Copyright © 2022 New York Public Radio. All rights reserved. Visit our website terms of use at www.wnyc.org for further information.
New York Public Radio transcripts are created on a rush deadline, often by contractors. This text may not be in its final form and may be updated or revised in the future. Accuracy and availability may vary. The authoritative record of New York Public Radio's programming is the audio record.