Older Americans Are Facing Massive Unemployment During COVID-19 Pandemic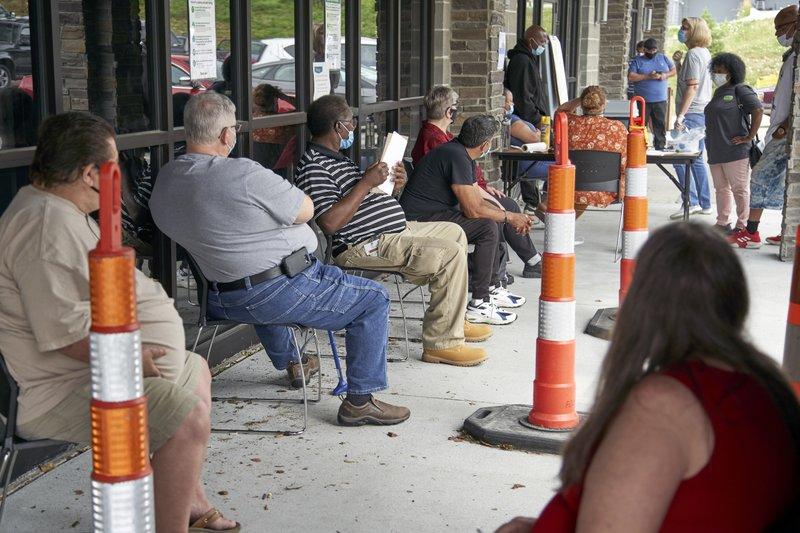 Transcript
[music]
Tanzina Vega: The COVID-19 pandemic has devastated the U S economy and led to record unemployment for people of all ages. Older workers have been hit particularly hard with some losing their jobs and others being forced into early retirement. People over 55 are facing higher unemployment rates than their younger counterparts for the first time since the mid-1970s. The financial situation is even worse for older women or older people of color who are less likely to have retirement savings to begin with.
Joe: Hi, this is Joe. I'm a 56 year old African-American male living in Dallas, Texas. At the start of this year I was working doing construction while I completed the requirements to get my real estate license, and I started selling homes. In March, corona hit my construction jobs, and my licensing was put on hold for five months. To add insult to injury, two months after signing up with the new broker, I caught the virus. I've been at home quarantine and struggling to breathe clearly. At my age, I'm not sure what the overall impact on my life would be.
Tanzina: Once older Americans are unemployed, they have a much more difficult time bouncing back. According to the AARP, it can take older people twice as long to find work as younger workers.
Robin Scott: Hi, I'm Robin Scott. I'm calling from El Cerrito, California. I am 59 years old and I have been laid off from my job as a sound engineer at a local Berkeley music venue where there's not really much of a chance I'm going to be going back to that job anytime soon. I have started doing some work on the side. I used to be a computer technician, and I started assisting seniors with their computers because I can do it remotely.
Tanzina: Experts say they're going to be very serious economic consequences to this down the line, with the pandemic forcing some older Americans out of the middle class and into poverty or near poverty, once in retirement. I'm Tanzina Vega, and that's where we start today on The Takeaway. I'm joined now by Teresa Ghilarducci, the director of the New School's Schwartz Center for Economic Policy Analysis. Theresa, welcome to the show.
Teresa Ghilarducci: Oh, hello, Tanzina. Glad to be here.
Tanzina: We just heard some calls from our listeners who are older listeners, and I got to be honest, Theresa. That's pretty heartbreaking to hear people who are in their 50s, who are struggling to find work. How broad is this issue right now?
Teresa: For the first time in 50 years, we saw that older workers had higher unemployment rates with this pandemic repression, and now what we are in is an ordinary recession. It's big, four million older workers are now out of work, and these are people who are actively seeking work. They tell surveyors that they've lost their job and they're looking for work.
We have millions more who have dropped out of the labor force. I'm quite worried about them, because when we look in the past, over the last 10 years, over the 50 years in the last recession, we did not have so many older workers as a proportion of their workforce, leave the labor force and be unemployed. I'm just concerned about the impact for their financial futures.
Tanzina: Teresa, we've talked on this show about how even being over 40 can make it difficult for somebody to find a job because our society is so focused on younger workers and young people. What is unique about this moment for older workers, because of the pandemic? Many of these folks have probably struggled to find work prior to the pandemic. How has the pandemic exacerbated this issue?
Teresa: It is really important for us to remember that this pandemic is really affecting people with less than college or advanced degrees, or at the very top of the earnings distribution. What's also different about this pandemic is not just age, it's hitting older people worse than in the past, but also people who are earning less than $70,000 per year.
We have a class, race, gender, and age issue going on. We have to look it by groups, but in terms of age, the one thing the virus does is not discriminate by those income classes, but it does discriminate by age, because of immunosenescence, meaning that as you get older, you're much more likely to be sick, if you get this disease, you're not more likely to get it, just like people of color because of their race aren't more likely to get it.
Older people who are nonwhite and have less education are more likely to be around people with COVID. So that's why they're likely to get it. If you're older because your immunity system declines with age, just you yourselves are less bouncy, you're more likely to get sicker. There's a supply and demand issue going on here.
Older people are more likely to get sick. They may be more reluctant to work, but I think that employers are more reluctant to hire them and want them out, if they have a layoff. There's also an issue of the Trump administration not enforcing age discrimination laws as well as the department of labor could. Employers may feel this is a once in a lifetime chance to get rid of older workers who may be also more expensive, if they're in their the employers healthcare plan.
Tanzina: We should note also that age discrimination claims generally, not just under the Trump administration, but under previous administrations are very to prove. It's one of the most difficult areas to prove intent to, and we've talked about that on this show, which really hurts workers, even those who are just over 40. Let's talk a little bit about folks who are trying to find work. There are people who have lost their jobs and are scrambling to find new jobs. What are the unique challenges for older people who are searching for a job right now?
Teresa: One, maybe just you'll have to do it on Zoom. It's important that all people are very comfortable with Zoom, with electronic video conferencing, probably their phone is their best friend rather than their computer. It's also really important for all job applicants to be able to know how to submit a resume that will be read by a computer. It's very important for older people to understand not to put anything on their resume that might reflect their age.
It's illegal for employers with computer screening to search for age, but you have to know how to not put the age that you graduated from high school or college on your resume. The most important advice I can give to older workers is that if you have a chance to talk to an employer, even if the job posted isn't perfect for you, talk to that employer because employers often don't know what they want.
When they meet somebody who knows the company, understands the company's needs, and that worker, that applicant is ready to solve the employer's needs, and not just always talks about themselves, but talks about how their unique skills, ability and vision can meet the employer's needs, then you may talk yourself into a new job. They may actually redesign the job for you. Employers hire people they don't just hire people to fill a job.
Tanzina: There was a piece in a website Refinery29 that talks to younger folks saying that maybe this idea of the perfect job and the all-fulfilling job is obsolete. I've always, as someone who's a gen X-er, I've always thought that fulfilling job never really was a reality. Are older workers in a better position to do exactly what you've said to stop looking for work that is personally fulfilling and just really look to do the job as it is outlined by the employer?
Teresa: I think that older workers might be more flexible than younger people just because of their experience. It really is important to reflect on your own experience and how flexible you might be. Also, a job interview is about persuasion, and it's really important to understand that you're solving the employer's problem. Talking about that rather than yourself, or the kinds of talents or your own aspirations, it's much better to talk about the employer rather than your own aspirations.
Tanzina: Are there specific industries that older workers should be looking at that are potentially a better fit for them given what we're talking about right now with all the limitations of not being able to meet in person or having to apply via Zoom?
Teresa: I think that there are industries that are growing and there are industries that are shrinking. It's good for all applicants to go for the industries that are growing. It's anything to do with computers or computer connections like we're doing now, of course it's growing, but that isn't a friendly place. Tech is not a friendly place for older workers. Any industry that your skills and education level can meet is important. You have to be broad. The care industry, I think education is a place that is scrambling to find out how to reconfigure it so that children are in smaller pods. It really depends upon the older person's education level, but it's one thing for sure, Tanzina, and you're almost near it, is that an older person. will have to be ready to leave the industry they were in and look at different industries. That's true for everybody.
Tanzina: [unintelligible 00:10:07] because that, given where we are right now, though, because there's a lot of talk about people who are pivoting or people who could do change industries, but right now we're in the middle of a pandemic that doesn't appear to be letting up, at least for another couple of months, at least for this season, if not longer, how are older folks supposed to be expected to pivot that quickly?
Teresa: No, I think that if you're unemployed now, you might take advantage of the time, especially at home, really learning new skills on the computer. I do agree with you, switching jobs, looking for new venues is terrible in a recession, that always works when the economy is expanding. It works a lot better when employers are hungry to hire.
If you're unemployed and you set aside some time for personal job development every day, a little bit on job search, but a lot on job development. Make sure that when you're on Zoom, you can find the "Leave meeting" button, that you know how to share a presentation, that you just can work around your phone, those kinds of skill development, one hour or two hours a day is important. It's just not realistic.
We do have some public policies that I have geared up for the new administration that comes out of our research at the New School. I hope that the new administration and the Senate considers the plight of older workers and understands that they need to get unemployment relief to those older workers, as soon as possible, everybody needs some, but we are proposing that unemployment benefits be it triggered for people over 40, over 50, and they can collect a few months longer to reflect the fact it takes longer to find a new job. Also, an idea that's really taking fire is Medicare, is lowering the Medicare age to 50.
If that became the first payer that employers could put their older workers on Medicare, that would reduce the cost of older workers by tens of thousands of dollars.
Tanzina: Something that really hits home because a lot of older Americans are also probably taking care of multiple people. They're probably not just taking care of themselves, but they may be taking care of older relatives. They may be helping younger people, their kids, and others. What does it mean for the American economy when older people are out of work?
Teresa: When older people in America are out of work, it means a huge part of the experienced labor force is out of work, and that loses a lot of productive capacity for the American economy. Now, some of that is made up for the fact that older people out of work are taking care of other people, and often they have to leave the labor force to take care of other people. Most of that is because women who are older are tasked with that care work either for their spouses or less so with their grandchildren. That's why this pandemic is hitting older women workers, even more than older males.
Tanzina: I know somebody who's struggling with this in particular, and I'm concerned about their mental health. It can be depressing to be looking for work after a certain amount of time, and then you add to that this pandemic and everything else, the news cycle which has been brutal. Let's talk a little bit about the concerns that the unemployment rate and job losses among older people will have on their mental health.
Teresa: Isolation, being in your 50s and being lower income are all risk factors for depression and stress, but mostly depression. When you're an out-of-work older worker in your 50s, you've hit the jackpot for depression. An older worker out of work must know that that's a problem and be quick about talking to a mental health provider or their doctor about their concerns about depression. It's almost inevitable, and there should be no hesitation in an older worker to address that part of their mental health right away.
There is really no sense in the public service announcements or in the discussion about COVID relief about how to cope with isolation and being unemployed. There's just nothing from the CDC or from the coronavirus task force. I would like to see a comprehensive task force deal with these social consequences, of the unique aspects of a pandemic, which is isolation.
Tanzina: Older people also have a tendency to be more resilient, given a lot of what they have experienced, just plain experience can sometimes make you more able or better able to manage even what for many of us is an unprecedented situation. Is there a silver lining to this? Is resilience part of the equation? Where do we see older workers, let's say, a year from now? What are some pieces of advice other than being able to navigate technology well that you would offer, even just from an emotional standpoint right now?
Teresa: What is really remarkable about older people is that as they get older, their mental well-being does seem to just trend up, and researchers think it is because of the wisdom that comes from experience. That's special knowledge, it's a special kind of education. What I expect in a year is that older workers are going through a financial difficulty, will understand that they're resilient about changing their spending habits, that they will find new sources of income and actually find new sources of savings. I like the fact that older workers are going to be more experienced in fighting their medical bills and getting on the phone if there's a stray charge on their credit card.
We might find older workers spending a lot of time now investigating how to protect themselves against financial predators and be feisty and fight back. That's a big part of financial management, is figuring out how to reduce your costs and manage your money.
I also expect that older workers and older people are going to come out of this pandemic amazed about how much tech they know and about even if they're on the computer more, steering away from social media and going to more new sites, they may be shocked to understand that they understand contact tracing and disease management, and they may even know a lot more about our electoral system since we got a deep dive into the way our government works.
This time alone, and this time with a computer may be a time of reflection and learning, and out of that will come a lot more creativity and curiosity about how they can find a new job. I really hope that the federal government does what it needs to do in this kind of recession, and that is to give income relief.
We do know that a lot of programs that older workers are eligible for, or unemployed older workers are eligible for, don't have a lot of take-up so that they really do need to explore the eligibility for home assistance, for rental assistance, from home mortgage relief, from food stamps. There's a lot of people who are eligible for food stamps for the SNAP program that don't get it. They may reach out to a community, an AARP organization, or a community organization to find out what programs they are available for. With experience and age could come a lot of knowledge about how to work the system.
Tanzina: Teresa Ghilarducci is the director of the New School's Schwartz Center for Economic Policy Analysis. Theresa, thanks so much.
Teresa: It was wonderful talking to you, Tanzina. Thank you.
Arlene Jacobs: Hi, this is Arlene Jacobs from Tampa, Florida. I'm 56 years old, and I have definitely hit a wall when it comes to working from home, and things that I normally did before don't work during this COVID time, and I have a very hard time making sales and making appointments when people don't want to meet face-to-face. I've moved to virtual world, but it's much easier for people to disconnect or not attend virtual, and so it's definitely been a challenge. I have looked at trying something else, but I really don't know what else is out there for me, and I don't want to risk doing in-person work.
Karen: My name is Karen, and I'm calling from Maple Grove, Minnesota. I'm 60 years old, and my spouse is 58. The pandemic has greatly affected both of us. I own a small pet care business, and our net income has been reduced by approximately 75% due to clients staying home. I've laid off all my employees, which is four, total. I'm doing all of the work myself, trying to make ends meet. Financially, we can go a few more months. We have some savings, but it's very tough. We certainly [unintelligible 00:19:51] who are worse off than we are.
Copyright © 2020 New York Public Radio. All rights reserved. Visit our website terms of use at www.wnyc.org for further information.
New York Public Radio transcripts are created on a rush deadline, often by contractors. This text may not be in its final form and may be updated or revised in the future. Accuracy and availability may vary. The authoritative record of New York Public Radio's programming is the audio record.