SHElection!: Ohio's 13th Congressional District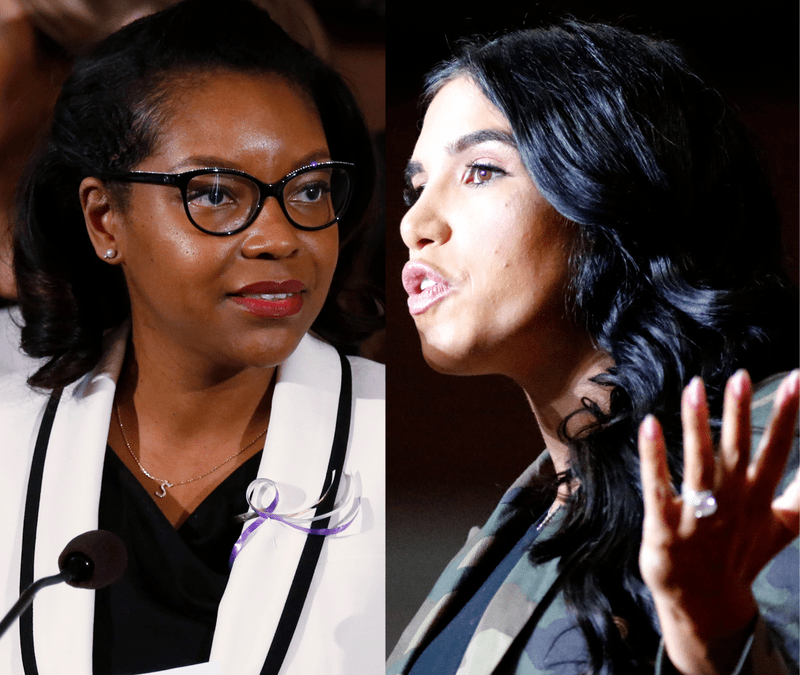 Transcript
[music]
Melissa Harris-Perry: In every presidential contest from 1964 until 2016, the candidate who won Ohio also won the presidency. In 2020, President Joe Biden secured the necessary 270 electoral votes without the backing of the Buckeye State, which left plenty of political watchers asking, is Ohio still an accurate gauge of the national political mood? That remains an animating question for these 2022 midterms, but of course, that's only one reason that so many have taken a keen interest in this year's US Senate contest between Democrat Tim Ryan and Republican JD Vance. With control of the Senate balanced on a razor's edge, every contested seat matters, and Ohio has been-- Just listen.
JD Vance: Are you a racist? Do you hate Mexicans? The media calls us racist for wanting to build Trump's wall.
Tim Ryan: They say you can know a person by their enemies, here comes their [beep] ads.
[music]
JD Vance: I was raised on the street where my grandma taught me that in America, kids can dream big, but we had something then that Ohio kids don't have today. Safety.
Tim Ryan: Some people think that they have to agree with their politicians 100% of the time. I ask these people, are any of you married?
Melissa Harris-Perry: Yes, this race has been wild, but it isn't the only matchup determining the state's political future. Allow me to direct your attention a little further down ballot to the congressional seat left open by Tim Ryan when he decided to run for Senate, Ohio's 13th Congressional District.
Anna Staver: Ohio's 13th congressional district, for the very first time, it's actually going to include all of Akron, which is a major city in Northeast Ohio.
Melissa Harris-Perry: This is Anna Staver. She's a political reporter for USA Today Network's Ohio bureau.
Anna Staver: It's got Akron and it's just an urban-suburban area in Northeast Ohio that's south of Cleveland.
Melissa Harris-Perry: In the Ohio 13, two women are vying for the open seat, which means Ohio 13 is a SHElection! That's what we're calling the 2022 midterm races where all the candidates in the general election are women. Along with our partners at the Center for American Women and Politics, and with support in part from the Ms. Foundation for Women, we're bringing you these stories. The Ohio 13 might be the most competitive congressional SHElection! matchup in the country.
Anna Staver: They're both millennial women. Emilia Sykes is the Democrat. She's 36. The Sykes name is an institutional name in Akron.
Melissa Harris-Perry: Emilia's mother, Barbara Sykes, served on city council and in the Ohio House, her father as a state senator. Indeed, a Sykes has represented some part of Akron, Ohio for more than four decades. Here's Emilia Sykes speaking with NBC affiliate, WKYC.
Emilia Sykes: I'm going into this thinking that the people of Northeast Ohio need a fighter. Someone who is not afraid to stand up to the powerful and well-connected, and who's willing to push against the status quo.
Wendy Smooth: Very much a traditional candidate in the ways in which she's entered into politics.
Melissa Harris-Perry: This is Wendy Smooth. She's a political scientist and a professor of women gender and sexuality studies at the Ohio State University.
Wendy Smooth: I've heard on multiple occasions that she considers herself born into politics. That's a really interesting conversation to have among millennials in terms of being born into politics. She's taken that traditional stairstep approach that we often see for women candidates who will do many sub-national level races before moving on to national politics.
We still see that as a very familiar track for women candidates who somehow aren't taking that same, "I woke up this morning and decided I have important things to say, and I'm running for the presidency," which we definitely saw with the example of Donald Trump. I will say that the Trump presidency has changed the way in which many candidates are thinking about their abilities to enter into political office.
Melissa Harris-Perry: To Professor Smooth's point, the Republican challenger in this face has a far less traditional trajectory to becoming a congressional candidate. Here again is USA Today Network's Anna Staver.
Anna Staver: Madison Gesiotto Gilbert is her Republican challenger. Gilbert is an attorney who worked on the Trump 2020 election campaign. She was Miss Ohio USA in 2014, and she used to have a column about millennial politics called The Millennial Mindset at The Washington Times.
Melissa Harris-Perry: Back in March, Gilbert granted a Women's History Month interview to an adorable fifth grader in the Akron Public Schools named DarShaun.
DarShaun: What adversity have you overcome that has made you the leader that you are today?
Madison Gesiotto Gilbert: I'd say the number one thing that I've had to overcome from when I was very young until now is being told, "No, you can't do that. No, you aren't good enough to do something." This is something that when I was young, I was told as a figure skater. As an older woman, I was told this as an attorney and is going through my political career. The one thing that I've continued to do is continue to work hard and to beat those expectations and make sure that people see that you can accomplish anything that you put your mind to.
Melissa Harris-Perry: When it came to seeking the Republican nomination for Congress, Madison Gilbert refused to take no for an answer, and she got a yes from the most powerful endorser in her party.
Anna Staver: Gilbert got the endorsement early on from Donald Trump that catapulted her through the primary and into the general. She's really taking that approach that we need fresh blood, fresh perspective in Congress, and that as an outsider, she would be the person to deliver.
Melissa Harris-Perry: Anna, is President Trump a benefit or a harm for candidate Gilbert?
Anna Staver: That's a really interesting question because Trump won Ohio both in '16 and '20 by about eight points. He's popular in the state generally, but this particular district is about-- I believe it's 51% registered democrat to 47% registered Republicans, so it's a very toss-up district. I think that negates some of the benefit of President Trump, but at the same time, there are a lot of folks, particularly in the parts of the district that Tim Ryan used to occupy, what we call the union, the blue-collar Democrats that left the party and voted for the former president.
Melissa Harris-Perry: Having held office at the state legislative level, Democrat Emilia Sykes has used the campaign to highlight her legislative record and her experience meeting the concerns of a diverse array of constituents.
Wendy Smooth: Sykes is read as a moderate. We're not talking about the insurgent side of the Democratic Party where you might contrast that for those of your listeners who know Ohio politics with a Morgan Harper who challenged Joyce Beatty some years ago, and then also was an early candidate in the primary who's really bringing that AJC type of approach to pushing the Democratic Party. Emilia Sykes isn't that candidate. Emilia Sykes has been much more, again, of a moderate, but has the type of voting record that aligns very similarly with a Tim Ryan who formally held parts of that district.
Anna Staver: Yes. Some of the things that she's had signed into law are issues surrounding women in particular. She had a bill come to law that allows victims of dating violence to get protective orders. During the pandemic, she really pushed to make sure that Black Ohioans got needed resources, things like healthcare. In Ohio, we actually have real disparities in maternal outcomes and maternal mortality and infant mortality, and she's been really focused on that.
She talks a lot about high-speed internet, which you think might be a rural Ohio problem, but it turns out there's a number of places within cities, particularly lower socioeconomic places within cities where there's no access to high-speed internet. She's really focused on a lot of kitchen table issues, particularly for communities of color.
Melissa Harris-Perry: Republican Madison Gilbert is a public figure with name recognition, but she doesn't have a legislative record, and that just might be valuable as part of a larger strategy of avoidance, a strategy that was on display last week with the Akron Beacon Journal.
Anna Staver: They asked obviously for Q&As with the candidates, and she had questions about if she believed Trump lost the 2020 election. Instead, she wrote a paragraph slamming President Biden and his policy. She never clearly answered where she came down on that. She was asked about January 6th and she talked about the needs to address violence generally. She was asked about abortion and she didn't really say where she came down on things like exemptions for rape and incest, or whether life begins at inception. She's talked generally about supporting those policies, but she's been very careful not to dive into the details on those issues.
Wendy Smooth: I think that's a strategy that's really unique for that particular district. We have a lot of interest in that area of course in terms of blurring the lines between what it means to be a conservative and what it means to be a Trump surrogate or Trump supporter. There's the hope of pulling those who are election deniers with that conversation, as well as those who would take a more moderate Republican stance in terms of thinking about the last election as well as a number of social issues.
I think one of the things that we have to think about is these are two millennial candidates. Both are being cast as the future of their political parties. One of the areas that both of these candidates sit in this space is around women's health and women's health issues. If they are going to appeal to younger voters, that message around women's health, and in particular in a state like Ohio, the issue of abortion is front and center for those young millennial voters.
Melissa Harris-Perry: Success for both of these women may rely as much on the Vance-Ryan Senate smackdown as it does on their own campaign strategies.
Wendy Smooth: Sykes does attach to that Tim Ryan brand, that sensible Democrat, that labor-centric Democrat. She comes across as a very polished politician, which is a little bit different than the shirttails-out approach that Tim Ryan carries. That tells us about the kinds of gender dynamics of elections. She's a much more polished presentation of a candidate, but in her policies, she's much akin to the Tim Ryan brand and is positioning herself as having that benefit of coattail effects of the Ryan space there.
Anna Staver: We're finding a surprising number of DeWine Ryan voters, people who are voting for a Republican governor and a Democratic senator. That shows the appeal that running as this populist economic moderate is having. It is potential that it could be benefiting Sykes more so than actually it may end up benefiting Tim Ryan. If Tim Ryan over-performs Hillary Clinton or Joe Biden here in Ohio by seven points, he's still going to lose, but that enthusiasm could make the difference say in the 13th Congressional District.
[music]
Melissa Harris-Perry: All right, stick with us. We're not done in Ohio yet. We've got more on the Ohio 13 Congressional District she election, a race where one of the candidates--
Wendy Smooth: Has given birth on the campaign trail. I think that's absolutely fantastic when we want to talk about what is possible for women.
Melissa Harris-Perry: Back in a moment. It's The Takeaway. We're continuing our talk about the highly competitive Congressional she election in Ohio's 13th House District with our guests--
Anna Staver: Anna Staver, a political reporter for USA Today's Network, Ohio bureau.
Wendy Smooth: Wendy Smooth. I am a professor of women's gender and sexuality studies at the Ohio State University.
Melissa Harris-Perry: Democrat Emilia Sykes and Republican Madison Gilbert are both young women who are seen as potential future leaders in their parties. Does this similarity neutralize gender as a factor in this race?
Wendy Smooth: I'm always of the belief that gender could never be fully neutralized in campaigns, so I find that question entertaining. Definitely, we have particular versions of womanhood, of appropriate performances of womanhood. I think if we were to do comparisons across these candidates in terms of presentation of the candidates, a very slick, very well-nuanced presentation of femininity is on display with both candidates. The other thing that I'll say that's really interesting about women in politics in this particular race is that Gilbert has given birth on the campaign trail. I think that's absolutely fantastic when we want to talk about what is possible for women candidate.
Melissa Harris-Perry: She wasn't literally on the campaign trail, right? She went to a hospital.
[laughter]
[crosstalk]
Melissa Harris-Perry: Whoa, that is shocking. [laughs]
Wendy Smooth: If we think about five, seven years ago, we would have counseled this candidate or the operatives would have counseled this candidate that her campaign would be untenable if she was pregnant on the campaign trail, if she was due to give birth during the course of the campaign. I really do marvel at what that means in terms of the American public's or Ohio's capacity to understand the capabilities of women and their abilities to do multiple things and to grow their families while they're also seeking political office.
Melissa Harris-Perry: There's a part of me that loves that. There's also a part of me that is like, "Huh, I wonder if in this new Dobbs post-Roe v Wade moment also a way of saying, 'Hey, look, if you're the right woman, if you're a good woman, then you can do it all. Having a child won't be any kind of barrier.'" Of course, that ignores all of the other pieces that make possible that extraordinary capacity to run for office and become a brand new parent.
Wendy Smooth: Oh, absolutely. When I spoke to this notion of these two candidates both speaking very loudly around women's health and women's choices, I think that's very much a component. We know that Gilbert is also a pro-life candidate though has been a bit more slippery in some of the interviews across the campaign cycle. I think that this is truly read as a moment in which choice is very much, as a part of the conversation that's happening in this race with this candidate, with giving birth as a candidate, a kind of, as you said, you can do it all. There's no limitation and having a child is not a limitation. That can hit in various ways in a campaign.
Anna Staver: Gilbert just gave birth to a little baby boy who looks adorable from the photos online.
Melissa Harris-Perry:
Anna Staver: It's interesting it's not too long ago that we had the first sitting US senator give birth while in office. It's not that far back. I can remember a few years ago I used to work out in Oregon. There was a candidate there, she's now the Secretary of State Shemia Fagan. She was pregnant while running. She said people actively discouraged her from running while pregnant and as a mother of two girls who very jokingly used to say, "I hope I don't give birth on the legislative floor-
[chuckling]
Anna Staver: -because we're down there too. I was pregnant through some legislative sessions." Making that work can be challenging, but we never talk about how male lawmakers who have babies and come back to work manage that balance. It's a lot of conversation around how female lawmakers manage that balance. I do think though that it's worth pointing out that Gilbert and her husband, her husband is in the NFL, they are very affluent. They're going to have a lot of resources to help her manage that, which is far more challenging for a lot of working women.
Melissa Harris-Perry: Then just a final question for both of you because this is part of our she election series. Why does it matter for women to run for office?
Anna Staver: Oh, gosh, I can take the question first. I think it's important to have different perspectives at the table. Particularly as we talk about women's issues like abortion, like maternal mortality, I think it's so important to have someone who's carried a baby in those conversations, who's perhaps had a miscarriage in those conversations, who's maybe had an abortion or talked about what that looks like for their family.
I think that diversity of perspective really builds better legislation, in my opinion. I also think it helps us understand each other better, which is the goal of government in a really pollyannaish way, right? It's how a bunch of different people come together and decide how to live together. If you can understand where each other's coming from, then you make better rules for everyone. That's my very last half-full feeling about it.
Wendy Smooth: I love that optimism, Anna. I share-
[laughter]
Wendy Smooth: -so much of those kinds of beliefs that if we elect more women, we would get more things done. Also realizing that women are not a monolith, and so I'm always challenging myself around those questions. One of the things I'll say is that it's also representation matters. Representation is an important component of our democratic political system. People have to feel connected to the decisions that are being made about them. We also have to think about the importance of these she elections on the next generation of political actors.
Melissa Harris-Perry: Professor Wendy Smooth of the Ohio State University and Anna Staver of USA Today Network's Ohio bureau. Thank you both for joining us today.
Wendy Smooth: Thank you for having me.
Anna Staver: Thank you.
[music]
Copyright © 2022 New York Public Radio. All rights reserved. Visit our website terms of use at www.wnyc.org for further information.
New York Public Radio transcripts are created on a rush deadline, often by contractors. This text may not be in its final form and may be updated or revised in the future. Accuracy and availability may vary. The authoritative record of New York Public Radio's programming is the audio record.