Does Objectivity in Journalism Exist?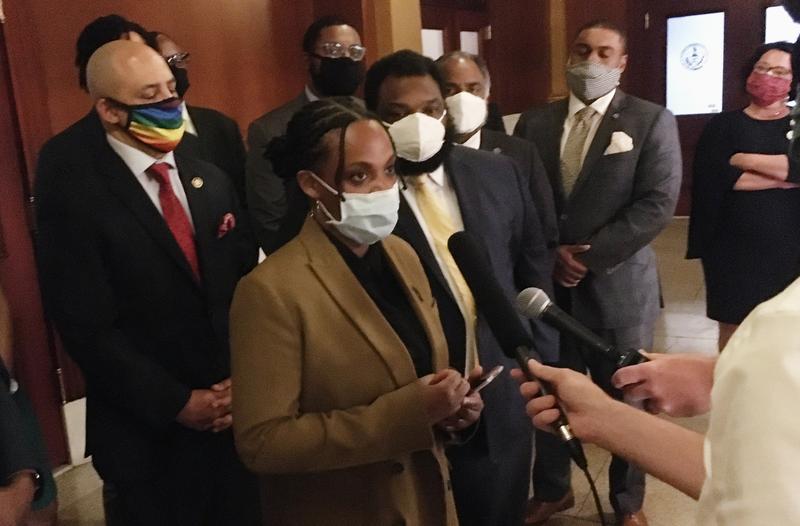 Transcript
[music]
Tanzina Vega: A lot of the breaking news this week came from inside newsrooms around the country.
[music]
Newscaster 1: It is 5:54. I knew this morning the editor in chief of Bon Appétit Magazine has resigned in questions about equality within the company.
Newscaster 2: The opinion editor of the New York Times has just resigned and made an uproar over an op-ed by Republican Senator Tom Cotton, calling for a military force potentially to be used against rioters in US cities.
Newscaster 3: The top editor of the Philadelphia Inquirer is resigning days after the newspaper published a very controversial headline. Stan Wischnowski apologized for the "buildings matter, too" banner.
Tanzina: Top editors at a number of major outlets stepped down this week after Black journalists and other journalists of color spoke out about the editorial processes and systemic racism many say they've experienced at work. Last Thursday, a group of journalists of color at the Philadelphia Inquirer are called in sick to express their anger over the papers repeated failures to listen to their concerns. In an open letter to the Enquirer's leadership, staff members wrote, "We're tired of seeing our words and photos twisted to fit a narrative that does not reflect our reality, and we're tired of being told to show both sides of issues there are no two sides of."
Meanwhile, other organizations have started taking clear stands when it comes to today's racial justice uprising. On Saturday, the owner of the Los Angeles Times referenced Black Lives Matter in a letter to readers and the Washington DC outlet Axios announced it would allow its reporters to join protests. Reporters of color have long disputed the notion of objectivity in journalism, arguing that the premise only reinforces a white majority point of view that has always dominated the industry. This week, we saw signs that the people in power may finally be starting to listen. I'm Tanzina Vega, and This is The Takeaway. I have three people now with me to discuss all of this. Doris Truong is the director of training and diversity at the Poynter Institute. Doris, hi.
Doris Truong: Hello. Thanks for having me.
Tanzina: Rochelle Riley is the director of arts and culture for the city of Detroit and a former columnist for the Detroit Free Press. Rochelle, thanks for joining us.
Rochelle Riley: Thank you.
Tanzina: Maya King is a 2020 reporting fellow at POLITICO. Maya, welcome back to the show.
Maya King: Hi, thanks for having me.
Tanzina: Maya let's start with you. We're seeing a lot of journalists, particularly Black journalists, speaking out publicly against the current and former employers, including the New York Times. Tell us a little bit about this moment because we know that these are not new issues, but are we seeing change now because Black journalists are saying they've had enough and they're willing to take action?
Maya: I think we are, Tanzina. What I'm seeing more is that this is really a referendum on what objectivity it is, which we can now agree it's a myth. In all of the reporting decisions that Black reporters make from which voices that we elevate, the order of the paragraphs that we write, the way that we even decide to attack a story and really report things out. These are all subjective decisions that we make, but when we start to have the conversation around what objectivity is, the definition is often very unfair to Black journalists, especially when we're talking about our very real lived experiences that can sometimes be uncomfortable to really discuss in predominantly white spaces, which newsrooms more often than not really tend to be.
What we're seeing now are private conversations about pay parity and unfair hiring practices, or even the way that we are edited that might be incorrect. According to what we've actually seen and heard about these stories is now coming to the fore. It's really a reckoning now, and it's forcing a number of white newsroom leaders to really listen and understand and make changes.
Tanzina: I want to drill down on that point because forcing white newsroom leaders to listen, and I can speak from my own experience as well, is not an easy thing to do. Now, we are starting to see some action taken. Doris, I'd love your thoughts here because we saw the resignation of top editors at the New York Times like James Bennett, who was essentially in line to run the paper, and Stan Wischnewski at the Philadelphia Inquirer stepped down. Is that real accountability, Doris?
Doris: I think that what we need to see beyond these resignations is the people who were coming in after them, their replacements. What are they going to do to actually enforce change? Because we see these bold actions but they don't necessarily mean that the person who's coming in afterward is going to bring in the positive change that journalists of color and our allies are hoping to see.
Tanzina: Rochelle, we mentioned at the very top that there was the LA Times, for example, issued in editorial citing, quoting Black Lives Matter and saying, "We could not be bystanders and enablers in a crisis. We must all work toward a peaceful solution so that all Americans can be truly equal under the law." That sounds great, Rochelle, but what does that really mean? What is it that newsrooms that are now citing Black Lives Matter trying to achieve here?
Rochelle: Well, it means absolutely nothing unless the leadership that wrote it begins to start hewing to that claim. I think what you're seeing is that George Floyd, in his death, has ripped the veil away from all of these false constructs that journalists have had to live by for decades and decades. There has never been objectivity in journalism. What there's been is that false construct that made reporters, particularly Black reporters, hew to a certain narrative.
Now, there's more truth-telling, and there's a greater sense that some of the things that were acceptable in the past are no longer tolerated, but as Doris said, if you don't have new people to come in and change their traditional way of doing things, what you have is new people coming in and doing things the same way they've always been done.
Tanzina: One of the other things that we saw at the very top was that the news organization, Axios, which is all about political news, recently announced that they would allow their reporters to participate in Black Lives Matter protests. Maya, your thoughts on that because I think a lot of newsrooms right now are trying to figure out what they consider to be human rights efforts that reporters are allowed to show participation in versus political efforts, which traditionally we've never been allowed to do. What do you think that means? Is it significant in your eyes?
Maya: I do believe it was significant. I believe it's a recognition of journalists who are also private citizens. It's a thin line to walk, but we're living in a moment that's more than just a political conversation. I think now we've entered a moral conversation and what our duty is now, just as citizens in this country, to speak up. A number, especially of Black journalists, have been disproportionately impacted by all that we're seeing, the coronavirus disproportionately impacts African Americans.
Obviously, we've witnessed on video and in the news several now African Americans who have been killed by police or by neighborhood watchmen and things like that. These are really emotional and really important issues and topics. It's unfortunate that our newsrooms are not diverse enough to really be able to report on this fully. I think the decision that Axios made would probably encourage a number of reporters to say, "Look, this is actually a really important issue, and while I might not be covering it or living it, I'd like to take part and even learn exactly what's happening with my colleagues and with my fellow citizens."
It was an important step forward and it's a really important level of transparency for Axios to come out and say that. It applies pressure to a number of other newsrooms to make sweeping decisions like this and say, "Look, no, we support our reporters and we support those who have decided to make this decision and actually learn and take part in what's happening right outside their door."
Tanzina: Doris, this has come up a lot right now, the notion of objectivity. I often think about Christiane Amanpour who has said a couple of times that she is truthful, she's not neutral. You have actually worked with PBS in terms of how they framed this issue of objectivity. Where does it stand at this point?
Doris: Yes, I was brought in as a third-party journalist in 2017 and 2018 to work with the committee that was revising PBS's editorial standards and practices. We actually did not have a protracted discussion about replacing the term objectivity in those standards with a fully-fleshed out definitions of what fairness and accuracy are, which are things that we encourage PBS's journalists to strive for. I think that that's really the heart of it because objectivity, in and of itself, is a very subjective thing.
Tanzina: Rochelle, we're seeing, in addition to folks stepping down and people allowing for more conversation at least about Black Lives Matter, there's also a conversation about the use of social media and how much journalists shouldn't. This has been happening since Twitter started. At least for a decade, I recall meetings at the New York Times where journalists were being told what to do and what not to do. In this moment, how should news organizations deal [unintelligible 00:10:29] of race and hashtags like Black Lives Matter and being able to speak out about things, in general, for social media?
Rochelle: Well, I can tell you that what they can't do is what Axios did. I think that things are a little different now with social media and the immediacy of being able to speak, but it is so important for journalism to get its game back and to build trust again. You cannot report and talk to people about what they're yelling about if you're yelling at the top of your lungs. I thought that was a really grave mistake and a step back.
I think when you're talking about social media, where you're sharing the feelings of people, you're retweeting something that someone has said, that makes some sense, but if you're someone, for instance, who's covering a police department and you tweet that a police department is racist, that does not give you the room that you need to then talk about why there's racism, does it involve every police officer, and talking to people about what needs to be done.
We have got to make sure we maintain that line between the profession and the honor that has always been associated with journalism, and the free will of saying whatever you want and putting everything out whenever you want. There's got to be some sense of following some of those guidelines and forums that kept our ethics clean, that made people understand that we were somebody who was bringing them views, instead of being the news. I don't think reporters can be the news and to do their jobs.
Tanzina: Do you think that that's something that's generational, or is it something that you're seeing just apply to folks who are using social media in different ways because, at this point, we're about 10 years into Twitter. Is it something that's generational among younger folks, perhaps?
Rochelle: I'm mum to always blame young folks in a big vacuum in a big group, but I can tell you, as someone who has been on Twitter from the beginning, I have seen a shift from what it became in the beginning to now it being the actual billboard, where everybody use this to throw their stuff at it. If you're going to be someone who's on Twitter, who's bringing the reputation of your craft and whoever you work for to the fore, you've got to make sure that people know the difference between you and between some guy who's sitting in his basement in Milwaukee just saying anything.
There's a difference in what Yamiche Alcindor tweets. She's always fair and always balanced, but sometimes, makes very clear that something has been said that is silly and somebody who literally calls someone silly. You cannot call Donald Trump names and call him president and be able to report on him clearly. We have got to make sure we uphold the standards that have always made journalism different from social commentary that is done by anyone. There's a certain training, there's a certain workmanship that goes into being a journalist. Again, you can't tell the story if you are the story. I would just suggest that people can make sure they capture that passion and caption what people are saying without necessarily being too involved.
Tanzina: Doris, I want to ask you, you moderated a conversation this week with the National Association of Hispanic journalists, including a number of prominent journalists of color, about how journalists of color could talk about these issues in their newsroom without getting fired, which is what a lot of folks I think are afraid of, whether they're blasting this on social media or talking about it behind the scenes. Do you have some top-line takeaways from that conversation about how to have these conversations that are real but also to Rochelle's point, not making yourself the story, which I think is hard for a lot of folks?
Doris: I think what we're seeing is that there's a lot of power in collective action. As we referenced at the top of this program, many staffers of the Philadelphia Inquirer shared their pain and that the "buildings matter, too" headline was offensive to them but also emblematic of decades of journalists of color feeling like they're doing more work. One of the issues with journalists of color is that it feels as though, for many of us, we're having to constantly apologize for what we're doing, for bringing our whole selves to the work.
We're being held to a standard that our white colleagues aren't necessarily being held to and many of those white colleagues are in positions of power authority over us. It should not be our job to make sure that they feel good about what they're doing. They really need to interrogate what perspectives are missing in their own lives and how that might influence what ends up being shown or published for the audience.
Tanzina: I just want to expand on that a little bit before I get to Maya for another question here, Doris, is that when journalists of color do that, they, particularly if they're women of color, often can be seen as agitators or as people who are "difficult in the newsroom" and they can hurt themselves by looking for future work.
Doris: I would just say that this is a moment in which people who want to do that agitating should know that you're not alone. Even if you don't think that you have that support within your newsroom, there are lots of resources, including journalism associations, that were built for journalists of color to help you figure out how to navigate these conversations and to give you models where people have been more successful in inclusion and diversity.
Tanzina: Maya, we're talking right now about people in newsrooms but there are, of course, lots of folks who were talking on Twitter yesterday and prior to this about the fact that they couldn't deal with the "microaggressions" and really the racism that, many of them say they experienced, forced them to leave the industry altogether. What do you think the industry needs to do to rethink how it retains, doesn't just hire but how it retains and promotes talent of color?
Maya: Yes, it really is a shame that we've lost so much good talent to just newsroom environments and the fact that journalism remains a very white industry that can be very difficult to break into and stay in. One of the really important steps that we have to take is making sure that we have representation of people of color that's Black, Latino, Asian, Native American, people in senior-level positions in these newsrooms.
It's really, really important that those who are making editorial decisions reflects the makeup of this country, and not only putting them in those positions but giving them the tools that they need to actually be successful. It's one thing to put a Black woman in a position of editor in chief or a managing editor at any major publication, but if you haven't given her the support, if you haven't given her the training and the skill sets, what now are you looking at here, and making sure that anybody who is in these positions, actually understands, really what it means to diversify newsrooms and diversify coverage, who's able to really hold those tough conversations and make sure that they're including everyone in the newsroom in these conversations.
I think when we when the coronavirus really hit, American newsrooms responded immediately. We were able to completely go offline. A lot of people changed beats. I don't think the transition was seamless but it was very quick and very sophisticated. Now, we find ourselves in another crisis and it's time for us to do the same thing and have different conversations. It's a tougher reckoning, but it's a necessary one.
Tanzina: Rochelle, we've got a minute left in the segment, would love to end on your thoughts about how journalists of color who do get these positions can actually achieve the institutional support that Maya was referencing there.
Rochelle: Well, Maya is right. It doesn't matter if you hire someone if you don't listen to them and you cannot get away with saying you can't find someone because if you can't find them, you train them, and if you can't train them, then, you don't need to be in the job. I think the first thing we have to do is recognize that almost every newsroom can be better, and if you do want to cover your community, you have to have the firepower and the people in that newsroom who can do it.
Tanzina: Rochelle Riley is the director of arts and culture for the city of Detroit and the author of The Burden: African Americans and the Enduring Impact of Slavery. Maya King is a 2020 reporting fellow at POLITICO and Doris Truong is the director of training and diversity at the Poynter Institute. Thanks to the three of you for a fantastic conversation.
Copyright © 2020 New York Public Radio. All rights reserved. Visit our website terms of use at www.wnyc.org for further information.
New York Public Radio transcripts are created on a rush deadline, often by contractors. This text may not be in its final form and may be updated or revised in the future. Accuracy and availability may vary. The authoritative record of New York Public Radio's programming is the audio record.