Mayor and Governor Infighting: Coronavirus Response in New York Amid Rising Cases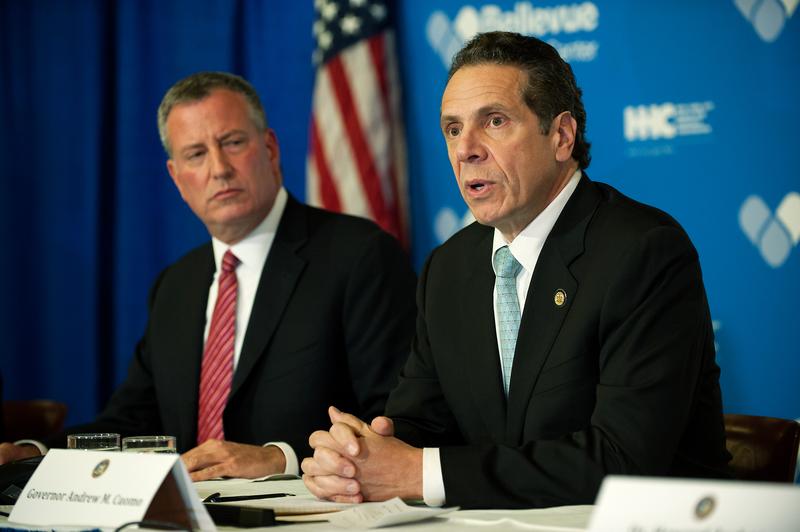 Transcript
[music]
Brigid: It's The Takeaway. I'm Brigid Bergin from WNYC, sitting in for Tanzina Vega today. Great to have you with us. We start today here in New York City. Seven months ago, it was the nation's epicenter of the coronavirus pandemic, In response, officials closed all non-essential businesses. The city essentially shuttered against COVID-19. As the city grappled with the spread of the disease, it's top leaders, New York City Mayor, Bill de Blasio, and New York Governor Andrew Cuomo, were rarely in lockstep about how to protect New Yorkers.
Mayor de Blasio: The New York City public schools will remain closed for the remainder of this school year.
Gov. Cuomo: There has been no decision. That's the mayor's opinion.
Mayor de Blasio: What we've often seen is if someone disagrees with an openly, some revenge or vendetta follows.
Gov. Cuomo: The NYPD and the mayor did not do their job last night.
Brigid: Eventually the closures worked. Cases went down. The curve was flattened by summer. Now the picture is changing. Coronavirus cases are ticking back up in New York City. In response, Cuomo on Tuesday announced zoned closures and restrictions and virus hotspots in the state, most of which are in New York City.
Gov. Cuomo: Testing for schools in the yellow zone starts next week. I am more and more concerned about schools the more experience we have.
Brigid: But like déjà vu from the spring, he and the mayor had mixed messages about the way ahead, leaving politicians, the media, and the public demanding answers.
Mayor de Blasio: We are prepared to implement as soon as tomorrow morning in those nine zip codes once we have the sign off from the state.
Brigid: While New York City has its own particular brand of political infighting, tension between mayors and governors across the country, and between governors and the federal government has been one of the defining features of this pandemic.
Today, we zoom in on New York City for look at how the early epicenter of the pandemic is fairing today as cases increase. How leaders are reacting and how tensions echo those we've seen among leaders across the country in the response to COVID-19. I've got two people here to help me with that. Josefa Velasquez, senior reporter for The City, a non-profit covering New York City. Great to have you here, Josefa.
Josefa: Thank you for having me.
Brigid: Joseph Sexton is a senior editor at ProPublica and former metropolitan editor at The New York Times. Joseph, thanks for being here.
Joseph: Happy to be here.
Brigid: Josefa, let's jump right in with the latest news about schools and business closures here in New York City. What have we heard from both the governor and the mayor?
Josefa: Earlier this week, the mayor proposed to close schools and non-essential businesses in nine zip codes in New York City, where there have been mounting cases of COVID spreading within the community.
Naturally, within a matter of days, Governor Andrew Cuomo has come out with his own plan that is slightly more confusing. There are three color-coded zones, red being the most intense where schools will be shut down. Non-essential businesses will close. These maps that the governor has displayed all throughout Brooklyn and places in Queens show hot zones. It almost looks like a target or a bullseye on where there are increased cases of COVID.
The thing that we're all trying to figure out now is what happens to some of these businesses that are in the crosshairs of the intersection of two zones. What happens to parents really, who might have one child that goes into school in a red zone and another child that goes to school in let's say a yellow zone, because it's just that confusing.
Brigid: Josefa, we'll get into some of the details of the plan, but just pulling back, this feels like a big change from where we were just a few weeks ago here in New York. Do you have a sense of how communities and businesses are responding to the uptick in new cases and the prospect of these new restrictions?
Josefa: Yes, it seems that everyone is still in shock because everything is happening so quickly. It really feels like we're back in mid-March and in the early days of the pandemic where you have the mayor and the governor pointing fingers at each other and really causing mass confusion. There are a lot of businesses that have been struggling for the last few months because of the pandemic, who are now trying to get some stable footing and continue on with life, who are now being told, "Okay, you have to shut down now." We're talking about gyms, salons, and things of that nature. It's really confusing for business owners who have dealt with a lot in these last few months.
Brigid: When I am not sitting in the seat, I cover New York politics, and this inability of Governor Cuomo and Mayor De Blasio to get on the same page is not exactly unique to this moment, Josefa. How would you describe their hold-up throughout this crisis though?
Josefa: It's been childish and contentious and I think that's probably the most kind I can be about that. This feud between them goes back to the better part of a decade at this point. It started out back in 2015, when the mayor wanted to come up with his proposal for 3K, it has gotten petty enough to include what happens to a deer that got loose in Harlem.
Now with the pandemic, it started in mid-March when mayor De Blasio wanted to do a shelter in place order, similar to what was going on in California. Governor Cuomo said, "No, no, no. You can't do that without my express permission." Ultimately, Governor Cuomo did do a shelter and placed quarantine order for the state a few days later and recent analysis by the New York Times said that that stalemate and that hold out could have spared a bunch of people's lives and could have actually increased the likelihood of COVID spreading among the community.
Brigid: Joseph, you have gone deep on both how these leaders have handled the crisis since the beginning. Bring us back to earlier this year, how did Cuomo and De Blasio address the pandemic in the beginning and where were they at odds?
Joseph: Neither man has covered themselves in glory in this. While it may be painful for them or their supporters to hear it, there are folks who would, I think, credibly draw parallels between the two men's performance and that of the President. If you go back and look at Governor Cuomo's handling and public statements around the crisis in February and March, which really was the decisive moment in this for New York.
He downplayed the size of the risk. He seemed to be dismissive of some of the experts. He put in an enormous reliance on the idea of testing as the panacea for how you should attack the thing. For many people, it boarded on the smug and the arrogant. He said in early March, "This is not our first rodeo," suggesting they had great experience in responding to infectious disease pandemics, whether that have been their experience with Ebola or H1N1, but they were dismissive of the alarms being rung by the experts and the epidemiologists and they paid an enormous price for it.
Brigid: You've compared the situation in New York City to how San Francisco's Mayor London Breed and California's Governor Gavin Newsom addressed the crisis in the early spring. How did that differ to what we saw in New York?
Joseph: One of the striking things about what Josefa has, I think, properly characterized as a juvenile feud between Governor Cuomo and Mayor de Blasio, is in many ways they're similar creatures. They're both of the same age. They're both fancy themselves to be progressive Democrats. They both cut their political teeth in working for the Clintons, whether it was Bill Clinton or Hillary Clinton. They also, unfortunate, I think, to many, share the quality of believing that they are the smartest person.
When confronted with an unprecedented and novel health crisis, they allowed that silly petulant relationship to dominate. Communication was lacking. The city had to watch the governor's nuances in order to figure out what he was actually planning to do. One of the more remarkable findings of our reporting, the governor actually ordered his own health department to not communicate with the New York City Health Department during the absolutely critical days in February and March of the crisis and astounding fact-
Brigid: Chilling really.
Joseph: Right. Again, not to overplay the parallel, but unlike President's demonstrated dismissiveness of the experts and the CDC-- I mean, the New York City Health Department is one of the, I think, undisputed, great jewels in the world of public health, and it was sidelined by both Cuomo and the mayor. It was no surprise that the city's Health Commissioner ultimately resigned.
Brigid: Josefa, as Joseph is pointing out, we have seen no real federal leadership to the states in terms of responding to this crisis. What have state leaders been left to do elsewhere? It seems like there's a bigger story here about the continued need for states and local governments to really just feel their way through the dark, and obviously, in this case, butting heads in the process.
Josefa: Right, and particularly to blue states, given that the federal administration is controlled by Republicans, you are having a lot of blue states that saw early surges in COVID cases fend for themselves. It turns out that New York and other states have been reliant on private institutions and just their own political will to get PPE. That means masks, gloves, and much coveted N95 masks, ventilators, things like that, and really left in the dark in terms of what comes next. Now we're seeing red states and more so purple states having an increase in the number of cases.
The federal government you would think would step in, but as Donald Trump proclaimed on Twitter yesterday, he's walked away from stimulus talks, leaving everyone in the lurch for what comes next and the possibility of any federal assistance, whether that's another stimulus check for people who have been out of work, or whether that is more money for hospitals and healthcare is left with a giant question mark and a TBD.
Brigid: Those closures that we talked about at the start, we'll begin shutting down schools and some businesses in new portions of the city as soon as today through the end of the week. For you both, Josefa, what do we expect to come in the future as we continue down the path of this crisis?
Josefa: In these zones, the state is supposed to reassess after 14 days. Then two weeks from now, it's unclear whether the zones will grow and expand and bleed into other areas, but I think the only thing that we can expect in the next, coming days is just mass chaos. Anyone who's seen these maps and starts zooming in on them realizes that one of these red zones intersects through half of a block.
What happens if you're a business owner who works on one side of the block and you're closed, but a restaurant across the street is open? What happens if you're in a school that is in the red side of the block, and then there's another school in the orange side of the block or yellow side of the block, it's just confusing.
Joseph: Look, this virus has defeated every exercise and optimism from the get-go. People have long predicted that New York would experience a second wave or a second surge. I don't see any reason to disbelieve that that will happen or that it's already underway. I would expect things to get more challenging, more complicated. The great hope is they don't necessarily have to become as deadly as they were in March and April.
Brigid: Josefa Velasquez is the senior reporter for The City, a non-profit newsroom covering New York City. Joseph Sexton is a senior editor at ProPublica and former Metropolitan editor at The New York Times, Joseph and Josefa, thanks for joining us.
Joseph: Thanks for having us.
Copyright © 2020 New York Public Radio. All rights reserved. Visit our website terms of use at www.wnyc.org for further information.
New York Public Radio transcripts are created on a rush deadline, often by contractors. This text may not be in its final form and may be updated or revised in the future. Accuracy and availability may vary. The authoritative record of New York Public Radio's programming is the audio record.