No, the COVID-19 Vaccines Do Not Affect Fertility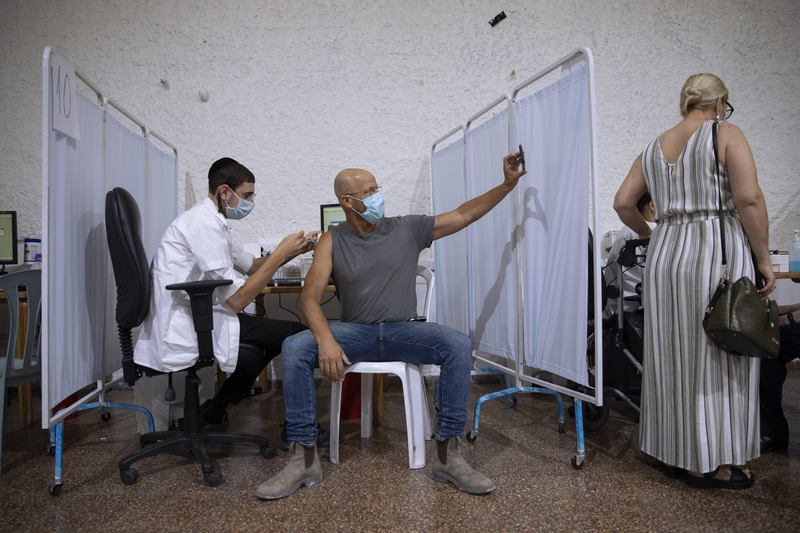 Transcript
[music]
Melissa Harris-Perry: Welcome to The Takeaway. I'm Melissa Harris-Perry. I'm in here crooning to The Ronettes and thinking about my kiddos. I had my first daughter when I was 28. It was easy. From conception through full-term delivery unassisted by pain medication. I basically felt like a pregnancy superhero. Then came a decade of fibroids, anemia, aging, and surgery. When my second daughter was born, I was 40, and it was not easy. It took two families, three states, four doctors, five attorneys, dozens of shots, and a multitude of tears and prayers to get my second daughter here.
I tell this story because I want you to know just how deeply I understand the fear, agony, and expense of infertility. Anyone who has walked through the shadow of the valley of IVF has encountered dozens of home remedies, myths, lies, and superstitions. Right now, one particularly vicious inaccuracy has taken root in the public consciousness.
Speaker 2: There are people who want to stop others from getting COVID vaccines by lying, putting out misinformation, or distorting known facts. As a result, fertility specialists across the world have been getting questions from women who have heard that COVID vaccines may make them permanently sterile.
Speaker 3: My patients are afraid of their fertility, their future pregnancy, their children.
Speaker 4: One question that has come up is, is it possible that these vaccines could affect my ability to get pregnant? The answer in short is no.
Melissa: To be clear, there is zero science to support this claim.
Speaker 5: Zip zilch, zero.
Melissa: In fact, the CDC clearly recommends that pregnant women should be vaccinated in order to protect both themselves and their pregnancies from the coronavirus. Yet, despite public health officials using multi-layered public information campaigns to spread the truth about the safety of COVID vaccines, the vicious inaccuracy linking the vaccines to infertility has proven difficult to shake. Why is this false claim so intractable? What can we do to combat misinformation like this? To answer those questions and more, we're joined now by Anna North, senior correspondent at Vox. Anna, always great to have you with us.
Anna North: Hi, thanks so much for having me.
Melissa: Let's just start. What is the source of this infertility myth?
Anna: I think there have been a few things that have combined to form this strand of misinformation. One thing is that we've seen reports that when people go and get the vaccine, that it might affect their menstrual cycle a little bit. Now, this isn't necessarily surprising. Scientists say that the menstrual cycle is linked to the immune system and since the vaccine acts on the immune system, it's not strange if for example, maybe someone experiences a heavier period one month or maybe they're a tiny bit early or late. To be clear, this doesn't impact fertility, and it doesn't mean you are infertile when you get the vaccine by any stretch of the imagination.
However, I think that this effect on the menstrual cycle has fed into misinformation. People have said, "Well, if the vaccine can affect my period then perhaps it affects my fertility." It's even linked in with this idea of "vaccine shedding", which is another strand of misinformation that the COVID-19 vaccines, they don't actually include any virus. There's nothing to shed, COVID vaccines do not shed. The only way that your vaccine can affect someone else is by making you less likely to infect them with COVID. I think this meme has developed that if you get the vaccine, you can shed pieces of it to other people that could even affect their periods, their menstrual cycles, that could affect their fertility.
This has been amplified by a number of prominent people and so this is how misinformation starts to spread.
Melissa: That's actually helpful. It feels to me like that helps to understand in part why it might be a stickier myth, one that is maybe even more pervasive than say the 5G link that, if people are experiencing something physiological that they might think would be related to it, then I could see how that would feed that misinformation.
Anna: Absolutely. It's not surprising that people might have concerns. It can be surprising when your menstrual cycle is different particularly if you're trying to conceive, so I really understand some of the worries and some of the very primal fears that this comes from. At the same time, it's important for us to acknowledge that as you've said, there's no evidence whatsoever that the vaccines impact fertility in any way.
Melissa: You talked about the amplification of this myth. Maybe it's rooted in some experiences, but those experiences are actually not necessarily what people think they are. Having a heavier flow doesn't mean that you're infertile. Who are or where are some of these high-profile amplifiers?
Anna: NPR actually did a great investigation of this and traced some of this back to a tweet from Naomi Wolf in April. She's a writer of the prominent book, The Beauty Myth, but now someone who's known for anti-vaccine sentiments. She tweeted this link in April to a Facebook group that had some anti-vaccine activists in it. She wrote that, "Hundreds of women on this page say that they are having bleeding/clotting after vaccination, or that they bleed oddly AROUND vaccinated women. Unconfirmed, needs more investigation, but lots of reports."
There's this way that she backs away from it and says, "Maybe this isn't true. At the same time, here's all this stuff, go and look at it." That tweet was very popular. Others started to pick it up. This idea came that all these people are experiencing this problem. Maybe it's a big problem, maybe it isn't, let's look at this, let's maybe worry about it without a lot of science behind it or any kind of evidence.
Melissa: There's not a lot of science, but it strikes me that there is a lot of history, which is to say again, when I think about a myth that might stick, it might stick with people who I don't typically think of as anti-vaxxers or anti-science or something. Thinking that there are powerful sources trying to affect fertility, boy, that one has a little history here in the US.
Anna: Absolutely. There's lots of reasons why this would, unfortunately, really resonate with people. From forced sterilization of Black women to just discrimination that women of all races have faced in healthcare settings. I think there's all these reasons we've seen throughout this pandemic, that people have to be skeptical of the medical system. Unfortunately, a lot of those have combined into anti-vaccine sentiment recently, and you really can't understand where it comes from, even if there's not actually scientific evidence to back in this case.
Melissa: Again, if we think about the sterilization of people with disabilities, sterilization of Black women, sterilization sometimes of Indigenous women, but in this case, we are talking about something very different. Can you help us a little bit with the science here acknowledging that that history is absolutely real and present, you can understand people's fears? Why should folks trust now that that's not what's happening around fertility?
Anna: I think there's a couple of things to really consider and try to drive home here. One is that at this point, the vaccine has been studied among pregnant people, among people who are breastfeeding, among people who are undergoing IVF, among people who are trying to get pregnant, among people who got the vaccine and then became pregnant. There's, at this point, been millions and millions of people around the world who have taken this vaccine, and there's been no evidence to show that there's any problems with fertility. What's more, experts say there's not really even a mechanism whereby it would impact fertility. They can't really imagine how it would harm people.
Some folks have looked specifically at some of these misinformation claims. In addition to these ideas around the menstrual cycle and vaccine shedding, some people have said that the vaccine could somehow affect a particular protein that occurs in the human placenta. Some immunobiologists at Yale actually looked at this and said, like, "Well, does the vaccine attack this protein? Is this protein similar in any way to the coronavirus spike protein?" The answer is no. I think people, to some degree, have been taking folks' concerns seriously and really looking into them, and finding no link there.
The other thing that every expert I talked to you really emphasized to me is that COVID-19 is a really serious risk. It's a really serious risk to people who are trying to become pregnant, to people who are pregnant, it's especially a risk to pregnant people. If you're trying to do a risk-benefit calculus, there may be some concerns that are floating around but there's this very, very proven risk of the virus and we have this way to protect people from it. It's really crucial to know.
Melissa: In fact, we've seen some high-profile reports in recent weeks of pregnant people who have passed from COVID and sometimes also the unborn children that they were carrying.
Anna: Absolutely. We've had reports too of pregnant people having to deliver early because of their COVID-19 treatment. Again, people who are pregnant are at higher risk of severe and loss, at higher risk of death than the general population. It's especially important folks of reproductive age who are thinking about their fertility, COVID-19 is a real threat.
Melissa: Let's talk a little bit also about reproductive health issues in a broader sense as someone who has certainly gone the entire gamut of the world of reproductive health. There is often a lot of stigma, silence, shame. It's not something we necessarily chat about with our colleagues. If you have a easy pregnancy, then everyone's excited, but all the struggles are things we often don't talk about. Is it also maybe feeding the misinformation?
Anna: I think there are just so many cultural reasons why this misinformation can take hold. One of them exactly, as you say, there's a lot of stigma and a lot of silence around reproductive health issues, especially for women and people who can become pregnant. It's still not always okay to talk about infertility, it's not always okay to talk about things like pelvic pain or painful periods. There's so many things about our bodies that are shrouded in mystery and silence and that really creates an opportunity, I think, for misinformation to take hold because we're not talking about it, we're not sharing the real information.
I think also, it's this area where people feel really disempowered and where they feel their sense of control taken away both by the uncertainties of just infertility itself, the uncertainties of reproductive health but also sometimes, as you mentioned, by discrimination in medical settings. Women of all races, it's been shown, their pain is undertreated and underdiagnosed. Black women's pain, in particular, is underdiagnosed and can lead to maternal mortality and morbidity. Folks are really being turned away from doctors offices in a lot of ways, culturally, and I think that that leads people to turn towards alternative therapies and wellness type approaches, which aren't necessarily all damaging or bad that can be helpful and comforting to people and offer a different way. The problem comes when it's also asking them to reject vaccines and things that we know work. Unfortunately, there have been some links between anti-vaccine rhetoric and these larger ideas of wellness and holistic medicine.
Melissa: All right, 30 seconds speed round. Does the COVID-19 vaccine harm a pregnancy?
Anna: No, it does not.
Melissa: Does the COVID-19 vaccine make it impossible for a person to become pregnant?
Anna: Absolutely not.
Melissa: Is it recommended by the CDC for individuals who want to be pregnant, who are seeking pregnancy, and who are pregnant to get the COVID-19 vaccine?
Anna: It is definitely recommended for all those groups.
Melissa: There you go. Anna North is a senior correspondent at Vox. Anna, thanks for joining us.
Anna: Thanks so much for having me.
[00:12:50] [END OF AUDIO]
Copyright © 2021 New York Public Radio. All rights reserved. Visit our website terms of use at www.wnyc.org for further information.
New York Public Radio transcripts are created on a rush deadline, often by contractors. This text may not be in its final form and may be updated or revised in the future. Accuracy and availability may vary. The authoritative record of New York Public Radio's programming is the audio record.