No Black Congressional Representation in America's Blackest City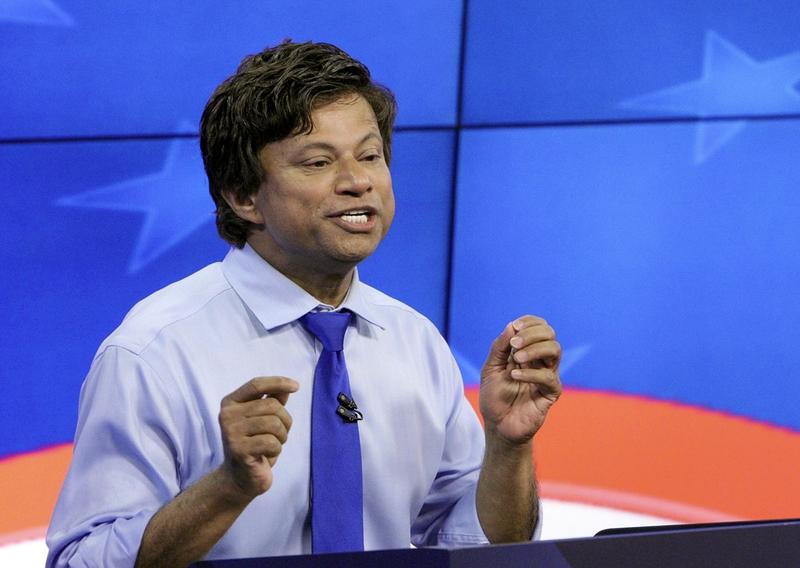 Transcript
[music]
Melissa Harris-Perry: Hey welcome to The Takeaway, I'm Melissa Harris-Perry. It's good to have you with us on this last official day of summer 2022. Detroit, Michigan is the largest city in America with a Black majority population and I mean majority. 77% of residents of Detroit are African American. Since 1955, at least one Black member has represented Detroit in the US Congress, but that descriptive representation will likely end in 2023. The reason comes down to population change, redistricting and a crowded Democratic primary earlier this year.
You see in 2010, as with every 10 year census, new maps were drawn, and under Republican control, Michigan carved up the map to ensure favorable districts for Republicans. While Michigan's 13th and 14th congressional district are both majority Black and democratic districts, and they overwhelmingly elected Black representatives for the decade between 2010 and 2020, all Republicans have 9 of the total 14 seats throughout the state for most of those election cycles. Then, in 2018, Michigan voters went to the polls, and they voted in favor of a state constitutional amendment putting the power of the next redistricting cycle into the hands of an independent citizen council.
That council delivered, the new congressional maps, they got an A rating from the Princeton gerrymandering project, and it ain't easy to get an A at Princeton. This all seems like great news right? An independent council comprised of diverse voices and experts draws fair maps, that should mean fair representation. Michigan, in part because of Detroit's plunging population, well, the state has now one fewer congressional seat after the 2020 census. That left, are you still with me? Let's count them two.
?Speaker: Two.
Melissa Harris-Perry: Two blue congressional districts that include at least parts of Detroit. One of them is represented by a popular incumbent representative Rashida Tlaib, she's likely to be reelected to her seat. That means we're down now to?
?Speaker: One.
Melissa Harris-Perry: One. One open seat race and nine candidates threw their hats into the ring of the Democratic primary for that seat earlier this year. Of those nine candidates, eight were Black, still with me? Two districts, one is up for grabs, nine candidates, eight of them Black, and I bet you can guess what happened. That's right. Those eight candidates, will they split that majority African American vote and what that means is the Democrat who is going into the general election, as the Democratic nominee, won only about 28% of the vote. Shri Thanedar is an Indian American yes, a Democrat, and therefore highly likely to win this seat, but also likely an end to nearly 70 years of Black representation for the city of Detroit.
[music]
Melissa Harris-Perry: Let's talk about what that means. I've got Mario Morrow, political consultant based in Detroit, and CEO of Mario Morrow and Associates. Mario, thanks for being here.
Mario Morrow: Thanks for having me. Good day.
Melissa Harris-Perry: Also with us is Andra Gillespie. Andra is a political scientist at Emory University, who studied race and redistricting. Andra, it's always great to have you with us.
Andra Gillespie: Thanks for having me.
Melissa Harris-Perry: Mario, I want to start with you, what are folks in Detroit saying right now about what it'll mean to lose Black leadership in the Congress?
Mario Morrow: Well, thank you again for having me, Melissa. I think that most folks are devastated that we will not have Black representation possibly in Congress. It is very likely Shri Thanedar, unless he gets struck by lightning or hit by a car or something unfortunate happens to him, he will be elected in November to this seat. You mentioned it very well in your summary, in your introduction, that out of these candidates, eight were African Americans, they beat up on each other. They just didn't step up to the plate as Shri Thanedar did, with $5 million in spending of his own money.
He had already run for office twice before. He actually ran for governor a few years back and won the city of Detroit and he was running against a very popular Gretchen Whitmer at the time so he had name recognition. To answer your question directly people in Detroit are devastated because the vote was split and the leadership was divided, overwhelmingly for this particular seat.
Melissa Harris-Perry: Mario let me just ask you as a political consultant, why didn't y'all have a meeting? Why didn't somebody sit down with those eight candidates and say, "Okay, yes, Congress is one seat, but here are the state legislative seats that are open here, the State Senate seats that are open, how about sister you run for this, brother, you' run for this?" Y'all are not the first city to face a crowded primary, and surely someone knows that this might happen?
Mario Morrow: That's a very good question and the problem was, there were meetings and there were lots of meetings. There were lots of organizations and leadership which had their own organizational structures that had their own candidates. We had nine very popular candidates, of which eight were African American, and everyone felt that they were going to win the seat, and they were the next congressional anointed individual, whether you're male, or female. This was an impossible task to bring everybody to the table. There were a few very organized and structured groups, but everyone wasn't on the same page and Shri Thanedar, he saw this. He just developed a thinking pattern of political maneuvering, that divided and conquered.
Melissa Harris-Perry: Now, Andra, on the one hand, I'm talking about why did y'all have a cookout work this out and Mario points out, "Well in a certain way, Melissa, Black folks and we have multiple interests and concerns and questions." Andra does it even matter, what do we know about descriptive representation? We're not talking about this district now being represented by a Republican or by someone who is not in line politically or ideologically with this community. Does it actually make a difference if there isn't a racial match here?
Andra Gillespie: It may make a difference and so there are numbers of things that we look at in terms of descriptive representation. People do care about the backgrounds of the people who represent them and whether or not they have things in common with them. When legislatures do not reflect the diversity of the community, people often question the legitimacy of those bodies. There are benefits to descriptive representation in terms of descriptive representatives bringing up issues that may not have been brought up before, to the body.
One of the advantages of having a descriptive representative is that sometimes that Representative automatically because of their life experience knows what to do, they have some muscle memory about how to address issues. They don't necessarily need to be lobbied to be convinced that an issue is important. Residents in Detroit, Black residents in particular could, or at least would hope that Brenda Lawrence, the incumbent, would represent those issues without necessarily having to be told what's going on, or who we assume is assumed to be representative Thanedar, he might have to have people explain things to him.
What people are going to have to look to, as he finishes his election cycle, and then assumes office is how responsive is he? Does he have key advisors from the African American community in leadership positions within his staff administration? Is his chief of staff Black? Is his legislative director Black? Where is he putting his district office where the community can come and express their concerns? Is he responsive? It's that type of responsiveness that might overcome the descriptive mismatch in this particular situation. It requires work. It's not that he can't represent like interests, it's just that he's going to have to do a little bit extra work in order to do that, and to make sure that the lines of communication are clear between himself and the residents of his district.
Melissa Harris-Perry: Okay, so on the one hand, Andra, I absolutely get your point here around the ways that descriptive representation is not just like do you have skin like mine or hair like mine? It's really a question of, do you have a set of life experiences like mine that would impact how you would represent me in the legislature, which seems to be a basic aspect of representative democracy. At the same time I look at the late John Conyers, who represented portions of Michigan and Detroit for decades, who was beloved in so many ways, but I also wonder if the length of his service and this is to come to you, Mario, that one of the things that happens with at least some of these predominantly Black what we hink of as congressional black caucus districts is these very, very long serving members potentially don't have to come back and find out much about the district because they just are going to be reelected.
I'm wondering about that tension back and forth between really needing to go out and get those votes and therefore being responsive versus that life experience piece.
Mario Morrow: Absolutely. John Conyers did represent the 13th district very, very, very well. He was, as you indicated, beloved. John Conyers really did not have to campaign for his last 25 years, 30 years in office. [laughs] It was John Conyers. Believe it or not, John Conyers was more respected and appreciated outside Michigan than he was inside of Michigan, outside Detroit than he was inside Detroit because of his legacy.
Andra said something very interesting and she's very right about the Shri Thanedar and what he has to do to prove the constituents and those who really are against him, that he's part of the community and he can represent. That is hiring Black members of his staff and also connecting with the Black leadership but it's something that he did during the campaign that connected with those individuals who typically aren't the most astute voters. Those are those who vote on name recognition, but also connect with individual candidates as they campaign is that his political ads were brilliant.
We have to give him that because he connected with the voters. He had an ad that basically talked about how he grew up poor, had nothing, lived in a car. He's like, I'm with you. I'm like you, I'm just another guy who just happened to become rich and successful. That connected, that resonated. We have one other problem that exists. Voter turnout was extremely low. That means the voters were not motivated to even vote in this election cycle. The candidates are at fault there. They did not motivate the base. They did not bring their people out to support. As you indicated your intro, he won with 28% of the vote. That's amazing. In ending with this part of the conversation, I think that you have those folks who are going to come right back after him in two years, he better watches back because this is not a done deal for a long-term congressional or congressperson Shri Thanedar.
Melissa Harris-Perry: Andra, let me go to that 28% of the vote. Should Michigan be using a different system, like a ranked-choice system, less in order to determine that there will be a Black representative and more to determine that the representative will have gained a majority of the primary vote?
Andra Gillespie: I completely agree. This was something I wanted to make sure that we got a chance to talk about in this interview. The method of voting actually ends up privileging this type of result. Just to bring in an academic article, there was an article from the mid-'90s that looked at what happens in majority Black districts when you have a multiplicity of candidates and who would be more likely to win. One of the things that it predicted was that if you have multiple black candidates running against, in this case a white candidate, but for a non-Black candidate, that a non-Black candidate could easily win by coming up the middle. If the Black split their vote and the other candidate can just pull together a bunch of votes from everybody else in the community, they would be in a position to be able to win by plurality.
This doesn't necessarily work if you have other types of majoritarian system. If you have a runoff system, or if you have rank choice voting, this is an opportunity for people to coordinate. That seems that might actually overcome some of the coordination problems that Mario described.
[music]
Melissa Harris-Perry: Pausing for a moment, we'll be right back here on The Takeaway. We're back and we're still talking about Michigan redistricting and a primary election process that led to an outcome likely to result in having no Black representative from the city of Detroit being elected to the US Congress for the first time, in nearly 70 years. I'm here with Mario Morrow political consultant based in Detroit and CEO of Mario Morrow & Associates, and Andra Gillespie, political scientist at Emory University.
Andra, I had to cut you off for time there, but I want you to continue. You were talking about these alternative voting systems that could help with this coordination problem. The why didn't y'all have a meeting question that I asked.
Andra Gillespie: If you have the meeting and everybody still wants to stay in the race, then the way to settle this is to make sure that whoever wins actually wins with the majority of support. Southern states, one of the reasons why they have these majoritarian systems is because they, as a state, tended to be one party states and still do. It used to be one party Democratic, now it's one party Republican in many instances, and there were fights within the party about, well, does a person who wins a primary with 30% of the vote really have the support of the majority of folks in the jurisdiction? Runoffs are a way to alleviate that.
A more efficient way of doing it so that you get it done on one ballot, as opposed to having to come back for two elections, is to use right choice voting, where people get to list their first or second and their third choice votes. Then they count the votes and count the first, second, third, fourth etc, until one candidate gets the endorsement of at least 50% of the voters. Their name shows up on at least 50% of the ballots that can actually help to overcome the problem of a crowded field. As you were talking about John Conyers, one of the problems is one of the reasons why these fields have been crowded, is even though this is not Conyers' district, is that when you have people representing districts for long periods of time, you have lots of pent up ambition.
This is particularly true in Black districts because many Black members of Congress rightfully predict that they can't win statewide office. Once they hold onto a seat, they stay there until they retire. They don't give up the seat so that they could go run for governor or so that they could go run for the US Senate. What this actually ends up doing is this leads to pent-up demand, which means that when you do have an open seat, you have this big free for all contest.
Melissa Harris-Perry: Andra, you were going exactly where I wanted to go with Mario on this, that on the one hand a long serving powerful representative, like Conyers is good for a district, but also this, I love this language under of the second of pent-up political ambition. I'm wondering if part of what's going on here is this process for redistricting that is meant to be a fairer process, but I wonder if it's also interacting with the question of term limits, and if one of the ways to manage this question of pent-up energy is to limit, not just in this one state, but across the US house of representatives to something like, I don't know, maybe five terms or I don't know, 30 years instead of 50 or something.
Andra Gillespie: There are pros and cons to that. If John Conyers had been forced to get out of office at year 30, he would've never been judiciary chairman. There's a certain level of seniority and institutionalism that hasn't always paid off in terms of leadership, but we do see it in some places, if we look at people like Jim Clyburn, for instance, that that does matter. There's the institutional memory that comes along with having held office for a long period of time. Sometimes that allows more senior members to be able to maneuver within the chamber and use the rules to their advantage in order to advance the agenda of their constituents and of their party.
On the downside, it does keep people in office for long periods of time. The democratic party does have a problem to deal with when its leadership dissolve in their 70s and 80s at this point. It doesn't seem they want to retire and younger people who are energetic and have good ideas, not being in a position to serve in positions where they can actually prove their mettle at this point. I think that there has to be some balance and I think that we have to acknowledge that whatever system we choose, there will be the positive externalities that come from that but there will also be negative externalities, even for some of the reforms that some people are proposing now.
Melissa Harris-Perry: Mario, any chance that there'll be a write-in candidate. With 28% of that primary vote, it does seem now certainly the nominee has deep pockets here, but I'm still wondering if any Black candidate might say, "You know what? There's still room for me to win here on the Democratic side."
Mario Morrow: Well, interesting enough, there was some serious conversation days after the election about the possible write-in candidate, but we ran into the same scenario that we had with the other eight candidates again. Even the top three candidates were deciding if they were going to run as a write-in. None of these folks could come to the table and say, "We're going to support you 100%." In order for that to work, you would have to have all the other candidates or a majority of other candidates and all the leadership saying, "This is our guy. This is our young lady. This is who we're going to support 100% and we're going to write-in." It's not unusual for a write-in candidate to win an election in the City of Detroit. The mayor of Detroit did it his first time out. He beat a very popular sheriff at the time, the late Beny Napoleon as a write-In candidate, and the mayor is white.
It can happen, but it's highly unlikely for this term around. I think the focus point is two years from now. Focus and rally around one individual and take out Shri Thanedar that way. I think it's more strategic and more possible.
Melissa Harris-Perry: Is it time to end, Mario, notion of Black identity-based politics in a city like Detroit? Is that what the story of the selection is that the Black folks just don't all think alike and have this kind of diverse voting and leadership population and that we just shouldn't even be thinking and talking about it in this way.
Mario Morrow: I am so happy you brought that up because I've been preaching this for the last five years because of the diversity, because of the economic demographic changes in Detroit and also in Wayne County and also the state of Michigan, Black folks just don't live in Detroit. The district was changed. The lines were drawn differently, but the part of the district, which is the southern tip of the district that actually pull Shri Thanedar over the top is majority Black district those in a democratic sector. It also had a gross point component where Black folks live in gross point. White folks aren't the only ones that live at gross point. It's a more diverse populace, a more diverse educated voter. I do think we should be moving away from majority districts like Black, all Black districts or majority Black districts, having a Black representation or all white district just having a white representative. I think that we're smarter voters, we're more educated voters. Those that do vote are more astute to issues and who can do the best for me and my pocket and my family than just on a racial basis.
Melissa Harris-Perry: Mario Morrow is political consultant based in Detroit and Andra Gillespie is a political scientist at Emory University, Mario and Andra. Thank you both for joining The Takeaway today.
Andar Gillespie: Thank you.
Mario Morrow: Thank you.
Copyright © 2022 New York Public Radio. All rights reserved. Visit our website terms of use at www.wnyc.org for further information.
New York Public Radio transcripts are created on a rush deadline, often by contractors. This text may not be in its final form and may be updated or revised in the future. Accuracy and availability may vary. The authoritative record of New York Public Radio's programming is the audio record.