NFL Season Forges Ahead Despite Rise in COVID-19 Cases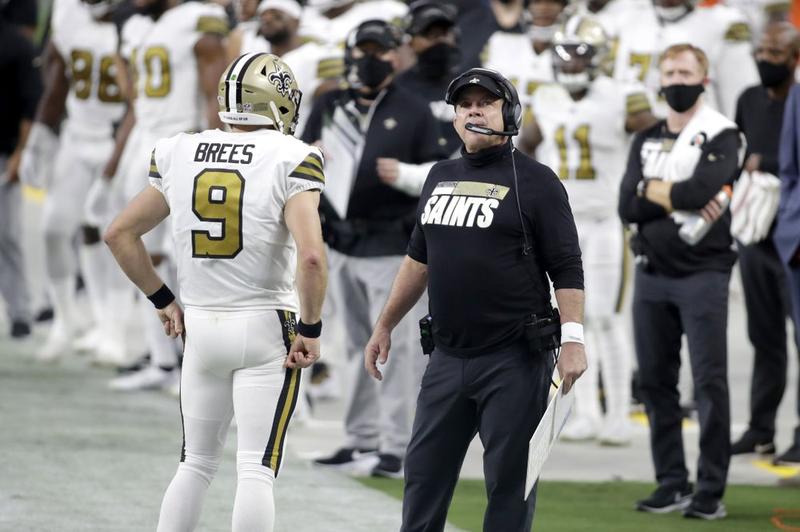 Transcript
Commentator: Hinton, over seven with a pick, there was his first NFL completion and it's no offense and that's good for a first down. I feel like somebody should grab that ball right there and make sure you see that.
Tanzina: During an NFL game, this Sunday, the Denver Broncos started wide receiver, Kendall Hinton at quarterback, but Hinton hadn't played the position since college and that decision was made after Jeff Driskel one of the team's backup quarterback tested positive for COVID-19 just last week. The rest of the Broncos quarterbacks had all been in close contact with Driskel and are now forced to isolate.
Meanwhile, the Baltimore Ravens are dealing with a major outbreak, so far 18 Ravens players have tested positive forcing the team to repeatedly delay a game initially scheduled for last Thursday. While coronavirus cases continued to rise across the country, multiple teams are continuing to allow thousands of fans into the stands for their games. Even as the NFL is forging ahead with the season, it's looking increasingly risky from a public health standpoint. Joining me now is Lindsay Jones, a senior writer for The Athletic covering the NFL Lindsay, thanks for being with us.
Lindsay: Thank you so much for having me.
Tanzina: First of all, there are fans in the stands?
Lindsay: At some NFL stadiums. Some of the NFL stadiums had actually opened up to allow a limited number of fans at some point in the season, whether that was September or October, even into November and now those stadiums have since gone back to having empty stadiums because of local and state orders, but there are some places most notably in Dallas where the Cowboys have allowed about 30,000 fans in their stadium. We were dealing with coronavirus outbreaks around the country within the NFL, but the Cowboys had a third of their stadium full.
Tanzina: How did the Cowboys justify doing that? Because that is a public health risk. Large gatherings have been banned across the country. There are people who are working in these stadiums, what is the risk that the NFL is taking, particularly the Cowboys in doing that?
Lindsay: Yes, it is a significant risk and they are largely relying on whatever the ordinances are in their States and in their counties and in their cities, but the stadiums that are closed, I don't think the owners and team management are doing that out of the goodness of their hearts or out of the concern for public health around the country. They're doing it because whoever it is that's in charge of making these ordinances says you're not allowed to have these large gatherings in your stadiums.
In Texas, there are allowed to have a gathering of up to that size and it's not like they're in massive groups. It doesn't look like a regular stadium that are in these pods. You're supposed to have tickets only with your household, masks are supposed to be worn at all times, but there are significant questions about how closely those are followed if tickets are being sold and what the contact tracing is like if there were to be an outbreak within one of these groups that started at an NFL stadium.
Tanzina: Lindsay, what are the protocols that the teams themselves are taking, if any, to prevent spread? Are they quarantining or are they in a bubble themselves?
Lindsay: The NFL is not operating within a bubble. The NBA and the NHL had their bubbles this summer and those were basically true bubbles where everybody was quarantined before, tested once they got inside. The NFL is not doing this. It was never really on the table. Logistically the idea of doing an NFL bubble, where there's more than 2000 players, the scope, the size of the facilities, all of these things, and the length of time too, it was just never on the table for the NFL. They tried to create the, they called it virtual bubbles, but it was never a bubble.
The NFL has been existing the same way that the rest of us are, where we've been watching, as cases have been searching around the country, cases are coming in from outside of their buildings and so what the NFL's goal is to catch new infections as soon as they happen and not allow them to spread within the team and then certainly not to another team. Largely this process has worked. There was an outbreak within the Tennessee Titans organization, late September, early October, after which the NFL changed some of its protocols, tightened a lot of their protocols, and really focused on this contact tracing that included a mandatory five-day isolation period for anybody who was determined to be a high-risk close contact.
That largely held and the NFL didn't have to postpone any games from about week five until this last week when there was this new outbreak within the Baltimore Ravens organization, which does not just affect players, it's believed that it actually started, at least spread rapidly when there was a coach who failed to follow protocols, not really allowed it to spread within the building and now the Ravens game against the Steelers has been postponed from Thanksgiving to Sunday, to Monday and now to Wednesday night.
Tanzina: Lindsay, the Denver Broncos quarterbacks have been felled by the coronavirus and what do we know about where that stands?
Lindsay: This was one of the wildest situations. I think when we look back, whenever we get on the other side of this pandemic and the NFL can look back on how this season played out in 2020, what happened with the Denver Broncos is going to be one of the most bizarre situations. What happened last week was that all four of the quarterbacks decided to come in on their off day on Tuesday afternoon and get together to watch film. They were together for about two hours in a largish meeting room, and during that time they were eating lunch together.
They were watching film and they were lax about wearing their masks. They were also not wearing their contact tracing devices that players and staff are all required to wear whenever they're inside a team facility. You fast forward 48 hours, one of those quarterbacks test positive, his tests that he took Wednesday came back positive on Thursday morning. They begin the contact tracing process. The other three quarterbacks were not forthright about saying, "Oh yes, we were together. We weren't wearing our masks."
They were initially cleared. It was initially said, okay, they weren't high-risk close contacts. You guys will be able to play. They got a tip. The NFL at the Broncos got a tip that the Broncos, these quarterbacks were probably not exactly forthcoming about how much exposure and contact they had the one who had tested positive. By Saturday afternoon, all of the other quarterbacks were ruled ineligible. This left the Broncos scrambling. They had about 24 hours to kick off with their game against the New Orleans Saints and they had to figure out how they were going to play.
The NFL denied the request to push the game back one or two days, which would have either allowed them one day of practice with a practice squad wide receiver turned quarterback or if they would have-- if it could have been pushed back two days, then their starting quarterback, Drew Lock would have been available. The NFL said, no, we're not moving games because of competitive roster reasons. You guys are going to have to figure this out. Really what happened was a game against the New Orleans Saints, where the Broncos had no chance.
This kid, Kendall Hinton. He was a quarterback at Wake Forest several years ago, converted to wide receiver for the last couple of years of his college career and he was really the only person the Broncos had on their roster who had actually played quarterback in any sense. They called him up. It was his first NFL action and it didn't go great for anybody and the Broncos lost 31 to 3.
Tanzina: The league has also issued fines against multiple teams for violating COVID-19 protocols. Lindsay, how effective have those fines actually been given the outbreaks that we're seeing?
Lindsay: The NFL's not wanting to punish teams. They made it clear from the outset when NFL ownership, NFL executives, and the NFL players association agreed to all of these rules and these accountability measures were fines could be levied against individuals, against teams with escalating penalties that include potentially the loss of draft picks or forfeiting of games. That's not the end goal.
They don't want to punish teams this way, but the reality is that several teams have repeatedly violated protocols and that includes the Las Vegas Raiders who have had multiple breakdowns of COVID protocols from having unauthorized person in their locker room to mask protocols, they have had well over 20 players placed on the COVID reserve list. They had to isolate their entire offensive line for a week. They had to isolate almost their entire defensive starting lineup for a week because of these lapses in the protocols.
The New Orleans Saints have also been fine multiple times individually with their head coach, Sean Payton, and then towards the organization. The fact that you're seeing the same organizations fined multiple times shows that maybe it's not working everywhere, that these penalties are not quite enough to get through if you don't want to buy in, if you're not understanding why the NFL is putting these strict protocols or these mask requirements in place.
Tanzina: What does this mean for the next couple of weeks of play, Lindsay? Both for a public health standpoint, but also the players on the field.
Lindsay: Yes, it's really hard to predict how this last month of the season is going to go because the last 10 days or so have been so full of chaos where, the NFL had gotten back into this rhythm of, there would be positive cases. Those players would be isolated. The other players would be cleared in time to play. We got lulled back into this sense that they were going to finish this on time. This last week has been so crazy that it's really hard to imagine that there aren't going to be continued disruptions, that we're not going to see more situations like we saw this week with the Ravens or with the Broncos where teams are really going to be scrambling.
The NFL is going to be scrambling to figure out how they're going to get all these games played and played on time. What we know through the NFL's words and certainly through their actions over the entire course of this pandemic, really dating back to March where they decided they were going to continue conducting their business as usual on schedule with some modifications, but they weren't going to postpone things, they weren't going to alter their schedule is that they're going to do everything they possibly can to get this 256-game regular season completed in this 17-game framework, which would wrap up right around New Year's.
They do have the option of pushing the regular season back a week, rescheduling games, if necessary into, they call it the week 18 option, which would then delay the start of the post-season but up to now, they've shown that they are extremely reluctant to trigger that option, because if they didn't do it with that Steelers - Ravens game that has now already been moved from Thanksgiving to Wednesday afternoon. It's hard to see another situation where they're going to do that until they have absolutely no other option.
Tanzina: Lindsay Jones is a senior writer for The Athletic covering the NFL. Lindsay, thanks so much.
Lindsay: Thank you so much for having me.
[00:10:47] [END OF AUDIO]
Copyright © 2020 New York Public Radio. All rights reserved. Visit our website terms of use at www.wnyc.org for further information.
New York Public Radio transcripts are created on a rush deadline, often by contractors. This text may not be in its final form and may be updated or revised in the future. Accuracy and availability may vary. The authoritative record of New York Public Radio's programming is the audio record.