New Stimulus Package Could Provide $15 Billion for the Arts Industry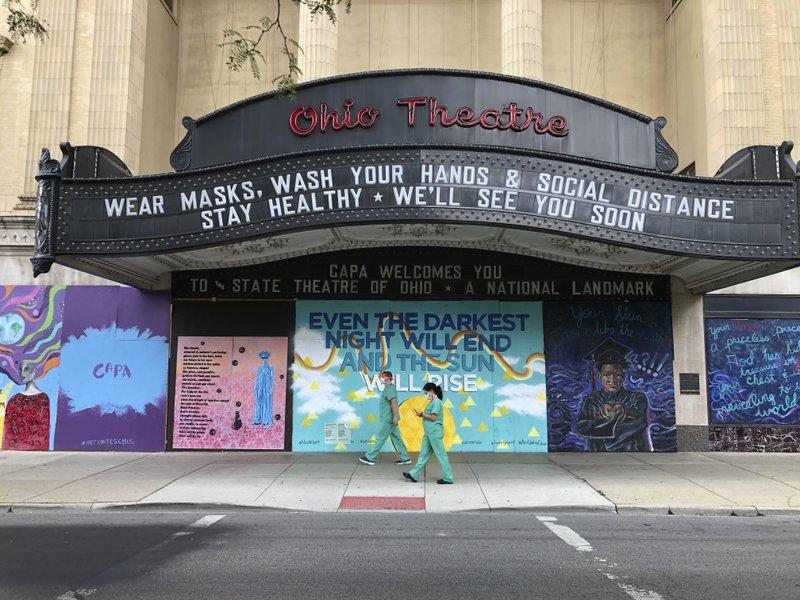 Transcript
[music]
Tanzina Vega: This is The Takeaway, I'm Tanzina Vega and it's great to have you with us. On Tuesday night, President Trump lashed out against the $900 billion congressional stimulus package that passed in both the House and the Senate. The president called for an increase in direct payments to Americans from $600 to $2,000, a request that House Speaker Nancy Pelosi said the Democratic Party supports.
While the current stimulus deal is viewed by both parties as a major compromise, there were some sectors of the economy that do stand to benefit from it, including arts venues and institutions across the country. One section of the proposed stimulus bill, the Save Our Stages Act will make $15 billion available for performing arts funding. Some venues on the brink of closure may be able to hold out a little longer and avoid shutting their doors for good. According to the National Independent Venue Association, the live music industry alone has lost an estimated $33 billion in revenue this year, which means that much more assistance is still needed in order to keep artists afloat nationwide.
Joining me now is Melia Bensussen, the artistic director of Hartford Stage, a regional theater in Hartford, Connecticut. Melia, welcome to the show.
Melia Bensussen: Thank you so much for having me.
Tanzina: Aaron Flagg, a trumpet player, professor at the Juilliard School of Music, and the chair of the League of American Orchestra's Equity, Diversity and Inclusion Committee is back with us. Aaron, welcome to you.
Aaron Flagg: Hey, pleasure to be with you today.
Tanzina: Melia you run the Hartford stage, a regional theater in Hartford, Connecticut. How has the pandemic affected your theater?
Melia: I cannot overstate what this pandemic has done to us. I've been at the helm of this theater for a year-and-a-half and during this pandemic, we have lost 70% of our staff. We've lost more than 60% of our overall revenue this year from last year. It's just been on the verge of catastrophic. I would say if you had spoken to me even a month ago, I would have said, I wasn't sure if Hartford stage was going to survive.
We've been incredibly lucky in our community and our board and we're receiving now quite a bit of support so we are optimistic about moving ahead, but the number of individual lives affected by this, the unemployment of brilliant theater craftspeople, artisans, and artists, all of whom have been let go and have no health insurance on top of everything else. We've been decimated
Tanzina: Melia, we understand that this proposed Save Our Stages Act will make $15 billion of bail available for performing arts funding across the country. Will your Hartford stage benefit from any of that?
Melia: We hope so. We're certainly grateful for the state and federal support and the Save Our Stages Act could very well be a lifeline, but as you mentioned, we don't know if it's completely passed yet at this moment. Also the 5,000 pages it's going to take us a while to figure out what we can access and how. I know that part of the language is about loss and earned and contributed income and so forth so, really the devil's in the details here.
What I would stress is that we're incredibly grateful for government support, but no one should think that your favorite arts and culture organizations are now saved. Individuals, corporations, and foundations will, we hope, take confidence in the public investment. In a way, this should be the beginning of people understanding how in need all your beloved arts organizations are, your small museums, your orchestras, your theaters, your dance companies, everyone's on the verge of really disappearing from the cultural landscape of this country.
Tanzina: Aaron, that's a pretty profound statement from Melia right there. Your thoughts on that. How has the pandemic hit classical musicians and orchestras?
Aaron: My take, I attempt to have a balanced one and no disrespect to the real realities laid upon my colleague but I also see very much the creativity of artists and the resilience of artists to be it, jazz musicians performing in the cities, in the parks, in their driveways, creating concerts, wherever we can, the New York Philharmonic driving throughout the city to share music as many other orchestras are doing and the use of the internet to create other businesses.
There are theater artists doing plays through Zoom, creating new revenue, and in many ways, expanding their audiences. We just did a performance at Juilliard of six of our jazz ensembles that we simply broadcast on Instagram live because space and audiences obviously couldn't be with us. There were over 500 people around the world who were watching that, which more than doubled what we would have had in a hall.
I see opportunity after the pandemic for arts organizations and artists, individual performing artists, teaching artists, storytelling artists who are finding ways to reach their audiences through technology and innovation that will, I believe, become part of the new normal once we've moved through this horrible period of time. In terms of orchestras, jazz ensembles, all types of ensembles, it is a difficult time indeed, but I see many people focused on figuring out, "How can we continue to be what we are to society?" which are the creators, the storytellers. How do we continue to provide opportunities for collective sharing of ideas and creativity?
That is our role, but as it was pointed out by my colleague, Melia, fact that the federal government just has now added in the second round, this Save Our Stages provision also demonstrates the current value proposition and priority that our society places on the arts, and I would also add, in arts education. That should be a wake-up call to all of us in the field to remain vigilant about advocating for the importance of the arts, to our physical and mental wellbeing, as well as to the economic impact that the arts plays in so many cities and locales in this country,
Tanzina: Aaron, to your point, it did strike me that this funding was included in this version of the latest stimulus package. We'll see if that ultimately ends up being passed, but the fact that it was included to both of your points actually does signal a sign that it is important at least at the federal level. I'm wondering Aaron, does, or will this congressional stimulus package mean anything for musicians and orchestras across the country? Will it translate into enough financial support beyond what you described already, which are individual efforts to stay afloat?
Aaron: That's a really great question and as we all know, this particular package is only designed for the next three months. Many of the elements of it the PPP and Save Our Stages really only go up until March 14th. We're talking about three months when we all know that many of our venues are not projecting to really fully reopen till the vaccine is fully implemented across the country. We're talking into the next fall or next winter, so three months is a step, but that simply is not going to be enough.
Unfortunately, the incoming Biden-Harris administration has made the important note that this is just a step, this is not the last steps of need for the field. That's hopeful because March 14th is great and that's really helpful but remember, this support, particularly the PUA and FPUC monies, which are unemployment assistance monies, stopped back in July, and this is simply to restart them through March.
It is a small step and important and much-appreciated step, but as my colleague mentioned it's important for us to continue advocating for the importance of these industries and the need to sustain this through this COVID period,
Tanzina: Melia, Broadway here in New York City, the center of the theater world, at least in this country has been dark since March. I think people expect it to return a lot faster and it still has not. The theaters, The Great White Way is not open for business. Has that had a ripple effect throughout the theater and arts community across the country?
Melia: It has. It's had an enormous effect and I feel terrible. I feel like I'm the voice of doom on this call and I don't mean to be because I completely agree that individual artists are continuing to create, make, sing, and act. We've created more access through online programming, all of us working hard to transform our work that way. As you point out Broadway being dark, the percentage of income that comes to artists and artists support organizations, such as the labor unions, Actors' Equity and SDC, the Society for Directors and Choreographers, Broadway is the major source of income for those unions. We're seeing these unions laying off crucial staff that's helped build them up, we're seeing artists who've never had to worry about health insurance suddenly without health insurance. We're going to feel the repercussions of this lack of income, this incredible shutting off of support for so many people. We're going to feel that for years.
You're seeing beloved restaurants in the theater district about to go under, it's the whole ecosystem that Broadway has really supported. This is not to say that artists are stopping being creative. It's simply that their livelihood is disappearing, not their creativity. It's an interesting juxtaposition we have of how much individual creativity has been expressed at this time and yet how little systemic support there has been for artists,
Tanzina: Aaron, to that point. Have the musicians' unions also taken a hit?
Aaron: Oh, definitely because as Melia points out correctly, many of the artists' unions, of course, are financially tied if you will, to the largest revenue generators in their field. Musicians' unions be it, Broadway, as well also some of the orchestras in terms of their taxes that they pay through employee benefits and union memberships are certainly taking a hit.
It also is a call for the field broadly in my perspective, to work together as we've seen many of the foundations, the Mellon Foundation, and others who have worked overtime in coming out with a record amount of grants, in the Mellon's case, 186 organizations, $228 million in just the last month-and-a-half or so. They were partnering with other foundations to figure out, "How can we identify the neediest parts of our sector?" be they smaller regional companies, BIPOC organizations and others to figure out how to sustain as many organizations as possible.
It is a major hit and it's an existential moment. I don't want to understate that. At the same time, I've seen organizations across our sector respond in ways that are incredibly innovative and creative, Jazz in Lincoln Center's recent holiday shows, the amount of content that they continue to push out it's amazing.
Tanzina: We got this message from one artist about his experience during the pandemic.
Cameron: My name is Cameron McKinney and I'm a professional choreographer and the artistic director of Kizuna Dance based in New York City. The pandemic has affected my work in a lot of ways. Besides just the general losing of gigs that we had planned, even a year ahead of time, the pandemic has taken the wind out of a lot of professional artists and the institutions that are supposed to be supportive of us, even in our darkest moments.
I think the federal government in general, doesn't support artists in the United States as much as they could and as they should. I'm actually a proponent of creating a position, something similar to the Secretary of the Arts that has someone who is in a higher place of power that would come to the job with some greater understanding of what it's like to function in a gig economy, which is what a lot of artists do.
Tanzina: With me still are Melia Bensussen, the artistic director of Hartford Stage and Aaron Flagg, professor at the Juilliard School of Music. Melia, when we hear from Cameron McKinney, who is a dancer, a choreographer who's had the pandemic really taken the wind out of his sail, he asks for something that I've heard some folks call for, which is essentially a federal level position, arts and culture position. What are your thoughts on that?
Melia: Oh, I completely agree. I believe Jeremy O. Harris, the extraordinary playwright who came onto the scene with Slave Play has been advocating for this very publicly. I think it's crucial because we need to-- there's been all this language around essential workers. We absolutely, as a nation have acknowledged or need to even further acknowledge what has been essential in getting us through this pandemic but when will we agree that artists are also essential workers?
This is part of the conversation of, "How do we use this moment, as dark as it is, as a wake-up call to the fact that this country has underappreciated, underfunded, and under-supported all the extraordinary artists and artistic institutions that exist here?"
I love the idea of a cabinet position of this sort. Reevaluating how crucial the many languages of the arts are to our experiences to be human, to create a culture, to do our EDI work, all of this is intertwined with our ability to see ourselves reflected, to feel empathy. All of our connections to each other and to our selves, come through the arts. How do we make that plea? How do we help our communities, our state, and federal governments understand how essential we are to the life of this nation?
Tanzina: Aaron, what do you think the pandemic has revealed about how we value whether, I should ask, even if we value art in this country, in all of its forms, when it comes to theater, poetry, music, dance, visual arts, the performing arts? What does it say about us as a country?
Aaron: My first reaction to that question is what does it say about us as human beings? My reaction is that it reaffirms the importance of the arts because we all need community. The fact that we have all been sheltered and locked down, just as people, unable to interact with society in the way we're used to, undergirds the need we have for each other to be in community, to share stories.
How many times I've gone out in my backyard and started to play, and the neighbors just gather? There's just a need, there's a desire, not just about, say, my playing or my band's playing, but just to be together. The appreciation for the arts, in all its many facets as an audience member, as a performer, as anyone working in the field is now heightened because of the fact that we've been kept from that.
I also think, and the way I look at it in terms of the field coming more together, we're all working on our individual things, but to realize that the arts sector needs to partner, that we have similar needs, similar concerns. I think us coming together as a field, funders coming together around the importance of the arts are all steps that, optimistically, can hopefully, lead to this idea of a cabinet-level official, which has been talked about for 12 years. I remember Quincy Jones talking about that back in 2008, 2009.
The fact that that keeps coming up, makes me think, "What is holding us from that?" Part of that is the value in society of the arts in general but I also think there's some work in our sector about coming together that through this pandemic and through the stimulus package that has been discussed. I've seen on Capitol Hill through the work of the League of American Orchestras and TCG the Theater Communication Group, a lot more working together and common course, which is frankly a positive.
There are not many positives with this COVID situation, of course, but I think if the arts as a sector can see the need to work together and learn how to do that even better, then we together can help the country really realize the importance in the essential nature of the arts in this country.
Tanzina: Melia, I'll give you the last word. What can people do to support local artists or artists in general, even if they're not able to give performance in person?
Melia: The call to check-in online on the arts organizations that matter to you because I think it's true, it's remarkable how much work is happening virtually, and to donate. No amount is too small at this moment and to advocate, even with your neighbors in your community, for the value of the arts organizations that are in your neighborhood that are important to you. They need to know, the leaders of those organizations, the artists in your neighborhood need to know that they're important to you.
Tanzina: Melia Bensussen is the artistic director of Hartford Stage and Aaron Flagg is a professor at the Juilliard School of Music. Thanks to you both.
Aaron: Thank you.
Melia: Thank you so much. It's been a pleasure.
[00:19:18] [END OF AUDIO]
Copyright © 2021 New York Public Radio. All rights reserved. Visit our website terms of use at www.wnyc.org for further information.
New York Public Radio transcripts are created on a rush deadline, often by contractors. This text may not be in its final form and may be updated or revised in the future. Accuracy and availability may vary. The authoritative record of New York Public Radio's programming is the audio record.