New Documentary, "The Dissident," Explores the Life and Death of Jamal Khashoggi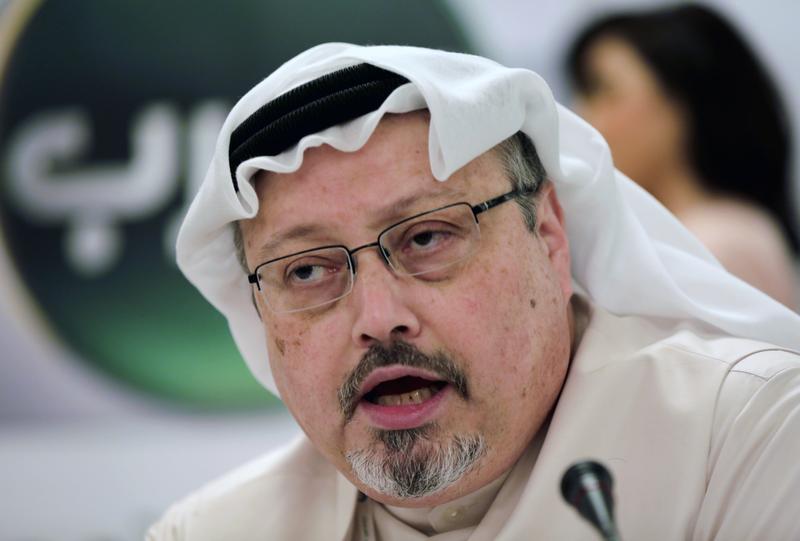 Transcript
Callie: You're listening to The Takeaway. I'm Callie Crossley, in for Tanzina Vega. On October 2nd, 2018, Washington Post columnist and Saudi dissident, Jamal Khashoggi walked into the Saudi consulate in Istanbul. He was there to obtain documents for his upcoming marriage to his fiance. He would never make it out. Reports of Khashoggi's murder and the overwhelming evidence that the Saudi government, including Crown Prince Mohammed bin Salman, were responsible for his murder, took the world by storm. More than two years later, Khashoggi's murderers have still not been brought to justice and the lives of journalists around the world continue to be threatened.
This year, 42 journalists and media workers were killed, according to the International Federation of Journalists. The murder of Jamal Khashoggi and why the repressive Saudi regime wanted to silence him is the subject of the new documentary, The Dissident, the latest film from the academy award-winning director Bryan Fogel. The film is now in theaters and will be available on-demand on January 8, but several streaming services passed on releasing the film and Fogle has said the film's criticism of the Saudi government may be why. I spoke with Bryan about the film and why Jamal Khashoggi's murder continues to capture the attention of the world.
Bryan: He was a Washington Post journalist. Of course, his history was as a Saudi journalist, but in the last year of his life, he was writing for The Washington Post. As his murder happened, of course, the news stories around the world was, he was a Washington Post journalist. I think that certainly attributed to the visibility, but I think even more importantly than that was the brazenness of this crime. Somebody walking into their own consulate seeking wedding papers while their fiance is waiting outside for them only to never come out again, and then for us to find out that he had, in fact, been murdered, dismembered, just a horrific situation.
I think there were a lot of elements that really catapulted this story to the top of newsfeeds. Then, of course, the kingdom itself and the repression going on within Saudi Arabia, that, at the same time, was being heavily marketed and promoted that Mohammed bin Salman was this great reformer, changing Saudi Arabia, opening up Saudi Arabia, allowing human rights, women's rights, when that narrative was actually propaganda.
Callie: Let's unpack a little bit of what you've said here. First, as you've said, Jamal Khashoggi was known as a Washington Post columnist, but he was a journalist in Saudi Arabia for many years. What was his role as a journalist in Saudi Arabia and how much press freedom do journalists in Saudi Arabia have?
Bryan: Interestingly enough, as Mohammed bin Salman took power as this great reformer, what Jamal had thought was that there would be a whole increase in press freedom. In fact, that became completely repressive. Jamal's background, for most of his life, is he was a liaison between the kingdom and Washington. He had, in fact, an apartment in Washington, DC. One of the main reasons why when he went into self-exile, he chose to go to Washington, because he had already been going back and forth to Washington for many years of his life. He would write for the kingdom, but that doesn't mean that it's a free press. You're essentially writing the narrative of the Saudi kingdom.
As went to that self-exile and started writing for The Post, he was able to start speaking freely for the first time in his life. That got him in trouble with Mohammed bin Salman, but I think on an overall level, there really is no press freedom in Saudi Arabia. If you watch The Dissident, it gets into that in the film, which is that Saudi Arabia controls the public sphere, they do it through Twitter and other platforms. Basically, free speech is a crime. Speaking against Mohammed bin Salman can wind you up in jail, tortured, on top of there was 800 beheadings in the kingdom last year, most of those tied to peaceful forms of dissent.
Callie: What drives at the edge-of-the-seat tension in your film are how you piece together the motives behind his murder. Why did the Saudi government view Khashoggi as such a threat?
Bryan: They viewed him as a threat because he was no longer able to be controlled. Here was a 60-year-old, respected writer, philosopher, thinker, journalist who was an insider. He had 1.75 million Twitter followers at the time of his murder. He was writing for The Washington Post, an American paper. He was writing, but he didn't think that the relationship between Trump and MBS was a healthy one. He was also taking to social media, basically commenting that a lot of what Mohammed bin Salman was doing, he didn't agree with, including his crackdown in the Ritz Carlton, where MBS rounded up members of his family and the wealthy of Saudi Arabia and shook them down for billions of dollars. It was a mafia operation.
At the same time, cracking down on dissent and freedom and opinion in a way, according to Jamal and others, that have never been experienced in the kingdom. If you look at the case of Loujain al-Hathloul, the Saudi woman's human rights activists. She's 31 years old, she was imprisoned when she was 28 years old. Her crime was literally suggesting that women should not have to wear a full burka, that they should be able to choose their clothing. Still wear a hijab, but not be in that dress if they don't want to be, and that women should be allowed to leave their house without the permission of an 18-year-old male.
Meaning women still cannot leave their home in Saudi Arabia, unless an 18-year-old male, their son, or otherwise gives them permission. She also was advocating for women to drive. Despite Mohammed bin Salman actually granting that, she is in prison and she's facing 20 years. She's been tortured. You go, "Okay, well, how on one hand, can you be this reformer, and on the other hand, you have people like Loujain al-Hathloul sitting in a prison tortured?" Stories like this go on, and on, and on, and on, and on. Jamal saw these things happening within his country, while at the same time, the narrative to the west and to Europe was that Saudi was a great performer.
I think in Jamal's writings, especially in the Western media, especially as he had started to take to Twitter and started working with Omar Abdulaziz, the young Saudi activist who was living in self-exile in Montreal, that we get into in the film, he's really the protagonist of the film. He was increasing the err of the Saudi administration and they viewed him as someone that needed to be silenced.
Callie: There's so many chilling details in the documentary and it amazes me, frankly, that Hatice Cengiz, Jamal Khashoggi's fiance, is a big part of this film and agreed to be in it. Wasn't it traumatizing for her to relive all of this?
Bryan: I worked with Hatice for over a year. When I first met her, it was about a month following the murder in Istanbul. About the first five weeks that I was in Istanbul, we didn't shoot. It was just building trust, building a relationship, and watching her over what has now been two years, go from not speaking English, to being fluent in English, really doing her best to take the world stage fight for justice for Jamal. COVID has really put a damper in a lot of those efforts. She's an extraordinarily strong woman, but at the same time, the grief and mourning and loss was unfathomable. In the film, there's the scene when we go with her to enter the condominium apartment that Jamal had bought for them that was going to be their home. She had not stepped foot in there since the murder about six months earlier. I think that scene speaks for itself. I don't think any of us can really fathom what that loss would be like.
Callie: What was the global reaction, if you would remind us, to the murder of Jamal Khashoggi and how did it affect political and business ties to Saudi Arabia? We should mention that Saudi Arabia is an ally of the United States.
Bryan: The global reaction was tremendous as the murder was unfolding. It captivated the world, it was front-page news. Jamal was Time Magazine Person of the Year. It was a huge story. But the flip side
of that, was there any meaningful action taken? To date, here we are two years on, the answer is no. There have not been any true sanctions taken by the United States. The Trump administration has made it very clear that he did not plan to punish Mohammad bin Salman. He even bragged to Bob Woodward in audio that he saved his ass. But you see the same with other members of G20 and, of course, you see the same with big businesses. Be it Goldman Sachs or Chase, or in the case of this film, the dissident is being distributed independently through Briarcliff, its unlimited theaters, and it'll be available across a video on demand on January 8th, because the film did not receive a global streamer, be it Netflix, HBO, Disney, Hulu, Amazon all of these companies.
Callie: That was because of the power of Saudi Arabia?
Bryan: They have business or are doing business with the Saudis and they're interested in subscriber growth. What we're seeing is a global landscape that the crimes like this can go unpunished as long as there's business to be done. Clearly, their money and business interests are over-powering their human rights abuses that these companies and governments will look the other way in exchange for their money and investment.
Callie: What do you think the future of global press freedom and speech looks like if governments continue to spy on and repress dissidents with impunity?
Bryan: Look, we're in a very interesting situation that we're finding ourselves in at the end of 2020, come through four years of an administration that doesn't believe in press freedom, that doesn't believe in freedom of journalism, period. The Trump administration has spent four years attacking the press and attacking anyone who dare writes against it. We're seeing this in our own country and are experiencing this. We're seeing this all over the world and a re-emergence of his tactics on top of the proliferation of fake news. Whether it's Facebook or QAnon or Alt-right publications, it is becoming harder and harder to know what is true, what is false because there such a divide in opinion, whether it's fact or fiction. This is happening in our own country, let alone in China where you have the world's most populated country, doing everything it can to repress and suppress free expression and free journalism and a free press. The same as happening in Brazil under Bolsonaro, of course, in Saudi Arabia and Emiratis and many countries all over the world. We take for granted that we have a free press, but it is truly under attack.
Callie: One last question. What is justice for Jamal Khashoggi?
Bryan: I think the concept that Mohammad bin Salman and the killers would actually stand trial is not realistic, but I think justice can take many forms. In the current situation, justice is a reexamination of the US and other countries' relationship with Saudi Arabia, essentially saying, "Yes, we want to sell you hundreds of billions of dollars in weapons, or take your money for investment into our tech companies and other companies, but that will only happen once people like Loujain al-Hathloul and [unintelligible 00:14:00] and other thinkers and dissidents and human rights activists, Omar Abdulaziz's brothers, and friends are freed from your prisons. That will only happen when these human rights abuses stop and their freedom of thought and opinion and journalism is allowed in the kingdom. I think that is the most realistic form of justice for Jamal. The Biden administration has said that it has very strong intentions to reassess that relationship and to think of sanctions and meaningful punishments, and I guess that will be determined in the coming months.
Callie: Bryan Fogel is the director of The Dissident. It is in theaters now and will be available on-demand on January 8th.
[00:14:52] [END OF AUDIO]
Copyright © 2020 New York Public Radio. All rights reserved. Visit our website terms of use at www.wnyc.org for further information.
New York Public Radio transcripts are created on a rush deadline, often by contractors. This text may not be in its final form and may be updated or revised in the future. Accuracy and availability may vary. The authoritative record of New York Public Radio's programming is the audio record.