College Sports Not Immune to the Pandemic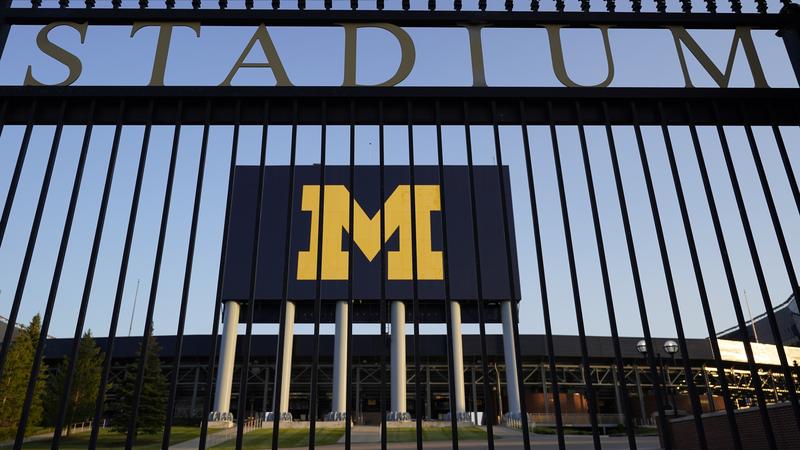 Transcript
Brigid Bergin: I'm Brigid Bergin in for Tanzina Vega and you're listening to The Takeaway. Last week, two of the five major athletic conferences announced they'd be postponing college football season and other sports over COVID-19 safety concerns. The Big 10 and PAC-12 include Powerhouse sports programs like Ohio State, Michigan State, Stanford, and the University of Oregon.
The remaining three athletic conferences are still on the fence that they're expected to return to the field, but last Thursday, the NCAA announced there will not be any NCAA championship games in the fall. Let's talk about what these decisions mean for athletes, schools, and communities with Adam Silverstein, the deputy managing editor at CBS Sports. Adam, welcome to the show.
Adam Silverstein: Brigid, great to be here. Thanks for having me.
Brigid: Adam, why do you think these major athletic conferences like The Big 10 ultimately decided to postpone?
Adam: Well, it's a great question. Really, the number one reason is most likely liability more than anything else, I think universities across the country understand that bringing students to campus simply for classes is a risk and then asking those students, many of whom in this case are athletes, to not just go to class potentially, but also be around campus constantly, then go perform on an athletic field which let's be honest, makes the university's millions upon millions of dollars, honestly, it's a billion-dollar industry where they don't get to see anything from that.
That is a significant risk. I think some universities-- Look, it's five major power conferences as you mentioned, and each one has a different set of medical experts and some are saying that the risks from COVID-19 are so great that not just bring players to campus but having them actually compete on the field is a risk not worth taking, and others feel that they're able to mitigate that risk through testing and through procedure.
Right now, you have The Big 10 in the PAC-12, who are stepping out and saying, "Our medical experts feel that this is not safe for the players and we as universities, candidly, don't want to take the risk on bringing them out there and opening ourselves up to liabilities because the players don't want to sign any type of waiver, excluding us from potential losses."
Brigid: We use the word postpone, but are some of these conferences that are moving forward likely to have the football season?
Adam: Well, it's tough to know because obviously college football has never really had a spring season before and there's a lot to consider about moving a college football season to the spring when a lot of these players have their eyes set on becoming professional athletes and the NFL Draft every year is in April. They're calling it a postponement because there is a hope that they're going to play in the spring, but at least to me when I discuss it, there's no plan, there's no date, "Hey, we are going to start our season now on January 15."
For me, right now, it's a cancellation with a hope of restarting it at a later date, but there are many obstacles to playing college football in the spring, not that it can't be done, I believe it can. There's a lot of smart people at the helm here, but it is difficult.
Brigid: Up until now how has the college sports industry overall been handling the COVID-19 pandemic?
Adam: Best they can. I think right when everything hit in early March, the NCAA was about to begin the NCAA Tournament. College basketball teams were in the middle of their conference tournament and you saw it started with the Ivy League, they canceled there is one by one those conferences, canceled their tournament and then the NCAA canceled its tournament, and very soon after, completely canceled spring sports and that includes many other sports besides basketball, certainly baseball and softball and things like that.
They just stopped playing and obviously many students were brought home from campuses, non-athletes as well. I think most if not every college campus closed. They did the best job they possibly could, but now that fall is approaching and college football is the big moneymaker I believe for 80% of the FBS conferences, it is the number one sport and it comprises 70% to 80% of their athletic budgets for the year. It's the type of sport and the type of economic driver where not that you want to take greater risk, but you're willing to see if you can make a season happen as opposed to, no offense, to something like volleyball that just is a money loser for almost every team in college sports.
Brigid: Beyond the campus, what does the absence of college football mean for the cities and towns where the schools are located, and the people who live in work there?
Adam: It's really a difficult situation for them, these small college towns and some of them are certainly smaller than others. You're talking about dozens upon dozens of local restaurants, bars, clubs, hotels, and businesses that largely depend on the college football season when they consider their annual revenue. I think many restaurants will probably tell you that 70% of their annual revenue may come just from the four months of the college football season.
That is how many people college football attracts to some of these towns, I was talking about something like Ann Arbor, Michigan, they have 100,000 seat stadium. A lot of those people are students and people in Ann Arbor, but there's also plenty of people that drive into town from nearby cities, opposing teams, they bring their fans. These economies for these college towns are largely driven by college football, particularly in the power five conferences that we're discussing and not having a season or not having fans in attendance, even for some of these conferences and teams that are having games, it's going to be detrimental to the local economies.
Brigid: Was there a way to continue playing safe safely? We're looking at plays sports, like the NBA that have the bubble and obviously major league, baseball's attempting their season. Were there recommended policies or a structure for some of these sports to continue their seasons?
Adam: It's just significantly more difficult with college athletes, the NBA, NHL, and MLS to some degree, they've created bubbles where these are professional athletes who have unions, they have players associations and they're able to negotiate conditions of their employment and of their play. College athletes don't have anything like that. Right off the bat, they're at a worst situation where they're not able to ensure that their needs are met in order to play.
The other thing that all these leagues have in college football has money too, but they can figure out ways to shorten their seasons and make things work where whatever money they spend for testing and for all these things like the NBA is doing a bubble currently at Disney in Orlando, they can make sure it comes back to them. Whereas with college, they don't know what's going to happen, not having fans.
Some of these stadiums pack a hundred thousand people, not being able to have 100,000 people in a local economy and buying tickets, what's that going to do to your profit for the year? What's that going to do to your ability to do all the things you want to do, not just as an athletic program, but as a college institution? It's just significantly more difficult. Then you consider that college students are college students and they're going to want to go out and party and hang out with their friends and maybe not follow protocols the same way professional athletes, many of whom have families might.
You're just dealing with different types of people in a different type of sport and in a different type of structure, being unpaid athletes versus professionals.
Brigid: Just briefly, Adam, giving a nod to the political season we're in, how much of a divide is there when it comes to the decisions that are being made between schools in blue States versus red States?
Adam: I think if you were to look at a map of which states have schools and conferences that are not playing and those that are, it would fall very similar to the electoral map. It's not exact, but the college football is very big in the South, and the Southern conferences as of right now are the ones that are still playing.
Brigid: Adam, many college football programs are really critical to the financial sustainability of colleges and universities with some already struggling financially because of COVID-19. How does this decision further exacerbate those impacts?
Adam: Absolutely. There are some that do have nonprofit, somewhat private athletic departments, but many of them are integrated within the university and losing dollars to the athletic budget, which is what football brings in, not just through ticket sales and concessions, but also television contracts with the major networks, losing that money, it hurts basically the athletic department's ability to put on the other "non-revenue sports", again, things like gymnastics, volleyball, swimming.
It also, depending on how the university utilizes the funds brought in through football and through AF athletics, it could affect other departments' scientific research or journalism or whatever the case. College football is a major money driver and there's plenty of universities across this country that it may be their number one driver outside of endowments or even maybe more than that for certain universities
Brigid: Considering what it means for student-athletes, what about athletic scholarships? Are those in jeopardy?
Adam: As of right now, I would not consider those in jeopardy. It seems as if the NCAA is set to basically guarantee scholarships for players, whether they are athletes, whether they do or do not play this particular year. Many schools, in fact, I believe it's most at this point, have guaranteed scholarships for student-athletes at this point. I do not believe athletes have any need to worry or be concerned about.
If they choose not to play this year for conferences that are operating or if their conferences canceled their sport or post postponed it to be determined date, at this time, they don't need to worry about whether they'll be able to complete their degrees or at least be able to attend college this year or next year.
Brigid: Adam, we been seeing a divide between students who want to play versus those who don't. I understand Ohio State's quarterback, Justin Fields has started a petition requesting the Big 10 to reinstate the season. Are there many athletes backing him?
Adam: There are. I believe that that has over 200,000 signatures right now and that's not just athletes, that's fans and parents and so on and so forth. I think just like any other demographic, there's plenty of students who believe sports should not be played, just like there's plenty of students who believe that they shouldn't be in classes or they shouldn't be back on campus.
I think, depending on the university, and depending on the student, and the makeup of that population, you're going to get different opinions. There are plenty of big-name players, who are going to be drafted or selected in the NFL draft this coming April that have already opted out of the season. This was before conferences even canceled games or decided not to play. There are plenty that understand the risks and don't want to take them, but there's also plenty of others, probably the majority, that want to play this season.
Brigid: Adam, in our last minute, what do you think this moment will mean for the future of college athletics?
Adam: I don't think college athletics will ever be the same, and I don't know that it's going to happen immediately. Inside of the next five years, you're going to notice that the players have found their voice, which is something that has been a long time coming, and they're going to be able to fight for things they need. I think universities and the NCAA are going to have to start listening.
Brigid: Adam, thank you so much. Adam Silverstein is the deputy managing editor at CBS Sports. Thanks so much for joining us.
Copyright © 2020 New York Public Radio. All rights reserved. Visit our website terms of use at www.wnyc.org for further information.

New York Public Radio transcripts are created on a rush deadline, often by contractors. This text may not be in its final form and may be updated or revised in the future. Accuracy and availability may vary. The authoritative record of New York Public Radio's programming is the audio record.