Muslim Women reflect on 9/11 20 Years Later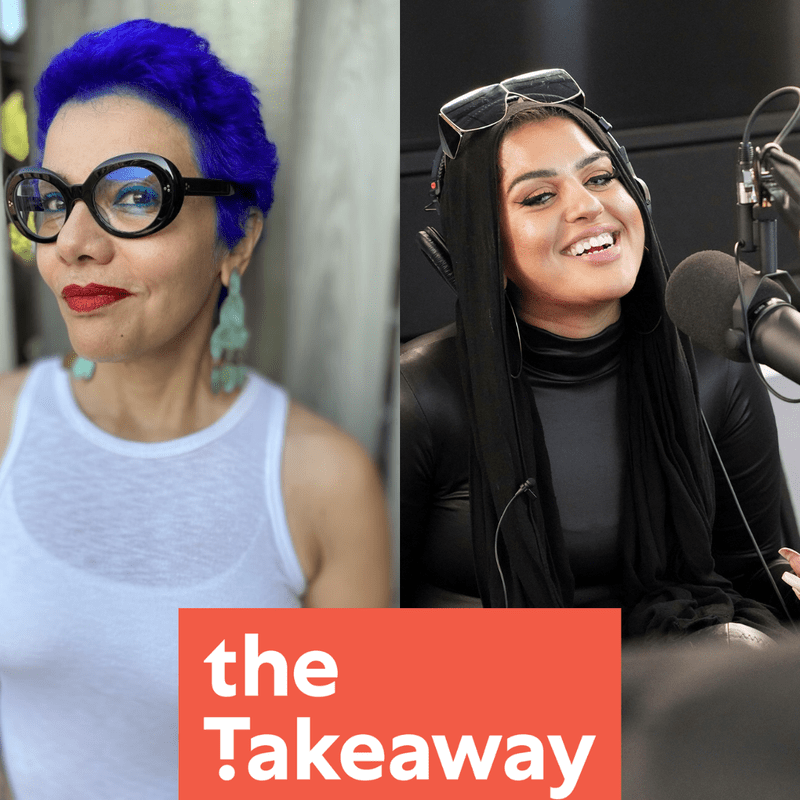 Transcript
Melissa Harris-Perry: I'm Melissa Harris-Perry. This is The Takeaway. This weekend, our country marked 20 years since the terrorist attacks on September 11th. We commemorated our shared mourning, collectively recounted all that has been lost, and continued to search for meaning in the still unfathomable events of that day. Here on The Takeaway, we contributed in our own small way to these commemorative efforts by hosting a live conversation with Amani Al-Khatahtbeh, founder of MuslimGirl.com, and Mona Eltahawy, writer of the Feminist Giant newsletter. I began by asking Amani what she remembered of that day, given that she was just nine years old.
Amani Al-Khatahtbeh: I remember a lot, actually, as young as I was, because of how severe life changed overnight. Even though you are a child, as children tend to do, you become very sensitive to the world around you, especially how the world around you is treating you. For me and my family, our lives were just completely turned upside down by this tragedy. I was born and raised in New Jersey. I grew up barely 30 miles away from Ground Zero. 9/11 happened on my yearbook photo day when I was in elementary school. It was definitely a significant day that's seared into my memory.
What I remember the most after our unscheduled, early dismissal that day was coming home to find my family huddled in the living room, around their television set, with what was happening on loop in front of us. For me, I was still trying to perceive what that meant. "What do you mean a plane flew into these buildings? What do you mean the buildings aren't there anymore?" My dad turned and looked at our family and said, "They're going to blame us and it's going to get much worse." From there, truly, life as we knew it changed. For me, I was suddenly subject to extreme bullying in school.
I heard my first racial slur in my elementary school classroom that same year. My family's-- Our house in our hometown was being targeted by the neighborhood kids that would water balloon, and TP our home, and egg it. My family is-- You know, the typical immigrant story where we've run an electronics store for most of my life, and as soon as 9/11 happened, the rest of the vendors in the flea market building where my family had their business, band together to launch a petition to kick all of the Muslim businesses out of that building.
It was very significant, it was very trying, and it instilled a lot of fear into my young family. I think that our story is among the most privileged of experiences immediately post 9/11.
Melissa Harris-Perry: Amani is American by birth and was still a child 20 years ago, but Mona Eltahawy was an adult on 9/11, and she was a newly-arrived immigrant from Egypt. Her recollections bring into full view just how dangerous the days after 9/11 were for Muslims in America.
Mona Eltahawy: I had moved to the United States the year before 9/11. I married an American and we were living in Seattle at the time of the attacks. My brother and his wife were visiting us. I remember the phone rang at 6:00 AM, it just would not stop ringing. It was my late ex-mother-in-law because I'm now divorced, and she has passed. I picked up the phone and she said, "Turn the television on. Turn the television on. Something terrible is happening in New York, the towers are falling." We turned the TV on, I ran upstairs to wake up my brother and his sister.
I remember I turned to them and said to them, "If this is Muslims, they're going to round us up, we're going to be put in camps." I was terrified. We did not leave the house for two days because my sister-in-law wore a hijab, wore a headscarf, and we were really worried about her. We were in Seattle, which is supposedly this progressive, liberal city, but we were really worried. Our worries were not unfounded because just a couple of days after 9/11, a man tried to set our local Mosque on fire in Seattle. He was too drunk and two Muslim men coming out of congregational prayers tried to stop him as he was pouring gasoline near the Mosque grounds, and he tried to shoot them.
Like I said, our fears were not unfounded, but soon after this failed arson attempt, the neighborhood around the Mosque, not Muslims, the non-Muslims, around the Mosque flooded the door of the Mosque with bouquets of flowers. My now ex-husband drove us to the Mosque to make sure everyone was okay, and there were just flowers everywhere, and notes of support from the people in the neighborhood. For the next two months, there were two people, from those neighbors around the Mosque, standing guard outside the Mosque every day, holding up signs saying, "Muslims are Americans," to protect the Mosque.
That was September of 2001. You mentioned the attacks against Muslims, we talked about visiting Muslim women. I had a Muslim woman friend at the time, who like me, does not wear a headscarf. She is visibly South-- Well, she's brown. I don't think that these racists could tell that she was South Asian. She was leaving a restaurant in Seattle, again, liberal, progressive Seattle, when a group of white men shouted at her white husband, "What does it feel like to [beep] a terrorist?" Anyone who did not look white, anyone who was suspected "of being a Muslim" was being targeted for hate.
Melissa Harris-Perry: While both Amani and Mona had first-hand experiences of Islamophobic bias, bullying, and violence by individuals in the weeks and months following 9/11, both women insisted we should focus on official policies rather than inter-personal attacks. Amani began by reminding our audience of the National Security Entry-Exit Registration System, or NSEERS, which was enacted in the months following 9/11.
Amani Al-Khatahtbeh: NSEERS program, which came to be during the War on Terror and still existed under Obama, was an actual nationwide database of Muslim men from a list of Muslim countries that we kept here. Literally, only men from specific Muslim countries, never mind the fact that Muslims come from every walk of life on the planet, every country on the planet. This existed years before Trump's Muslim ban even became part of the conversation. Similarly, we still have the Patriot Act, which basically eliminates our due process rights as long as we come from our Muslim faith.
We know there's an accusation of terrorism there, even if not a single charge comes on you, the Patriot Act allowed such invasive surveillance to take place within the Muslim community. If we want to talk about feminism, let's talk about how Muslim women have been impacted by watching their fathers, brothers, husbands, get abducted from the safety of their homes with no explanation, many times to never be seen again. These things have been-- They happened immediately after 9/11 and they're still happening, those policies are still in place.
That's what we should be focusing on. Especially now that I'm in my twenties, I'm sick and tired of having spent my entire life talking about Muslim women, no, let's actually talk about what's really important here and why we're allowing this treatment to take place within this time period right now, it's 2021.
Melissa Harris-Perry: Also emphasizing the structural, institutional, and political violence of post 9/11 [unintelligible 00:07:53] policy, Mona Eltahawy recounted how these government practices affected her family.
Mona Eltahawy: My brother was one of those Muslim men who had to submit to this program called Special Registration. He and his Muslim friends-- It was a list of 25 countries and 24 of those countries were mostly in the so-called Arab World and they had to have their pictures taken, they had to be fingerprinted, and they were put into a special registry. They couldn't move without checking in with the FBI. They couldn't leave the country without getting a security clearance. My brother did not leave the United States for 10 years straight because he was worried that he would lose his student visa, and his work, and his income because several of his Muslim friends did.
I talked about how we were together in Seattle when the 9/11 attacks happened and a man unsuccessfully tried to set my local Mosque on fire. That same brother of mine lives in the Midwest, where he submitted to so-called Special Registration, and an arsonist actually succeeded in setting his Mosque on fire in 2012, that's 11 years after the 9/11 attacks. My nieces and nephews were in that Mosque just hours before it was gutted by a fire, by a man who said that he had watched Fox News and Fox News had told him that-- Or he learned from Fox News, that Muslims were killing Americans around the world and he wanted to fight back and teach Muslims a lesson.
He set a Mosque in the Midwest on fire. That Mosque took a while, they fundraised and they rebuilt again. I'm bringing it up, not just to talk about how it was set on fire, as many of the Mosques around the country were set on fire. I refuse to allow my nieces and nephews to grow up in a country where being Muslim, where being brown, or/and being Egyptian is going to be used against them for something they had nothing to do with. Their father was visited by the FBI a month after 9/11, and by a special agent and asked, "Do you know anyone who celebrated 911?" What the actual hell, and had to be subjected to this special registration. Enough.
Melissa Harris-Perry: As our conversation continued, we moved away from the immediate post 9/11 moment and considered a broader sweep of global and domestic experiences. I asked Mona about her reactions to the insurrection at the US Capitol on January 6th.
Mona Eltahawy: Melissa, it has been incredible, and I don't mean it in a good way, I mean, incredulous, maybe, to watch the reaction following the insurrection, following January 6th. I want to tie that to what also happened in Texas with the abortion case, with the election of Trump, and with the growing boldness of white supremacy and Christian fundamentalism in this country. Very soon after I arrived in the United States, because I moved too in the year 2000, and I'd been a news reporter in the Middle East for over 10 years.
From Cairo, from Jerusalem, I grew up in Saudi Arabia, like I said, so I was very familiar with following Islamic fundamentalism, Jewish fundamentalism when I lived in Jerusalem, and here I am in the United States, and it became very clear very soon after I arrived that Christian was the default and white was another default. If you were a white Christian and you wanted your religion in your politics, that was perfectly fine. If you invaded the Capitol, the height, the seat of American political power, holding up signs saying, "Jesus is our Lord," and taking, basically wanting to assassinate the vice president.
Wanting to assassinate the second most powerful person in the US, and the third, Nancy Pelosi, but because you are Christian and you are white, it was what? It was perfectly okay? Some of them were calling themselves revolutionaries. Who went to their home and asked them, "Do anyone who celebrated January 6th?" Who was insisting that they submit to a special registration where they are fingerprinted and photographed, and they can't move house without alerting the FBI? Who indoctrinated them and made them into these radicals? Who is apologizing to the rest of us for the terror that they subjected us to?
Clearly, there are not just double standards, there are triple and quadruple standards in the United States, depending on your religion, your ethnic background, your gender, your class, your ableism, your sexuality, your gender so much. January 6th, the election of Donald Trump was a reminder because Donald Trump is not an aberration. This is why-- Thank you for reminding us of Alabama, Melissa, and the church bombings by white supremacists and the internment of Japanese-Americans in concentration camps. This is white supremacy at work.
White supremacy is the reason that Donald Trump was elected. White supremacy is the reason that my brother's Mosque was set on fire. White supremacy and its terrorism is the reason that the insurrection on January the 6th has not had as massive a consequence on the evangelical community as 9/11 had on the Muslim community. Additionally, I want to remind people that COVID-19 has killed more Americans than 9/11 had. I hold Donald Trump and Fox News and all of those other propaganda outlets directly responsible for a form of genocide that has disproportionately affected Black, indigenous Brown, and disabled, and working-class Americans, and yet, who has been held accountable to that?
Multiple times Americans have been killed because of COVID than they were on 9/11. This is not to excuse or diminish 9/11, but this is to remind people that white supremacy gets away with multiple crimes and it's time to hold it accountable.
Melissa Harris-Perry: Mona's discussion of this political double standard, which renders Muslim communities as permanent outsiders, made me curious about Amani's decision to run for Congress back in 2020. I asked her about how she reconciled her experiences of being treated as a second-class citizen with her desire to serve as an elected representative. Apparently, the question touched a point of pain.
Amani Al-Khatahtbeh: Thanks, Melissa, for driving home the crisis that has completely fueled my inner turmoil with this entire experience with running for office. It's a conversation that I've had with so many of my peers and colleagues. The whole reason why I was inspired to run for office at such a young age was because I got to see visible examples in Congresswoman Rashida Tlaib and in Ilhan Omar, and that was possible. I think that their work is necessary.
One of the political experiences that actually defines my approach to social justice early on was that immediately after college, before I really focused on Muslimgirl as a platform, I actually moved straight to Washington DC, and I started working for a civil rights organization there. While was there, this young, fresh spirited person ready to change America and stuff like that, that year was actually one of the biggest controversies that hit the Muslim American community, which was when President Barack Obama invited Muslims for the National Iftar at the White House, in the midst of Gaza being bombed.
I think that really brought to light that fragmentation within our community because then you saw half of our community, the institutional leaders, were inside the walls of the White House rubbing shoulders with the president and the administration, and then you saw the other half of the community, the activists, protesting with the picket signs outside of the fence, demanding the change to actually happen that we weren't seeing. Witnessing that conflict early on, I think that was what really solidified my departure from Washington right after college because I was like, "What will make me more effective?
To be another body on the ground or to amplify-- Or to create a platform where we can amplify thousands, if not millions of voices like mine and we can really be a force?" Then, of course, that has been a constantly evolving, again, inner conflict for me over the years. It resulted in me, last year, witnessing my mom get COVID in the midst of our government's sheer, just incapability of addressing this crisis that we were in. I felt like the only way that I could really push back was to take the bull by the horns myself and run against an incumbent that's been in his seat for my entire lifetime. An old white guy that has been not representing my community or my voice for the longest time for my entire life.
I think that now I'm in a place where I feel like we need people at every level. What we're going up against right now is just so severe that the folks on the inside of the White House wouldn't have had any type of power if not for the protesters on the outside of the White House pushing for that change. Similarly, the people on the outside might not have had that communication factor if not for the members of our community that were inside those walls and being able to make that engagement happen. I think that it definitely goes both ways.
This isn't a new conversation whatsoever, I think this is something that has clicked so many minority communities that have had fights that they've had to fight against diversity. We're all still trying to figure that out, but I think that, of course, the idea is that we really have to dismantle, we have to dismantle the system in place that is oppressing us in the first place. Right now, as we witness the people coming on social media and coming online getting younger and younger by the day, you see that people are recognizing that the system that we have, especially our justice system, it wasn't made for so many of us. In that way, it does bring into question where is our place in the system and can the system, even in the future moving forward?
Melissa Harris-Perry: Thank you to Amani Al-Khatahtbeh, founder of Muslimgirl.com, and Mona Eltahawy, writer of the Feminist Giant Newsletter. You can see our entire Takeaway live conversation on our Facebook page, facebook.com/the takeaway.
Copyright © 2021 New York Public Radio. All rights reserved. Visit our website terms of use at www.wnyc.org for further information.
New York Public Radio transcripts are created on a rush deadline, often by contractors. This text may not be in its final form and may be updated or revised in the future. Accuracy and availability may vary. The authoritative record of New York Public Radio's programming is the audio record.