Multiple Guilty Verdicts for the Murder of Ahmaud Arbery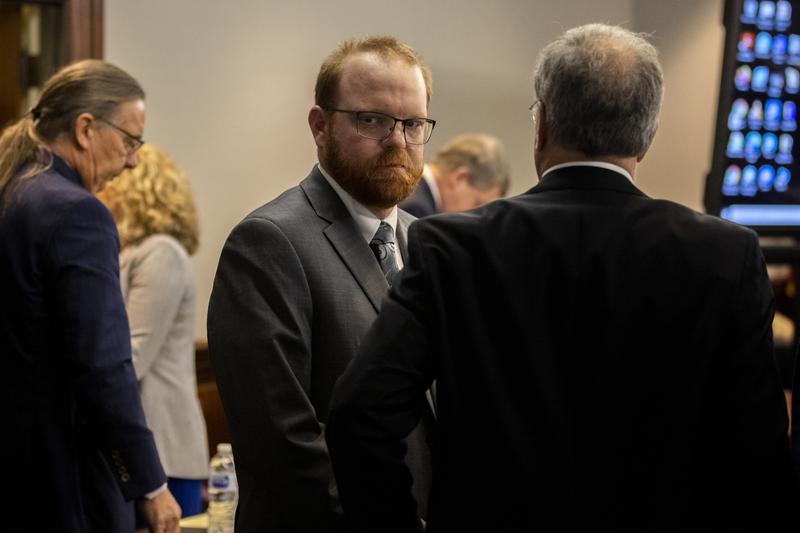 Transcript
[music]
Melissa Harris-Perry: Welcome back to The Takeaway after a long holiday weekend. I'm Melissa Harris-Perry. On Wednesday, Black mamas, daddies, sons and daughters across the country took a break from baking Thanksgiving pies, turned up their radios, held their breath, and listened.
Judge Timothy Walmsley: Verdict is as follows. In the Superior Court of Glynn County, State of Georgia, the State of Georgia versus Travis McMichael, case number CR000433. Jury verdict form. Count one, malice murder. We, the jury, find the defendant, Travis McMichael, guilty.
Melissa Harris-Perry: As Chatham County Superior Court Judge Timothy Walmsley read the multiple guilty verdicts for Travis McMichael, Greg McMichael, and William Bryan, at least one Black father could not mask his response.
Judge Timothy Walmsley: Guilty.
Marcus Arbery: Ahh Woo.
Judge Timothy Walmsley: I'm going to ask that whoever just made an outburst be removed from the court, please.
Melissa Harris-Perry: The judge removed Ahmaud Arbery's father, Marcus Arbery, from the courtroom but that audible expression of relief was a response mirrored by so many who were holding absolutely still as we paused to listen. All three men involved with killing Ahmaud Arbery, guilty. Travis McMichael, the shooter, guilty of all nine counts, and these verdicts delivered by a nearly entirely white jury in a small Georgia town. Marcus Arbery was not alone in his response, because it was happening in kitchens and living rooms, workplaces and cars across the nation.
Judge Timothy Walmsley: Guilty.
Marcus Arbery: Ahh Woo.
Melissa Harris-Perry: Ahmaud's mother, Wanda Cooper-Jones, expressed her gratitude for the many who stood in solidarity with her family during the many months since her son was murdered on February 23rd, 2020.
Wanda Cooper-Jones: I never thought this day would come, but God is good.
Marcus Arbery: Yes, he is.
Wanda Cooper-Jones: I just want to tell everybody thank you. Thank you for those who marched, those who prayed, most of all the ones who prayed.
Marcus Arbery: Yes, Lord.
Crowd: Yes.
Wanda Cooper-Jones: Thank you, guys. Thank you that now Quez, which you know him as Ahmaud, I knew him as Quez, he will now rest in peace.
Crowd: Amen.
Wanda Cooper-Jones: Thank you.
Marcus Arbery: Thank you.
Melissa Harris-Perry: No verdict or sentence can bring life again to Ahmaud Arbery, but these unequivocal verdicts bring a measure of respite. A moment's reprieve in what has been a truly brutal decade of high-profile Black death initiated back in February 2012 when George Zimmerman killed 17-year-old Trayvon Martin as Trayvon walked home with a bag of Skittles, and an ice tea. Unlike the Florida jury that acquitted George Zimmerman, the Brunswick, Georgia jury insisted that those who murdered Ahmaud Arbery be held responsible.
Joining me now is Nicole Lewis, senior editor of Jurisprudence at Slate. Thank you for being with us today, Nicole.
Nicole Lewis: Thanks for having me on.
Melissa Harris-Perry: Based on how you understand Georgia law, were these the right technically correct, accurate verdicts?
Nicole Lewis: Absolutely. The prosecutor made an excellent case to say the defendants saying that they were arresting Ahmaud Arbery, that they were conducting a citizen's arrest, and that they shot him in self defense, she basically destroyed their entire argument. She made the case to say they didn't actually know if he had committed any crime or any felony in the moment that they were arresting him. All they knew that he was running down the street, and this is what they testified to.
Under Georgia law, you actually cannot conduct a citizen's arrest if you are not seeing someone carrying out a felony, if they haven't confessed to a felony, and so they pursued Ahmaud with no information. That was really the crux of her case, and I think the jurors bought it.
Melissa Harris-Perry: Underlying that for many Black observers was this notion that he must have been up to something illegal, was also based on an understanding about race, that young Black men are themselves inherently criminal. That is not quite how the prosecution put it. I'm wondering how this prosecutor navigated conceptions of race given the jury.
Nicole Lewis: The jury actually didn't hear much in the way at all of any arguments about race and criminality, and how racial animus might have led to this crime. It was mostly absent during the entire trial. I think it was a calculated move to say the jury is nearly all white, there is one Black person on this jury, and so how well are these arguments going to go over. I think what became more important for the prosecutor to make was to say the McMichaels are testifying to say that they're conducting a lawful citizen's arrest, that they're acting in self defense, and she said that's not true, and they're testifying to that.
To say they didn't actually know anything, all they saw was him running down the street at the time that they hopped in their trucks with their guns and pursued him, and you're not allowed to do that. When they called 911, which we have the tapes and we have the recordings, so it was played in court, they didn't say anything about he was committing a crime, he had burgled a house, nothing of that sort. She was really able to make this case and undermine their arguments without having to wade into what could have been a really tricky or difficult argument to make and for these jurors to buy.
Melissa Harris-Perry: Remind us of the defense strategy and why at least in this case it does not seem to have worked.
Nicole Lewis: Their argument was that they were pursuing Ahmaud as part of a lawful citizen's arrest, that they had information or suspected that he had been walking into a halfway built house, and they had some fears over rising crime in the neighborhood as well, and suspected that he might have been responsible for that. That when the arrest went south, that they shot him in self-defense, that Travis McMichael shot him in self-defense.
There's a couple of reasons again why this doesn't work. For one, the prosecutor made it very clear that in all of 2019, when she looked at the 911 calls, there was only one call for burglary, and it turned out to be a false alarm. The information that the McMichaels had to say, "Crime is rising, there's a series of break-ins, we're so concerned," wasn't true, that Travis McMichael testified that he had learned about concerns of a crime from a Facebook group and from his mother, so they weren't fully based in reality. That's one component.
Then again, this other component to say that they had no information about whether or not Ahmaud Arbery had committed a crime, and he hadn't to be clear. That he had been seen on camera going into a house and walking around but so had many other people. It was also clear from that video footage inside the house that he had never taken anything. There was no reason to suspect that he was guilty of any crime of stealing.
Then in addition, they said, "Once we started the arrest and he didn't stop, that we became scared for our lives." Travis McMichael says, "I was afraid of being overpowered. I knew that if he tried to take my gun, he would shoot me and kill me, and so I had to act." When we stop and pull back on that, I just think the fear defense is so interesting and thin, consider that Ahmaud was outnumbered. He was not armed. He'd been running for miles by the time this altercation happened. You just cannot buy the notion that they went in, and now they're too scared and they had to shoot.
Melissa Harris-Perry: I just want to pause on this. I think it does seem to be important. These are three civilians. If we were talking about three police officers, and if all of those police officers were heavily armed, and there was one individual suspect, and they suspected someone of a crime and they testified in court that they were afraid, that has been precisely how many members of law enforcement have not been held accountable based on how the law works relative to police officers.
Nicole Lewis: Yes, and this is a common defense, "We were afraid for our lives, and so we had to shoot. We thought this person had a gun and so we had to shoot." They have a much different standard. We protect police officers to say, "We understand that your job is fairly dangerous, and so we're going to create some protections for you in case you injure someone, murder someone, hurt someone in the line of duty." It's really important, in the line of duty, so while they're on the job. Sometimes other people are going to get hurt, and so there's a much higher bar for juries to clear to find police officers guilty when someone does die. We've seen this time and again throughout the past decade that police officers shoot unarmed Black people and get away with it for the most part.
The Chauvin trial, I believe just earlier this year, was a moment in which the country again was holding its breath to say, "This wasn't a shooting. We actually watched a police officer kneel on someone's neck for so long. Where is the standard? Where is the limit? Can we actually find this person guilty of murder?" In this case, they did, or in that case, they did.
Melissa Harris-Perry: Let's talk about what's next in the McMichael's case. Talk to me about sentencing. What's the timeline on that and what do you expect to see?
Nicole Lewis: All men face for all of the counts that they have been convicted of. They all face up to life in prison. Actually, I'm not sure when sentencing is happening. I believe currently this week, but not a specific date. This is something that the judge gets to weigh in to say what the appropriate sentence will be, but all men could spend the rest of their lives behind bars.
Melissa Harris-Perry: There's also the possibility of federal hate crime charges. They've all been indicted on these separate federal hate crime charges. What could those additional guilty verdicts mean if they were to be found guilty?
Nicole Lewis: That's right. Those trials have yet to happen, and I believe February. They're coming up soon. This was critically important. I think, in this case, in this trial, there was not much mean in terms of argument in the courtroom about race and hatred, and just what this crime represents in terms of the long legacy of racial violence in the South. With these federal hate crime charges, this is an opportunity for the country to really understand and look more closely at just exactly what happened in those streets.
That's upcoming another at this point. I'm not so sure in terms of what difference it makes if they're convicted of life in prison. They'll spend the rest of their lives in a state prison even if they are convicted of a federal crime.
Melissa Harris-Perry: That federal hate crime we're going to expect in part because obviously it's a hate crime trial. We're going to expect to hear these conversations about race and about history in a way that's been quite different from what we've heard in the state case.
Nicole Lewis: Absolutely. The state case was mostly about this question of citizen's arrest and rising crime and right to self-defense. The federal case will squarely put the question of, or the McMichael's motivated by racial animus, hatred for Black people. Did they pursue Ahmaud Arbery specifically because the color of his skin? Did they use a racial slur? All of those things will be front and center in this federal case.
Melissa Harris-Perry: Then there's one other person who is charged here, and that is the former District Attorney Jackie Johnson charged with mishandling the case. I'm wondering what we know about that, if that is likely to affect the case that Johnson's facing?
Nicole Lewis: Yes, it's possible. She is charged with basically obstructing justice and not allowing this case to go forward. I think just taking it back to the top of the story to hear those audible sighs of relief, it's important to point out that for many months after the McMichaels shot and killed Ahmaud Arbery, they walked free.
There were so many people who were thinking we may never see justice in this case because look at how these men were treated from the beginning, and so Jackie Johnson, being directly responsible for that ultimately recusing herself but now being indicted herself, that she prevented the police from intervening, the police from arresting them that day, misled prosecutors, and basically said that she wasn't going to press charges in this case. Yes, it remains to be seen, but I guess three guilty verdicts doesn't look good for her.
Melissa Harris-Perry: Nicole Lewis, senior editor of Jurisprudence at Slate, thank you for spending some time with us today.
Nicole Lewis: Thanks for having me on.
Copyright © 2021 New York Public Radio. All rights reserved. Visit our website terms of use at www.wnyc.org for further information.
New York Public Radio transcripts are created on a rush deadline, often by contractors. This text may not be in its final form and may be updated or revised in the future. Accuracy and availability may vary. The authoritative record of New York Public Radio's programming is the audio record.