Dragphobia is on the Rise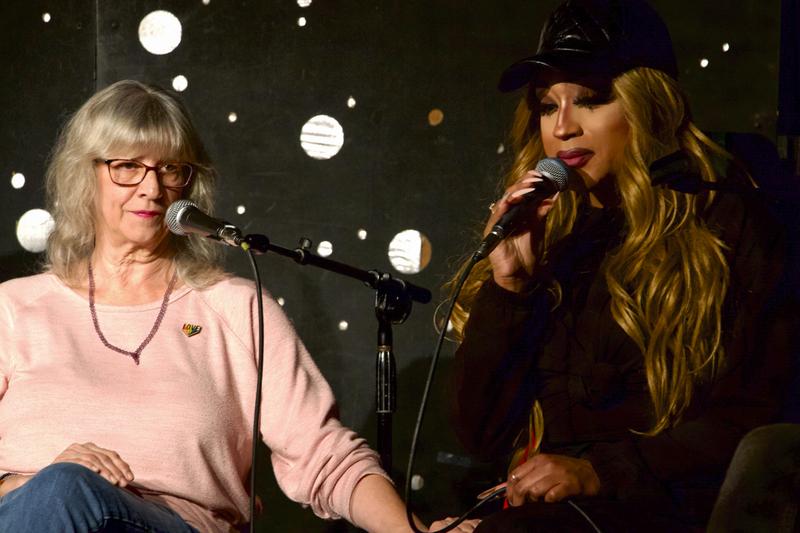 Transcript
Melissa Harris-Perry: Welcome back. I'm Melissa Harris-Perry and you're listening to The Takeaway.
The power is finally back on in Moore County, North Carolina. Tens of thousands of residents were left without electricity for nearly five days after a shooting attack at two Power Substations on Saturday, December 3rd. Homes lacked heat, even as the temperature dipped, groceries went bad in powerless refrigerators. Schools and businesses were forced to close and even driving was dangerous without electricity for traffic lights.
Female Speaker: It's horrible. I've never gone through something like this. I am handicapped, I use a walker.
Female Speaker 2: Nobody was prepared for this. You didn't just hurt the people that you thought you were hurting, but you hurt this whole community as a whole. You hurt everybody.
Melissa Harris-Perry: Now, during the power outage, one person was found dead in Moore County. As of this morning, it remains unclear whether that death is connected to the power outage caused by the attack. Moore County officials and Governor Roy Cooper described the attack as malicious and criminal. Last week, the governor announced a reward of up to $75,000 for information leading to an arrest and conviction. While the motivation behind the attacks is still investigation, the same day that Moore County lost power, a group of permitted protestors and counter-protestors gathered outside the Southern Theater in Southern Pines.
They were there to protest the Downtown Divas Drag Show. That power outage came the same weekend that right-wing groups gathered in front of the Unitarian Universalist Church in Columbus, Ohio. They were there in protests of a drag story time, even though that event had been canceled. Of course, all of this comes just five weeks after a mass shooting during a drag performance at Club Q in Colorado, left five people dead. In other words, what happened in Moore County comes in a context.
Lewis Raven Wallace: There have been over 120 attacks on drag events in 2022 alone in the United States. North Carolina and Texas have been top areas that have been targeted, and there's currently an unsolved string of attacks on the power grid in the Pacific Northwest. At least two of those attacks bear similarities to what happened in North Carolina on Saturday.
Melissa Harris-Perry: That's Lewis Raven Wallace, an independent journalist based in North Carolina, speaking at the Moore County Call to Action National Press Conference last Thursday. The drag shows headliner, Naomi Dix, also spoke at the same press conference. She'd ended her set early that night out of concern for everyone's safety, and she joins me now. Naomi Dixis a drag artist in Durham, North Carolina. Naomi, welcome to the show.
Naomi Dix: Thank you for having me.
Melissa Harris-Perry: Naomi, tell me about what you were experiencing in the run-up to the performance.
Naomi Dix: About three weeks prior to the performance is when the marketing and promotion went out for the show itself. My face was front and center for the event, and as a result, we had a lot of pushback from local community within Moore County, specifically right-wing conservatives who found that it was inappropriate that myself and my cast, and also Sunrise Theater, which was the venue that the event was being held in, were coming to the area to entertain the community. Shortly after that promotion, a lot of threats, specifically towards myself and Sunrise Theater started through social media, through DMs.
Specifically, through people who follow Emily Grace Rainey. Death threats came in, sexual attacks through DMs came in towards me. There was a lot of pushback towards Sunrise Theater to ultimately cancel the event. Mainly their first tactic was to have the event change its age restriction from being an all-ages show and family-oriented show to being 18-plus. Once that was successfully done, it then turned into them trying to get the show canceled altogether.
Melissa Harris-Perry: Can you tell us what happened when the lights went out?
Naomi Dix: Sure. I actually did not realize that the power itself went out. It was originally a part of the show based on my lighting queue list that was sent prior to the event that the lights went out at that time in the venue, or as we would call it in entertainment, a blackout. It was not until my assistant and my security guard made me aware that the power was out. Then about five minutes later, made me aware that the power throughout Moore County was also out. I then went out onto stage, made the audience aware of that, and then just to calm nerves, asked them to turn on their cell phone lights to illuminate the room, which was about 370 people. It was a sold-out event and asked them to join in singing Beyonce's Halo with me.
Melissa Harris-Perry: Also joining us now is Sarah Kate Ellis, President and CEO of GLAAD. Sarah Kate, welcome back to The Takeaway.
Sarah Kate Ellis: Thanks for having me.
Melissa Harris-Perry: Sarah, the very end of last month, so just a few days before this happens in Moore County, North Carolina, the Department of Homeland Security issued a bulletin reading in part that there was a concern about lone offenders and small groups motivated, and that they continue to pose a persistent and lethal threat to the homeland. This advisory specifically talks about targets of potential violence include public gatherings, faith-based institutions, and the LGBTQ-plus community. As the president of GLAAD, have you been working with federal authorities at all around this heightened threat environment? Have they been in contact with GLAAD about this?
Sarah Kate Ellis: Absolutely. We've been working with federal authorities. We've been working with the White House. There is clear and present danger against our community and threats against our community. I appreciate you building the context around this because we've been tracking this. Over this past year, we really haven't seen it at this level in over a decade at least, if ever, quite frankly. What we reported out a couple of weeks ago was 124 attacks on drag events just within that period of time. That was over a week and a half ago.
We're at 140 attacks on drag events, but that's not just what's happening. What also is happening is that this starts with politicians who are targeting LGBTQ people at the beginning of the year with about 300 baseless bills restricting healthcare, free speech, sports against the LGBTQ community. Then there's this vile rhetoric that we're seeing that's amplified on right-wing media and spread across extremist social media sites. That's where the organizing is happening that is leading to what we're seeing in real life, is these fire bombings of donut shops in Oklahoma that are hosting drag events, and use of intimidation by bringing open weapons to protest.
Wearing military tactical gear at drag holiday events. There's a real threat against our community right now, and we have been shouting from the mountaintops about this because we saw what was going to happen at Club Q. We knew this was going to happen just based on what we're seeing, and tracking, and connecting the dots.
Melissa Harris-Perry: Naomi, in terms of connecting those dots, North Carolina is a particular hotspot for this. Both North Carolina and Texas having some of the highest numbers of attacks on drag performances. Just at the most basic human level, Naomi, are you afraid?
Naomi Dix: I wouldn't necessarily say that I am afraid myself. I am more concerned when it comes to my community. Not everyone within my community has the privilege of having support. Not only having support by people within their local community but just having support depending on where they live. If they live in more of a rural area, they may not have the support that they need. This is not only affecting just drag artists, but this is also affecting trans people. This is also affecting queer people as a whole. When it comes to the question, am I in fear, I am in a natural fear of just being a queer person or a queer person of color, but I am more of fear when it comes to just my community in general.
Melissa Harris-Perry: Yes, I heard you mention almost offhandedly, "When my security told me," and it pulled me up because it made me realize if you've already got security in place, this must mean you're already living with a sense of that heightened threat.
Naomi Dix: Most definitely. It's always good to take extra precaution. Thankfully, Sunrise Theater and a lot of people within the Moore County area knew of the attacks through social media and knew of the heightened danger coming from the --
conservatives in the area. They all raised money to be able to help Sunrise Theater hire security for myself, which I had two security guards for myself, and hire security for the entire venue, as well as each one of my cast members that I hired for the event. Yes, again, it's always better to take extra precaution. This is something that we now, as drag artists, have to be concerned for when going into business with venues in general.
We have to take that into consideration, not only to protect ourselves but also to protect the safe space that we're facilitating, and those who are coming into that safe space, we have to hire security to protect them as well.
Melissa Harris-Perry: Naomi and Sarah, stick with me. We'll be right back. More on rising drag phobia and its very real consequences when we come back. It's The Takeaway.
[pause 00:10:59]
[music]
Melissa Harris-Perry: You're still with The Takeaway, I'm Melissa Harris-Perry. We're continuing our conversation about Moore County North Carolina and the broader context of drag phobia. As we've said, investigators have not arrested a suspect or indicated a motive in the intentional shooting of two power substations in Moore County, North Carolina, just over a week ago that left tens of thousands without power in the winter for nearly five days. The timing of that attack does coincide with a drag performance that was targeted by opponents for weeks.
Still with me is Naomi Dix, a North Carolina-based drag artist, and Sarah Kate Ellis, CEO of GLAAD, Sarah Kate, why drag phobia? Why in this moment? You started to give us this legislative context, the baseless attacks on LGBTQ adults, and particularly on young people. What political motivation is served in this kind of stoking of fear?
Sarah Kate Ellis: I think that what has happened is that the extremists on the right wing have found a way to continue to target our community and really have been able to amp up that targeting using right-wing media and social media, so that, what this does is it creates fear, and it creates hostility and hatred against our community. That, for them I think distracts them for whatever issues they're not really addressing, like how people need to eat and put gas in their car, and things like that. They're taking a very marginalized community, the LGBTQ community, and putting a target right on our back.
If you think about this, drag shows have been in existence since Shakespearean time. Drag shows represent not only fun and happiness and excitement, but they are political too because it is when we take gender and turn it on its head. I think that is very frightening to folks in these extremist groups and these white supremacists. They've really focused in on drag events. These drag events also have always been a place to gather family, friends. I think that now they're coming, and they're saying, they're using all of these grotesque terms of "groomer" and saying that we're threatening children.
Meanwhile, they're showing up with these machine guns literally and firebombing these events. I think that it's been a political tactic that has been working for them in terms of galvanizing their small minority. This is a minority of people, but they're organized and they're deadly. Just when in Florida, when Governor DeSantis was pushing forward his "Don't Say LGBTQ" bill, we saw a 406% jump online with slurs like groomer being used. They're really trying to paint us into a corner of being terrible people, and they're using drag events as very visible moments to do that.
Melissa Harris-Perry: Naomi, let's talk about the kids because this is one of the pieces of misinformation and disinformation that are being circulated to stoke this fear. What does it mean to say a family-friendly drag event?
Naomi Dix: My job as a drag artist, as I always have said and will continuously keep saying, is to facilitate and create safe spaces. It does not matter the color of your skin, your age, your background, your political views. I have had people who identify as Republican who come to my events. Again, this is why I do these shows in non-traditional queer spaces sometimes so that those who may not feel safe or maybe don't feel comfortable with going into queer spaces because they are unsure as to what queer spaces are due to the lack of their education and knowing what they are, they feel comfortable.
Families who have children may feel more comfortable coming into a space that is not a traditional queer space because it is more family-friendly to them. When we say family-friendly, that is exactly what that means. As I always tell people all the time, you take your children to Disney World, you take them to Universal Studio, you have people walking around in costumes. You have people walking in wigs and makeup. You have your children take photos with these people. You have your children take photos with people who are completely unrecognizable in costuming.
However, you are terrified, or scared, or creating a narrative that you don't want your children to go to a drag event. We're doing the same exact thing that you would see a character at Disney World or at Universal do. The only difference is that versus thousands upon millions of people at a Universal Studio lot or at Disney World, you might have upwards of 300 people or less at a drag event. We are here to not groom your children, but we are here to educate your children and to offer your children or just youth a space to be able to artistically find themselves, or a space for them to see representation, or to see that there is a community out there.
To deprive the youth of local or just community art, in general, makes no sense. Me as a drag artist, I like to call us drag artists and not just drag queens or kings but artists because that is what we are. Again, we are providing and facilitating a space for anyone of any age to be able to see that representation and feel safe.
Melissa Harris-Perry: I want to, Sarah, come to you on this point that Naomi has made so beautifully here about creating safe spaces, about engaging full families. Maybe again to zoom in a little bit on the North Carolina of it all. Not just North Carolina but rurality in a broader context and the ways that often, queer young folk, actually, young folk in the broadest sense of queer, can sometimes find it really challenging to find safe spaces in rural and in Southern places, perhaps even more so than in cities where there are more obvious markers for finding safe spaces. What are the potential long-term consequences in addition to the short-term violence of this attack on spaces of drag performance?
Sarah Kate Ellis: This is targeting to erase us as a community. When you erase the visibility, you ruin the connectiveness and the connective tissue. I think what happens is then these kids don't get to see who they are or the possibility. We're already dealing with some of the ramifications of this extremism and this vileness against our community. The CDC reported last year that one out of every four LGBTQ youth attempted suicide. One out of four. Every time I say it, I get chills, and so I think as we see these attacks heightened, as we see drag events need to cancel because of safety and security, we will see this directly affect those numbers on our kids, on our youth who are being sent the message that their community is terrible. That it shouldn't exist, that it deserves violence against it, and they'll internalize that. That's what happens.
Melissa Harris-Perry: Sarah Kate Ellis is CEO of GLAAD. Naomi Dix is a Durham North Carolina-based drag artist. Thank you both for joining us today.
Sarah Kate Ellis: Thank you.
Naomi Dix: Thank you.
[music]
Copyright © 2022 New York Public Radio. All rights reserved. Visit our website terms of use at www.wnyc.org for further information.
New York Public Radio transcripts are created on a rush deadline, often by contractors. This text may not be in its final form and may be updated or revised in the future. Accuracy and availability may vary. The authoritative record of New York Public Radio's programming is the audio record.