Monkeypox and Covid: What We Need to Know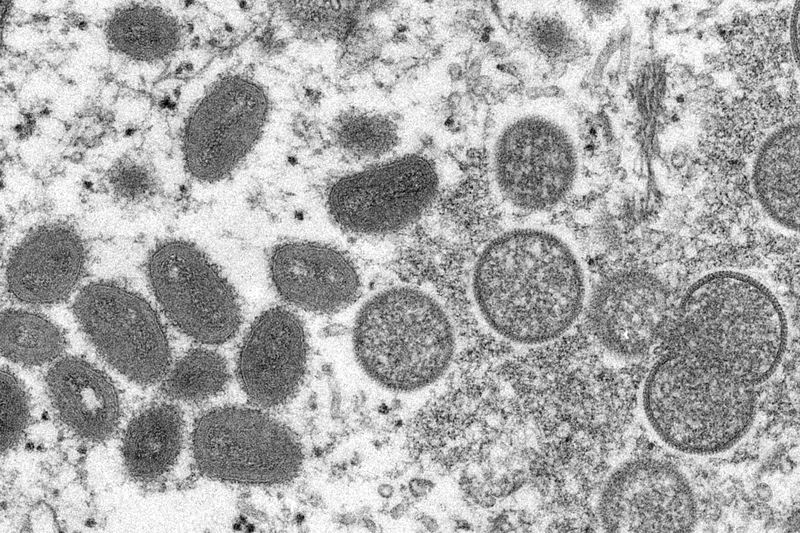 Transcript
[music]
Melissa Harris-Perry: Welcome to The Takeaway. I'm Melissa Harris-Perry. Now, according to the CDC, more than 4,300 cases of monkeypox have been identified in 48 countries around the world. Nearly 250 of those cases are in the United States. The most recent outbreaks have been concentrated primarily among gay and bisexual men who have sex with men. Monkeypox, which is in the same family as smallpox, has symptoms ranging from blistering rashes, exhaustion, body aches, chills, and fever.
While the CDC announced that the threat in the US is low, some experts say officials are not responding with an appropriate level of urgency. New York City recently made monkeypox vaccines available to men who have sex with men, but the city has not had enough supply to meet demand among those seeking to get vaccinated. I'm joined now by Gregg Gonsalves, who's associate professor of epidemiology at the Yale School of Public Health. Welcome back to The Takeaway, Gregg.
Gregg Gonsalves: Thanks, Melissa. Thanks for having me.
Melissa: Let's just start with monkeypox. How dangerous is it both for an individual who might contract it, but also from a broader community perspective?
Gregg: A couple of things, this is an endemic disease in West and Central Africa, so it's been around for a while. There are two general strains of it, one most frequently in West Africa and another one that appears most commonly in Central Africa and the Democratic Republic of Congo. The West African strain seems to be less virulent, at least in terms of clinical outcomes, than the variant from Central Africa. There have really been no deaths.
Maybe there's been one death across this current outbreak, except it's now digging its heels into the gay, lesbian, and transgender community in the United States and around the world in 44 countries and could persist over time, making it a hazard for these individuals, but also risking a jump into other kinds of settings in which there's close physical contact, which is the way this disease is transmitted.
Melissa: We have some history and experience worldwide and particularly in the US when an endemic disease that's contagious becomes concentrated in what we might describe as a marginalized population, whether that is among people with low socioeconomic status, among queer communities, among Black or brown folks. Often when that happens, historically, we've had underreporting of cases. What are your thoughts right now about how accurately we're capturing the current spread?
Gregg: Oh, we are clearly not capturing the current spread. As you suggested, this is happening in marginalized populations among men who have sex with men. It's also happening in the context of these very tight social and sexual networks in which people are having multiple partners, often anonymous partners. These are very private acts and situations. People may not want to come forward to name exposure. As I said, again, while the lesions are painful and you get a flu-like illness accompanying it, it's not likely to kill you. Many people may just suffer through whatever they have and not come forward. People are suggesting we're way underreporting in the United States.
We also have testing, which is running through the laboratory resource networks from the CDC, which has been criticized by a variety of people, including Jay Varma, formerly of New York City health department, and Jennifer Nuzzo, I think who's at Brown now, suggesting we need to move this into commercial labs. Doctors can do this as easily as they do a swab for something else in their office. We're desperately underdiagnosing it. Remember, gay pride events are happening. LGBTQ pride events are happening across the nation and across the world. The chance for amplification of this outbreak is real. What we see right now is just the tip of the iceberg.
Melissa: I do want to go back and dig in again on this question of marginalized populations and your point that we're in pride month still. We're talking about big parties and celebrations and marches and public demonstrations. I do also want to be clear. This is not a disease based on identity, right? Once we're talking about close contact, then presumably even if most of the cases are concentrated among men who have sex with men right now, that would change fairly rapidly. Is that right? I don't want to cause alarm. I just want to be clear here.
Gregg: No, this is not about who you are. It's about what you do and it's about repeated close contact. The reason we're seeing it in these subpopulations of the LGBT communities because their early cases were tied to raves in Europe in which people are packed together dancing on dance floors and anonymous sex venues. If you think of a potential for it to jump into other populations, you think about where people will be in close physical contact, homeless shelters, and prisons and jails.
In terms of a general population spread, it's hard for me to think of it being a problem. The one other piece of this, which is upsetting to me frankly, is that New York City announced vaccines for gay men, men who have sex with men last week. There was a rush on them, right? The setup was in Chelsea. It was in the middle of the day. That's not setting us up for an equitable response to this outbreak. In the end, it's going to linger in the people who have least access to healthcare resources, least contact with public health in the United States. We know what that means.
Melissa: The kind of Chelsea setup in the middle of the day is indicative of a wider population or a less racially diverse population, a wealthier population, and folks who presumably can take time off in the middle of the day?
Gregg: In terms of clinical danger from monkeypox, if you are HIV-positive and don't know your status or you're HIV-positive and you're not doing well on antiretroviral therapy, you may in be more danger of clinical complications from the infection. We know where in New York City there are more people undiagnosed with HIV and where viral load is unsuppressed from HIV across the city. It's not necessarily in Chelsea. We need to make sure that as we roll out these vaccines for monkeypox, as we ramp up testing, that we do it in a nice, little way. Not just in New York City, of course, across the country.
Melissa: I'm just wondering in part if there is an attempt not to create the kind of stigmas we know can be associated or if not giving that kind of information actually ends up being an epidemiological problem. In other words, in these cases, more information, better, or maybe less information?
Gregg: Well, I think we're walking a fine line. Many of the federal health officials that we're dealing with in this outbreak are old hands at HIV. They know the dangers are stigmatizing populations and stigmatizing diseases. There's been a really concerted effort to say that this is not a gay disease to refrain from any sort of stigmatization of behaviors or people. That being said, the outbreak right now is among men who have sex with men. We need to get the information out through those communities and social networks. LGBTQ health organizations, HIV/AIDS organizations are perfectly primed to do this. We have to walk the fine line. No stigma, please, but information and education and outreach, yes.
Melissa: Do we know anything about issues of misdiagnosis?
Gregg: Well, the thing is most clinicians, most people have not seen monkeypox in the United States. It's really something new for clinicians and for the community in which it's happening. There is some suspicion that this disease outbreak might be presenting differently than it has in previous instances of its appearance. Lesions could be confined to the general area and appear like herpes or syphilis lesions.
There's a question of whether, as you said, there might be misdiagnosis because somebody thinks it's an STI or sexually transmitted disease or something else. It's been important to get pictures out there so that clinicians and people can understand what these lesions look like and be aware that they need to seek medical help should they see one of these in their body at any place, whether it's the general area or their trunk, their arms, their neck, their face.
Melissa: All right, we're going to take a quick break and we'll be right back because there is also still a pandemic happening in this country and it's called COVID.
[music]
Melissa: This is The Takeaway. I'm Melissa Harris-Perry. I'm back now with Gregg Gonsalves, who is associate professor of epidemiology at Yale School of Public Health. Gregg and I have been talking about the rise in monkeypox cases around the world and here in the US. Since we've got Gregg, I wanted to be sure that we turn now to some of the recent developments related to COVID-19. The CDC has approved vaccines for children between the ages of six months and five years old.
Some parents are feeling even more confident about re-entering the world now that their littlest ones can be vaccinated, but there's also still a considerable vaccine hesitancy among parents of those under five. In addition, the CDC has also rescinded its COVID-19 testing orders for incoming travelers. Let's just talk about where we are in the pandemic right now, Gregg. I will say I'm currently in a household full of COVID-positive people. [laughs]
Gregg: Oh no.
Melissa: I'm not allowing any of my family members to come downstairs. I keep saying, "Text me if you want food." Look, I guess we're more than two years in. Everyone is vaccinated and boosted in the household. These have been the first cases in my immediate family, but it really is a reminder that we're still in a pandemic.
Gregg: We're still in a pandemic and, frankly, there's more replication of the virus going on now than there has been in quite a while. We have a very contagious strain. We have almost a complete unilateral disarmament in terms of any sort of protection mechanisms. While we're not seeing deaths explode like we did the previous winter and early spring, it's a huge disruption in people's lives. For everybody who's upstairs in your household, that's happening across the country.
People are having to postpone work and personal events. Flights are being interrupted. Medical procedures are being interrupted. Schooling is being interrupted. While we may think that pandemic is "over and we're vaxxed and done," anybody who's lived over the past few months and has had a family member or a friend get infected with COVID realizes they're out of commission for a few days or a couple of weeks, right? The pandemic is still a big part of the American experience even though we're pretending that it's all in the rearview mirror.
Melissa: When I hear you say that it's replicating more swiftly, what do you mean there?
Gregg: If you go to the CDC webpage, they have a map that talks about community levels. That looks sort of green and happy, but that's based on hospitalizations and deaths, which are not at the peaks they were. If you click down on their menu and look for community transmission, the map turns red. It means that there are very, very many cases being transmitted across the country from coast to coast, north to south, east to west.
Lots of people as you described are getting infected with COVID. They may not end up in the hospital, but those who are at severe risk of clinical complications, those who are immunocompromised, those who are under-vaccinated or not vaccinated at all or not boosted are at risk of more serious complications. Then there's the disruption and dysfunction that it's causing in our economy and in our personal and professional lives.
We have lots of SARS-CoV-2 spreading around the country and people don't think it matters. Then there's always the question of long COVID. Even mild infection can pretend having long-term complications of the disease, which nobody really wants. Whether it's 5% or 20% of cases that develop on COVID, the nonchalant about that is worrying because this is not just a mass infection event. It's a mass disabling event as well.
Melissa: Given that we were just talking about monkeypox and that transmission has been global, very, very different kind of disease. I do want to ask you, whether or not loosening travel restrictions around testing is likely to have an effect at all on community spread for COVID.
Gregg: As I said, we're basically a boiling pot of COVID-19 in the United States. Worrying about whether one or two cases comes off a flight from Europe, et cetera is probably less important than getting our act together domestically. Domestic transmission within the United States is by far the greater risk to us. Again, whether you think it's death, hospitalization cases, disruption, and dysfunction that we're injecting into our everyday lives at work and at home, the real risk is domestic transmission and letting it spread.
Remember, it's the summer. We're all outside. Things are much easier to manage in terms of social interactions over the next few months. Once winter comes and we have another wave, we're in deep trouble. Remember, the money is out in terms of getting people vaccinated, tested, and treated for the uninsured. We have no real resources to fight COVID anymore because the Congress has not voted to extend relief to the American people. We are going into the fall with unilateral disarmament and the chance for a wave of COVID that could really surprise us in the worst of all possible ways.
Melissa: That was a little bit terrifying there, Gregg. Let me ask this. If it's not about keeping a few folks from Europe out of the US or something, what are some of the proactive actions that we could be taking now in anticipation of that fall and winter concern that you just articulated?
Gregg: On a societal level, we need the Congress to act and act quickly so that we have all the resources we need to fight the pandemic going into the fall and to the winter. They basically drag their feet and refuse to put money on the table, leaving us all terribly vulnerable as we move forward. There are things we can do in our own personal lives. I'd wear a mask when I go into the grocery store or I'm going on Metro-North to go down to New York City, for instance, from New Haven.
There are little things you can do in your life to make it less likely that you're going to end up catching COVID or giving it to someone else. That's indoor gatherings. We have rapid tests. Use them before you go to see if you're infectious, to ask other people to do it as well. These are not huge intrusions into liberty to wear masks in public places, indoors, and to minimize indoor contact in large groups, particularly when you don't know if they're vaccinated or not. Using rapid tests if you can get access to them, which you can through the US Postal Service and the federal government, to manage your risk to others as well.
Melissa: Gregg Gonsalves, associate professor of epidemiology at Yale University School of Public Health. Thank you so much for joining us.
Gregg: Anytime.
Copyright © 2022 New York Public Radio. All rights reserved. Visit our website terms of use at www.wnyc.org for further information.
New York Public Radio transcripts are created on a rush deadline, often by contractors. This text may not be in its final form and may be updated or revised in the future. Accuracy and availability may vary. The authoritative record of New York Public Radio's programming is the audio record.