Making Sense of Mixed Messaging from Public Officials on COVID-19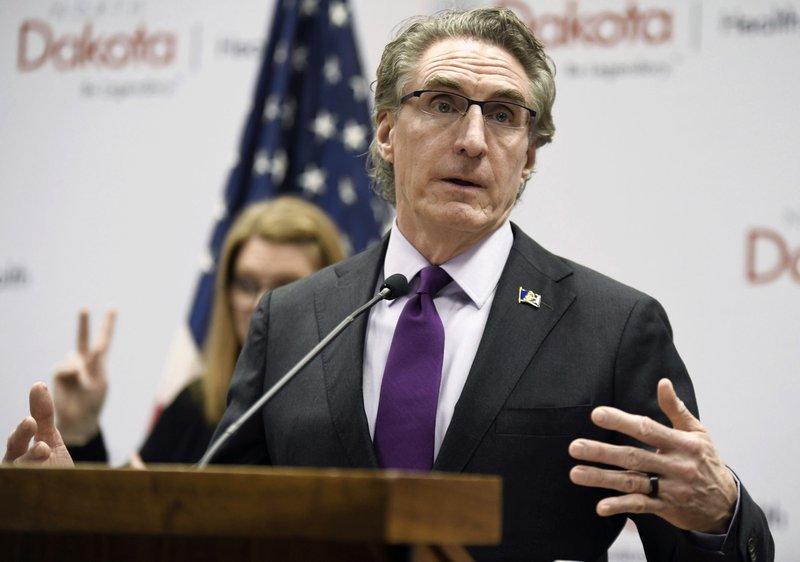 Transcript
[music]
Tanzina Vega: This is The Takeaway. I'm Tanzina Vega. As thousands of Americans continue to die from the coronavirus, President Trump's obsession with the election has resulted in a void in leadership from the White House. The result has been a patchwork of uneven responses from state and local officials around the country, often driven by politics. So far, Democratic governors in states like New Mexico, Oregon and Washington, have announced orders that will dramatically rollback business activity in their states.
Governor Jay Inslee: Every part of our state, we will see rollbacks in some sense.
Governor Kate Brown: If we want to give Oregonians a fighting chance, we must take further measures to flatten the curve now. That's why I'm announcing a two-week freeze.
Governor Michelle Lujan Grisham: We are doing a reset or pausing for two weeks. It means that all New Mexicans are instructed to shelter in place.
Governor Inslee: This is not forever. This is only for now.
Tanzina: On Friday night, Republican Governor Doug Burgum of North Dakota announced a new set of policies for his state, including a statewide mask mandate, a measure Burgum himself had opposed for months.
Governor Doug Burgum: Our situation has changed, and we must change with it, protect our most vulnerable, and to ensure hospital capacity. To be clear, these are statewide requirements, not simply recommendations.
Tanzina: Though many Republican governors remain reluctant to force businesses to close back down or implement statewide mask mandates, here's Oklahoma Governor Kevin Stitt at a press briefing last week.
Governor Kevin Stitt: As far as a mandate, I've been very clear that I don't think that's the right thing to do. This is a personal responsibility. This is pleading with people to do the right thing.
Tanzina: In many places, pleading doesn't seem to be doing enough to stem the tide of the virus. For the past week, an average of more than 1,000 people have died each day from the coronavirus. There's a lot of mixed messaging from our public officials at a dire moment for public health in this country. Trying to make sense of leadership in this moment is where we start today.
Joining me now is Dan Goldberg, healthcare reporter at Politico and author of The Golden Thirteen: How Black Men Won the Right to Wear Navy Gold. Welcome back to the show, Dan.
Dan Goldberg: Thank you so much for having me.
Tanzina: Dan, let's talk. We just heard at the very top of the show here the differences in how some Democratic lawmakers are approaching the coronavirus pandemic appear to some Republicans, what are some of the biggest differences you're seeing in how these states are responding?
Dan: The biggest difference is a philosophical one. Democratic governors, by and large throughout this pandemic, have been much more hands-on, much more quick to use public health authorities from state level to tamp down on businesses, to impose restrictions on gathering, to require masks. Again, I'm painting with somewhat of a broad brush, isn't true for all the governors, but most Republican governors have relied on individual responsibility, have pleaded with their constituents to do the right thing, and have been very wary of using the power of government to restrain economic activity or to punish people who aren't wearing masks.
Tanzina: We've talked a lot about how President-elect Joe Biden, I should say, has a COVID task force, he has the people in position, he has grand plans, and one of those grand plans is to implement a mask mandate. Dan, you've spoken to governors across the states, across the country, what do they tell you about their openness to a federal mask mandate?
Dan: Of the dozen or so states that don't have one at the moment, there are a bunch of Republican governors who, as of last week, had not yet even accepted that Joe Biden had won the election. That's a bad start if you're the incoming administration. For many others, you just play that clip from Governor Stitt in Oklahoma, Governor Ricketts in Nebraska, Governor Reynolds in Iowa, certainly Governor Noem in South Dakota, they have all said that they would not be receptive to a call from Joe Biden.
It's worth remembering that while President Trump has mocked mask use and downplayed the seriousness of the virus, his administration, including Deborah Birx, Anthony Fauci, CDC director Robert Redfield, Jerome Adams, the Surgeon General, they have traveled the country begging governors to impose mask mandates. They have pleaded for people to wear masks, to be socially distant, and those calls have gone unanswered.
It was always a bit of a stretch to imagine that a phone call from Joe Biden would change their mind. It's worth remembering, like I said in the beginning, that some of these governors are philosophically opposed to this, just on political grounds, also from a political point of view, while Donald Trump may be leaving the White House, Trumpism remains a potent force, especially in some of these states.
You have to remember that Donald Trump won in these states by 30, 40 points. He has a lot of force and power there. To cross him, even the appearance of crossing him can be tantamount to political suicide for some of these governors.
Tanzina: We should be clear also that we are here in New York, the show is brought out of New York, I live in New York. This is a democratic state. It's a blue state. It's got Governor Andrew Cuomo and Mayor Bill de Blasio, are often at odds themselves about how to manage the coronavirus limitations.
Even up until yesterday, on Sunday, parents were on edge trying to decide whether or not their children were going to go to school or not going to go to school. It's not so much just Republican lawmakers. I think we're also seeing some skirmishes among Democratic lawmakers, at least here in New York, in terms of how to even approach this.
Dan: Not just in New York, across the country you're seeing that. I should be clear, I don't envy any governor who has to make the decision of whether to effectively cancel someone's livelihood. I just saw, just before we started talking, the New Jersey Governor implemented new restrictions, capping gatherings at 10 people down from 25, and capping outdoor gatherings at 150 people down from 500. These are going to have life and death consequences for some businesses.
Tanzina: Let's talk about that, Dan, because I'm sitting here and I'm saying, okay, some people, including myself, have been in pretty serious isolation for about nine months now. We're hearing different directives, even from health officials who say, no indoor gatherings with people who aren't wearing masks, and then we hear some people say, even here in New York, and as you mentioned, New Jersey, it's okay to have up to 10 people at an indoor gathering, and then other people say you shouldn't even have Thanksgiving. The messages are confusing. It almost feels like no one's really in charge here.
Dan: Yes, there's certainly a leadership vacuum that probably starts at the federal government, but it winds its way down to the different states and even cities. Like you said, you broadcast out in New York. For how many months have we seen the mayor and governor of New York be on different pages when it comes to coronavirus restrictions? I think Tony Fauci has probably said it best, in that every activity you do, you have to be thinking about managing risk. The risk of going into a crowded indoor place is obviously very high. If it's not a crowded indoor place, but it's still indoors, it's less risk. That doesn't mean it's no risk.
Unfortunately, I think many Americans across the country have had trouble parsing that out. It's a very gray area. How much risk is acceptable risk? I really want to see my grandparents, or my daughter, or have my kid's birthday. It's risky. How risky? These are not easy answers. I think all that gray area is one reason why people have thrown up their hands across the country and said, "You know what? I'm just going to take my chances." Unfortunately, that has led to a spike in infections that has overrun healthcare systems across the country.
Tanzina: Let's talk about what some of those more stricter, should I say, limitations are being put into place around the country, Dan. Where are you seeing some pretty strict enforcement right now? I believe Chicago is one of the cities that's also starting to implement some version of a stay-at-home order.
Dan: Yes, Chicago, Mayor Lori Lightfoot just implemented a stay-at-home order. That was followed by near lockdown orders in New Mexico, in Oregon, and Washington State. I think we just saw new restrictions in North Dakota and Nebraska, and Utah. Three very conservative states have put in new restrictions. For example, in Oregon, they're limiting restaurants and bars to take out only.
These are pretty serious restrictions. Just to give you a sense of where we are, you played the clip from New Mexico earlier. New Mexico, at the beginning of October, had about 80 patients in its hospitals with COVID. Now, it's close to 500 in 6 weeks. These are states that are really struggling to get a handle on the virus. I know a lot of politicians have used the metaphor of a dimmer switch that they've tried not to turn on or off the economy, but to dim the lights when possible. Many of these governors have found that they've dimmed as much as they can, and it's time to go back to, to extend the metaphor, turning the lights off. I think that's what you're seeing now in a lot of the Southwestern States and plain States.
Tanzina: Now, is the concern here, political viability? As we mentioned, President Trump is still the president for the next- at least until the January 20th, and these governors might be wary of incurring his wrath, but at what expense? 1000 Americans a day passed away from this virus last week.
Dan: Correct. I think it's not just President Trump's wrath. They have to worry about their own constituents. Don't forget, it was only a few weeks ago that the governor of Michigan was the target of a plot to kidnap her. We heard reports that the governor of Virginia and Iowa were also targeted, and that's just the fringe, most extreme elements of society, but there are real political consequences to shutting down your economy, and then on top of that, you have to worry about how once you do shut it down, how do you recover?
What are the long-term effects of putting people out of work, reducing your tax base? I know, in Washington, the governor is making available $50 million to help people get through the next few weeks who've lost their business, but that money is going to go pretty quickly, and it's going to leave you with a spate of horrible choices to make in January.
Tanzina: The federal government, Dan, we should be clear, has not announced any additional stimulus funding for small businesses or other businesses who were affected by the pandemic, isn't that right?
Dan: That's correct. The Democratic House and the Republican Senate have been at odds with each other for months, and even though President Trump has tweeted repeatedly that he wants to see a big, beautiful coronavirus relief deal, there isn't much movement at the moment on Capitol Hill. As last we checked, the two sides, the Republicans and the Democrats are hundreds of billions of dollars apart. While I never want to say "never," it does not look likely that we are going to see a new relief package before the end of this calendar year.
Tanzina: Dan, the Trump administration hasn't allowed President-elect Biden to even start coordinating with federal agencies, including meeting with Dr. Anthony Fauci and others. What should they be doing right now? How much of an effect is that going to have on the Biden administration's ability to really start this plan from day one?
Dan: Tony Fauci had a great metaphor. He said this is like a relay race. You want to pass the baton while still running in full speed, and essentially what the Trump administration is making the Biden team do is, stop, grab the Baton and start running again. They just don't know everything that the Trump administration knows.
They haven't been able to coordinate with HHS, with the CDC. They are relying on what they can glean from talking to the private companies that are involved with the federal government, but it's not the same thing. Every day, like you mentioned, is 1000 American deaths, so every day's delay means another 1000 people might die. When you talk about just the huge, massive workings of the federal government, it is not easy to take control of the ship of state, and so these delays, this inability to know what's going on inside the agencies that you're about to lead are incredibly costly.
Tanzina: Now, we know that we're not the only country that's grappling with another surge in coronavirus cases. We're seeing in Europe, for example, there are lockdowns, they're beginning to happen in some form. How would you compare how we're responding to this as opposed to other countries, Dan?
Dan: We are about two to three weeks, if you look at the epidemiological curve, we're about two to three weeks behind some of Southern Europe which is getting hit pretty hard, but that doesn't mean we won't get there. What had to happen in Europe was real lockdowns of the entire country.
Now, they can have an easier time of it, sometimes because they're smaller countries, and sometimes just because of the political culture in those countries, but they are so overwhelmed and overrun that they've had to really go to lockdown 2.0, which is something that obviously they have hoped to avoid, but it's worth pointing out. Like you said, this is not unique to the United States. How we respond has been so far pretty unique. We have more so than any large country debated whether coronavirus was even worth taking seriously.
Tanzina: We'll be checking in with you as the story evolves. Dan Goldberg is a healthcare reporter at Politico. Dan, thanks so much.
Dan: Thank you so much for having me.
Copyright © 2020 New York Public Radio. All rights reserved. Visit our website terms of use at www.wnyc.org for further information.
New York Public Radio transcripts are created on a rush deadline, often by contractors. This text may not be in its final form and may be updated or revised in the future. Accuracy and availability may vary. The authoritative record of New York Public Radio's programming is the audio record.