"Mississippi Goddam: The Ballad of Billey Joe:" An Exploration of History, Southern Identity, Policing and Race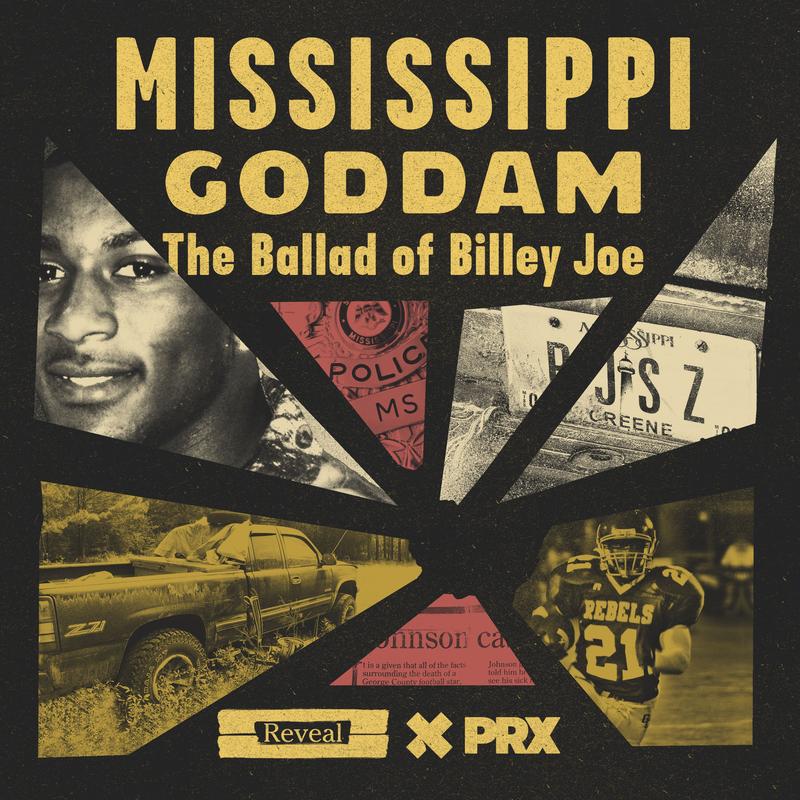 Transcript
[music]
Melissa Harris-Perry: We're going to put down the movie camera now and pick up our favorite storytelling device, the microphone, as we delve into a new investigative serial podcast from Reveal.
Al Letson: Hi, I'm Al Letson. I'm the host of Reveal, and we've been working on a serial called Mississippi Goddam: the Ballad of Billey Joe.
[music]
Melissa Harris-Perry: Mississippi Goddam takes its listeners to Lucedale, Mississippi. Located in Southeast corner of the state near Mobile, Alabama, Lucedale is a small town of about 3,000 residents, and more than a quarter of the population lives in poverty. This is where a Black high school football star. Billey Joe Johnson, died during a traffic stop with a white deputy back in 2008. Now the series is not your typical true-crime podcast. It's an exploration of history, Southern identity, policing and race. It's a story about Billey Joe, about Mississippi, but also about the investigators themselves. Al Letson is not a disinterested narrator. He's part of the story, engaging his own experiences, assumptions, and traumas, even as he seeks to uncover the truth of what happened.
Al Letson: This is America, and the issues of policing and justice always come back. It's a predictable cycle. A Black person is brutalized or killed by a police officer, racial tensions explode, and rarely is anyone held accountable.
News Reporter: Baltimore City leaders are urging patients this morning after another cop was acquitted in connection with the death of Freddie Gray.
Al Letson: Just like when I was a kid watching Rodney King.
News Reporter: --pittsburgh last night after a jury acquitted a white former police officer who shot and killed an unarmed Black teen as he fled a traffic stop.
Al Letson: That list keeps growing.
News Reporter: Philando Castile.
News Reporter: David McAtee.
News Reporter: Brianna Taylor.
News Reporter: Dreasjon Reed.
News Reporter: Atatiana Jefferson.
News Reporter: Michael Ramos.
News Reporter: [inaudible 00:02:20] .
News Reporter: John Crawford.
News Reporter: Tamir Rice.
News Reporter: Alton Sterling.
News Reporter: Eric Garner.
Melissa Harris-Perry: When Al first went to Lucedale, Mississippi, he was reporting the deep water horizon oil disaster, but he met Billey Joe's family and made a promise to them to look into Billey Joe's death. A decade later, he made good on that promise. Al gave us a prod outline of the story and what happened to Billey Joe, of course without spoiling too much of what's in the series.
Al Letson: The story started in December of 2008, and we're actually coming up on the 13-year anniversary of it. The story is Billey Joe Johnson was a 17 year old Black kid who was a really great athlete. He was loved in his community. Really small towns in the South, high school football is a big thing. He was the star and everybody knew him, and he was dating a white girl on and off at the time of his death. They weren't actually together.
Early one morning, he gets pulled over by a police officer and five minutes later, he's dead and the police officer says that Billey took a shotgun out of his car and killed himself with it. At the time, they said it was accidental, and then later the story changed a little bit to it being a possible suicide. I was reporting in 2011. I had really just gotten started in journalism at this point. I was reporting in 2011 on the Mississippi Gulf oil spill cleanup, and I went to Lucedale to talk to some of the people who were doing the cleanup, and they were mostly Black folks. They told me this story about Billey Joe, and said that it hadn't really reached the national media. There'd been a couple of little things, but nothing major, and they felt like their voices weren't being heard.
I'm from Jacksonville, Florida. I have a lot of family members that live in rural parts of the country. When I was hanging out with them, I just felt like I was hanging with my people. They asked me to look into it, and I did something I never do because people always ask me to look into stuff. With this group of people, I promised them that I would look into it. It took a good little bit before I was able to actually work on it. Mostly I think because-- well, two things. One is that like that the story is really heavy and I just, wasn't sure I could do it justice for a while. Then two, going to Reveal.
Reveal has the investigative might to actually go out and do this type of story, so it took a little while, but we got the green light and I started working on it about three years ago with my reporting partner, Jonathan Jones.
Melissa Harris-Perry: The investigative aspect is right out there for us to hear. We can feel it and hear it as you walk through this process, and I so appreciate that part of how you introduce this is by saying, "Typically, when there is a police-involved shooting and someone dies in police custody or even near or around police, what we get is an official report." We always begin with reporting that official report. It's true for the media in general, right? We'll just say, "Well, police report say," and police report say is almost as though, "This is what happened." Instead, you actually walk us through, as you say, in the podcast, the lived experience of Billey Joe Johnson. Talk to us a little bit about who Billey Joe was.
Al Letson: Yes. Billey Joe, his future was bright. He comes from a pretty poor family in Mississippi. They loved him to death obviously, and the community loved them a lot. He was a great football player. He had scholarships from all the top colleges, offers from all the top colleges. He was really getting ready to go somewhere. I think one of the stories that I think about a lot that actually didn't make it into the podcast because we just had so much material, but a couple of his friends told me that when they were 16 years old, they had taken their older brothers' IDs and had went to the big city which was Mobile, Alabama to go to a nightclub.
They went through all this stuff to get these IDs, they get into the nightclub, they go up to the bar and all the other guys are ordering like a beer or whatever and Billey Joe orders a Coke. Everybody looks at him like, "We went through all of that for you to come here and get a Coke?" He was just like, "Yup." That is the type of kid that he was. He stayed out of trouble. I think what you hear in the podcast is that there are allegations that he was abusive. The only people that backed up those allegations would be folks who are tied to the case a little bit. Not to say that those allegations aren't true. Just that, like, I couldn't find anybody who really corroborated those.
A lot of people that I talked to said he was a big guy but he was really gentle. Literally, his nickname was big baby, so yes, he was a good kid.
Melissa Harris-Perry: Now we also get to know more than a little bit about this smalltown police force, and not only in the case of what happened here with Billey Joe Johnson, but broader patterns and practices. I'm using that language of patterns and practices purposefully, given that they ended up under consent decree, although did not as part of that settlement did not end up having to indicate that they actually had wrongdoings.
Al Letson: Yes. Those are two different counties. That's the Madison County and they're in George County. Let me rewind a little bit. What we did in this series is-- I've been thinking a lot about, not just Mississippi, but the United States, and how we have all these lived experiences of what Black people go through, and for lack of a better term, the collective trauma that we all go through. One thing that I noticed, and this is a little bit of a blanket statement, but one thing that I noticed that like, with a lot of colleagues, both white and friends who are white is that they don't have the same collective trauma.
For example, when George Floyd died, a lot of people were obviously upset about it. We saw all across the country, people come out on the streets and absolutely, but I think that, with Black folks, it's a different trauma because it brings back all the other times that this has happened, not just the cases that everybody knows about, but the cases that family members know about that don't get the publicity. What I wanted to do is really try to help listeners understand how that collective trauma is carried both in the community, in Billey Joe's family, and also in myself.
We took stories from all over Mississippi that connected to what was going on in George County around that time. We have some reporting that in George County, the type of things that were happening in Madison County, i.e, the police setting up barricades and checking everybody's ID when they're going from one part of town to the other, the police harassing or pulling Black folks over for, really, no reason. All of those things connect together because it gives context to the time and the place where Billey Joe was living.
Melissa Harris-Perry: As you talk about that experience of experiencing one racial moment while your white colleagues might be experiencing something different, that's also part of the podcast. You are very much present in it as your reporting partner, and you all have conversations about how an interview went or what you're thinking about how the investigation is going. It is certainly a frank and revealing way to hear that interracial conversation.
Al Letson: Yes. I felt like it was really important to let the listener in on how race not only works in this case but how it works in reporting this story. I think people are having these conversations all the time. We just tend to not record them. I have to give it up to my reporting partner, Jonathan Jones. He took a deep breath and dove into the deep end with me even though I know it was definitely scary for him. I mean on one side-- especially the conversation that we have in episode six. I think on one side, I think his big worry is that like he was going to be looked at as the clueless white guy.
On the flip side, my biggest worry about putting that out is that I would be labeled as the angry Black man. Both of us just had to trust each other to go in and actually just put it out there. Ultimately, I really don't care if someone thinks I'm the angry Black man, whatever. At this point in my career if I don't get a job because people think I'm the angry Black man, I don't need that job. It took a lot of courage for JJ to be honest and open the way we were.
Melissa Harris-Perry: As you're saying that, I'm thinking about your interviews with Mississippi white police officers who say, There's no race problem here. That's something of the past." On the one hand, I hear that as patently ridiculous. Without even going somewhere, I can just look up the demographics that I can show you there are racial inequalities.
On the other hand, as a Southerner, I got to say it also resonated with me that, actually interpersonally I actually find the warmest interracial experiences in the south, that the most regular presumption that Black people will be in public space for me, at least, happens in the south. Actually all of my most horrifying interpersonal racial encounters happened not below the Mason-Dixon, but above it.
Al Letson: I think you are 100% right. Explaining race in America-- If alien beings came to the United States it would be so hard to explain the twists and turns that race takes in the United States. After we interviewed that former police officer and he said that there were no racial issues, the next thing you hear in the show after JJ and I's conversation is me talking to a Black alderman, Carrie Moulds there. She basically says she doesn't see racism that often either.
I felt like it was important to have her experience because I know what the listener is going to be thinking because the same thing I'm thinking like, "That's patently ridiculous." Then the lived experience of a lot of Black folks is it's complicated. It's really complicated. It's not like cut and dry. I think that the thing for me about the South is the South has clarity in a way that a lot of places in the United States do not. I know where I'm not wanted in the South. It's clear. I also know very clearly where I'm celebrated and not just tolerated.
In my home city, Jacksonville, Florida, I feel that so much. I feel like I'm loved when I go home. That being said, there are places that I don't go because I know that those places do not love me. Then when we dig a little bit deeper and we look at what the racial inequality actually looks like, it's like Black neighborhoods in my city tend to be the neighborhoods that flood, tend to be the places that don't get the same help that white neighborhoods do. It's a very tricky thing and hard needle to thread.
Melissa Harris-Perry: I don't want to give away anything in this podcast because I want folks to walk this investigative journey along with you along this sonic and emotional and sometimes traumatic journey. What do you feel like you can tell us and tell the listeners of The Takeaway about how they should be thinking about approaching this and as they begin to listen, what are some of the twists and turns that they might be able to expect?
Al Letson: Yes, sure. When we first started working on this, I had a vision in my head and it was really hard for me to describe to the team what I was trying to do, what I wanted to do. I think that was because I think a lot of these types of investigations, when they get turned into podcasts, they end up becoming very true-crime in their viewpoint. I have no problem at all with true crime. People love what they love. I'm not going [unintelligible 00:15:39] on the thing that they love.
I would just say that I did not want to do true crime with this. What I wanted to do is really dive into the complexities of the case, of the place, and of the United States and how race works in it all. I think that what we've been trying to do is look at this from the angle of, "This is what happens in an official investigation. This is what happens in the community who is completely disconnected from that investigation." Then the results, "This is what it looks like. This is why nobody's happy with the end result," because the community is kept out of the investigation. The way that the investigation looked at the family or treated the family felt like, "Oh my goodness, these people are just making a lot of noise for no reason."
There's plenty of reason why the community and the family were making a lot of noise. We're trying to do is to show what that gap is, and to show who's on each side and also to remind the listeners every step of the way that Billey Joe was a human being. He had family and people who cared and loved him. He's not a character in a podcast you love but he's a person. He had weight. His life mattered. Also on the flip side, he was in an on and again off-again relationship with a young white girl. I would say that what we're really trying to do with that is also say she was a 17 year old girl. She was not some diabolical planner trying to get back at Billey Joe. She was 17. It doesn't mean she was great and pure, doesn't mean she was bad and evil either. She was a human being.
I'm just trying to make sure that Billey Joe's family retains their dignity in the telling of this story that Billey Joe's life matters and that we also frame everybody in the light of, these are human beings and sometimes maybe they didn't reach up to the standard that we would like them to. I do believe that-- and this is me coming from reading Brené Brown. I do believe that everybody is trying their best in some way, shape, form or fashion.
Melissa Harris-Perry: Last question. As you were bringing up Billey Joe's family, have they heard it, and what did they think about it?
Al Letson: Yes, it's complicated. Yes. They've heard it and yes, they love it. They're not crazy about some of the things that some people said, obviously, but it was important to me that the family be with us every step of the way. I think when we first came down there three years ago they weren't listening to podcasts. They didn't really even understand what it was that we were trying to do because it's not really their medium. They were super generous and let us in even though they didn't quite get it.
I think if we had came down with cameras they would've definitely understood it, but radio is something that they don't really-- they listen to regular radio like the hits. That being said, now they listen to it. They really enjoy it and they're in it. We had our final meeting with them I guess about three weeks ago now which will be coming out this week. You can really hear how that went. It's complicated, everything in this case.
Melissa Harris-Perry: Indeed. Complicated and very, very much worth listening to. Al Letson is the host of the National Investigative News Program, Reveal. He's been working on this investigative podcast, Mississippi Goddam: the Ballad of Billey Joe. Thank you.
Al Letson: Thank you.
[00:19:29] [END OF AUDIO]
Copyright © 2021 New York Public Radio. All rights reserved. Visit our website terms of use at www.wnyc.org for further information.
New York Public Radio transcripts are created on a rush deadline, often by contractors. This text may not be in its final form and may be updated or revised in the future. Accuracy and availability may vary. The authoritative record of New York Public Radio's programming is the audio record.