Migrant Child Labor is on the Rise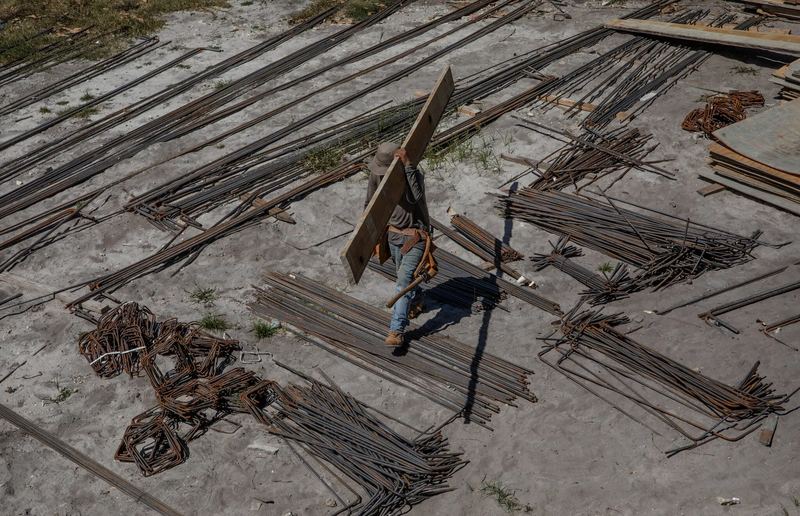 Transcript
[music]
Melissa Harris-Perry: It's The Takeaway. I'm Melissa Harris-Perry.
President Biden: Remember you were asking me-- and I'm not being critical of you all, I really mean this. It was legitimate questions you were asking me, asking me, "Well, you know, guess what? Employers can't find workers." I said, "Yes. Pay them more." This is an employee's bargaining chip now.
Melissa Harris-Perry: This was President Biden last year, challenging companies to raise wages as a way of addressing the worker shortages they face. Now, a New York Times investigation has exposed a more nefarious corporate response to worker shortages, child labor.
Hannah Dreier: My name is Hannah Dreier. I'm an investigative reporter at The New York Times.
Melissa Harris-Perry: When Hannah began reporting, she thought this would be a story about children working on farms.
Hannah Dreier: It was really only when I started going around to different states and looking for these kids that I realized they're working really industrial jobs.
Melissa Harris-Perry: Her recent piece for The New York Times exposes the companies that violate child labor laws and the government agencies who have known for years.
Hannah Dreier: I really thought that this was going to be a story about children working on farms and maybe as dishwashers in restaurants. I think it had been an open secret for a couple of years in immigration world that a lot of the children who came and crossed the border without their parents were ending up working. It was really only when I started going around to different states and looking for these kids that I realized they're working really industrial jobs.
A lot of this reporting was done outside of chicken plants during shift changes, outside of factories where they use these really dangerous conveyor belts and other packing machines. What we found was that of the record number of children who've crossed the border in the past three years, the majority are ending up working in full-time adult jobs.
Melissa Harris-Perry: Let's start with that first part of that insight, the record number of children who have crossed the border and increasingly unaccompanied. Tell me a bit about the nature of that crisis. Where are these kids coming from and why?
Hannah Dreier: Some number of children have always crossed the border alone. 10 years ago, it used to be that a few thousand children a year would show up at the border. Mostly they were looking to reunite with their parents and so the government would process them at a shelter for a couple of days or weeks and then reunite them. That has really changed in the past three years. Now, the majority of children are going to people who aren't their parents. Thousands of them are going to people who aren't even relatives, and a lot of them come up with a debt that they have to pay off, sometimes to the person that they're staying with.
They're finding themselves having to pay rent, sometimes having to support their families back home. They're working these jobs that will take them, basically, and it's colliding with a labor shortage in this country. What some of the factory owners have told me is they're struggling to find workers and they're turning to staffing agencies. The staffing agencies are then turning to these children. The numbers that we're seeing are really in the thousands. Caseworkers who work with these kids estimate that 60% of kids who cross the border alone at this point end up working in these jobs.
Melissa Harris-Perry: You talked with these young folks. This is not just about them, it is with them. Tell me about some of the young people who you talked with.
Hannah Dreier: Children took just huge risks to talk to me for this story. I talked to more than a hundred children who were released by the government to sponsors, and are now currently working jobs that are totally illegal for children to work. What they told me was they never imagined what life was going to be like here and they wanted to talk to try to help other kids who might be thinking of crossing the border.
One child I talked to was a 13-year-old who was working on an egg farm in Michigan. He was packaging eggs all day, and he told me he really wanted to be in school, but he had so many living expenses that he had to pay. He had to pay his rent. He said that he didn't realize that things would be so expensive in this country, and he just didn't see how he could go to middle school and also make all of these payments.
I talked to another child, a 13-year-old, who had just arrived and was working in roofing for 12 hours a day. He also told me that he thought he would be able to come here and learn English, but he was released to a stranger. The day after he arrived, the stranger said, you're going to get up and go to this roofing job. He had been doing that for a few weeks. His hands were burned. He had been trying to learn how to use the hot tar. Just across the board when I heard from these kids was they felt alone and they felt trapped.
Melissa Harris-Perry: How does a child end up released to a stranger?
Hannah Dreier: These children are not here as undocumented immigrants. This was another thing that was really surprising to me. They come across the border and then they go to the Department of Health and Human Services, which is charged with finding responsible adult who can take care of them. Health and Human Services actually can't release children unless it is convinced that the person that they're going to is trustworthy, will provide for them, will send them to school.
What's happened is, as more and more kids crossed the border, Health and Human Services has gotten overwhelmed and has started focusing more and more on getting these kids released quickly so that they're not backing up in customs and border protection facilities so that they're not sleeping under space blankets. The consequence has been that kids are getting moved out in what a lot of Health and Human Service workers tell us is an unsafe way. They're being rushed out. What we found is that some of them are ending up with people who do not intend to protect them, who actually intend to profit off of them.
Melissa Harris-Perry: Is that a failure that's occurring in that HHS system? If they're not supposed to be releasing children unless it is someone who is meant to be trustworthy and protective of the welfare and best interest of this child, how do they end up with folks who are looking to profit from them?
Hannah Dreier: It is absolutely a system failure, and we're hearing this from people who work at every level of that agency. This is coming from people at the lowest level of the agency who are going out after some kids have been released and trying to make up for the fact that they were released to the wrong person. There are people who are going out and trying to find some of these kids and finding that the address they were released to doesn't exist or 20 other kids got sent to the same person who's now disappeared.
We're also hearing this from the very highest level of the organization. These are the people who are in meetings with Secretary Xavier Becerra. They tell us that he berates them weekly sometimes to get discharges up to release kids faster. People tell me that they're crying at work. Some people have actually told me that it feels worse than during child separation because they're so worried about where these children have gone, and, officially, Health and Human Services has barely acknowledged that this is something that's happening. I haven't found one instance of Health and Human Services saying on the record that they are aware that children they release are working, but internally it's all we're hearing.
Melissa Harris-Perry: I am wondering about the adult workers working next to a 13-year-old in a chicken plant or in an automobile plant or at the Cheerios factory. If I'm 45, 50 years old and I'm working next to a middle schooler, I got to say I hope that I'm the person who would ask some questions about that.
Hannah Dreier: The adults are really worried. The adults have been part of this reporting. In the Cheerios factory, it was an adult who first confirmed to me that she was working alongside people who looked young. These children are young enough that I think most people can recognize the youth in their faces. Some of these workers have been coming to me saying they're here themselves undocumented. They don't want to go to the Department of Labor, but they've noticed that over the past few years, there are more and more children on the night shifts with them and they worry about what's going on at home for those kids.
We also have talked to adults who are willingly hiring children and colluding with staffing agencies to evade child labor laws. Those adults have a very different story. Some of them have told me they think helping the children. Some of them have told me there's a labor shortage and this is where they're finding workers. I think the role of adults here is pretty complicated.
Melissa Harris-Perry: What do you make of those arguments that, after all, these are children who have financial need and don't have parental capacity to provide for that need, and we are in a labor shortage? What do you make of those arguments?
Hannah Dreier: It's not that they can't work, it's that they shouldn't be working in places that they're banned from being by child labor laws.
Melissa Harris-Perry: Do kids get hurt doing this work?
Hannah Dreier: The Department of Labor used to actually track how many migrant children were killed at work each year and they stopped that under Trump. It now looks like after the story ran, they might start doing it again. They're under some pressure, but we made our own database and found that at least 12 children have been killed on the job just in the past five years. Some of these children are dying on construction sites. One 15-year-old fell 50 feet from a roofing job. It was his first day of work and he wasn't wearing a harness.
Here in Brooklyn where I live, a 14-year-old was killed while he was on his bike doing food delivery work. Beyond that, many, many more children are being seriously permanently injured. One child had his leg ripped off in a poultry plant. One child shattered his back falling off a building. Again, this is the reason that we have child labor laws. It's not just because people think children should go to school or children shouldn't have adult responsibilities. They're really designed to protect children's physical safety.
Melissa Harris-Perry: We have these laws. Are they being enforced?
Hannah Dreier: What I found was that employers seemed really not worried at all about getting caught hiring these children. Employers were telling me openly on the record that they were hiring children, that they were aware there were children in their factories, and that that was okay with them. I was shocked. Then I found out that the maximum penalty for a child labor violation is $15,000, which for a lot of these companies is nothing.
Melissa Harris-Perry: One aspect of this that really stood out for me was this notion that these young people are somehow in debt to the people for whom they work, or to these guardians to whom they're released. It does end up feeling like a indentured servitude or a sense of human trafficking that goes beyond simply a question of working for pay.
Hannah Dreier: It's absolutely debt bondage in a lot of these cases. Again, that is something that Health and Human Services is supposed to check for before they release children. I talked to one boy named Nary, who met his sponsor when he was 13 years old on Facebook, and he came to the United States. He was released to this man. He landed, and the man immediately told him he owed $4,000 just for coming up.
The sponsor then added a debt of $45 for the dinner that they had that night. He added a debt of $125 for the work of getting him released from HHS custody. The boy was working until 3:00 AM most nights trying to pay this debt back. He couldn't go to school. He had to find his own place to live. What he told me was he didn't recognize that he was in debt bondage. He thought this man was his friend. Again, we're talking about children and it's very hard for them sometimes to really perceive when they're being exploited.
Melissa Harris-Perry: Hannah Dreier, Pulitzer Prize-winning journalist and an investigative reporter for The New York Times. Hannah, thanks so much for taking the time with us.
Hannah Dreier: Thank you so much, Melissa. It's such an honor to be with you.
[music]
Melissa Harris-Perry: Don't leave us because we've got another take on this issue of forced child labor. It's The Takeaway.
[music]
Voiceover: This is The Takeaway with Melissa Harris-Perry from WNYC and PRX in collaboration with GBH News in Boston.
Melissa Harris-Perry: We've been talking about child migrants forced to labor and dangerous jobs across the US. A recent New York Times investigation prompted a flurry of responses, but this is not the first time someone has reported this problem.
Speaker 1: This is a crime that hides in plain sight.
Speaker 2: It's probably one of these things that you just don't want to know.
Speaker 3: Immigrant teenagers forced to work.
Speaker 4: They were kids like me, 14.5, 15.
Speaker 3: At farms that feed our families.
Speaker 5: They"re vulnerable and easy to victimize and they're alone.
Melissa Harris-Perry: That's from the film Trafficked in America, which investigated forced child migrant labor in the US. It aired on FRONTLINE PBS in 2018.
Melissa Harris-Perry: Joining me now is one of the people responsible for that documentary film, Daffodil Altan, an Emmy award-winning investigative journalist, documentary film director, and correspondent most recently for FRONTLINE PBS. Daffodil. Thanks for joining us.
Daffodil Altan: Hi. Thanks for having me, Melissa.
Melissa Harris-Perry: We've seen, obviously, that this new investigative reporting from Hannah Dreier is getting a lot of attention. Talk to us a bit about the piece that you helped to create back in 2018 and a bit about how enduring this issue of child migrant workers really is.
Daffodil Altan: Yes, right. I think it's important also that even in my own reporting in 2018, I was coming off of the shoulders of other reporters. There've been a lot of us who've been beating down a lot, but there's a number of us who've been looking at this issue for years. One of the people we interviewed in our film, Trafficked in America, was an Associated Press reporter, Garance Burke, who had reported in 2016 that the Department of Health and Human Services had because of the surges of children coming then, and the previous three years had also relaxed its protocols, was releasing children to problem sponsors, and children were being violated in a number of different ways.
We saw sexual assaults, but also children who were being forced to work in dangerous conditions. For our film, we took a deep dive inside a criminal labor trafficking case to really show you-- we went back to Guatemala, actually, where my family's from, to show you how this actually plays out from the beginning of the negotiations, the debt. These boys their families would put up the deeds to their houses, their homes in Guatemala. The journey, the process of being put through HHS and then put with a sponsor who was then putting these kids to work. It was a criminal enterprise. It's all connected, everyone knows from the beginning to the end that these boys are coming here to work.
Melissa Harris-Perry: A criminal enterprise typically has some financial incentive. It's not that there aren't plenty of bad people associated with it, but that's also usually profitable in some way. Where is the money in this story?
Daffodil Altan: For example, the debt is-- what you can actually watch, you hear from in our film, you hear from the teenagers, you hear from the families is a debt like $15,000 is what a 14-year-old boy in our film, multiple boys from the same village had to pay. $15,000 is just a tremendous amount of money. That then there are fees that are added, often there is interest that is added. This is how labor trafficking plays out.
Like was reported in Hannah's story, which has been reported in other stories, when they get here the kids begin to be charged fees for everything, for the transportation to work. These boys were living in rundown trailers in the middle of Ohio. They had to pay rent, they had to pay for their food. What's happening is the enterprise is charging and making money off of-- the trafficker is making money off of all of these fees.
Also what we found and what was found, prosecutors found was that they were taking 70% of their wages, 80% of their wages to pay back that debt. They're extracting the money that the children are earning in these dangerous jobs. In this case, it was an egg farm, a facility not out in the fields. This was a factory facility, horrific conditions, 90 degrees inside, 12-hour shifts. We're not talking restaurants or farms here, we're talking heavy, dangerous labor, and they're having their wages taken, stolen.
Melissa Harris-Perry: If these children were not crossing the southern border as migrants, if they weren't Latinx, Spanish-speaking children, would it have taken this long to get this level of public attention?
Daffodil Altan: That's what's so striking, right? This has been reported. There's been child labor in the fields for decades. I just recently was watching a clip from an old film done by a mentor of mine, The Fight in the Fields. There was reporting that was done then by a reporter about the teenagers working in the fields then. Who matters is the question, because in 2016, in 2018 after the Egg Farm case in Ohio, there was outrage, there were congressional hearings, there were promises to not do this again, to not let this happen. Everything that's being reported now, it's in our film.
You can hear from teachers who are saying, "We can't get anyone to listen to us. My kids are falling asleep in class." Actually, before the pandemic hit, our next follow-up film was actually going to be a wide look at across the country because everywhere we traveled in rural America, the communities we worked with, the people we were talking to, everyone was telling us the same thing. It was the kids were working in major dangerous industries.
In 2020, Melissa Sanchez at ProPublica reported child labor in candy factories around the suburbs of Chicago. Last year, major investigation by Reuters about children working in Hyundai factories. This isn't the first time, so the outrage it's good that it's there, but it's not something that hasn't been known, and it's not something that hasn't been reported in detail. I've talked to Department of Labor officials, this is known.
Melissa Harris-Perry: I want to ask about the language of trafficked and trafficking. It's something we've heard a little bit less in this round of outrage, but it does feel so critical to me especially as you talk about the entire chain from the beginning all the way through. Also because some of what you all found has to do with intersectional vulnerabilities and the question of sexual assault and abuse as well. Can you speak to that a bit?
Daffodil Altan: Yes. In 2012 and '13, we were reporting for a different film about sexual assault in the agricultural industry. What we were coming across then, as we were looking for sexual assault was also forced labor. We were hearing about debts. We spoke to a young woman who was being sexually harassed at work and when we were asking her more questions, it turned out she was working in this processing-- it was also an egg processing facility when she was 16, 17, 18.
What we were looking for then wasn't this, but what you begin to understand is that there's an entire spectrum of abuse and exploitation that happens. The way that you can coerce these workers, these children is by holding over their head that they can be deported at any time. These children are working with a tremendous pressure to pay off this debt. They don't want to lose this work, as horrific as it might be, as dangerous as it might be, they can't afford to be deported. It feeds into all-- it's tremendous that you have sexual assault going on, you have labor trafficking going on, you have people's wages being stolen, all of it going on at once.
Melissa Harris-Perry: Do you have optimism that perhaps now on the other side of the Trump administration's family separation policy and the way that called to attention some of what is happening with the youngest and most vulnerable folks who are migrating to the US, who are fleeing to the US for some personal and economic protection. Do you have hope now that the Biden administration and that the federal government, state, and local governments can act in ways that will protect young people without turning into yet an additional arm of the deportation machine?
Daffodil Altan: I want to believe that there's a way to address this head on and that will mean dealing with the elephant in the room. I think it will mean immigration reform that gives the people who are working here, that gives these children a work permit status, something that will allow them to speak out. Children have said that they need to be working, but they'd like to work with other teenagers work. They would like a work permit to be able to just do a job like another teenager.
We need to just look at what they're asking for. We need to really not tolerate anymore that there is this entire second tier, second class of workers that is being silenced, that is being exploited. Whether that will be meaningfully addressed this time around with all the hand ringing going on remains to be seen. It's happened before this hand ringing and these children have continued to work. It's unsettling for me. It has been unsettling for years knowing that there are children working.
I do hope that the fines are meaningfully raised. I do hope that primary employers are held accountable in these situations. I do hope that we move towards meaningful immigration reform because without it you're going to continue to see this severe exploitation and abuse.
Melissa Harris-Perry: Daffodil Altan is investigative journalist and documentary filmmaker. Thanks for joining us today.
Daffodil Altan: Thank you so much for having me, Melissa. It's an honor to speak with you.
Melissa Harris-Perry: Following Hannah Dreier's recent investigation into the widespread use of migrant child labor in American factories and businesses, Senator Richard Durbin of Illinois and 15 other senators wrote a letter to the Secretaries of Health and Human Services and the Department of Labor. It reads in part, "We were deeply disturbed by New York Times report that large numbers of unaccompanied, non-citizen children are being placed with exploitative sponsors and working long hours in dangerous conditions."
While state and federal agencies move to enforce existing laws that ban child labor in factories, there are places where it's perfectly legal for very young children to work very long hours, the fields of American farms.
Margaret Wurth: I'm Margaret Wurth, a senior researcher in the Children's Rights Division at Human Rights Watch.
Melissa Harris-Perry: I talked with Margaret about the ongoing reality of migrant children laboring in agriculture legally.
Margaret Wurth: Here in the United States, under longstanding carve-outs in US labor law, it's legal in 2023 for children as young as 12 to work very long hours in very dangerous conditions in US agriculture. My colleagues and I have interviewed hundreds of kids who work on farms over the years, and they described working 10, 12 hour days in extreme heat, often exposed to pesticides and other toxins. Doing really backbreaking work, lugging heavy buckets, cultivating and harvesting fruits and vegetables and other crops that make their way into our homes, and because of these longstanding exemptions in US labor law, this is all legal.
Melissa Harris-Perry: Is this because Congress understood themselves as protecting families who simply had their own children working on the farms, or is there something more nefarious even at the start?
Margaret Wurth: The Fair Labor Standards Act was first enacted in 1938, kind of new deal era legislation. At the time, whole categories of workers were intentionally excluded to basically deny Black people opportunities for economic freedom and agricultural work was one of those sectors that was predominantly Black folks doing the work at the time, but some of those exemptions and exclusions that were baked in from the very beginning for ugly and racist reasons remain on the books today. These child labor exemptions are just an example of that.
In every other sector in the US today, kids under the age of 14 cannot legally work. We recognize as a country that kids under the age of 14 are too young to be doing those jobs, but in agriculture, it's legal for 12-year-olds to work. Similarly, there's separate standards for when hazardous work is allowed. In agriculture, at the age of 16, children can do tasks that have been determined to be especially hazardous to pose risks to their health and safety.
These exemptions have been on the books for a very, very long time. They have racist origins and they continue to have racially disproportionate impacts. Now, overwhelmingly, the people that are harmed by these exemptions are the sons and daughters of immigrants from Mexico and Central America who are finding themselves in the fields without the basic protections that other working children have.
Melissa Harris-Perry: Can you talk to me a little bit about what kids do in these spaces?
Margaret Wurth: Yes. The first time I ever met kids working in the fields, it was a number of years ago. I was in Eastern North Carolina in July. It was a really hot summer day. I got up at dawn and went to meet some children who were going to spend their day working in tobacco fields. I'll never forget this. They actually were piled onto a school bus, as you can imagine school-aged kids doing, but the bus carries them to a tobacco farm.
They stood up for the day's work. They were in a field of tobacco plants that are taller than many of them. These are five, six, even taller foot tobacco plants. In the morning they're covered with dew and moisture. It's very humid, it's very wet in the fields. I see these kids pulling black plastic garbage bags on, poking a hole in the top for their heads and holes in the sides for their arms, and pulling these trash bags on over their clothing. Essentially, this was their protective equipment. This was what they were given to protect themselves from the toxins in these tobacco plants.
There's many pesticides used in their cultivation, but the plants themselves contain nicotine that workers can absorb through the skin as they're working. Over and over, these repetitive motions walking through plants over their heads, reaching up over their heads, and all the while surrounded by this strong smell and this moisture just enveloping them, their clothes getting wet despite their protection of the black plastic garbage bags. I was with them for a few hours and that was a quarter of their workday. They went from sun up until the sun came down earning minimum wage to help their families make ends meet.
Melissa Harris-Perry: How does farm labor affect the one thing that is not only something students or young people should have, but is legally required that they have, which is schooling and education?
Margaret Wurth: Many of the kids that we interviewed for our investigations did go to school and mainly worked in the fields in the summer months or on breaks from school, but we know that's not the case. In fact, child farm workers have much higher dropout rates than the general population.
Melissa Harris-Perry: As you talk about the kind of work that these young people are doing on farms, these children are doing, do they get hurt?
Margaret Wurth: Yes. Agriculture is the most dangerous sector for child workers. More kids die working in agriculture than in any other sector, even though it's a very small percentage of child workers. Every year, thousands of kids are injured.
Melissa Harris-Perry: Talk to me about the Care Act.
Margaret Wurth: The Care Act is a really important piece of legislation that for many years was championed by Congresswoman Lucille Roybal-Allard from California. She's no longer in Congress, but it's a bill that would basically finally do away with these exemptions in the Fair Labor Standards Act that we've been talking about. It would raise the minimum age for kids to work on farms. Nobody under the age of 14 would be working on farms. 14 and 15-year-olds would only be able to work very limited number of hours and jobs that didn't interfere in any way with their health, their safety, or their schooling.
Then it would also raise the age for hazardous work. It would ensure that in agriculture, just like in every other sector, no one under the age of 18 is doing these jobs that are known to be extremely dangerous. Those would only be done by adults 18 and up.
Melissa Harris-Perry: Is this a bill that is going to face opposition?
Margaret Wurth: Unfortunately, there was huge opposition from agricultural lobbying groups and a lot of misconceptions, a lot of fears that somehow these regulations were going to hurt family farms and limit the opportunities for kids to learn agricultural work and for student learners through programs like 4-H or Future Farmers of America. We believe a lot of that was just a misunderstanding and misrepresentation of what these regulations would do. We know there is still that concern.
That's why as we've been talking with policymakers in the Biden administration with the Department of Labor and members of Congress, we've really urged them to go and talk with members of farming communities early about these concerns and make sure that efforts to bring our laws and policies up to date. Try not to inadvertently or unintentionally undermine family farming traditions.
Melissa Harris-Perry: Margaret Wurth is senior researcher of Children's Rights at Human Rights Watch. Margaret, thanks so much for being here today.
Margaret Wurth: Thank you for having me, Melissa.
[music]
Copyright © 2023 New York Public Radio. All rights reserved. Visit our website terms of use at www.wnyc.org for further information.
New York Public Radio transcripts are created on a rush deadline, often by contractors. This text may not be in its final form and may be updated or revised in the future. Accuracy and availability may vary. The authoritative record of New York Public Radio's programming is the audio record.