In Michigan and Beyond, More Young People Are Being Hospitalized for COVID-19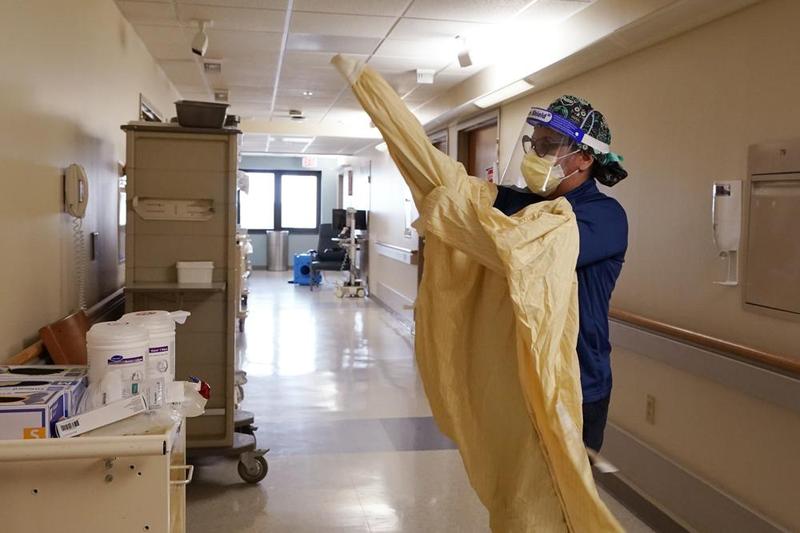 Transcript
[music]
Nancy Solomon: I'm Nancy Solomon from the WNYC newsroom, in for Tanzina Vega all week. This is The Takeaway. In recent weeks, we've seen a number of springtime surges of COVID-19 in states across the US, from my home base of New Jersey, all the way to Oregon. Unlike with other surges, there's been a key difference as states have prioritized vaccinating those 65 and older, there's been a dramatic decrease in the number of hospitalizations among that population. At the same time, we're now seeing more and more younger people. Those in their twenties, thirties, and forties hospitalized, many of whom only became eligible for vaccines recently.
In Michigan, one of the country's current hotspots hospitals are admitting more young people than any other point in the pandemic. Twice the rate they saw last fall, according to the Michigan health and hospital association. Though new infections and even hospitalizations are starting to slow in Michigan and elsewhere, what did these recent spring searches tell us about the trajectory of the pandemic in the US? Let's talk about it. We're joined now by Apoorva Mandavilli science reporter for the New York Times. Apoorva, always good to have you with us.
Apoorva Mandavilli: Always a pleasure to be here.
Nancy: We also have Emily Martin Associate Professor Of Epidemiology at the University of Michigan. Emily, welcome back to the show.
Emily Martin: Thanks for having me.
Nancy: Let's start with you, Emily. We have a lot to get through, but let's start with Michigan. It looks like things are getting a little better, but what explains that recent surge that you had in COVID cases there?
Emily: Things are definitely looking like they're slowing down and maybe even beginning to decline. What we've really seen is a combination of more movement and activity around the state. The consequences of having to deal with this more transmissible variant that we have widespread across the state as we look at the data on travel and activity in our spaces, we're seeing that people are moving around the communities as much as they were even before the pandemic. We really see that show up in our numbers.
Nancy: Is any of this stemming from the hospitals lowering standards for hospital admissions? Is that part of the cause too that people who maybe weren't as sick or being allowed to go to the hospital?
Emily: This could be part of it. We have to remember that we've seen infection rates in the youngest, zero to nine-year-olds, 10 to 19-year-olds higher than they've been at any time before in the pandemic. Anytime you have a big surge in a group that you haven't seen a lot of transmission in before, you're going to see more hospitalizations in that group. The same is true. You're seeing a lot of younger adults and then even 50 to 59-year-olds in the hospital still as well.
Part of it is just because case rates have been so high in that group over the last couple of weeks, part of it is the hospitals aren't at surge capacity, taking care of 70 to 79-year-olds, 80 to 89-year-olds, because really we're seeing incredibly low rates in those groups. You're right that what sometimes will happen is we're hospitals may have asked for someone to spend a little bit more time caring at home before coming in now they're more likely to admit them. That would extend to these younger age groups.
Nancy: That's going to really help with the outcomes I would imagine if the benchmark for getting into the hospital is a little easier. Apoorva, is Michigan, the exception or the norm, how are things going on around the rest of the country?
Apoorva: Michigan may be the more extreme version of something that's going on in a lot of different states. We know that this variant B117 has been on the rise in quite a bit of the country. It may be that it just showed up early and really increased in Michigan. Michigan has one of the highest proportions of B117 among its cases, but other states are starting to catch up. We don't know whether we'll see surges there the same way that we have in Michigan, just because it's just so complicated right now because the vaccination numbers are going up and the restrictions are very different in every single state and B117 started growing in different states at different times.
It's incredibly hard to predict exactly what we'll see, but it's possible that we'll see some peaks in at least some of these states. We're seeing that Oregon, for example, is seeing a really high rate of case growth. Puerto Rico is seeing an increase and a bunch of Southern states, Louisiana, Alabama, Mississippi North Carolina, and Arkansas, they're all starting to see their numbers pick up so we may start to see some increases there too.
Nancy: In those other places that you mentioned is the new variant driving those surges or are there other factors as well?
Apoorva: The new variant is driving a bit of the cases in almost every place. It's about half of the total cases in almost every state. Over time, that will keep rising. What we've been seeing is that the original form of the virus that started last year has been going down and B117 has been going up. It's a little bit hard to say exactly what the proportions are because we just don't do enough surveillance as a country to know that, but it looks like about half right now of B117 cases, and that will keep going up.
Nancy: Emily, early in the pandemic we know that certain populations especially communities of color were being disproportionately impacted. Is that still the case in Michigan?
Emily: We definitely see those disparities where I think we're most concerned, which is hospitalizations. We definitely see severe disease impacting communities of color more strongly than we would like for sure. With that comes a responsibility to try to make sure that we're getting vaccination widely accessible to all communities because I don't think that that's going to go away. Even if we see shifts in the age demographic, even if we see shifts in the general trajectory of the pandemic, we're still going to be concerned about this disproportionate severity.
Nancy: All right. Apoorva, in states led by Republicans and Democrats like Texas on the Republican side, Connecticut, on the Democratic side, we've seen a rollback of pandemic-related restrictions. What do we know about how that's affecting case counts in those states?
Apoorva: You picked two very different examples. This actually gives us a little bit of insight into what works or maybe it doesn't work. Connecticut's numbers are on the downswing. They're about 25% down from 14 days ago and hospitalizations were also down, but the rollback of restrictions in Connecticut has been different than in Texas. Bars are closed, for example, and masks are mandatory and they have a curfew. Connecticut also has one of the highest numbers of people vaccinated. About half of the population in Connecticut has had at least one dose and 36% have been fully vaccinated.
Texas is a little bit different. Texas we're seeing a small decrease in cases, but hospitalizations are steady and their vaccination numbers are a little bit lower. They've only seen about a third of their population, has had at least one dose, and some counties within Texas are showing big increases. We also know that Southern states show a spike later in the summer. I wouldn't quite conclude yet that Texas is out of the woods. I think a lot will depend on the next few weeks.
Nancy: I think it was probably predicted, I think there was quite a lot of talk just as the vaccines were being rolled out that we were going to encounter problems with public health messaging around those who have been vaccinated versus those who have not. Apoorva, how is that playing out in these states where we're seeing surges? Are we giving double messages and is that causing problems?
Apoorva: I think it is causing some problems as you know we were trying to see messages from the CDC, for example, saying that people who are vaccinated can get together with another un-vaccinated family, but then there was some confusion around, "Do they still need to wear masks everywhere else?" There was some pushback against that in some of the states, especially states led by Republican governors who didn't want mask mandates. It's been very variable.
There are some people who are seeing grandparents, seeing grandkids, seeing friends, hugging each other, which is just glorious. Some people are partying even when they're not vaccinated and some people who are fully vaccinated are having trouble transitioning back to normal and are still afraid and that may just take a little bit more time. It's all over the place at the moment. Hopefully, as people start to see that these vaccines really work, we'll start to even those out a little bit.
Nancy: Emily, what are you seeing in Michigan in terms of the vaccination rate and how that's impacting this recent surge?
Emily: The vaccine rate in Michigan, so we're over 30% as a state. The rates in the older adults are really exciting. We've got over 70% in our 70 and older at least started vaccination. We've seen an incredible impact on case rates and on hospitalizations in that group. Then, we're seeing the other groups, the younger groups starting to pick up as well, but it's like was mentioned, it's so complicated because now you've got all of this excitement about the vaccine being available even when we don't have a lot of uptake in the youngest age groups yet. Really, those are the groups that are out in moving around.
We're almost seeing the activity pickup and the people that are not vaccinated even though they haven't totally caught up with getting both doses and waiting the 14 days, I think that that's contributing to all of this excitement and activity moving around the spaces even though coverage isn't really very yet.
Nancy: What hesitancy are you seeing in Michigan? I'm wondering if the good results that are being seen with the older population is having an impact on middle-aged and younger people who might have initially been hesitant wanting to get a vaccine now.
Emily: I've definitely anecdotally heard about the big mass vaccination because the era of vaccination that we just went through is starting to slow down for sure. That you're not getting full schedules at these big locations that you really need to take a day off of work and drive to and do a lot take up there. What we're starting to see is vaccines supply start to catch up and maybe even outpace demand around the state. Some of this is going to be communities where vaccine confidence is not as high.
We have to switch from this mode of mass delivery of vaccination to really bring in vaccines to people where they are and where they'll get it if it's convenient and if it's right there and not have to take a day off to go get the vaccine. We're moving to a different challenge, and I think you're going to have to you see a lot of public health groups have to adapt their strategy.
Nancy: Apoorva, are you seeing changes in terms of how younger people might be responding to getting a vaccine because of the surge in younger people and older folks doing better?
Apoorva: The vaccine has been available to anybody over 16 and in some places there is quite a bit of demand from younger people. Overall, as Emily mentioned, we have really seen older people get vaccinated. Nationwide about 82% of seniors are vaccinated. That's great because those are the people that are at the highest risk, but we do need more younger people to get vaccinated because they're the ones who are out and about and spreading the virus. If we want to see the case numbers go up, they need to get vaccinated.
Nancy: Emily, the Johnson & Johnson vaccine is now available again after distribution was temporarily pause to study the link with a rare blood clotting disorder. What's the latest on that? How do you think people will perceive this specific vaccine moving forward?
Emily: Yes, I think it's going to be interesting to watch the impacts on vaccine confidence going forward and how it affects vaccine rates. I am glad that people have the opportunity to be informed and to make the choice whether or not to receive it now. I really view the pause as the system working as it's supposed to work. What the CDC and the FDA did as we moved into these vaccines having emergency use approval was they said to the American public, "We're going to monitor things and we're going to stop and we're going to review it if we see anything that's concerning."
They did and they did it in a really transparent way. I think to not have done that would have really brought up a lot of concerns with confidence and trust. I'm glad that the system worked the way that it did. We'll have to see what the impacts are going forward and whether that impacts people's decisions. For some people, the benefit of having one dose and especially people that don't like needles or have other restrictions that would make having a two dose series hard, having that choice is going to be good for them.
We're going to have to push availability and information and see what that leads to. I think we're lucky that we've got such ample supply of all three products in the US now. If somebody is uncomfortable getting the J&J vaccine, then there's going to be hopefully enough ready supply to get something else.
Nancy: Apoorva, are you seeing any impacts on the hesitancy to take the vaccine from the J&J issue? Has it done anything to move the needle one way or the other in terms of how people are feeling about getting the vaccine?
Apoorva: Unfortunately, it's made hesitancy worse across the board, not just for J&J, but even for the other vaccines. That may be just a timing issue this just happened and people may need time to adjust. It does look like it's had a bad impact, but as Emily said, this was the process working as it should. I'm not sure what they could have done differently other than keep this hidden. I think that would have had problems of its own.
In order to figure out that it's women of childbearing age who are most at risk and that doctors may need to treat cases that come in with blood clots a little bit differently, I think they had to do this. People are just going to have to work extremely hard to resolve some of that hesitancy. Hesitancy comes in all different forms, it's lack of access, access to bad information, misinformation, disinformation, and people just not really trusting the system. Every hesitancy is going to need a slightly different strategy.
Nancy: It's interesting that math and science literacy was not a strong suit for the United States pre-pandemic. Now we're being asked to understand these very complicated concepts in terms of just statistically what the blood clot issue represents in terms of the numbers. It just seems that it's a hard road for public health officials to get people on board understanding risk, we don't do a very good job of understanding risk, right?
Apoorva: We really don't. People overestimate risk all the time and people underestimate risk all the time, but this is one of those cases where the system is the way it is for a good reason. I think partly, people do have to trust that the FDA and the CDC know what they're doing. We've seen a lot of armchair expertise during this pandemic.
A lot of people backseat driving and second guessing what the FDA is doing and how long it takes to do things. I think people really have to trust in the process and know that this is the way it is because they are looking out for public health, but it does create a lot of challenges for those people in the field who are trying to convince people to take a vaccine.
Nancy: Emily, where are we in terms of children being vaccinated, have any of the COVID vaccines been approved yet for people under 16?
Emily: Not yet. I have a 12-year-old. So I like watching this very closely. There has been information provided to the FDA to extend one of the vaccines down to 12. There are ongoing trials for younger age groups as well. Now no data has come out yet in terms of being-- Really hard data that can be reviewed to extend those down. We're really probably looking out towards the end of the year for the youngest age groups, for the elementary school age groups to be able to get them vaccinated. As complex as it is now, we're going to be in this middle period as we get as many adults as we can vaccinated. We still have a ton of cases in our youngest age groups that have no vaccine option.
Nancy: Apoorva, what do you think about getting children vaccinated, in terms of stopping the spread of the virus, how critical do you think that is?
Apoorva: We don't really have a good sense of how well the kids spread the virus because they've been masked and they've been in schools. We think most likely they don't spread the virus very much, but it's not zero. They do contribute some to the spread of the virus overall in the community. Pretty much every expert I've spoken with has said we're not going to be able to get to herd immunity without vaccinating kids because are such a big proportion of the population. People under 18 are about 20% to 23% of the population.
Nancy: Emily, we'll give you the last word quickly, give us a sense of what people need to know about how to stay safe right now.
Emily: It's too early to be all holds bar with the virus and to just go like we're all vaccinated. I think we're going to walk this middle ground for a while. Keep doing what works to stay safe, masks, social distancing, while we use vaccination to be able to do some of these things even safer. We were able to see our loved ones a little bit more and open a few things up.
Nancy: Thank you. Apoorva Mandavilli is a science reporter at the New York Times and Emily Martin is an Associate Professor of Epidemiology at the University of Michigan. Thank you both so much for joining us.
Emily: Thank you as always for having me.
Apporva: Thank you.
Copyright © 2021 New York Public Radio. All rights reserved. Visit our website terms of use at www.wnyc.org for further information.
New York Public Radio transcripts are created on a rush deadline, often by contractors. This text may not be in its final form and may be updated or revised in the future. Accuracy and availability may vary. The authoritative record of New York Public Radio's programming is the audio record.