"Menudo: Forever Young" Cements the Legacy of the Puerto Rican Boy Band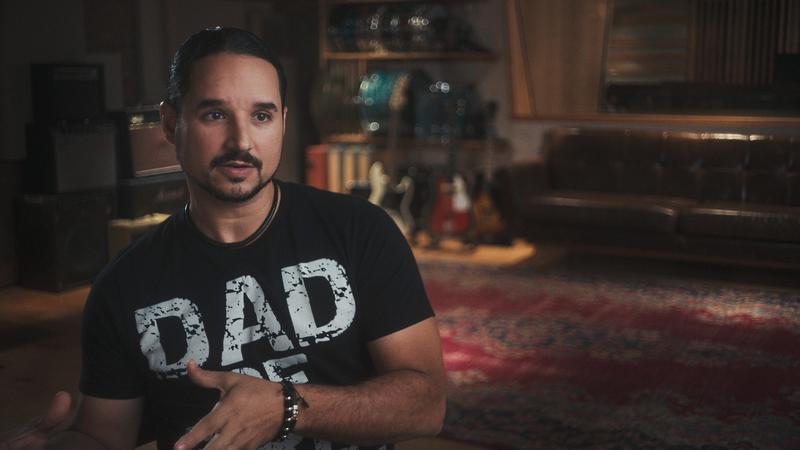 Transcript
[music]
Alana Casanova-Burgess: It's The Takeaway. I'm Alana Casanova-Burgess in for Melissa Harris-Perry. For generations of Latino audiences, the Puerto Rican boy band, Menudo was everything.
[music]
Alana Casanova-Burgess: Even if you weren't into their music or their flashy outfits, there was no denying that they were a cultural force. Formed in the late 1970s, the group sold millions of records and packed arenas around the world. We asked for your stories about the band.
Vanessa: Hi, this is Vanessa and I'm from South Amboy, New Jersey. I remember Menudo way back in the 1990s, maybe the 1980s but Ricky Martin was a member. I remember one of the songs, [foreign language]. It was great to have a Latino group back in the day, a boy band like that, a role model for us kids. It was just great.
Jesus Ramirez: Jesus Ramirez, city of Saint Paul, Minnesota. My aunt was really a huge Menudo fan. They were living in Mexico when I was living in California. When I go visit them, the song from Menudo,
Súbete a mi moto.
Nunca has conocido
Un amor tan veloz
Alana Casanova-Burgess: Their manager, Edgardo Díaz, had a strategy to keep the band going for decades. Once a member reached his later teens, he was replaced by a new younger kid so that the group could continue indefinitely. The new HBO Max docu-series, Menudo: Forever Young traces the rise of the group as they amassed fan bases across the world including in the contiguous United States where Spanish-speaking bands had previously struggled to achieve mainstream success.
In addition to showing what made Menudo so special, the documentary also explores the difficult behind-the-scenes conditions that many of its members were subjected to. That includes allegations made by several former members that Edgardo Díaz physically abused them. Díaz has denied those allegations. To delve into Menudo and this new docu-series, I spoke with--
Kristofer Ríos: Kristofer Ríos, the co-director and co-executive producer of Menudo: Forever Young.
Alana Casanova-Burgess: And--
Ralphy Rodriguez: This is Ralphy Rodriguez, former member of Menudo and current singer and bass player for the band, VEINTE/OCHENTA. The first album that I heard was Quiero Ser, which had the song, Súbete a Mi Moto on it. I became this huge fan. They also had a TV show on channel two in Puerto Rico. I became a huge fan right away of the band. I could totally identify with them even though I was 9 and they were 13, and just loved the music. The arrangements on the records were incredible. Songs like Cuándo Pasará, Es Por Amor that basically give you chills with the violins and everything. The production was amazing.
Alana Casanova-Burgess: What was that audition process like for you in order to join the band?
Ralphy Rodriguez: I auditioned twice, actually. I had started in another boy band in Puerto Rico called Los Chicos where Chayanne started. I was 11 or 12 years old when I started there. After that, I was doing some shows as a soloist by myself around the island, small little shows, but obviously, always with the dream of becoming one of the Menudos. I auditioned, I think when I was barely 13 in January of 1986. They chose Sergio that time. Then I auditioned again a couple of months later, and then they actually chose me in September of 1986 as a 17th member.
Alana Casanova-Burgess: Kristofer, going to you now, the documentary is dedicated to the fans of Menudo. Did you have Menuditis when you were growing up?
Kristofer Ríos: I got to be honest, no. [chuckles] I think anyone who grew up in the '70s, '80s, '90s in the Puerto Rican community, whether you were on the island or in the diaspora, it was a part of your life. I wasn't the demographic that they were targeting, but certainly, I had cousins who were fans, I had aunts that were fans. I grew up on the island so I remember going to birthday parties, and sometimes depending on the party, some of the party favorites would be Menudo theme, they're related.
I'm more of a hip-hop head. I definitely am a fan now, I'll tell you that much going through this journey of researching and reporting this project really have a newfound appreciation for the contributions that Menudo has made to our culture, to music. I collect vinyl. I was a DJ. Once we started really digging into this project and thanks to Ralphy actually, who in our conversations really brought us into the behind-the-scenes world of how the music was made.
I have to say that I think that Menudo is along with salsa, along with other Puerto Rican styles of music. The music that Menudo did, I would argue is on par with those other musics because of the cultural contributions they made.
Alana Casanova-Burgess: What about as a journalist, what interested you about the story of this band?
Kristofer Ríos: There was a lot more layers to this story than what you saw from the album covers, from the marketing material. It's not just the stuff that we get into in the later episodes, it's just the links between the space and place in which the music is made. Menudo comes out in a time in Puerto Rico's history, the late '70s, early '80s when there's a need for it, there's a growing middle class of children that are looking for something to connect to, not just happening in Puerto Rico, it's happening all over Latin America.
Those parts of the story felt like opportunities to say more than just the story of the band but also the story of Puerto Rico, the story of Latin America at a specific time and specific space.
Alana Casanova-Burgess: I'm so glad you brought that up. Ralphy, this question is for you. There's a moment in the second episode where we hear, Beatriz Acevedo, founder of the website Mitú, talk about what it meant for people in this country to be watching people who look like them.
Beatriz Acevedo: There were no groups really that felt like you. If you think about the '80s and looking at who was topping the music charts, there are no Latinos. Long comes Menudo, and you're like, "Oh my God, these kids are like me. They're bilingual. They're bicultural. They talk about eating the same food that I like to eat. Their parents seem to be like my parent." There was just such an emotional connection.
Alana Casanova-Burgess: Could you feel that in the moment that you were part of a Latinidad that was taking shape and it was taking shape around Puerto Ricanness?
Ralphy Rodriguez: I think that you felt it even though at 13, 14 years old, I don't think that we really understood the depth of what we were actually doing to be quite frank. I will say that that is something that is very, very important that once I saw the docu-series for myself, which by the way, I've watched five times. She did make an amazing point about how the impact of Menudo transcended the music, transcended the age.
The fact that it was something that helped with what we were going through, not only as Puerto Ricans but also as Hispanics in the United States. That's why I really, really love this project and this production, this documentary because I really do believe with all of my heart that it's a very serious historic piece. I think it's going to do an amazing good to every single person that watches it.
It's much more than just about a boy band, actually. It goes into the history of Puerto Rico. It goes through political things. It gives an amazing backdrop to what we were facing as a people at that time and how Menudo through its music and through its message and through its image was able to somehow break through into the American market.
Alana Casanova-Burgess: I hate to pause right here but we have to take a quick break. More Menudo in a moment. This is The Takeaway.
[music]
Alana Casanova-Burgess: Back with you now on The Takeaway. I'm Alana Casanova-Burgess in for Melissa. We've been talking about the new HBO Max docu-series, Menudo: Forever Young, with the documentary's co-director and co-executive producer Kristofer Ríos, as well as former Menudo member, Ralphy Rodriguez. The series provides a comprehensive look at what made the Puerto Rican boy band so appealing to multiple generations of fans.
It also delves into the darker side of the band's history, including allegations of physical abuse that multiple former members including Rodriguez have made against the group's manager, Edgardo Díaz. Díaz has denied those allegations. I asked Rodriguez what it was like for him to revisit some of those painful memories during his interviews for the docu-series.
Ralphy Rodriguez: We're talking about things that happened over 30 years ago. Then all of a sudden, things come back to my memory [chuckles] during the interview. It was so interesting how things that I hadn't thought about in 30 years all of a sudden start to pop up. It was difficult, but the production team, they made me feel really, really comfortable. It was challenging personally just because things were being resurfaced that had not been touched in a long time.
Even right now, I could say after watching the docu-series five times because I love it so much, the editing is impeccable. I don't know what they did but there is something going on with that where I know what's going to happen, I just don't know when it's going to happen so it's fresh every single time. It's just amazing. I can say now after watching it five times, there are other memories that are coming back to mind that all of a sudden I'm questioning myself, things that I thought that were already healed.
All of a sudden, I'm starting to think, are these things that I actually buried and didn't really deal with? Either way, even if that's the case, I think it's positive because the docu-series has given me the opportunity to touch areas that really do need to be touched within my heart and with inner healing.
Alana Casanova-Burgess: Kristofer, what was your approach to documenting that more painful side of Menudo's history?
Kristofer Ríos: Ralphy originally was very supportive on background, but he didn't want to be a part of the documentary mainly because of the difficult things that we were asking a lot of these former band members to revisit. Our approach from the start was to invite whoever was a part of the band to tell us their story from their perspective. I think that what we saw as a production team, what Angel Manuel saw, what I saw was that in the past, this story had only been told through one perspective, through one lens.
That lens was from the lens of the Menudo management, mainly Edgardo Diaz's narrative, but there were other people who were invested in maintaining that legend and that lore of Menudo. We really wanted to try to give everyone else an opportunity to come and tell their side of the story from the way that they experienced it. It's completely understandable. At first, some of the band members were skeptical, but once they saw we really meant what we said, that we weren't trying to do the same old thing. We weren't trying to do what had been done in the past. We're really trying to open up this space into this platform for them to share their perspective, I think we gained their trust and the trust was everything.
Alana Casanova-Burgess: Speaking of management, has Edgardo Diaz anything about the documentary and the allegations that are detailed in it?
Kristofer Ríos: To my knowledge, no, he has representatives that we had engaged with throughout the process. We haven't heard anything from them. We haven't heard anything from him directly, so we don't really know what he thinks of it.
Alana Casanova-Burgess: What are you both hearing from fans who are loving this series, loving the nostalgia trip, but also coming to terms themselves with what it means to have loved a group that had this really dark, painful side to it.
Ralphy Rodriguez: For me, the social media response has been incredible. The Menudo family, as I always call them, the Menudo fans, but they're actually family, because they're so faithful and they have always been there and they always will be there, but the family response has been incredible. There's this mixture of gratitude. It's like additional gratitude that they say, thank you so much for bringing me joy, despite everything that you went through. Thank you so much for sharing your story. Thank you so much for letting us know what was really going on.
Just a sense of gratitude. Obviously, they do feel a little sadness. Some of them are really crushed at knowing some of the sacrifices that we had to make to bring them that joy but at the end of the day, I feel the same about them in the sense that if it weren't for them being there and the love and the support that they always showed and the hugs and the kisses and the letters and the stuffed animals that they would send us to our homes. If it weren't for them, the experience would wouldn't really be worth it because if it was just singing and you didn't feel that love, it really wouldn't have been worth it. They really made it worth our while.
Kristofer Ríos: I do want to share we do have one of the la chica holdings in our docu-series, Xaviera Rodriguez who is the chica holding the Menudo from New York City. She was one of the fans that appears substantially in the docu-series and very much like the band members, she was super skeptical of us when we approached her and said, "Hey, we would love to hear your story about the time that you're la chica holding the Menudo."
She was cautious because she thought it was a joke. Also, what I think that people forget is the guys went through a lot, but also the fans went through a lot. Not all the fans knew what was happening behind the scenes and the band, but some fans were paying attention and some fans were really moved by what happened when a lot of this stuff from behind the scenes starts to come out.
When you think about someone like Xaviera, when you think about a lot of the fans who were in the diaspora at the time, they may have lived in East Harlem. They may have lived in the South Bronx, but for the most part, in the early '80s, a Puerto Rican, a dark-skinned Puerto Rican in East Harlem, the South Bronx, they were not getting positive images of their community from the media, from the US.
Menudo gave those fans an opportunity to imagine a different self. A different future for who they were and who they could be. I think for me, that is one of the most important things about Menudo's legacy. For the diaspora, it was especially powerful because it's one of the first times that young Puerto Ricans, young we say Latinx, but really at the time, there wasn't that identity.
Young diasporic Latinos, Latinas, people from Latin America had a positive image in the media to look up to and aspire to, and to celebrate. For Xaviera, it was especially true. I think it comes out in the docu-series, but she sent the note of thank you because she said, "I thought this was just my little private thing, that this was just me and my friends who were fanning out over Menudo. Now I realize it was a much bigger phenomena."
Having the opportunity to share that story and revisit it was big for her and for us as filmmakers, that's all you hope. You just hope that you have some impact, even if it's small, it doesn't seem like we're having a small impact here, but that the people that you made this film for, and I always say that we made this film first and foremost for Puerto Ricans. The people that you made this film for that it resonates with them. I'm really grateful for that.
Alana Casanova-Burgess: Ralphy Rodriguez is a former member of Menudo, now lead singer for the band VEINTE/OCHENTA, and Kristofer Ríos is the co-director and co-executive producer of Menudo: Forever Young. You can catch it on HBO. Thank you both so much.
Kristofer Ríos: Thank you so much, Alana.
Ralphy Rodriguez: Appreciate it.
[music]
Alana Casanova-Burgess: All right. It's been great being back in the host chair, filling in for Melissa Harris-Perry. She's back on Monday after a well- deserved vacation. The team is working on some great shows coming up, make sure you all tune in, and if you missed anything or want to listen back, check out our podcast feed, all the segments are there. Quick shout out to the crew that puts it all together each week. They're truly the best. Thank you so much. Jackie Martin is our line producer. Vince Fairchild is the broadcast engineer. Mayan Levinson helped us out on the board this week. Jay Cowit is our director and editor.
Our producers are Katerina Barton, Ryan Wilde, Mary Steffenhagen, and Deborah Goldstein. Our senior producers are Shanta Covington and Ethan Oberman. Digital producer is Zach Bynum. David Gebel is our executive assistant. Our intern is [unintelligible 00:16:54] and Wonbo Woo is our executive producer. Make sure to click a glass or two for them this weekend. Please. Thank you so much for spending part of your day with us. I'm Alana Casanova Burges in for MHP and this is the takeaway.
Copyright © 2022 New York Public Radio. All rights reserved. Visit our website terms of use at www.wnyc.org for further information.
New York Public Radio transcripts are created on a rush deadline, often by contractors. This text may not be in its final form and may be updated or revised in the future. Accuracy and availability may vary. The authoritative record of New York Public Radio's programming is the audio record