How Did the Media Fare Covering Kamala Harris and the Debate?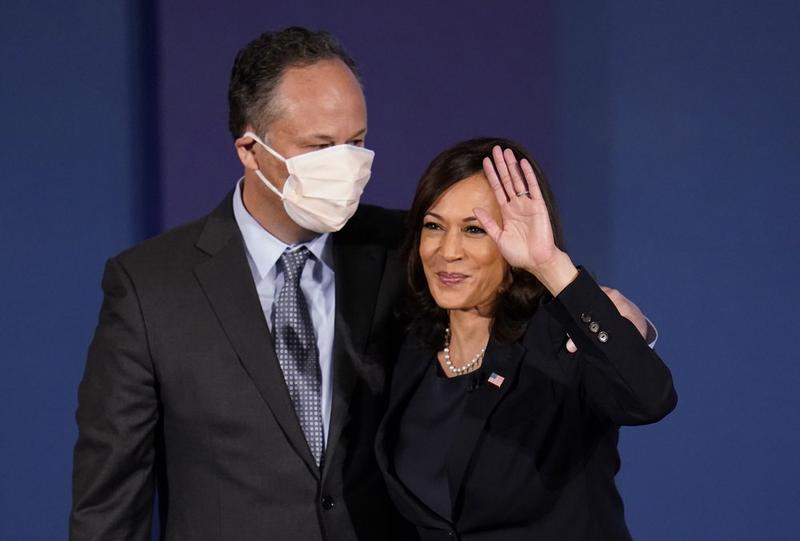 Transcript
[music]
Kamala Harris: Mr. Vice-President, I'm speaking.
Mike Pence: The important thing is the truth.
Kamala: If you don't mind letting me finish, we can then have a conversation, okay?
Mike: Please.
Kamala: Okay. The American people have witnessed what is the greatest failure of any Presidential administration in the history of our country.
Mike: When you say to the American people have done over these last eight months hasn't worked, that's a great disservice to the sacrifices the American people have made.
Kamala: We will not let anyone subvert our democracy.
Mike: Senator, your party has spent the last three and a half years trying to overturn of the last election.
Kamala: The President's trade war with China. He lost that trade war, he lost it.
Mike: Lost the trade war with China, Joe Biden never fought it. Are you and Joe Biden, if somehow you win this election, going to pack the Supreme court to get your way?
Kamala: He interrupted me, and I'd like to just finish, please. If you have a pre-existing condition, heart disease, diabetes, breast cancer, they're coming for you.
[music]
Tanzina Vega: Last night's Vice-Presidential debate between Senator Kamala Harris and Vice-President Mike Pence was a more subdued event than what Americans witnessed last week between the two Presidential candidates, but it was still anything but normal.
The two candidates were separated by plexiglass barriers to prevent the spread of the Coronavirus, which has killed more than 210,000 Americans and infected President Trump and many of his aides and employees but the event was also historic. Senator Harris was the first Black woman and woman of color to sit on the debate stage. How the media has covered last night's debate and Senator Harris herself is where we begin today on The Takeaway, I'm Tanzina Vega.
Tanzina: Joining me now is Kimberley Peeler-Allen, a visiting practitioner at the Center for American Women in Politics at Rutgers university. Kimberly, welcome back to The Takeaway.
Kimberly Peeler-Allen: Thank you for having me.
Tanzina: We've talked a little bit about, on this show, about how "the media" has covered, Kamala Harris so far. What's your assessment?
Kimberly: I think, so far the results have definitely been mixed. I think there has been an attempt to really cover the historic nature of her nomination as Vice-President, but then there is also, I think, particularly on social media, the attempts to undermine and discredit her credentials, disinformation, about her record and the unfortunate double bind, that continues to plague women candidates overall about whether or not she is likable, she is aggressive, is she tough enough?
Does she even know what she's talking about despite having a record and credentials that she does? I think it's definitely been mixed. I think the misogyny, racism and sexism that we knew were coming have been absolutely on full display, but there's definitely been more of an effort to push back on that narrative.
We'll see how effective it has been, but it's been mixed unfortunately, and like I said, we knew what was coming, that they were going to come after her in ways that they wouldn't come after a white man.
Tanzina: I want to give two specific thoughts on that because I agree with you 100% percent on the likability question. I mean, women across the board face that issue. Particularly women in positions of power, they have to walk this narrow line between being strong and being likable.
There was a moment last night in the debate Kimberly, that stood out to me as an example of Harris having to do that. It was when Susan Page, the moderator, referred to Kamala Harris by, as her name, Kamala Harris, and then quickly backtracked and said, vice-presidential candidate or-- And Kamala said, "No, it's okay. Kamala." I thought I've been in that position as a woman of color.
It felt like she was trying to show that it's okay, but really, was it okay? I mean, it just felt like would the moderator have referred to Vice-President Pence as Mike, for example, and would Mike have had to say, "Oh, that's okay, don't worry."
Kimberly: I think that's absolutely right. I mean, she is a US Senator. She is a sitting US Senator and never once during the debate did Susan Page slip and call Vice-President Pence, Mike. There is always that deference that women in general and women of color in particular have to convey, of like, "You slighted me, but it's all right. I'm not going to hold it against you because there is that underlying premise of really I'm not supposed to be here because this is a man's world, so if you want to, I will overlook any transgressions in this space because I'm just grateful to be on this stage."
I think we have a lot of deprogramming to do, all the way around, about what is an appropriate role for a woman.
Kimberly: We've seen by Kamala Harris' debate performance last night, that the Senator is absolutely prepared and capable of being the Vice-President of the United States. There is no reason for her to say, "Oh, it's okay that you didn't give me my proper due as a sitting US Senator because I'm just grateful to be here."
There's a lot of, both on the behalf of the moderator and on behalf of Senator Harris, a lot of work that needs to be done there, deprogramming that psychology.
Tanzina: There's also the question, and this was something that was raised in the New York Times' analysis of the debate, where, to your point, Kimberly, women, Blac women and women of color more broadly, in many instances are forced to prove that they deserve to be on that stage or in that chair.
In one instance, I believe, Senator Harris noted her experience as a former prosecutor and as a US Senator and having to recite the resume, if you will, to prove that she deserves to be in that spot. Did you take that away as well?
Kimberly: Oh, absolutely. There was a-- I think throughout the debate, she had to constantly remind people about why she is qualified to be there, whether it was her going through her record more than once, to her command of history and understanding of civics, that she had to convey during the debate.
She was constantly having to prove that she was qualified to be there in addition to making the policy points and attacks that she had wanted to do. She had that additional layer of saying, I'm qualified to ask these questions because, and then here's my question. I think she had quite a weight on her shoulders of things that she had to convey during this debate.
Tanzina: I know many Black women and women of color more broadly had probably felt that moment in particular. Kimberly, how do you think the media covered Senator Harris after the debate?
Kimberly: Well, I think there was definitely a lot of-- It was on full display, what women in general have had to deal with day in and day out in terms of being talked over, her line repeatedly, I'm speaking. If you would let me finish, we can have a conversation.
This is something that women every day encounter when they're in meetings with men or in discussions that they are constantly talked over and cut off. I think that was something that was definitely highlighted in the coverage.
I think it following the debate, I think the initial results were pretty positive of her performance and in terms of her ability to carry the water of the ticket overall and I think from that perspective, that was great. I'm looking to see, on the long term, over the next few days or actually probably the next few hours, how her responses get picked apart.
Kimberly: I think there were many times when in the coverage, people have really pointed to the double standard of the debate, where the Vice-President didn't answer directly really any of the questions where Senator Harris, she answered most of them or at least touched on them, where Vice-President Pence, pivoted completely away from a topic to talk about something else, and at the end of the day, he hammered home on the point that she did not answer the question about the Supreme court, where he didn't answer any of the other questions.
I think there's also the question around the moderation of the debate as to whether or not these moderators should push back and say, but you didn't answer this question. I think it's a lot on the opponent in the debate to be able to be conveyed their points, as well as hold their opponent accountable as to whether or not they've answered questions.
Tanzina: Kimberly, one thing that's been interesting so far is how the media, again, this big conglomerate of "the media" or at least the mainstream media in this instance has covered Senator Harris's identity, both as a Black woman and as a woman, as an Indian woman, as a child of immigrants. Were there moments last night that you thought Senator Harris was able to lean in to that part of her identity and did she need to do that?
Kimberly: I think what she very astutely did last night was without saying, this is my experience as a woman of color and America, she was able to speak about that experience when she talked about the effects of the economy and her lines about how panicked were you when you were looking for toilet paper and how panic were you when you were afraid where you couldn't see your parents because you're afraid that your children were going to kill them.
Talking about criminal justice reform and the Breonna Taylor case, she was able to pull on those threads without having to name because I am a woman of color, I think this. I think she was very astute at pulling in the life experience that I think really resonated and there were definitely moments, particularly in her body language.
I saw posts on Twitter about, particularly what she was saying, "Well, I'm speaking--" I was even sitting with my daughter and she said, "Well, the next thing that comes is you start speaking through clenched teeth as a Black mother."
There were definitely a lot of things that were conveyed without having to specifically say it that I think the American public saw and really resonated with them.
Tanzina: I wonder if you could help us give us a little bit of a historical backdrop for this as well because I remember, and I'm dating myself here, but I remember Geraldine Ferraro running for Vice-President back in the 1980s, I remember Sarah Palin running for Vice-President. Those so far have been the only two women who have run on a national vice presidential ticket who have been on that same stage as senator Harris was yesterday.
Were there any unique differences, Kimberly, that you saw in how both of those candidates Palin and Ferraro dealt with the debate that maybe mirrored or were different from what Senator Harris dealt with?
Kimberly: Well, I think Geraldine Ferraro had the huge weight of being the first and having to stand on that stage and defend and represent all women for the first time in our nation's history. That is probably most comparable to Senator Harris' experience last night of being the first woman of color to stand on that stage and all that that representation means and carries with it.
I think Sarah Palin also experienced some of that, as the first Republican woman to stand on that stage. I think they each in their own way, but I would definitely say, Geraldine Ferraro, as the first woman and Senator Harris as the first woman of color, they were carrying the full population of their identity onto that stage and had the weight of proving that women and women of color are acceptable, that they are capable and can and should be able to lead at this level.
I think there was just that added weight and I think also that added excitement from that both of them, and also Sarah Palin as well experienced because this was something that we don't see often. We seem to be seeing it more.
It was 1984 when Geraldine Ferraro was the VP and then we had to wait until 2008. Then here we are in 2020, in a much shorter time span of getting another woman on the Vice-Presidential stage. We had Hillary Clinton in between at the top of the ticket.
The changes are coming more frequently. I think the energy will change, but there's still that very strong and important message of representation matters, and that we can and should operate at this level.
This is what happens when we work to really level the playing field, so that all of our candidates, regardless of their gender, regardless of their ethnicity, are able to show their full set of capabilities.
Tanzina: Kimberly Peeler-Allen, is a visiting practitioner at the Center for American Women and Politics at Rutgers. Kimberly, thanks so much for joining me.
Kimberly: Thank you.
Tanzina: All right, everybody. We're going to be talking more about last night's Vice-Presidential debate, but we also have some breaking news. The commission on Presidential debates had announced that the next Presidential debate would be virtual for safety reasons, but President Trump has told Fox Business News that he would not participate.
Joe Biden meanwhile, says that he's all in. Joining me now is my colleague, Amy Walter, the host of Politics with Amy Walter on The Takeaway, and the National Editor of the Cook Political Report. Amy, hello.
Amy Walter: Hey, Tanzina.
Tanzina: Let's start with some of the news because last week, we talked about the Presidential debate and the potential for not having any future debates, and what that could do to our democracy. Amy, the President at least as of right now is saying that he is not going to participate in the next debate, so now what?
Amy: Now we're to the place where we maybe thought we were always going to be, which is with one Presidential debate, as the one we saw as the final one and the rest of the campaign, basically, with the President trying to play on turf where he's much more comfortable.
He likes his rallies, he likes being able to call into cable news shows. He likes being able to give uninterrupted press conferences in the Rose Garden. That's where you'll see him. That's where he's much more comfortable.
The irony Tanzina, is the debate actually is one place where the president could finally, at least if not flip the script completely, at least turn the page a little bit, force Joe Biden to answer questions that he's not particularly comfortable in answering about his agenda about certain issues, or just let him speak enough so that the focus of the campaign and the focus of the next few days on the trail are on Joe Biden, and maybe some of his shortcomings and his inconsistencies rather than completely about Donald Trump.
President Trump has to be not just in every news story, he has to dominate every single minute of every news cycle and as such, we are where we are.
Tanzina: We are where we are. I wonder what that means. This is a developing story, so we'll see whether or not the President remains out of this virtual debate. We know that he has a tendency to change his mind on things pretty quickly, at least on Twitter. Amy, does that open the possibility for Joe Biden to just-- He says he's still in to just be on that stage by himself.
Amy: Right, and just have a town hall-style meeting because this is a town hall debate, right?
Tanzina: Correct.
Amy: Absolutely. I think what's interesting, I did see that one of the commissioners on the Presidential debate board tweeted out, there's an ability for any of the candidates just to say no. If they want to say no, they can say no.
He noted that the last person to say no to one of the debates that was offered by the Presidential commission on debates was Jimmy Carter, which was not-- As the kids might say, that's a pretty good subtweet. Noting, if you want to join Jimmy Carter as the only President to not do this, you go right ahead. How that ended up for him.
Tanzina: That's a pretty hard sub-tweet right there for the President. I'm curious just to not forget that we had a Vice-Presidential debate last night. We talked a lot about Chris Wallace's performance in last week's debate, if we could even call it that but Susan Page from USA Today was the moderator last night.
At one point she called Kamala Harris, Kamala by her first name. I think she did an okay job. I also think she was in a position to have to reiterate the rules and the time limits a few times and New York Times says that both candidates got equal time. I'm wondering what was your assessment on how Susan Page did as moderator for that event?
Amy: It's interesting that the term is moderator. Only because it suggests that their job is simply to enforce the rules. You get two minutes, you get two minutes. I've given you your time, sort of play traffic cop, rather than to push the candidates to answer some of the questions.
Notably, she asked a very good question last night to both of them, they are both running mates to men in their 70s, one of whom has contracted a deadly virus. She said, "Have you had a conversation with your boss about safeguards or procedures when it comes to the issue of Presidential disability?" Now it's an uncomfortable question.
I can understand why neither of them wanted to answer that. When they both dodged it, she should have the imperative to say, "You know what? I'm not going to let you get away with that." Or on so many of the other questions where they just went initially just right into talking points, or basically said, "Thanks for that question. I'm going to answer something completely different."
I think it's gotten caught into this, we have to have these buckets of issues that we have to make sure we have to touch China, and we have to touch issues about Supreme Court and Coronavirus. All that's important, but at the end of the day, I think what voters would really like to see is somebody who has knowledge, who has the background, to be able to say, "You know what, Mr. Vice President? That's not what your administration has actually done. You know what, Senator Harris, you actually did say something else, or you did vote a different way than what you're saying right now."
And have that, to me that would be much more helpful. I think for voters, as well. I'm wondering if you think that would be a better use of our time.
Tanzina: I think that would be journalism, Amy, that you're describing there that so many of us appreciate and I think you're right. I think the American public would benefit from some actual answers. I think a lot of these debates have really turned into that.
In some ways, both candidates did their job by just promoting what their Presidential running mates are doing. It really remains to be seen if this format needs even further restructuring.
Amy: Right, and that we push that on, maybe the next one, Tanzina you can do it.
Tanzina: Yes, we'll do it together. Amy Walter is the host of Politics With Amy Walter from The Takeaway on Weekends and national editor of the Cook Political Report. Amy, thanks so much.
Amy: Thanks, Tanzina.
[00:21:47] [END OF AUDIO]
Copyright © 2020 New York Public Radio. All rights reserved. Visit our website terms of use at www.wnyc.org for further information.
New York Public Radio transcripts are created on a rush deadline, often by contractors. This text may not be in its final form and may be updated or revised in the future. Accuracy and availability may vary. The authoritative record of New York Public Radio's programming is the audio record.