Meat Plant Workers Are Falling Ill with Coronavirus — But We Don't Know the Scale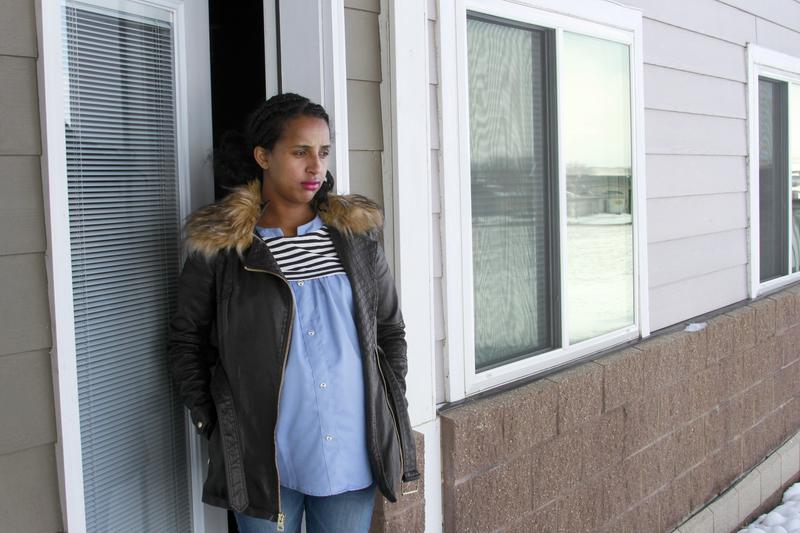 Transcript
Shumita Basu: Around the country, thousands of meat and poultry plant workers have been diagnosed with COVID-19. Last month, the CDC said there were around 5,000 cases of coronavirus in meat processing facilities. However, non-profit organizations estimate that today, that number is closer to 20,000 people. So far, 66 workers have been confirmed dead although that number could be higher.
Despite the health risks, the Trump administration ordered that meat plants stay open during the pandemic. This has led to counties with these facilities to have twice the rate of infection compared with the national average. Let's talk about how it's affecting workers and why it's such a problem. Tina Vasquez is a gender justice reporter with Prism and Nicole Narea is an immigration reporter for Vox. Tina, Nicole, thanks for joining us.
Nicole Narea: Thank you.
Tina Vasquez: Thanks for having me, Shumita.
Shumita: Nicole, why don't we start with you? Why exactly has coronavirus spread so quickly in these meat and poultry plants? Is it the working conditions there or something else?
Nicole: Yes, it's the working conditions, both inside the plants and outside the plants. Even in normal times, meat packing is backbreaking work with workers having to haul these huge cuts of meat and carve them into market-ready portions on the production line for relatively low hourly wages.
On the production line, workers are often standing shoulder-to-shoulder and in those kinds of settings, it's difficult to promote social distancing unless the plants significantly reduce their capacity. Some plants have already done so, but at the same time, President Trump has also ordered the meat packing plants to stay open and encourage them to keep working at full capacity in order to ward off meat shortages, so some plants may be taking that drastic action.
Also, plants are now taking employees' temperatures and handing out additional protective equipment, but workers might still spread the virus unknowingly if they're asymptomatic. There's also research suggesting that the virus might survive longer in the cold humid air of meat packing facilities. They're required to stay that way based on federal guidelines for food safety.
It may spread as an aerosol also via the aggressive ventilation systems that they have in these facilities and in the local communities where the workers live, they tend to live in cramped, shared housing and commute together, sometimes on company-provided buses. A recent Bloomberg analysis actually found that since Trump issued his executive order, requiring the plants to remain open, infections in the counties near these large meat packing facilities have actually risen at more than twice the national rate.
Shumita: Tina, you've been speaking with a lot of workers at these plants in your reporting. What do the working conditions look like in the facilities and what are you hearing from people inside?
Tina: I think the most troubling part of it is that the workers that I've spoken to say that there's a total lack of transparency from the companies that they work for. I've been focusing on Mountaire Farms in rural central North Carolina, a lot of people are not showing up to work and workers are unsure if people aren't showing up because they're afraid of contracting the virus or if because they're sick with the virus.
Several women that I've spoken to have told me that they've asked their manager or supervisor directly if they've come into contact with anyone in their areas on the line who've contracted the virus and they are told that that is protected information or confidential information that they won't be sharing.
There are new CDC guidelines for poultry processing plants in which it's recommended that employers tell workers if they've come into contact with people who have contracted the virus, but that doesn't seem to be happening at least among the workers I've spoken to in North Carolina.
They've also reported that you can't distance from the person-- These are people who are working on the line, doing repeated movements. They are shoulder-to-shoulder with other workers. In North Carolina, in particular, testing is not being done at the levels that it needs to be done so people are asymptomatic and they're going to work or they want to get tested, but there isn't information about where they can get tested.
There's a lot of fear in the community about whether it costs a lot of money, there are language access issues. Even people who want to get tested have told me that they have no idea how to get tested in North Carolina, unless you are showing symptoms of COVID, then you're not going to get a test.
Shumita: Nicole, you mentioned that executive order, President Trump signed it last month, invoking the Defense Production Act to keep plants open during the pandemic. Did that executive order lead to any meaningful outcome for workers? Some plants have closed, right?
Nicole: Some plants have closed, yes, but he wants the plants to basically reopen in accordance with federal guidelines. The problem is with those federal guidelines that some agencies have been issuing in order to protect workers, they're not actually enforceable. They're basically suggestions and there's no real accountability mechanism built-in. Actually, hundreds of worker rights groups are petitioning Congress to pass a bill that would require the federal government to issue an emergency temporary standard to prevent the spread of coronavirus in the workplace and that would be enforceable.
As Tina mentioned, we just haven't seen these plants really following through with some of the federal guidelines and that would really help. In terms of what Trump's executive order has actually done, it's more of a semantic flourish than actually ordering these plants to produce a certain amount of meat on behalf of the federal government, but it does have the effect of discouraging the plants from taking more drastic action to prevent the spread of coronavirus in their plants.
Shumita: When you talk about labor organizing, what sorts of things are they asking to be codified for these plants to be doing differently?
Nicole: They basically just want to enact cleaning standards, screening practices, standards around the administration of personal protective equipment and social distancing, all of these kinds of basic protections that we would hope employers are enacting even outside of meat packing plants.
Shumita: These things are not being standardized at the moment, you're saying.
Nicole: They are through federal guidelines, but those guidelines are not enforceable, unfortunately.
Shumita: Tina, I understand that around one-third of people working in these facilities and most likely more than one-third are from immigrant communities and many of them are undocumented. Does that mean that they are particularly vulnerable as workers?
Tina: Yes, what's been really interesting to learn as I have reported on the conditions in North Carolina is that when poultry processing plants talk about the protections that they're offering to their employees, that often doesn't encompass an entirely different workforce that makes up, I would say, a bulk of their workforce, which are undocumented workers who aren't considered direct employees of these companies, but rather hired through a staffing agency.
Often that's how undocumented folks get jobs at these facilities. Is they're considered employees of the staffing agency, which means they get paid less. They have fewer protections, they don't have health care. This creates a lot of additional hurdles, especially during a pandemic.
At Mountaire Farms, when the National Guard was rumored to be coming to help carry out massive testing, people in the community were afraid of what that meant for them. They were confused, if that meant that immigration enforcement would be taking place. People are afraid to go to hospitals to get tested because they're afraid of being asked for identification.
When you have a large percentage of the workforce that is an undocumented community and they don't have access to information in their language, they're afraid of immigration enforcement, which has taken place in central North Carolina. We've seen large raids of different workplaces, including these poultry processing plants, it creates an environment where people are afraid to ask for more information. They're afraid to seek the healthcare that they need. It creates insurmountable barriers for different communities.
Shumita: What does labor organizing look like when these people are already afraid to be speaking out possibly because of their status?
Tina: It could be that organizing is happening and that it's not public, but among the women that I've spoken to who work at these poultry processing plants, they mostly described conditions of mutual aid among workers were there.
Some of them have said that the companies aren't telling them any information about the size of the outbreaks and so they're relying on information from each other. They're providing childcare to each other. They're providing food to each other. I think that's its own form of organizing, but it's less formal than what we think of it, but there is a lot of mutual aid happening, but what's unfortunate is the lack of transparency.
They can't develop an understanding of the risk they're taking by going to work if they don't have the information that they need and if it's not coming from the companies, then they're watching the news.
People who work at specific plants learned about outbreaks at their own plants by watching the news in Spanish but the downside of that of course, are rumors that circulate when large percentages of people aren't going to work. They don't know if they're sick or just afraid and so rumors circulate that there could be thousands of cases or hundreds of cases or this person is sick or that person's sick, but there's no way to confirm, so they rely on the information they have, and sometimes it's good and sometimes it's bad.
Nicole: We actually have seen some employees staging walkouts at major meat packing facilities. One even anonymously filed a lawsuit against their employer Smithfield's, which is one of the nation's largest pork producers. Republicans are actually fighting to shield businesses from these kinds of lawsuits and liability if their employees contract coronavirus, which would make it that much harder for these employees to stand up for their rights.
Shumita: I want to ask you, Nicole, our Friday politics host, Amy Walter, she recently spoke with Mayor Quentin Hart from Waterloo, Iowa. In his city, there was an outbreak of coronavirus at a local pork processing plant that's owned by Tyson. The plant was later closed. Here's what mayor Hart had to say.
Mayor Quentin Hart: There is a direct correlation between a strong agricultural base, a healthy workforce, production flow, and the impact to local and national economies. If you don't have a protected workforce, or if you have a workforce where large numbers are not feeling well, or could have potentially contracted the virus, then you don't have production. With that many people calling in sick, or unable to work due to the virus, no matter what you do, you're not going to produce at the same level.
Shumita: That's mayor Hart in Waterloo, Iowa. Nicole, what have we been hearing from local politicians and industry leaders? Are there efforts to help the workers in these conditions?
Nicole: Certainly, on a local level, we've seen officials administering guidance and requiring local facilities to close. There was one Smithfield facility, I believe, that was forced to close upon basically an ordinance from local officials.
He's completely right in the sense that, I think the worker-safety problem is not distinct from the problem with shortages in our meat supply. Keeping the facilities open and without additional protections for workers, isn't going to resolve the shortages that we're seeing in supermarkets across the country right now. It really is about protecting those workers, and only then can we get production levels back up, somewhat.
Shumita: Tina, something that you tweeted caught my attention. You said that what's happening in these plants is an immigrant rights and a worker rights issue, but it's also a gender-justice issue. Can you explain that? How does gender play into this?
Tina: When I started to do this reporting, I did not set out to cover it from a gender-justice angle. I really thought that these would be immigration stories. As I started to do my reporting, and more and more people wanted to speak to me about the conditions that they were seeing in the plants that they were working at, they were all women. I didn't know if that's just who happened to be speaking out, or if that's who's working in poultry processing plants.
I had ideas or assumptions about who I thought worked at these facilities, and it turns out that I was wrong. I started to ask around whether it was North Carolina or Mississippi there are large percentages of women working at these plants.
I spoke to a woman last week named Luce, and I asked her directly, "Is it just that women for whatever reason, feel more apt to speak out, or is it that large percentages of people who work at these plants are women?" She said that it was both, that women are the breadwinners, that women have to take care of their children. That they're juggling all of these different roles, and that they have the biggest risk to take and the most to lose if they get sick, because that means that they can't support their families. That means that they can infect their children.
If they live in multigenerational homes, that means that they can make their parents sick. I think it's a combination of the two, that women, for whatever reason in North Carolina, want to speak out, but also that they make up a large percentage of this workforce.
Shumita: Tina Vasquez is a gender justice reporter with Prism. Nicole Narea is an immigration reporter for Vox. It was really great to have you both here. Thank you.
Copyright © 2020 New York Public Radio. All rights reserved. Visit our website terms of use at www.wnyc.org for further information.
New York Public Radio transcripts are created on a rush deadline, often by contractors. This text may not be in its final form and may be updated or revised in the future. Accuracy and availability may vary. The authoritative record of New York Public Radio's programming is the audio record.