Mayor Lori Lightfoot Says Federal Government to Blame for Delays in Chicago's Vaccine Distribution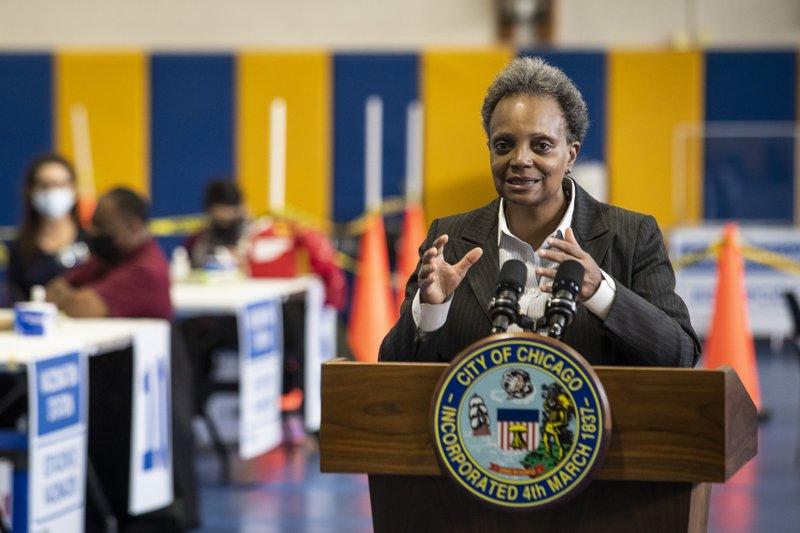 Transcript
[music]
Tanzina: As the COVID-19 pandemic continues to overwhelm communities across the United States. The latest forecast from the CDC predict a dire situation in the weeks ahead. The nationwide death toll hovers at about 400,000, a grim milestone. That's close to surpassing the number of Americans that died during all of World War II. The vaccine rollout that began at the end of last year was supposed to offer relief, but so far vaccine distribution has seen major delays in most parts of the country. That's something the Biden Harris administration says they plan to address. Here's president elect Joe Biden last week.
Joe Biden: We're going to make sure state and local officials know how much supply they'll be getting and when they can expect to get it so they can plan. Right now, we're hearing that they can't plan because they don't know how much supply of vaccines they can expect at what time frame. That stops, when we're in office.
Tanzina: We've been checking in with local leaders nationwide about all this. Today, we go to Chicago where vaccine eligibility has been expanded beyond healthcare workers in long-term care residents to anyone over 65 who lives or works in the city. At the moment, Chicago's rollout has been so slow that the city's Mayor Lori Lightfoot says it will take a year and a half to vaccinate the entire city, unless the process is dramatically sped up. To get a better sense of what's causing Chicago's delays and how the city is planning to improve its vaccination process going forward. I got Mayor Lightfoot on the line.
Mayor Lightfoot: This is is just a very basic issue of supply. We do not have enough vaccine from the federal government. We are dependent upon them, not surprisingly, to get the vaccine in every week that we've been up and had our infrastructure clicking into gear. We've gotten less first doses instead of more first doses, that is fundamentally a problem. I've been very outspoken about this issue. I will continue to be as the change of administration comes into play. We simply don't have enough first dose vaccines and it's holding us back and our ability to get vaccines out to those people who are ready, willing and able and enthusiastic about getting the vaccine.
Tanzina: We've been talking to mayors across the country, Mayor Lightfoot, about what they need from state and or federal officials. Is there something specific, you said you need more vaccine. Are there any other things that you need for the city of Chicago, from the state or the federal government to move this process along more smoothly?
Mayor Lightfoot: No, we're fortunate enough to get direct supply for the federal government. One thing I will say about the state is we've identified for them that because healthcare workers in Chicago also live elsewhere. We've also been giving vaccine to a fair number of suburban residents, which is fine. That means that we need to have backstop from the state and the County, and I think we will get there. Fundamentally, in addition to getting more first dose vaccines.
We also need additional resources from the federal government to make sure that the infrastructure that we put in place has the resources it needs to be successful. We need more additional resources for staffing. As we expand into more fixed sites across the city, looking at mobile sites, we just need more resources from the federal government. They had not allocated enough, even with the Stimulus Bill that passed at the end of December, more needs to be done. I think the incoming Biden administration recognizes that necessity
Tanzina: Mayor Lightfoot, you mentioned a vaccine skepticism as being another hurdle that the city is facing in terms of getting people vaccinated. We know that particularly for Black and Latino populations, that a history of racism within the medical community has also spurred concerns. Is there anything the city is doing or can do to combat that skepticism in those communities particularly?
Mayor Lightfoot: Look, the skepticism unfortunately is widespread across the country. What we started to do before we even got the first dose was to really lean into our trusted community stakeholders in the Black and Latinx community. That we've formed partnerships with this entire past year, since the pandemic came to Chicago. We've got a great network of partners at the local level through FQHCs, but also other stakeholders. Primarily what we're looking to is Black and Latinx, healthcare workers, doctors, nurses, pharmacists.
Those folks are really going to be, I think the critical ambassadors as we continue to go hyper-local into these communities. If people see people who look like them, speak their language, getting the vaccine and explaining why it's important, that's going to make a substantial difference. We're leaning into those networks and those trusted community partners,
Tanzina: Mayor Lightfoot, as you know, one of the biggest attention points during the pandemic has also been the economic development or lack thereof of communities that have been forced to shut down. Restaurants and bars in Illinois have been closed for indoor dining since October after an order from the governor. You've been pushing for restaurants and bars to reopen, how would that look? How are you going to balance those efforts with the efforts to contain the spread of COVID-19 right now?
Mayor Lightfoot: Well, look, I think you know this, but restaurants and bars are some of the most heavily regulated businesses in any city and ours is no different. They have taken and invested a significant amount of their dollars to make their businesses safe, not only for patrons, but also for other employees. What's become very clear is that because the bars and restaurants and other places of entertainment have been shut down. People have COVID fatigue and they're seeking access to entertainment and other high risk ways, underground parties using hotel spaces, venues that should be closed. What we're seeing is a lack of compliance that is placing residents more at risk.
I think that there's a public health reason why we should carefully reopen our bars and restaurants at limited indoor capacity. There's also clearly an economic reason to do that. We're always going to lead with the science and the data. What we are seeing across our city, is that people haven't stopped congregating. They're just doing it unfortunately in more and more riskier, unregulated ways. We want to open up these regulated venues that are safer for people to congregate in and where we can have some oversight over what they're doing. Then also obviously opening up economic opportunities for our restaurants and bars and other entertainment venues that have been so hard hit over the course of this last 12 months.
Tanzina: Let's talk about schools, which is another important part of the COVID-19 recovery process here. Chicago schools opened for in-person teaching this month for the first time since the spring. The Chicago School District is actually in the process as you know Mayor Lightfoot of disciplining, some of the teachers who chose not to return to the classroom. Where do you stand on that? What do you think is the right response for teachers who are concerned about their health versus weighing this really tricky situation right now with the need to have in person learning?
Mayor Lightfoot: I think first and foremost we have to say, we understand the concern and anxiety amongst some teachers. That's why we have done everything compliant with the ADA and obviously public health guidance. To make sure that those teachers, for example, who themselves have underlying health conditions have a waiver not to come back to in-person learning. For those teachers who are the primary caretakers of someone in their household who have the same kinds of challenges. Waivers are granted for them as well.
What we've seen over the course of this week that we've returned to in-person learning for the first time in 300 days. Is increasing numbers of our school base educators and staff coming back over 70 plus percent and that number increases every single day. I want to say thanks first and foremost to those teachers who were able to come back, who did come back. I went to schools this week, I saw the incredible joy and enthusiasm of our youngest learners because we opened up for Pre-K and for our special needs kids. The parents who are grateful to have an option to come back, we're always going to provide that option.
There are going to be some families for whom in-person learning is the best option. They're going to be some families for whom remote learning is the best option. What I'm also concerned about is equity and making sure that we provide that option for parents. We do what we can now to close the equity gap and the achievement gap that we see growing exponentially over the course of this pandemic, we have to make up that ground. We're doing everything that we can, but in person learning has to be one of the tools that's available for our school district, for our families, for our students and of course, for our entire school community.
Tanzina: Mayor, I'd have to shift gears for a minute to a couple of questions about criminal justice reform. The Illinois state legislature just passed a piece of criminal justice legislation that eliminates cash bail for defendants and requires police officers to intervene if their colleagues use excessive force. Tell us about how you see this rolling out in the Chicago Police Department.
Mayor Lightfoot: Many of the things that were identified as part of the package that eventually passed. Were things that we've been doing here in Chicago now for years, either voluntarily or because of our work under a consent decree. We worked hand in glove with members of the Black Caucus to help shape that legislation. I think on balance, it's a very big step forward.
There are things that we're going to need to look at. We may need to tweak some things around the edges, but on balance, this was a very important and monumental piece of legislation. We're grateful for the leadership of the Illinois Black Caucus on it. We will continue to work with them as we move forward on our journey that's not over on reform and accountability for not only the Chicago Police Department, but police departments across our entire state. I think that they showed tremendous leadership and I'm grateful that they did.
Tanzina: Mayor Lightfoot, last month a police video was released showing a February 2019 raid on the home of a Chicago resident named Anjanette young. The officers made her stand naked with just a blanket wrapped around her body for about 40 minutes before they realized that they were in the wrong apartment. You admitted that you had known about this incident for almost a year. What would you have done differently in that scenario and what are some things that are being put in place now to make sure that those mistakes don't happen again?
Mayor Lightfoot: Well, first and foremost, what happened to Anjanette Young was an absolute travesty. Those officers denied her, her humanity that we're are all entitled to. There's an internal investigation underway that we'll look at whether or not, there's discipline that should be meted out to the officers and the supervisors that were involved in that wrong raid. Obviously, that's not going to erase the pain and trauma that Ms. Young suffered.
I had the opportunity to apologize to her directly on behalf of the city and there's more work and healing that needs to be done. Let me be clear, what I knew about is that there was a local media outlet that was doing a series of reports on these wrong raids. They reported about Ms. Young's case, that I knew. What I never saw until December of 2020, almost a year and a half later was the horrific video. I saw it at the same time that members of the public did.
Had I seen that video earlier, I would have taken the action that we took, which was a fundamental reform of the search warrant process. There are a number of things that we did in response to that reporting that went into effect over a year ago in January of 2020. Importantly, when there is a wrong raid, now officers have an absolute obligation to report it so that an internal investigation can be opened up. I wish that had been in place at the time that this travesty happened to Ms. Young but we've learned a lot from her circumstances and the circumstances of other victims for whom wrong rates happened. We are moving forward aggressively to right those wrongs
Tanzina: Mayor, before we go, we are collectively in this country from New York to Chicago, to Los Angeles and across the world, really. We are facing some very dire moments. This pandemic seems to still not be letting up many constituents. I'm sure our viewers are struggling right now, whether that's emotionally, financially, or in any way at this point. Is there any room for optimism Mayor Lightfoot, in the weeks and potentially months ahead?
Mayor Lightfoot: Well, I think there's been optimism and opportunities all throughout this pandemic. We just launched here in the city of Chicago, our year of healing. Really, if you look at the way in which people in this city and across the country have stepped up. Given us their time, their talent, their resources to help their neighbors in need. Whether it's making sure that our seniors have a friendly voice on the other end of the fall and just checking in with them to make sure that they're doing okay, and to address any needs that they have.
Whether it's a way in which people have stepped up to volunteer and donate to the many food banks so that we don't have hunger overwhelming our city and places all across the country. The way in which people have given resources to help support our small businesses by patronizing them, but also by donating to the various loan and grant funds that we have stood up here in the city of Chicago. There's a long list where people have seized this once in a lifetime pandemic as an opportunity to reach out to their neighbors.
Look, I would be remiss if I also didn't talk about the aftermath of the horrific murder of George Floyd, the death of Brianna Taylor, and so many others across the country at the hands of violence on the part of the police. This is an important inflection point for all of us. Yes, there is despair. Yes there are moments where I have really had to be on my knees in prayer and really tears that have come to me from I've borne witness to in our city. There's also so many opportunities for hope and hope is what will get us through this and guide us out.
There is light at the end of the tunnel with a vaccine, but we've got to have hope in our heart because that's is a way that we're going to get through this. That is what we need to exhibit to our children who are watching us and looking to us for leadership.
Tanzina: Mayor Lori Lightfoot is the mayor of Chicago. Mayor Lightfoot, thank you so much for your time.
Mayor Lightfoot: My pleasure. Thank you for what you do.
Copyright © 2020 New York Public Radio. All rights reserved. Visit our website terms of use at www.wnyc.org for further information.
New York Public Radio transcripts are created on a rush deadline, often by contractors. This text may not be in its final form and may be updated or revised in the future. Accuracy and availability may vary. The authoritative record of New York Public Radio's programming is the audio record.