Making Sense of 2020 Through Poetry -- and the Art That Got Us Through It All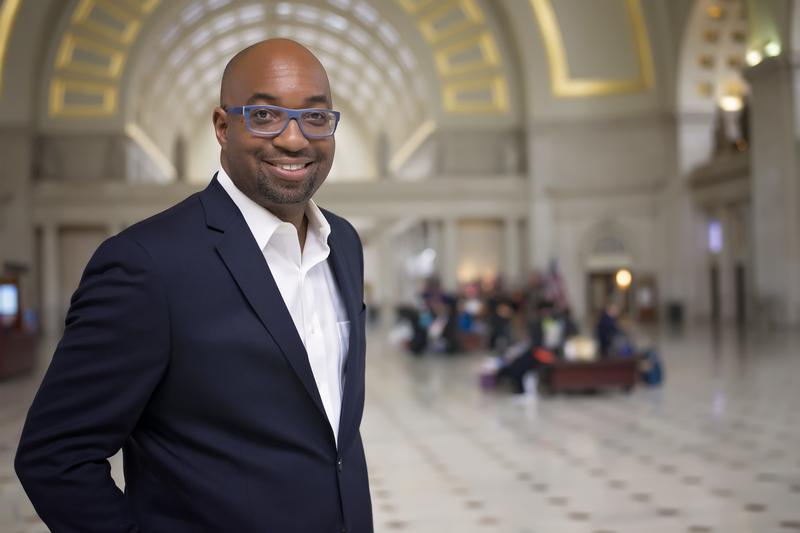 Transcript
Speaker 1: I woke up, found ways to be productive, connected with nature and those I love. I'm filled with gratitude, and ever thankful and grateful to be alive. Carpe Diem, a Journal excerpt 2020, Sharla Flournoy, Tennessee.
Callie Crossley: I'm Callie Crossley. This is The Takeaway, and we've been thinking about hope.
[music]
Callie: On this last day of 2020, I've been reflecting on endings and beginnings. For me, art, especially poetry, is one way to process and commemorate both loss and hope. Two things very much on my mind as we welcome 2021. We asked you if there are poems or other pieces of art that have inspired you this year, we got so many wonderful responses. Here are just a few.
Barbara MacGyver: Hi, it's Barbara MacGyver in Red Bluff California. A poem that has really moved me more than ever this year is Elizabeth Bishop's One Art.
The art of losing isn't hard to master;
so many things filled with the intent
to be lost that their loss is no disaster.
Lose something every day. Accept the fluster
of lost door keys, the hour badly spent.
The art of losing isn't hard to master.
Then practice losing farther, losing faster:
places, and names, and where it was you meant
to travel. None of these will bring disaster.
I lost two cities, lovely ones. And, vaster,
some realms I owned, two rivers, a continent.
I miss them, but it wasn't a disaster.
—Even losing you (the joking voice, a gesture
I love) I shan't have lied. It's evident
the art of losing's not too hard to master
though it may look like (Write it!) like disaster.
Julie: My name is Julie Bailey from the Bronx. What has really inspired and sustained me is a James Baldwin quote, "Not everything that is faced can be changed but nothing can be changed until it is faced." I think that that sums up the current situation, at least in America, and it is also something that has given me personal strength because I've changed a lot of things this year.
Speaker 2:
Hope is the thing with feathers
That perches in the soul,
And sings the tune without the words,
And never stops at all,
And sweetest in the gale is heard;
And sore must be the storm
That could abash the little bird
That kept so many warm.
I've heard it in the chillest land,
And on the strangest sea;
Yet, never, in extremity,
It asked a crumb of me.
Hope is the thing with feathers by Emily Dickinson was sent to me inside a card by a friend after I announced my breast cancer diagnosis. The news that my irregular mammogram was most likely cancer came on the same day that Ruth Bader Ginsburg died and that was confirmed two weeks later on my birthday.
And sweetest in the Gale is heard,
and sore must be the storm
that could abash the little bird
that kept so many warm.
Speaker 3: For me, a poem from my favorite poet, Lucille Clifton, seems right for this moment, The Lesson of the Falling Leaves.
The leaves believe such letting go is love
Such love is faith
Such faith is grace
Such grace is God.
I agree with the leaves.
Callie: Poetry is an art form that allows us to mark some of our darkest moments and celebrate our most joyful ones. We wanted to hear directly from poets themselves about how they process the events of 2020 both in their own writing and through the work of others. Joining me now is Javier Zamora, a poet, writer, and educator. Thanks for being here. Javier.
Javier Zamora: Thank you for having me.
Callie: And Kwame Alexander author Light For The World To See: A Thousand Words On Race And Hope and founding editor of Versify. Welcome, Kwame.
Kwame Alexander: Hey there, good to be here.
Callie: Glad to have you. Kwame, was 2020 a productive writing year for you?
Kwame: Absolutely. I was living a writer's dream in the midst of a nightmare. I had nothing to do but sit in my house and tell my kid to turn off her screen, stop watching a movie, read and I just sat there and wrote. I wrote so much. My imagination just went wild trying to write myself out of the uncertainty, out of the chaos, and try to create a world try to dream a world, as Langston Hughes would have said, for myself.
Callie: Javier, what about you? Have you found it harder to be creative during the pandemic?
Javier: The beginning was extremely difficult for me to write. I was worried. I was living in a very small apartment in New York City but I didn't start writing until late August, maybe September so it's been a struggle.
Callie: You've written, Javier, a lot about your past in your work. Is it more of a challenge for you to write about significant events as they're unfolding?
Javier: That it's true. I think because of the nature of a lot of what I write about, which is my immigration story when I immigrated here when I was nine. The pandemic, the world crumbling around me, and my internal world, that stuff that I write about being so hard to write about, I think, it's been very difficult.
Callie: Kwame, you published a new book this year, and we just love to get a sense of the work you've done in 2020. Can you read us something from that?
Kwame: Like Javier shared, I went through this period where I didn't know how to articulate what I was feeling, the uncertainty of the pandemic, the racial injustice. The killings of Ahmaud Arbery, and George Floyd, they drove me to a place where, as Toni Morrison said, I didn't have a choice, I had to write my way out of the despair and so I wrote a piece called American Bullet Points.
We can't be ourselves. We can't be at home.
We can't be alone. We can't be unarmed.
We can't shoot ourselves. We can't hold a gun.
We can't hold a toy. We can't hold a phone.
We can't do a thing. We can't drive a car.
We can't walk the street.
We can't ride a bike. We can't run away.
We can't be a boy. We can't be a man.
We can't be afraid. We can't break these chains.
We can't walk. We can't run.
We can't dream. We can't be.
We can't breathe. We can't live.
We can't breathe. We can't live
But, we will not die.
That's an excerpt from a piece I wrote called American Bullet Points.
Callie: Wow. What was the process of writing that poem like for you?
Kwame: The process was not being able to sleep, not being able to watch the video of this police officer whose knee on the neck of this Black man, not having answers for my daughter, understanding that this wound is very old, that in America, that we have been suffering under the weight of being Black for 400 years in this world and needing to not go crazy. How do I go uncrazy and for me, it's always been about the words on the page. It's been about writing as a way of writing myself into a sanity or a better state of mental health.
I just sat down and started thinking about all the things that we can't do in this world, as a Black man, as a Black person, whether you're jogging, whether you're in your apartment, whether you are breathing. These are things that are life-threatening and we've seen that time and time again. I wanted to write about that idea of what we can't do, which it's interesting, because when I looked at the pieces, at the refrain, and the lines and the standards, of course, all of these things we have done. That was the juxtaposition that while we can't do it, we have done it. As Langston Hughes said, we're still here.
Callie: Javier, you're speaking with us from Tucson, Arizona, which is pretty close to the US-Mexico border. Do you think conversations around immigration and deportations have gotten overshadowed during the pandemic?
Javier: I think they tend to be overshadowed outside of the pandemic and especially now, in the conversations around the Latinx community. This country has been one of the communities that's being most impacted by the pandemic. We have one of the highest death tolls and so ingrained in that as well is the conversations that are happening around the southern border.
I am here to research my memoir that I'm writing and research some new poems in the area in which I crossed in 1999, as a nine-year-old. To this day, when I drove to the border, I saw on Thanksgiving Day, a helicopter chasing immigrants, and I did not find that anywhere in a newspaper. It's hard to find what Border Patrol is doing. They've changed the recent policies in which if you get detained, they're immediately deporting you across the border back into the hands of the cartel.
Callie: How do you channel that onto the page?
Javier: For me now, I think the pandemic has reminded me that a lot of my personal content is very traumatic, and therefore, for the most part sad. I'm trying to change that narrative so I've been writing about the joy, that immediate joy that was very hard for me to find at the beginning of the pandemic and still, to this day. For example, I love dancing, and I love eating food. I love being at a restaurant and so a lot of my poems are just eating Salvadoran food, because that's been very difficult to find.
Callie: Javier, you've talked a lot about trying to create empathy through your poetry. What impact do you think the pandemic might have on the amount of empathy US citizens extend to immigrants?
Javier: I'm hopeful that the pandemic is showing Americans a glimmer of the daily lives of undocumented immigrants in this country. In my personal case, I wasn't able to travel back to my country for 20 years. I have family members who are still undocumented, who are afraid to drive to a next town, they are afraid that they can't travel anywhere as we please. Hopefully, this lockdown, this inability of seeing loved ones over holidays, can open a huge door for what the lives of undocumented immigrants are in this country.
Callie: How do you think writers can play a role in making sure people do find more space for empathy?
Javier: I think what Kwame was saying, I think it's our role to imagine a future outside of this pandemic and a better future. I hope that all the time that we've had in our homes, we have also taken to look inward and look inward first, in order to make the outward world better for each and every one of us.
Callie: Kwame, much of your work is geared toward kids. How do you try to connect with kids through poetry this year, particularly this year?
Kwame: I think kids need to-- they need their voice. They need to know they matter. Children need to have a way of channeling all the uncertainty that they're feeling during this lockdown during this pandemic, what better way to find your voice to lift your voice to build confidence than through this beautiful language that we call poetry, this concise, rhythmic and figurative language. I've always posited that, a lot of adults, a lot of teachers and educators, they shy away from verse. They're afraid of it. They translate that into our kids don't like poetry.
I believe that that's so far from the truth. It's the opposite, the children actually love poetry, and that adults love it. They've forgotten that they love it. You think about how we learn how to speak write, listen, and read and we learn through lullaby. We learn through rhythm and rhyme we learned through Dr. Seuss. We learned, through Shel Silverstein, and I think something happened around third, fourth, fifth grade and the poetry, it began to become staid and incomprehensible and so by the time you get to high school, you have kids who are reading, Shakespeare and Robert Frost.
Their words of course are beautiful, but can you expect the child to go from Shel Silverstein to Shakespeare and still had that same level of appreciation and engagement. I think you can't, for the most part. I try to write poetry, I try to share poetry, I try to encourage young people to access poetry that's relatable and accessible. That's going to serve as a bridge to get them to appreciate poetry in the way that I know that they can.
Callie: What's your approach to talking to them about the kinds of serious topics that were so resonant with this year? How do you present to them in ways that makes sense for younger readers?
Kwame: Again, I think it's a great question, but I think the answer is in the question. I had a 12-year-old kid, and so I dealt with this every day. My response was, I'm not going to sit here and tell you why I think you need to use poetry as an outlet. I'm not going to show you the benefits of poetry. I'm just going to share a poem.
I went down to the river,
I set down on the bank.
I tried to think but couldn't
so I jumped in and sank,
I came up once and hollered,
I came up twice and cried,
if that water hadn't a-been so cold,
I might have sanked and died.
Though you may hear me holler
and you may see me cry,
I'll be dogged, sweet baby
if you don't see me die,
because life is fine. Life is fine.
That's Langston Hughes. I'm just going to share a poem. The poetry will do the work. Javier's poetry about Salvadorian food will do the work of helping people become empathetic because it shows them that people of color, Latinx kid, Black kids, brown kids, breathe, love, eat, dance, smile, just like everybody else. The poetry will do the work, Callie.
Callie: Javier, you were able to find some space for joy in your poetry, writing about the food as Kwame said. What inspired you to write about the experience eating a pupusa for a poem that I hope you will read for us now?
Javier: The inspiration was my grandma was the Pupusera. I grew up in a street-side stand and for a while, even in California, I came here in 1999. It was hard to find a Salvadoran food only restaurant. During the pandemic, I remember those days, and we are, for the most part, in those days still, where I think the election just showed us the Latinx are not one monolith, but we have different communities within, and so I wrote this poem. This is an excerpt. Nó, Actually, Soy Salvadoreño
"EL Sal-va-doh-RE-AN Salva-doh-RAN, Salva-DOH-RÍ-an,"
los mui-muis, we don't even know what
to call ourselves. How to eat
a pupusa: fork and knife or
open it up and treat it like a taco?
We didn't listen and came here
only to be called Mexican or Puerto Rican,
depending on the coast.
We had to fight for our better horchata, not
the lazy whiter one with only rice, and when
we didn't want to fight
we tried to blend, speak more "Mexican"
more ira, more popote more
no pos guao. ¡Nó, majes!
¡No se me hagan dundos,
ponganse trucha vos!
When anyone wants to call you: Mexican.
you can just say, No,
actually, andáte a la M—
racista cara de nacionalista.
Callie: Ooh, I love it. To you both, what work by other poets resonated most with you this year?
Kwame: I read a lot of Nikki Giovanni this year. Nikki Giovanni is very Southern homespun familial, in her words. They're almost like recipes, her poems and so I got a lot of that home feeling which was necessary because you can't see your family, you had to stay in the house. I read a lot of Neruda, read a lot of love poems. That's one of the things that hasn't been talked about a lot is how do you love during this pandemic? Long-distance love, let alone like, how do you love and so I read a lot of Neruda. Of course, I read Langston Hughes for the humor and the reminder of our humanity that we've been talking about during this conversation.
Callie: Javier, what about you?
Javier: I've been reading a lot of Aimee Nezhukumatathil, and what I love about her work, especially Oceanic, and now her recent prose is that it's full of joy, and just wonder. I'm a huge fan of animals and she includes an animal almost in every poem and that has really been a wonder to read inside my home in the hardest days of the pandemic.
Callie: Last question, speaking of joy, a number of takeaway guests weighed in this year on where they found joy in 2020. What made both of you joyful this year? Javier, you can start.
Javier: Hiking, just going outside of my house and just going out for a walk, ideally at a park and most ideally, and at our local trailhead is going up a mountain now here in Arizona. That's been my favorite part.
Callie: Kwame?
Kwame: That's interesting that we have this in common, Javier, because I live in London and this is my first time living in a city since I was a tween living in Brooklyn, New York. During the lockdown and the pandemic, I discovered walking. I had never been a walker. I've walked Hyde Park, Regent's Park, Primrose Hill. I love walking. One of the things I've discovered is, I can walk a two hours seven-mile walk through the city, through a park and I come back and I'm fueled with an imagination that's ready to just explode on the page and it's because I've become this even more of a willing participant in life through the walking and it's brought so much joy to me.
Callie: Javier Zamora is a poet, writer and educator, and Kwame Alexander is the author of Light For The World To See: A Thousand Words On Race And Hope and founding editor of Versify. Thanks so much to you both.
Kwame: Thank you.
Javier: Thank you.
[music]
Speaker 4: Gay Edelman, Red Bank, New Jersey. What I learned the hard way, by Gay Edelman.
There are those who say all the best lessons are learned from the pains of life.
Sometimes I feel it's all been the hard way.
I have learned people are frail and strong,
unpredictable, untrustworthy.
I'm better than I know.
Some people like me, some don't.
Kicking and screaming, eyes wide closed,
blinded by the dream
my life is not father knows best.
Leave it to Beaver.
It is also not taxi driver,
who walked out before the last bloody scene.
Diversity, faces to the world, faces to faces.
I have learned to start at the center.
There's that goodness in everyone.
Seeds of peace. seeds of war.
Evil comes from someone.
I live in questions and in mysteries.
I reach beyond the known in gracious and glorious company
to anger and sore cycle and the heat.
Speaker 5: The truth, so often obscured and omitted.
And I find I have much to say to my Black children.
Margaret Burroughs.
Hannah Clark: My name is Hannah Clarke from Omaha, Nebraska, and I am a poetry major from college a poet. For all of 2020, I wasn't able to write a thing, it felt like, and then I was inspired by the simple act of kindness of giving someone a massage, rubbing neck and shoulders, especially with everything going on. I carried all my tension up in my neck, and when my partner would take time out of her busy day to rub my neck and shoulders, it gave me such hope in the simple human kindness of being present for each other. I finally was able to write and I wrote this.
I will never tire of hearing.
I will never tire of hearing you grunt as you work my muscles into submission.
Please, massage the acid ropes that tie my hips to thighs,
the granite chips in my neck,
the wicked slivers in my spine.
We do call them shoulder blades.
Press me into juice with your delicious detachment.
Touch me not as me but as a thing,
which frees me from awareness, from control.
Reminds me, passenger, to respect the meat that bears me
and all the inevitable fractures of a body thrown through space.
Space that batters it, maybe with love like yours,
asking only that someday we return to the waitlist
spice of eternity,
when we have finally finished learning to forgive our bodies for being born.
[music]
[00:25:42] [END OF AUDIO]
Copyright © 2020 New York Public Radio. All rights reserved. Visit our website terms of use at www.wnyc.org for further information.
New York Public Radio transcripts are created on a rush deadline, often by contractors. This text may not be in its final form and may be updated or revised in the future. Accuracy and availability may vary. The authoritative record of New York Public Radio's programming is the audio record.