Make Way for the MCU's Ms. Marvel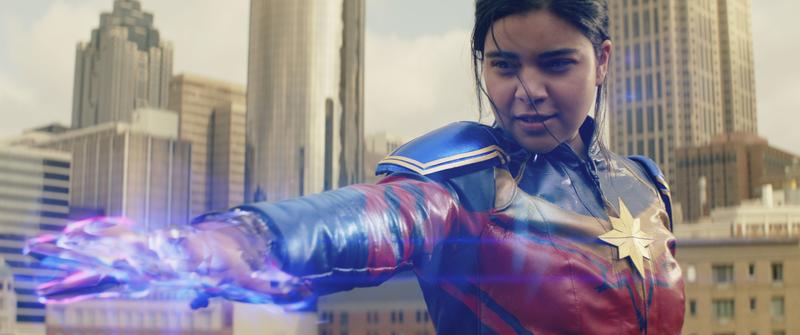 Transcript
[music]
Melissa Harris-Perry: You're listening to The Takeaway. I'm Melissa Harris-Perry. Watch out bad guys there's a new character entering the Marvel Cinematic Universe, Ms. Marvel. She's a teenage Muslim American superhero, which marks a major moment for Asian American and Muslim representation in Hollywood. Ms. Marvel is adapted from the 2014 comic book series of the same name and the new Disney+ series tells the story of Kamala Khan from New Jersey, as she navigates High School crushes and her parents.
Speaker: Your brother told us about your Avengers party?
Kamala Khan: He did?
Speaker: Yes and even though it will be a distraction from your studies, and there will be lots of haram going on there Kamala, we have decided to let you go.
Kamala Khan: Really, really, really? [laughs]
Speaker: Yes, but there are special conditions. Your Abou will drive you there and he will go inside with you for two hours.
Melissa Harris-Perry: Oh, and yes, her newfound superpowers.
Speaker: Does this look like some kind of writing you.
Kamala Khan: It's hard to read? Looks like Arabic or Urdu I don't know.
Speaker: Okay. Let's focus on what we know, like comes out to you and it hardens.
Kamala Khan: Let's call it hard light like groundbreaking.
Melissa Harris-Perry: The Ms. Marvel series premieres on Disney plus today and because Disney plus is not available in Pakistan, Disney and Marvel Studios announced that the series will be released in theaters across Pakistan, starting June 16. For more on this exciting teenage superhero, I spoke with one of the directors on the series.
Sharmeen Obaid-Chinoy: My name is Sharmeen Obaid-Chinoy I have directed multiple episodes of Ms. Marvel, and I'm an Academy Award-winning filmmaker.
Melissa Harris-Perry: Sharmeen is the two-time Oscar-winning director behind the documentary shorts, Saving Face, and A Girl In The River. Let's start with a little bit about you. When did you decide you wanted to be a filmmaker?
Sharmeen Obaid-Chinoy: I was always a storyteller. I was a print journalist when I was 14 years old in Pakistan and when I came to the United States for college, to Smith 9/11 happened and I thought that I should be telling more visual stories and that's when I went from being a print journalist to being a documentary filmmaker. I've always wanted to tell stories that highlight marginalized communities that talk about the things that make us deeply uncomfortable, but also champion the men and women who are working on the grassroots to create a better tomorrow.
Melissa Harris-Perry: Storytelling is one of those words, I think that many of us who are in media use, but it is sometimes we're reporting on something, we may or may not actually be telling the story. Help folks understand when you say, "Telling a visual story." What does that mean for you? What does it mean to not just tell but to show?
Sharmeen Obaid-Chinoy: I like to take my cameras into places where people seldom go and acquaint them with situations and issues that they can better understand what is happening in the world. I think there is no better way to understanding something than to put yourself in the shoes of others to create empathy, that when people look at a story that is taking place, halfway across the world, they see a reflection of their own life or something they have experienced in it. That is the only way for us, not to other the things that are taking place, but to realize that all of us together, face similar issues.
Melissa Harris-Perry: Indeed, some of the stories you've really highlighted in your documentaries have been about the resilience of women in Pakistan. What were some of the challenges and maybe the empathy, generating rewards of telling those stories?
Sharmeen Obaid-Chinoy: When I was telling difficult stories about women, I had a singular goal, which was to impact legislation in my home country of Pakistan, so that no other woman would have to go through what those women had gone. Domestic Violence, acid violence, which is a corrosive substance thrown on women, to teach them a lesson forever disfiguring them, or to kill women in the name of honor because they have transgressed some unwritten rule written by a man.
When I was creating these films, I was thinking about legislators and creating awareness and really showing what happens to women and the fact that laws need to be made to protect the women and to send the men who do this to jail.
Melissa Harris-Perry: It feels to me like a pretty big difference. To be doing storytelling, for the purpose of impacting legislation to ensure that women are not abused basically because of who they are, versus not stepping in someone's shoes with stepping in their cape, or, hate. Tell me the connection between that kind of documentary work, and animation and now, this superhero show?
Sharmeen Obaid-Chinoy: Throughout my career, I have been highlighting women who don't wear capes, but who are superheroes in their own way, because of the risks that they take, because of the work that they do, far from the prying eyes of the media, because they're committed to causes. Telling Ms. Marvel's story was so important to me, because she is the first brown Muslim female superhero that is coming out into the world, what she represents, is much so many young women growing up around the world are going to see a reflection of themselves in her.
In entertaining them, she's also going to empower them to think that they too can be superheroes. That superheroes come in all shapes, sizes, and colors, and religions, that each one of us has a superhero in us. I did it because my two daughters growing up will finally have a representation of themselves on screen.
Melissa Harris-Perry: Was it a big adjustment for you as a director?
Sharmeen Obaid-Chinoy: When you go from making documentary films in remote parts of the world to directing Ms. Marvel for Marvel Studios, I'd say it was a little interesting to go from the kind of work that I have done in the past to doing this. When you are on set, and when you look around you, and you see at the heart of it is telling a story of a young girl, I knew that I had done it many times before.
The one time that I did think I wasn't really in Kansas anymore, was when I was standing on set and there were about 1,000 extras and I was looking around and thinking to myself, "Right, I'm now playing with the big boys."
Melissa Harris-Perry: [laughs] Bigger budgets for sure.
Sharmeen Obaid-Chinoy: Oh, absolutely, absolutely. What was fantastic about Ms. Marvel was that I had this vision and Marvel Studios fully supported that vision into creating an authentic voice in Ms. Marvel in the way they assemble the cost in the way they assemble the crew and that meant much to me because it meant that I was telling the kind of story I wanted to tell.
Melissa Harris-Perry: Tell us a little bit about Kamala Khan who she is at the beginning of the series and how she develops over time?
Sharmeen Obaid-Chinoy: Kamala Khan is a first-generation immigrant in New Jersey. Her parents her high school, her life, the struggles that we see on screen are the struggles that many of us have had with our parents growing up. Curfew, negotiating timeout with friends. High school, where one feels out of place because one is slightly different then navigating a life where she wanted to be someone else.
She always wanted to be Captain Marvel, trying to emulate that but then finding out that she herself is a superhero, and then her trials and tribulations. It wasn't exactly what she expected a superhero's life to be like and Iman Vellani who has placed Kamala Khan is in essence Kamala Khan because she is a first-generation Pakistani Canadian and her experiences are very similar to those that we see on screen.
Melissa Harris-Perry: I keep thinking of my daughter was in she did pre-kindergarten through about third or fourth grade when we were living in New Jersey. She's 20 years old now, but I am thinking about many of the young people, especially young girls she grew up with who are now, 18, 19, 20, 21 years old and what it might mean for them, these Jersey girls, many of them first-gen immigrant girls, what it might mean for them to see this Muslim Pakistani American teen right from New Jersey as a superhero. It feels, you said it a moment ago about your own daughters, but it does feel exciting.
Sharmeen Obaid-Chinoy: It is absolutely exciting. It is a moment. This is more than just a series. This is a movement. Marvel has very dedicated fans, but this is beyond the Marvel fandom. There are people who are going to come to watch Ms. Marvel because of who she is and what she stands for. She will make you laugh, and she will entertain you and she will make you realize that accepting the other and embracing the other makes America so great.
Melissa Harris-Perry: This month audiences in Pakistan will be able to see a version of the series in theaters. As you talk about this being beyond the Marvel fan base as dedicated as that fan base is. Talk to me about that decision for Ms. Marvel to come to theaters rather than streaming in Pakistan?
Sharmeen Obaid-Chinoy: Disney+ is not available in Pakistan and so much of the story reflects Pakistani culture that I feel privileged that Disney decided to open the episodes in theaters across Pakistan so that audiences there could also share in Kamala Khan's adventures. When you watch the series you will see a reflection of our rich culture in the music, in the textiles, in the food, in the way that story has stored. It was so important to then include audiences from Pakistan in this special celebration.
Melissa Harris-Perry: What stories are you hoping to tell next given that you've got such a broad range of stories and have been telling so many different kinds, what's next?
Sharmeen Obaid-Chinoy: For me, I will continue to tell stories that inspire me personally. I find myself at a juncture in my life where I want the world which is so polarized to begin to accept the other and I'm always searching for those stories. My next project is going to be about holding up a mirror to society but being done through narrative, filmmaking, entertaining you in cinemas because I am making the switch from documentary filmmaking into narrative now.
Melissa Harris-Perry: If there is a family who's thinking maybe they won't allow for example their daughters or sons to watch this what's your argument for, "Listen, everybody's got to see Ms. Marvel?"
Sharmeen Obaid-Chinoy: I think that Ms. Marvel is pure joy. I mean when you watch it you'll realize that the humor, the colors, the music, the lifestyle that we've shown is so American and it is also rooted in any immigrant community that one can see that everybody will watch it because it transcends boundaries. We had a premiere in Los Angeles the theater was hooting and clapping and everyone was overjoyed. I use the word overjoyed because people walked out of the theater saying that there is nothing like Ms. Marvel on television right now and that says a lot.
Melissa Harris-Perry: I love. First of all the idea of us all being together in theaters again makes me overjoyed and I love the idea of going and having that experience. Sharmeen Obaid-Chinoy is the director of many episodes of Ms. Marvel from Disney+. Thank you so much for joining us.
Sharmeen Obaid-Chinoy: Thank you so much go out and watch Ms. Marvel.
Copyright © 2022 New York Public Radio. All rights reserved. Visit our website terms of use at www.wnyc.org for further information.
New York Public Radio transcripts are created on a rush deadline, often by contractors. This text may not be in its final form and may be updated or revised in the future. Accuracy and availability may vary. The authoritative record of New York Public Radio's programming is the audio record.