Making Sense of Mainstream Media Coverage of the 2020 Election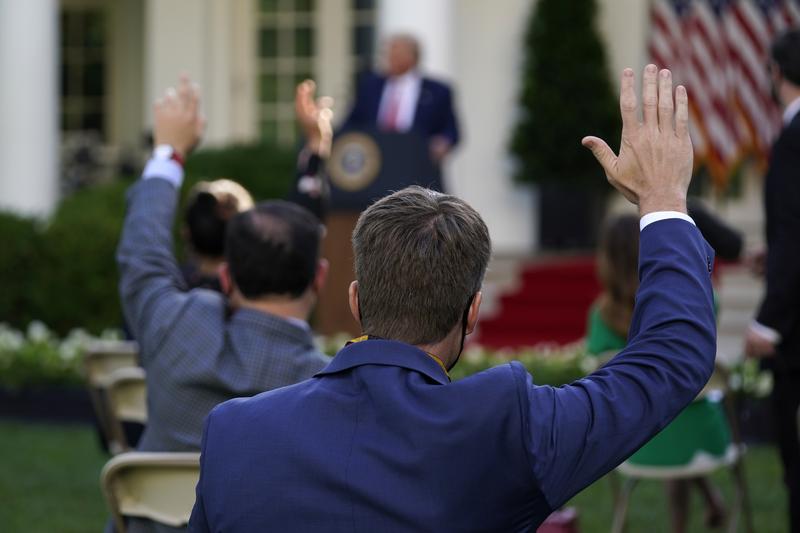 Transcript
Tanzina Vega: You're listening to The Takeaway, I'm Tanzina Vega. As we enter the final stages of this election cycle, it's getting pretty hard to keep track of all the major news stories happening at once. This week alone has included Amy Coney Barrett confirmation hearings. The start to in-person voting in multiple states and tonight competing televised town halls for President Trump and former Vice President Joe Biden in place of a traditional presidential debate. With so much going on, we wanted to check-in with our listeners and we asked what stories and angles you think The Takeaway and other news outlets should focus on as we head into November. We heard one theme again and again.
Debra: This is Debra from Tampa. I'd like to hear about voter suppression, where it's going on, and how people can avoid being caught up in that, and what they can do to counteract it?
Fred: My name is Fred from Charlotte, North Carolina. What I'd like to know is why is it so hard to vote? Why do we have to wait in line for hours to vote? I'm going to vote for Biden, but I'd like to know why he's been in politics for 47 years and has never done anything about it?
Debra: The most important thing I'd like to hear leading up to the election is how news agencies and platforms like Facebook are trying to prevent voter misdirection.
Sherry: I'm Sherry from St. Charles, Missouri. I don't want to hear predictions about who's going to win or how close the vote is going to be. I want to know what will make voting easier? I'd like to know how many people are being signed up to vote and what chance we have of people actually getting to the polls?
Tanzina: Here to talk more about how the media is covering the 2020 election so far is Errin Haines, editor-at-large for The 19th*. Errin, thanks for being back with us on the show.
Errin: Good to be with you Tanzina.
Tanzina: Also with us is Jane Coaston, senior politics reporter at Vox. Great to have you with us, Jane.
Jane: Thanks so much for having me.
Tanzina: Errin, we heard a bunch of callers saying that they want to know more about voters, voter suppression, why the lines are so long. How would you assess how the media "has been covering these issues so far?"
Errin: I think that there has been an increased focus on the threat of voter suppression. That was true even before the pandemic, although the pandemic has certainly exacerbated these issues and with early voting starting this week in states like Texas, Tennessee, and my home state of Georgia, where I'm seeing Black folks showing up with snacks, folding chairs, and phone chargers, because they already know the deal.
We're also seeing record turnout and this dogged determination to vote. I suspect we'll probably see similar lines in North Carolina, which began early voting on Thursday. I just want to emphasize, there is a media narrative that I'm seeing, that I would hope that we don't normalize by saying things like "Voters say it's worth it." Of course, it's worth it. This is a democracy and the idea of "one person, one vote" is sacrosanct in this country, but that doesn't mean that people should have to wait in line for nine hours to exercise their right as a citizen.
We know who those voters usually are, voters of color, the elderly, the poor, and in a pandemic, this is also including white voters for whom this is not a regular experience. Maybe this is going to be a wake-up call to them about the realities of voter suppression for far too many in this country, because this is something that we're going to need to address, not just in this election, but going forward.
Tanzina: It's an excellent point that you make there Errin, about how the heroics of voting when voting is essentially a part of our democracy are supposed to be at least. Jane, bringing you in here. Leslie Savan recently wrote in the New Republic about cable news and how she suggested that they should devote the same energy to covering voter suppression that they do to covering polling. We just heard, Jane, one of our callers say, "Don't tell me who's predicting anything. Tell me why voting is so hard." What do cable news outlets have to be mindful of, Jane? Because it often feels like you're going back and forth for hours and not really giving a lot of substantive information.
Jane: I've often joked that cable news is sports for people who don't like sports, but there is no reason to cover this election or any election like a sporting event. I think that polling, especially because polling relies on statistical analysis and on an understanding that polls are not themselves predictive and making predictions based on polling is a fool's errand, as we've learned time and time and time again, polls are snapshots in time. They just tell you essentially what you had for breakfast this morning. They don't tell you what's for dinner tonight.
I think that it's really important to keep in mind that what these polls look like and how cable news thinks about voting and voter suppression-- and I really agree that so much of the language that we use about voters get-- you should not need to get a chair out to prepare to wait in line for three hours. It's interesting because some of the responses from conservatives have implied that the issue is actually early voting and the limited number of early voting facilities, which leads to long lines, the answer to which is why aren't there more facilities that can facilitate early voting?
I think though the focus should be on what voter suppression looks like in all forms. Let's keep in mind that there's also voter suppression online. We've seen actions and a lot of really interesting research done on efforts by foreign actors and by people in this own country and our own country to suppress the vote by essentially implying online, whether on social media or elsewhere that voting doesn't matter or that how to vote, but doing so in an incorrect way. I think it's important to keep in mind what that looks like in all of its forms.
Tanzina: Also, I'm wondering, Errin, when it comes to coverage of the latest polls, once again, a lot of folks are talking about Joe Biden being in the lead, the President is trailing, is that helpful right now for a media consumer?
Errin: I think that Democrats and specifically the Biden campaign is certainly trying to make sure that voters don't get lulled into a false sense of security from the polls. I think given what we saw in 2016 around the polling. That did have an effect on some voters who said, "Oh, well my vote is not going to matter" or "Hillary Clinton has it in the bag so it doesn't really matter if I don't have time to get over to the polls, what difference is it going to make?"
Then we saw what difference it made. To Jane's point, I think that part of this conversation does have to also include asking because we had months to prepare, we saw on the primary some of these issues, why weren't states ready? We have to continue to be asking that question. What were the issues? Also the issue of voter depression, that is also what those efforts look like in the 21st century.
Particularly in battleground states where we know this election could come down to a matter of voter suppression versus voter turnout, it's important to stay on top of these things and also to disabuse people of the notion that voter suppression is a Jim Crow relic, voter suppression is active and it is absolutely still with us in this generation,
Tanzina: Errin, it sounds pretty straightforward. They want to hear what's really happening and not rhetoric and yet tonight there will be two town halls, one on NBC where the President Trump will be able to address the nation and one on ABC where former Vice President Joe Biden will be able to do the same. Is that just going to be more rhetoric? Is this serving the American public?
Errin: Tanzina, I actually was looking forward to a town hall debate. I do feel that those are productive and it's a different dynamic because the candidates do have to engage directly with the voters, as opposed to at a campaign rally where it is candidates talking to their supporters. This is supposed to be about the sliver of people in this country who say that they are still undecided.
It's disappointing that voters are going to have to choose between watching one of the other or watching neither, which is not really an option for people like us who are covering this or flipping back and forth or just waiting for the highlights on social media, but this is a President who we know has broken norms for the past five years versus a candidate now as commander-in-chief. Tonight is really going to be the latest example of that and it's not ideal for democracy or for those of us who are attempting to cover this highly consequential election with just one more debate scheduled in the election, less than three weeks away.
Tanzina: Jane, to that point about rhetoric, there was a recent study from Harvard University that found that President Trump and Fox News were leading the spread of disinformation, specifically around mail-in voting and voter fraud ahead of the election. This is something, and I'm sure, Errin, you all think about this over at The 19th*, we think about this here on The Takeaway a lot, how to cover false information coming from the President when it's news. Jane, what are your thoughts on that?
Jane: I think it's worth noting here that one of the ways you can tell that this information is false is that the false information is not given to everyone. You'll note that Trump is very supportive of mail-in voting if you happen to be a Florida Republican or a Republican in virtually any other state, in which case, mail-in voting is extremely safe and an amazing idea. I think something that Vox, my publication does that I think is effective is what we do essentially what you would call a sandwich of information. You have the facts, then you have whatever the false claim is, and then you back it up with the facts again.
I think that one of the things I'm interested in, because I think that too often in our media environment, we just recite whatever Trump said, and then attempt to define it or argue against it. I think it's more interesting and more effective to talk about why he is saying this in the first place. People who are doing extremely well in campaigns may not necessarily argue that too many people are voting or that voting should be done in a very specific way. I think it's more interesting to get at why the message is being made, and not necessarily what the message is.
Tanzina: Errin, one of the things that's come out from our callers, one of the themes that's also come out is, that people want to hear the actual coverage. We don't want to hear predictions. We don't want to hear rhetoric. We want to hear coverage of the issues because of the last presidential debate and how it really essentially went off the rails, there was very little talk of policy, has there been enough coverage of the actual issues and platforms that the candidates are running on that's not obfuscated by the candidates themselves?
Errin: Well, I will tell you that we are trying mightily over The 19th*, Tanzina, focusing on really hearing from voters, just as that caller that you had at the top of the segment mentioned. Hearing what matters to them, talking to Latino voters about how this is an existential election to them, talking to women who we know are the majority of the electorate, and how the pandemic is absolutely political for them, both from a public health and an economic standpoint, and how that is factoring into their choices at the ballot box.
The essential and frontline workers who are thinking about what the plan is going to be going forward for the pandemic and also laying out the issues that matter to voters. We know that in addition to the dual pandemics of coronavirus and systemic racism, voters care still very much about healthcare, about the economy, about education, about childcare, and the new normal going forward on the other side of this pandemic, around workplace issues.
Then lastly, the process of voting, having voter guides so that voters have a trusted place that they can go if they are confused because of the mixed messaging coming from our government and competing messages that are just out in the ecosystem. Having a place where they can go to understand to make a plan and to feel empowered. We would be remiss as a newsroom named for the 19th amendment if we did not do that duty for our members and readers.
Tanzina: I know a lot of people probably very much appreciate that. Jane, speaking of misinformation, predictions, rhetoric, one last thing to talk about here is that this week, President Trump's lawyer, Rudy Giuliani, who has previously spread misinformation about Joe Biden and his son Hunter, shared claims about Hunter Biden with The New York Post, a conservative tabloid here in New York City. The Biden campaign has disputed that reporting, but this was reminiscent, Jane, of 2016 for a lot of journalists.
Jane: It's interesting, though, because you might compare it to running the exact same play as 2016, but against a different candidate, and more interestingly, against that candidate's son. If President Trump wants to get into the involvement of family business, he perhaps could spend a great deal of time focused on the actions of his own family. I think it's worth noting, a lot of this discussion became focused on how social media platforms dealt with it. I think that social media platforms, I think, jumped the gun on this issue, because I think the actual piece itself, there's so much concern about the false information contained within it, especially because it involves Rudy Giuliani and Steve Bannon, and especially because information within it clearly was meant to be brought out in late 2019.
I think it's worth challenging this information without spreading it but I think that whether people want to spread it on social media that should be left up to individuals. I think platform is making these decisions, then turns it into a larger discussion about content on social media platforms. Instead of an effort by Rudy Giuliani, formally "America's Mayor" going after the son of a presidential candidate for crimes alleged by Ukrainian entities, then, it becomes one about content moderation.
Tanzina: Lots to consider. Jane Coaston is a senior politics reporter at Vox and Errin Haines is the editor at large for The 19th*. Thanks to you both for joining me.
Errin: Thanks so much.
Jane: Thank you.
Jessica: Hi, my name is Jessica. I'm calling from Long Island. I want to hear more about the ACA and what we can do so you will make it stay around. I'm somebody with multiple sclerosis, and another autoimmune disorder, and about six other diagnoses. On my MS, one medication is literally $1 million per year. I'm screwed to put it my own way as the ACA gets undone.
Matt: Hi, this is Matt Wagner calling from New York City. I know there's an unprecedented amount of noise at the moment, but I'm not surprised how little attention is being paid to LGBTQ issues in this election. Not only are there huge concerns around trans acts such a healthcare and equitable life, generally, but LGBTQ have also been among the communities most severely impacted by COVID.
Al: Hi, this is Al Cole from Orlando. At this point in the election, what we need to hear is, what are all the programs that the candidates have? None of the noise. I don't want to hear about anyone's email but what programs? What are you going to put on the table if you're given the keys to the White House?
[music]
Copyright © 2020 New York Public Radio. All rights reserved. Visit our website terms of use at www.wnyc.org for further information.
New York Public Radio transcripts are created on a rush deadline, often by contractors. This text may not be in its final form and may be updated or revised in the future. Accuracy and availability may vary. The authoritative record of New York Public Radio's programming is the audio record.