Examining August Wilson's Enduring Legacy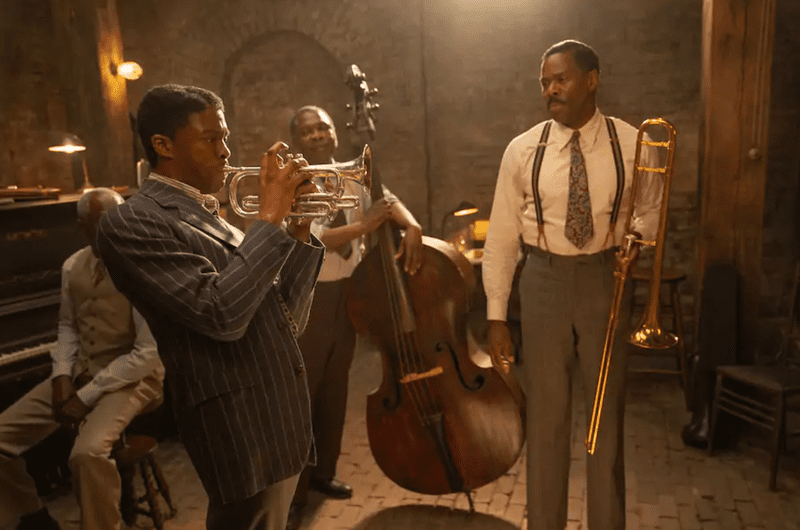 Transcript
[music]
Tanzina: It's the Takeaway. I'm Tanzina Vega. Last week, a film adaptation of August Wilson's 1982 play Ma Rainey's Black Bottom premiered on Netflix. The movie stars, Viola Davis as jazz singer Maurine and the late Chadwick Boseman as Levy, one of the members of MA's band. Here, they are in a scene from the film.
Speaker 2: Lilly what were you doing? Why are you playing all that notes? You're playing 10 notes of everyone you're supposed to play. Don't call ball.
Speaker 3: You're supposed to improvise on the thing, that's what I was doing.
Speaker 2: You're supposed to play this song like I'd sing it the way everybody else played.
Speaker 3: My other song, I was playing the way I felt it.
Speaker 2: I'm trying to sing my song and you're messing with my ears. You call that playing music?
Speaker 3: I know what I'm doing.
Tanzina: Ma Rainey's Black Bottom is produced by actor Denzel Washington who's planning to make movies from all 10 of Wilson's plays that compromise what's known as the century cycle. Through these films, many viewers, particularly younger ones, will be introduced to Wilson's work for the first time. While these plays are sometimes taught in high schools, in at least one recent instance, that choice was met with controversy. The New York Times reported last week on a Black student who was expelled from his private high school in North Carolina after his mother objected to plans to teach Wilson's play, Fences, in her son's ninth-grade English class.
The mother told The Times that she was worried that the play's themes were too mature for her son's majority white class. Joining me now to talk about Wilson's legacy is Mark Clayton Southers founder and producing artistic director at the Pittsburgh Playwrights Theater Company. Mark, thanks for joining us.
Mark: Thanks for having me, Tanzina
Tanzina: Also with us is Maya Phillips critic at large for The New York Times. Maya, welcome back to the show.
Maya: Thanks. Glad to be here,
Tanzina: Mark, you were mentored by August Wilson while he was still alive. What was your relationship like with him?
Mark: August. I was a photographer when I met August the first time, and then I met him again as an actor. He was a giving person. He always took time to discuss things with you in detail. He wasn't hurried. He was a really down to earth person. I really enjoyed the time I spent with him.
Tanzina: Mark, you are living and working in Pittsburgh where August Wilson was born and many of his plays are set. What do his plays mean particularly to Pittsburgh's Black community?
Mark: Well, I think that the Black community embraces August Wilson, it just comes across naturally. The names of the people that are mentioned in the play, people could relate to. The streets that he mentions, some of the stories and situations depending on which play. Most of the modern plays that plays it that he wrote took place while he was alive. Not the plays that he wrote that took place back in the '30s and '20s, but the plays that took place like Jitney, for instance, people knew a lot of those situations like two trains running things like that he wrote about. Those were stories that people could relate to and people's names they can relate to.
Tanzina: Maya, you've taken a deep dive into Wilson's work in a piece for The New York Times's Style Magazine. What did you connect with in his writing?
Maya: I think for me, because I'm not just a critic, but I'm also a poet myself, I love the lyricism in his work, the attention to language. Also the fact that he has a combination of characters who have this grandiosity to them. There's the sense of royalty but then are also very normal people. These are normal stories, they're living their daily lives. That's also very familiar.
Tanzina: I was fortunate enough to see Fences on Broadway with Viola Davis and Denzel Washington here in New York and then was able to catch the film adaptation of the play with the same characters and actors. Maya, I'm curious how well you think August Wilson's work translates from the stage to the screen?
Maya: Well, I think so far the two adaptations we've seen have been great. I love the Fences was amazing. I also love what George C Wolfe has done with Ma Rainey. I think that his work there's a very heavy emphasis on dialogue. He's all about the language and there's not a whole bunch of actual like tradition, what you would traditionally think of as plot with things happening, characters, dramatic events. It's mostly people talking in rooms. I think that's so far what we've seen is filmmakers using the medium to emphasize the language, emphasize these characters in these spaces without losing that sense of how Wilson used his sense of the language and losing what Wilson did best. I think that so far that's been great.
Tanzina: Mark, why do you think Denzel Washington, as we mentioned, is slated to produce a number of plays that August Wilson wrote? Why do you think now is a moment for these plays to come out or is there something special about this time and the relevance that Wilson's work can have in this moment?
Mark: I think Denzel wants to make sure it gets done. I think Denzel's at a point in his career where yes, he still is doing films however, I think he wants to-- I'm just surmising that he wants to have another legacy other than just being one of the greatest actors that we've had. I think he wants to see make August's legacy as well. He loves August's work, he embraces it. I think that's one of the things he wants to do along with Castanza Ramiro, August's widow. They set out to produce these. I do want to note that there is a third film, the Hallmark film the Piano Lesson that was done several years ago. That was filmed here in Pittsburgh with Lloyd Richards directing. There's actually three out here.
Tanzina: Maya, we mentioned that a mother in North Carolina objected to her son's English class reading Fences. She and her son are Black. The class is mainly made up of white students. What was that about? Tell us a little bit about her decision and how Wilson's work you think should be taught in majority-white high school.
Maya: I think that personally, I would have loved to encounter August Wilson when I was in high school. He was not someone who was taught and in general, we didn't have people of color taught. I think that high schools do like to go to Harper Lee and Mark Twain and other writers who if it comes down to the language, they do use profane language. I think most of all, it's an issue of the lack of diversity in those classrooms and the educators perhaps not knowing how to properly address it. I don't think that it's an issue of whether August Wilson is appropriate for one person or another. I think that even though he's speaking specifically to the Black-American experience, that there is universality in mats, and we do need stories about Black Americans in which they are flawed, in which there might be some rough language. I think all students should be exposed to that, personally.
Tanzina: Mark, you've directed a performing arts high school students and some of Wilson's plays. Tell us a little bit about your approach especially in light of what we were just talking about with Maya.
Mark: We've done about five August Wilson plays so far at Pittsburgh Kappa high school, that's where Billy Porter attended the earlier version of the school. It's always been great. The kids really embrace his work. They come in prepared. One of the things that we do do is that we don't expect them to come off as these older characters. I bring in our family of artists from the Pittsburgh area to come in and do monologues to throw in their flicks and lots of [unintelligible 00:08:47] approaches because these are kids, they haven't lived the life to have these types of experiences or to understand them fully.
It's worked out great for us. We've sold out every show, basically. The school has been welcomed by the community and school. We haven't really had any issues like say for instance, with the N-word, for instance, people understand it. You have to understand this is also a school that is a theater art school and they come in prepare to do work like this.
Tanzina: Correct. Maya, why do you think, Wilson's work still resonates with a lot of young people today? Is it something that's considered somewhat of a safe bet because he's of the Black Playwrights, perhaps one of the better known?
Maya: I think it's both. I think it's, especially in theater companies, he becomes the token Black Playwright. He's very safe. He's the go-to. That's unfortunate because I think he himself wouldn't be into that idea. I think that his work certainly has resonance today. There's a Netflix documentary, Giving Voice, about the August Wilson monologue competition. Looking at some of these students responding to his work and the themes that come up, the gentrification about violence, about prejudice, code-switching, all of those things are still so prevalent. I think that students when they get exposed to his work, they realize that, this playwright is speaking to some part of my life too.
Tanzina: During his lifetime, August Wilson was also a major advocate, Maya, for Black-owned theaters and wanted Black directors to stage his work. How were those original stances viewed by the largely white-theatre establishment?
Maya: Well, he had a famously controversial statement about that, and about colorblind casting. I think that a lot of times, it's viewed in a very narrow light that he was saying, these things are only for Black people and they need to be segregated in a sense. I don't take it as that. I was taking it as he was saying there's also value in having spaces that are safe and accessible just for people of color to tell their stories and so that we aren't just taking the same old Shakespeare or Arthur Miller and trying to fit that into a vision of Black America, because those things weren't written for Black America [chuckles].
Tanzina: Mark, speaking of August Wilson being one of the few Black playwrights whose work is consistently staged, particularly in places like Broadway, why do you think his work is breaking through to the extent that it did? These aren't easy topics but something about Wilson's work is resonating and has resonated for decades.
Mark: You have to understand that the door was cracked open with Lloyd Richards at the helm, with Mores Black Bottom many moons ago, and fences. Lloyd Richards, at the time, was very well known in the Broadway circles. August got in because talent certainly carrying for the door but the potential to make money on Broadway with these great stories, there's a lot of great African American playwrights out here. On the rise right now, you're going to see a lot more because of the George Floyd murder and things like that. You're going to see a lot of African-Americans getting their chance now, doors popping open now.
August got on the stage very early with Lloyd Richards and once they parted ways and he continued to get on the stages is because the producers knew that it was a vehicle to make money as well. There's a lot of change on the horizon, about to come down the pike once this COVID thing gets out of the way.
Tanzina: With that thought, Maya are you optimistic and maybe even encouraged by what Mark is saying that we will see more Black playwrights, Black American playwrights coming on to the stage and whose work will finally begin to get the recognition it deserves?
Maya: I certainly hope so. There's certainly been a movement during this pandemic, that theaters have been called out for their coverage and how they lack diversity. I'm hoping that we stick to that and that we see August Wilson, of course, but we also see other Black playwrights who should be surfaced.
Tanzina: Maya Phillips is critic at large for the New York Times. Mark Clayton Southers is the founder and producing artistic director at the Pittsburgh playwrights Theatre Company. Thanks so much to you both.
Mark Thanks for having us.
Maya: Thanks.
[music]
Copyright © 2021 New York Public Radio. All rights reserved. Visit our website terms of use at www.wnyc.org for further information.
New York Public Radio transcripts are created on a rush deadline, often by contractors. This text may not be in its final form and may be updated or revised in the future. Accuracy and availability may vary. The authoritative record of New York Public Radio's programming is the audio record.