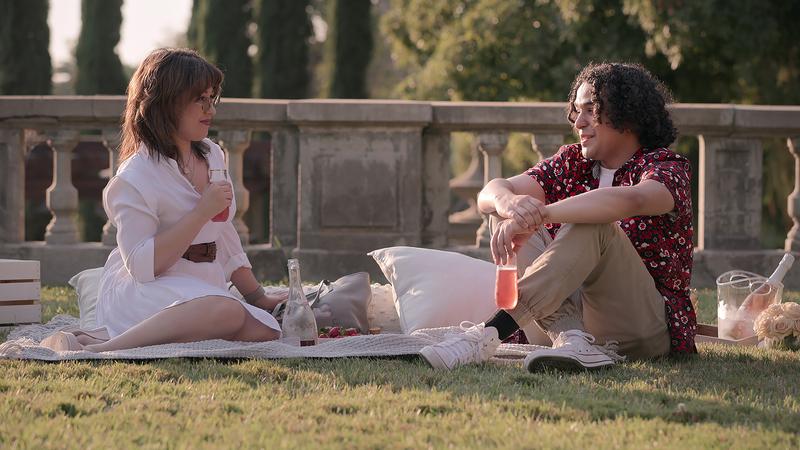 Transcript
music]
Melissa Harris-Perry: Welcome back to The Takeaway. I'm Melissa Harris-Perry.
Speaker: Are you looking for love?
Speaker: Yes, unquestionably so.
Speaker: I don't want to be alone, I want to find someone.
Speaker: I haven't dated in 33 years.
Speaker: You could imagine, I have to kiss many frogs to find the right guy. [laughs]
[music]
Speaker: Everyone is different.
Speaker: Correct.
Speaker: Whether you're on a spectrum or not.
Speaker: We are, however, all looking for the same thing. Respect, understanding, and a whole lot of love.
[music]
Melissa Harris-Perry: There is definitely a whole lot of love going on in the new season of Love on the Spectrum U.S. This docu-reality show follows six people who are on the autism spectrum as they step outside their comfort zones, go on dates, and try to find their soulmates. Now in full disclosure, I love this show. During the long months of COVID quarantine in 2020, I discovered the Australian version of Love on the Spectrum watching Netflix.
I fell in love with its sweet storylines and endearing characters. I've been watching this first season in the US, unlike in competitive dating shows, with scripted heroes and villains, this docu-series lets us root for every single person and family we encounter. We even learn a bit about life on the autism spectrum, as the participants practice new social skills with a neurodivergent dating coach.
While some of their experiences are unique to life on the spectrum, the show's most memorable moments feel universal.
Cian O'Clery: Have you tried online dating?
Dani: Well, I did but I was just a little too nervous. It creeped me out, "No, no, no. Bad idea. Bad idea."
Melissa Harris-Perry: With me now is Dani who was on that date. She's one of the singles on the show, 26 years old, and the founder of DaniMation Entertainment. We're also joined by Cian O'Clery, director and showrunner of Love on the Spectrum U.S and co-creator in the original Australian series. Cian and Dani, welcome to The Takeaway.
Cian O'Clery: Hey, hello. Thank you for having me.
Dani: Thank you so much for the invitation. This is so lovely to be here.
Melissa Harris-Perry: Absolutely. Now, Cian, I do want to start with you because you're one of the co-creators of Love on the Spectrum. I have been a big fan of the previous seasons. Talk to me about bringing Love on the Spectrum to the US.
Cian O'Clery: Yes, it's been just a bit of a wild ride, that the Australian series was picked up and has been seen and appreciated globally. It was made for our public broadcaster in Australia, it did well, and people loved it. When it went on to Netflix, it just changed everything. Netflix really loves the series, were really behind it, and asked us if we wanted to make a US version. Absolutely, I jumped at the opportunity. We thought it was a great way to continue to explore and shine a light on the diversity of the spectrum. Hopefully, with a US Series to even a bigger audience.
Melissa Harris-Perry: Now, Dani, why did you decide you wanted to be part of the show?
Dani: The reason why I wanted to be on the show is because it's difficult to find someone who understands me, who's highly motivated, who has the best hygiene, doesn't play games, and shares similar career interests. Being on the spectrum, meeting potential love interests can be difficult because finding someone who understands who I am and how busy I am can be really hard. I get so wrapped up with my work and the guys say that they could handle me being so busy, but then they realize that I get tight with lots of work. I guess I need to work on making the time and I thought this show would be a great opportunity.
Melissa Harris-Perry: Dani, in some ways, that's a story that's true for almost all young adults who want to be in a relationship that it's hard to find someone who understands you, who can make room for your other interests, and for your professional goals. Is there something specific about being a person living on the spectrum that makes dating challenging in a way that's different?
Dani: I think the biggest challenge that I have here is articulating my thoughts. Because my brain tends to go faster than I speak, which is really hard for me to explain things. The biggest lesson I've learned is to use my communication and set my boundaries from the beginning when I'm dating.
Melissa Harris-Perry: You were really clear about who you wanted to date. Can you tell me why you think that's important?
Dani: The reason why it's so important to be clear of who I wanted to date is because I'm looking for someone who has the same interest as I am and also the same time can last the relationship longer. The ideal guy I want, he needs to be financially independent and who can be able to understand me and share the similar interests.
Melissa Harris-Perry: Cian, I want to come to you. I'll say, I did find and discover the Australian series during the pandemic era, spending a lot of time watching Netflix like many people. I will say I didn't click for a long time, in part because I am the mother of a daughter who's on the spectrum. She's still a little too young to date at eight years old, but I was a little worried that like many reality dating shows it might be one that took advantage of folks or was exploitive. I really did become a huge fan of it when it felt like it wasn't like that at all, that it felt much more either authentic or almost earnest.
Cian O'Clery: Yes, okay, interesting word, earnest. Did you say your daughter's on the spectrum?
Melissa Harris-Perry: She is, yes.
Cian O'Clery: I tell you, it's great to hear people who either are on the spectrum or have family members on the spectrum appreciating the series. I hear what you're saying. When we started to make our calls about what we were doing for the original series, there was some hesitation especially, I guess, from within autism organizations and support groups and things like that, just thinking, "Oh, really, you're making a dating series with people on the spectrum? Oh, I don't know."
Luckily, we had made a couple of series before Love on the Spectrum about people with disabilities looking for employment. I think just- I don't know. -the respect and the tone and the style of the series assured people of who we were and how we make television. This is a documentary series really, in our minds, not a reality show. For us in terms of the storytelling, it's documentary, in that we're taking deep dives into the lives of people where it's about them, it's about Dani, it's about Abbey, it's about Subodh. We're giving them a voice to tell us their stories.
Of course, we're watching them go on their sometimes first dates or seeing them in situations that I guess we're used to seeing in reality shows. We always treat it like a documentary in the way we shoot. I don't produce scenes, I don't say to people, "Hey, today, we're going to do this, you're going to have an argument and this is going to be a conflict." We care about the people we're filming, we want them to be happy with it, they're the most important critics of all.
[music]
Melissa Harris-Perry: Let's take a quick break. Stay with us for more Love on the Spectrum U.S. in just a moment. We're continuing our conversation with Cian O'Clery, showrunner for Love on the Spectrum U.S., and Dani, one of the show's participants and founder of DaniMation Entertainment. Dani, what was it like for you to go on dates while being followed by cameras?
Dani: I didn't actually really mind at all when it comes to the cameras following me. Basically, I'm just used to cameras, because when somebody's following me with the cameras, I don't mind at all. I just go with the flow while being filmed.
Melissa Harris-Perry: Tell us a little bit about that first date with Solomon.
Dani: The first date with Solomon, I can't wait to tell you about this because you'll see what happens when I-- I felt so smitten but love can be so confusing when falling in love with Solomon. I just thought Solomon was the right fit for me in the beginning until I realized I shouldn't have been kissing on the first date. Anyways, I'm human, I'll just own it.
Melissa Harris-Perry: Oh, it turns out differently at different times. I kissed my husband on the first day and all these years and two kids later, it's all fine. [chuckles] Cian, for you, you talk about how important it is to find somebody like Dani, who's great. I feel like we're writing Dani's dating profile now, smart, open, funny, and great. What are the things you were looking for when you were selecting participants because this is a pretty broad age range from early 20s to early 60s?
Cian O'Clery: In terms of overall, as a group of people we want to include in this series, the most important thing was having that diversity of autism and showing that autism is super diverse. Everyone's very different and you can't make an assumption about someone based on a diagnosis. That really was the very most important thing. It was great to find Steve, we were really happy to include Steve, an older person's story who was only very recently diagnosed.
People like Kaelynn who lives her life with people not knowing she's on the spectrum and they'll only find out if she tells them and people are often really surprised. Then we've got people like Subodh and Abbey who have slightly higher support needs. The most important thing was overall being able to show that everyone's so very different.
Melissa Harris-Perry: Why do you think it might be important to see adults living on the spectrum and also trying to find love?
Cian O'Clery: A lot of people when they think of autism, they think of children and that's where most of the support lies. There's not necessarily a lot of support when people do become young adults especially not in the world of dating and relationships. I guess the other thing about the series and this really comes from people telling us this, parents of people or people themselves saying, seeing the series and seeing people putting themselves out there and dating and being able to do it and being able to find love and being able to make connections has really inspired them and made them feel much better and feel that there's definitely opportunities for me as well. Because we did speak to a lot of people who felt like it was hopeless and felt that, "I'm never going to find love."
I guess we talked about this a lot when the Australian series first came out was one of the really big misconceptions about autism that is sometimes out there, it's getting better was that people on the spectrum aren't interested in love and don't have empathy. That's a really terrible misconception that I think was one of the key drivers to make the series in the first place.
Just because people communicate differently or behave a little differently in social situations doesn't mean that they don't want what everybody else does. That was really important to just get that message across so that there's just greater understanding.
Melissa Harris-Perry: Dani, you started out by talking about how important your work is and how important as you are looking for love it is to find someone who is supportive of and understands and gives you plenty of space for it. Let me give you a little space, tell me about DaniMation Entertainment and what it is you are hoping to do with it.
Dani: I started DaniMation when I was 14 years old because I've noticed one of my heroes, Satoshi Tajiri, the creator of Pokémon started his company Game Freak when he was 17 years old alongside with his friends like Ken Sugimori. Then I decided to beat his record at age 14.
Then originally, I really wanted DaniMation to be like any other animation studio like Disney or Warner Brothers, but I've noticed the statistics that people on the autism spectrum don't get as recognized in the work. We at DaniMation Entertain educate, elevate, and employ people with autism through our animation programs by guiding them on how to turn their passion into a career.
Melissa Harris-Perry: What are you hoping in 10 years? You founded it at 14, you're 26 now, so let's say another 10 to 12, what are you hoping will be some of the accomplishments DaniMation will have had by then?
Dani: I was hoping DaniMation Entertainment will have at least one or two animated series in-house, a popular animated series that would help keep DaniMation Entertainment running while still providing the one-on-one sessions for youth on the autism spectrum and have animation summer camps. I also have the DaniMation UK branch expanding as well.
Hopefully, DaniMation will keep on expanding while at the same time just hoping if I could find someone who's as passionate as I am, who's best at least business-minded, and supports the company.
Cian O'Clery: Do you mind if I just have a little side note and talk a little bit about Dani and her passions?
Melissa Harris-Perry: Absolutely.
Cian O'Clery: Just to say that one of the common traits in people on the spectrum is having a really strong passion or interest in something and that's where you can just see that so well in Dani and her passion for animation. It just is her life. It's just interesting to see that people on the spectrum can have a really strong focus on something that can be a real strength.
Melissa Harris-Perry: Dani, I want to give you the last word on this. It takes a lot of courage to go out there, put yourself out there to be dating again while there are cameras following you. What are you hoping that viewers will take it at the end of the series, what are you hoping that your participation will do and what viewers will take from it?
Dani: I just want to show all the participants that anything is possible when it comes to dating and when you're trying to look for your love, potential love match, don't give up. Another thing is, please, when you're dating, it's best not to settle for the person that you like because you never know until you get to know them. Don't necessarily settle for the wrong match. Just get to know them first.
Melissa Harris-Perry: That's really good dating advice in all circumstances. Dani is the founder of DaniMation Entertainment and Cian O'Clery is the director and showrunner of Love on the Spectrum U.S. Thank you both for joining The Takeaway.
Cian O'Clery: Thank you so much for having us.
Dani: Thank you so much.
Copyright © 2022 New York Public Radio. All rights reserved. Visit our website terms of use at www.wnyc.org for further information.
New York Public Radio transcripts are created on a rush deadline, often by contractors. This text may not be in its final form and may be updated or revised in the future. Accuracy and availability may vary. The authoritative record of New York Public Radio's programming is the audio record.